Updated on by Asher Fergusson
T
here's nothing like setting sail on a beautiful cruise ship venturing down to the incredible Caribbean sea. We absolutely love cruising and our favorite ports are the ABC islands where the snorkeling is off the charts!
Knowing what to bring on a cruise can be tricky so we've created this checklist!
We'll guide you on what to wear on a cruise, what to pack and what NOT to bring, plus the answers to common Caribbean cruise FAQs. Bon Voyage!
What to Pack for Caribbean Cruise – 17 Essentials
---

Everybody knows that cell phones, water and sand simply don't mix. Using a waterproof phone case will keep your selfie game strong, even when you're in the pool or splashing at the beach during your cruise. This one is reliable and SUPER inexpensive.
---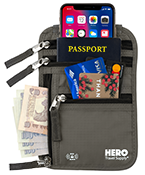 Caribbean cruises are notorious for stopping in crowded, touristy destinations where you're likely to be a natural target for pickpocketing and petty theft. Avoid this by bringing along a trusty neck wallet, which will hold your phone, passport, wallet, and other valuables and can be tucked securely beneath your clothing.
Available on HeroTravelSupply.com with an exclusive 15% discount using the coupon code "HERO".
---

An affordable underwater camera is the perfect tool for capturing those Caribbean Cruise moments with your travel companions or partner. This camera is perfect for vacations like this because it's waterproof, small, and nearly indestructible. You'll treasure the HD footage for years to come.
---

In the unlucky event that you or someone in your group is prone to motion sickness, having a seasickness remedy with you is invaluable. Although cruises usually sell medicine on board, it's much more effective to try to prevent illness before it happens. Stick on one of these tried and tested motion sickness patches ahead of time.
---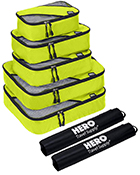 Packing cubes will revolutionize the way you pack for vacation. You'll be more organized than ever when you separate your clothes and belongings into distinct vibrantly colored cubes. This set is awesome because it also comes with separate cases for dirty laundry and shoes.
---

Whether you're strolling through a port town or relaxing on the ship, you'll want to make sure your electronics are charged and don't die at an inopportune moment. Slip this lipstick-sized portable charger in your pocket, beach bag, or daypack to use as an external battery when you need it.
---

On any Caribbean cruise, there's bound to be plenty of mixing alcohol with sun which is the perfect recipe for a hangover. Prevent and treat your hangover with these natural hangover relief pills. These will help counteract the unpleasant symptoms of a hangover and will work to replace your lost vitamins and electrolytes.
---


Especially on crowded cruise ships and touristy Caribbean port cities, it's essential to only connect to the WiFi once you've turned on your VPN. A reliable VPN will protect your sensitive information such as credit card numbers and passwords from hackers who could potentially steal your identity. A VPN will also ensure you can access websites from your home country in the event that they're censored in the country you're visiting.
---

Bringing your own reusable water bottle definitely pays on a Caribbean cruise. Perfect for lounging by the pool or on the beach, you'll want to make sure you stay hydrated at all times. In some of your Caribbean port destinations, the tap water may not be safe to drink so this LifeStraw filter will purify your water for you.
---

The ideal towel for hanging around the cruise ship, using at the beach, or taking on an excursion, you can't go wrong packing a microfiber travel towel for your trip. It dries incredibly quickly so you'll be able to hang it up in your cabin and use it again and again throughout the cruise.
---

You'll definitely want a cute and comfy cover up to throw on over your swimsuit throughout the day. Whether you're strolling along the shore or stopping into a charming beach cafe or bar, you'll feel much more comfortable wearing more than just your swimsuit.
---

On any Caribbean vacation, you're bound to get a lot of sun. Due to its proximity to the equator, the sun's rays are much stronger in the Caribbean than you may be used to at home. Soothe the inevitable burn with cooling aloe vera after a day out in the sun.
---

Don't leave for your cruise without travel insurance! You never know what can happen on the high seas, and while it's always the hope that everything will go smoothly, you'll need to make sure you're covered in case of emergency. World Nomads is our top pick because they'll cover you for lost or stolen luggage, medical expenses, and flight cancellations.
View their plans at WorldNomads.com ➜
---

The Caribbean is full of rich delicacies, and when you disembark in the various port cities there's no question you'll be enticed to try them all. If your body isn't used to the cuisine or you eat something that leaves your stomach feeling unsettled, be sure to take activated charcoal tablets which will quickly expel the toxins in your system.
---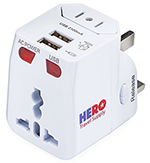 Most cruise ships will use the same outlets and voltages as in the United States and Canada. That said, if you're traveling from another country or if you plan to plug anything in the port cities, you'll definitely want to bring a reliable universal adapter like this one.
---

You'll end up with loads of wet towels and swimsuits every day on your Caribbean Cruise. Dry them out quickly by bringing a clothesline with you. This one is awesome because it comes with its own clothes pins and can easily be hung both indoors and outdoors.
---

You can't go to the beach (or pool!) without a bag to carry all your essentials. Whichever bag you bring is likely to get sandy and wet, so a beach bag is a great accessory to bring on your cruise. This one is well-made and very spacious. Throw in your sunscreen, shades, and sun hat and you're ready to go!
Other Caribbean cruise packing list items not to forget
---
What to wear on a Caribbean cruise
---
On a cruise, definitely keep it casual during the day. Bring swimsuits, tank tops, shorts, coverups and sundresses. Dining attire is usually " cruise casual" in all restaurants on the ship, so bring some casual-cute clothing like simple dresses, a nice pair of khakis, and simple sandals. Some people like to get all dolled up for dinner on occasion, but of course this is optional!
What NOT to take on a Caribbean Cruise:
---
1)

Firearms and ammunition
– Guns, ammunition, any kind of knives, swords, daggers, bullwhips or any other types of weapons are definitely not allowed on cruise ships
2)

Homemade, pre cooked or other perishable food items
– Cruise companies wants you to spend your money on the cruise ship. You can bring packages snack food, but no homemade meals. You can usually make special requests ahead of time if you have dietary restrictions.
3)

Coolers
– Normally, coolers are not allowed to be brought onboard. The only exception is for coolers that are needed to carry medications, baby food or items related to dietary constraints.
FAQs about Caribbean Cruises:
---
1) How long is a Caribbean Cruise?
It depends on the cruise. Some cruises last for three days, and others up to two weeks!
2) Is there laundry service on board?
Usually, there is indeed laundry service onboard, and sometimes laundry rooms complete with washers, dryers, detergent and ironing equipment. Wash and press services are also sometimes available. Check with your particular cruise line beforehand, and plan accordingly.
3) Can you bring your own food?
It depends on the cruise company you are going with, but generally, you cannot bring pre-cooked or perishable foods. Sealed containers of snacks are usually allowed, though.
4) How can I avoid overpacking?
Before you commit to bringing anything, make a list of what activities you'll be doing throughout the whole cruise. Plan out each day's outfit, and try to stick to items that can be reworn and repurposed. For example, bringing a simple black dress that you can wear during the day with sandals can probably be dressed up at night time with some lipstick and cute jewelry. By bringing multipurpose clothing items, you can pack much lighter.
5) How do I choose the right bag to bring with me?
It's all about personal preference! A rolling bag is always a good option if you want to save yourself shoulder or back pain.
6) How can I keep my bag organized?
Packing cubes will seriously up your packing game. Use them for clothing, socks, accessories, and literally anything else you need to pack. Separate your toiletries using ziplock bags, and always bring an extra bag specifically for dirty laundry.
7) What if the weather is bad at some point during the cruise?
If the forecast looks like rain, bring a raincoat or poncho just to be safe. If you're worried about the weather "raining on your parade," bring a deck of cards or download Heads Up on your phone to entertain your group if you get stuck inside!
---
Other Central America packing lists you may like…
Aruba | Bahamas | Belize | Cabo San Lucas | Cancun | Caribbean | Central America | Costa Rica | Cozumel | Cuba |Dominican Republic | Guatemala | Jamaica | Mexico | Mexico City | Nicaragua | Panama | Playa del Carmen | Puerto Rico | Puerto Vallarta | Punta Cana | Virgin Islands |
Please note: We have over 200 packing lists covering practically every popular travel destination in the world. Access them all on our packing list overview page ➜