Updated on by Asher Fergusson
P
uerto Vallarta is one of Mexico's most popular tourist destinations. You won't be disappointed by the glistening Pacific Ocean and stunning sandy beaches in this Mexican paradise.
Renowned for incredible snorkeling, scuba diving, and adventure activities, you'll never be lacking things to do in Puerto Vallarta.
Check out our comprehensive packing list which will help you decide What to Wear in Puerto Vallarta, what NOT to bring, and other FAQs.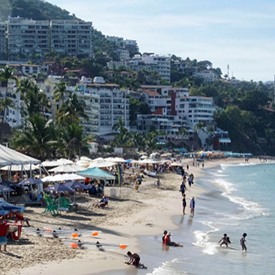 What to Pack for Puerto Vallarta – 17 Essentials
---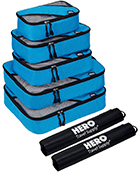 Packing cubes help you utilize every last ounce of free space in your bag. Make packing, unpacking, and repacking easier than ever and stay more organized than you ever thought possible. These awesome HERO packing cubes come in a variety of bright colors and are accompanied by a separate case for your shoes and another for your laundry.
---

Unlikely but incredibly useful items to pack for your trip to Puerto Vallarta are deodorant wipes. Use them to refresh after a long day of exploring in the hot sun, or if you're feeling sweaty, sticky or sandy and don't have time for a shower. These wipes are easy to throw in your purse or daypack and are great on sensitive skin!
---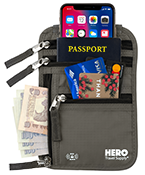 A neck wallet is perfect for protecting your valuables from pickpockets and petty theft while traveling in Mexico. Large enough to hold your phone, passport, keys, and wallet, you can easily tuck this handy neck wallet under your clothes to keep your belongings secure, organized, and easily accessible when you need them.
Available on HeroTravelSupply.com with an exclusive 15% discount using the coupon code "HERO".
---

A cute swimsuit cover up is a must for any beach destination, and Puerto Vallarta is no exception. Throw it on over your suit on the way to the pool and use it to walk into a restaurant or cafe once you're done at the beach. We love this one because it's stylish, lightweight, and relatively inexpensive.
---

The weather in Puerto Vallarta can be unpredictable. Make sure you're prepared for anything by packing a handy windproof travel umbrella like this one! It packs down small so it's easy to toss in your daypack or purse where you can access it whenever you need to.
---

The last thing you want to be worried about when you're out and about in a new destination is your phone battery dying. A compact, portable charger is perfect for recharging your phone, camera, or any other device you might need. This one is small enough to comfortably fit in your purse or backpack so you'll always have it with you when you need it.
---


A VPN is essential any time you plan to connect to public WiFi on any of your devices. Without it, you leave yourself vulnerable to hackers waiting to steal your sensitive information like credit card numbers and passwords. Turning on your VPN will also ensure that you can access websites from your home country that may be censored or blocked in the country you're visiting. We never travel without our VPN!
---

An amazing item to bring to the beach is a sand-resistant beach blanket. With small weights on each corner, this blanket stays put and doesn't get blown around in the breeze or covered in sand. Made from a lightweight and quick-drying material, this sand-resistant beach blanket folds up to be compact and easily tossed into a beach bag or daypack.
---

Bringing activated charcoal caps on your trip to Puerto Vallarta could end up being a godsend. If you eat or drink something that your stomach doesn't agree with, you may end up spending days of your vacation with your head in the toilet. Use activated charcoal tablets to absorb and expel the toxins in your body and keep you healthy and safe during your entire trip.
---

A beach bag is essential for any trip to Puerto Vallarta. You're bound to be bouncing from pool to beach, to pool again, and the right bag will ensure you always have everything you need. This bag is great because it comes with a built-in cooler in the bottom which is perfect for keeping your drinks and snacks cool on those hot, sunny days.
---

The tap water in Mexico isn't safe to drink, and buying single-use plastic water bottles is terrible for the environment. Do your part to reduce waste by bringing a reusable bottle like this one to stay hydrated. The built-in filter means you'll never have to worry about getting sick from dirty water.
---

In our experience, travel insurance is a essential any time you take a trip abroad. Though you never want to expect anything to go wrong, you'll be glad that you planned ahead if something does. The website TravelInsurance.com allows you to compare plans so that you can find a policy that will have all your costs covered in the event of an emergency, whether it be theft, trip cancellation, or injury. And it's very inexpensive compared to the total cost of your trip.
Compare policies at TravelInsurance.com ➜
---

There's no doubt that during your time spent in Puerto Vallarta, you'll have at least one occasion to enjoy a nice dinner or a night out on the town. Take the opportunity to wear a gorgeous outfit, like this lightweight and stylish jumpsuit. Elegant enough for dinner and trendy enough for an evening out, it's the perfect piece to show off your fresh sunkissed tan.
---

Puerto Vallarta is renowned for snorkeling, scuba diving, ziplining, and a number of other action-packed activities. With the help of a durable underwater camera, you'll be able to capture all your favorite travel moments that you can watch again and again. It's smart to invest in a GoPro because it's compact and durable, which is perfect for any adventure.
---
15. Rash Guard for Women and Men

Don't forget to bring a long-sleeved swim rash guard with you on your trip to Puerto Vallarta. Great for protecting you from the sun both in and out of the water, this rash guard will keep you cool on hot days and will keep you warm if the water is a bit chilly. It's also great to wear for water activities like surfing and paddle boarding, and it's so comfortable, you'll forget you even have it on!
---

I can never recommend packing this item enough, I bring mine on every trip! A microfiber, quick dry travel towel is great for day trips from Puerto Vallarta, as it easily compresses to toss into your daypack and dries quickly for when you're on the go. If you're staying at a resort, this towel is also much more convenient to carry around than the giant, heavy towels from the hotel that take forever to dry.
---

Whether you're splashing in the pool or spending the day on a kayaking excursion, you'll want to make sure your phone is safe and usable. Bring along a reliable waterproof phone case to keep your device dry and accessible through all your water sports and activities. This one is great because it allows you to take photos and videos underwater!
Other Puerto Vallarta packing list items to bring
---
What to wear in Puerto Vallarta
---
Puerto Vallarta is one of Mexico's most popular destinations, and you'll quickly understand why: the beaches are beautiful, the climate is perfect, and the food is out of this world. Not to mention that there is plenty of old Mexico charm mixed with all the modern amenities you
could ever need. The general style in Puerto Vallarta is cool and composed. The hot, humid climate calls for lightweight, breathable fabrics, and you'll fit in best in stylish yet casual outfits. Because Mexico is a predominantly Catholic country, you're always best to dress on the conservative side (mind those hemlines!) to avoid drawing unwanted attention to yourself. In the dry season, the temperatures can be as low as 65 degrees Fahrenheit, so light layers are in order; a fleece or a light jacket will be sufficient
What should WOMEN wear in Puerto Vallarta? – (Click to expand)
Women in Mexico tend to wear stylish, yet conservative outfits; slacks and blouses, or dresses are the go-to attire, day to day. Mexican women often typically wear full makeup and high heels, which elevate their otherwise casual ensembles.
Visiting women will fit in best in sundresses or a blouse paired with a skirt or stylish shorts. Cutoffs and casual beach shorts are fine, but you will stand out more. The typical Mexican style is elevated-casual, so keep that in mind when planning your outfits. Heels are fitting for nights on the town, but day to day you'll be most comfortable exploring the cobblestone streets in sneakers.
If you're planning a night out, or a meal at a high-end restaurant, be sure to bring at least one dressy outfit — a dress with heels is ideal.
What should WOMEN wear in Puerto Vallarta? – (Click to expand)
Local men in Puerto Vallarta dress casual, but composed outfits; slacks and collared guayabera shirts are standard attire. Visiting men will feel most comfortable in lightweight, breathable fabrics. Stylish outfits will help you fit in best; think chinos and collared shirts, paired with comfortable, stylish sneakers.
If you're planning to partake in many aquatic activities, a rashguard will help protect you from excessive sun exposure. Nightlife calls for dressier outfits; a pair of dark jeans or slacks paired with a button-down shirt will work perfectly.
Dry Season (November, December, January February, March, April & May)
​Puerto Vallarta's dry season just so happens to be the most popular season for tourists. Stretching from November to May, during this time of year the daytime temperature averages about 80 degrees, while the nights are more brisk, averaging around 65 degrees. If you visit during this time of year, pack light layers to keep you warm after the sun goes down. The weather in Puerto Vallarta is idyllic, and there's no doubt you'll be spending plenty of time in the sun. Pack plenty of sunscreen, and a swimsuit coverup to protect your skin from overexposure.
Wet Season (June, July, August, September & October)
Puerto Vallarta's wet season, which ranges from June to
October, means higher humidity, higher temperatures, and, of course, more precipitation. However, the rain is generally concentrated into heavy showers, rather than days on end of rain. Pack lightweight clothing during this time of year to keep you feeling fresh in the humidity; linen or synthetic, quick-drying fabrics will be most comfortable. Bring an umbrella or rain shell to keep you dry in the event of a thunderstorm.
How to dress correctly for the activity in Puerto Vallarta – (Click to expand)
Aquatic Activities – ​One of Puerto Vallarta's main attractions is undoubtedly the ocean. You can go whale watching, snorkeling, kayaking, or just chill out on the beach. Any activity that takes place on the water is a recipe for sunburn. Always pack sunscreen, polarized sunglasses, and wear a rashguard if you're in the water for an extended period. Take your water bottle to avoid dehydration.
Shopping – ​Whether you're browsing one of Puerto Vallarta's street markets, a high-end shopping center, or poking around in boutiques along the malecón, you'll need to wear comfortable shoes. Walking around all day on pavement is taxing for your feet, so wear shoes with plenty of padding and arch support. Additionally, crossbody purse is ideal for women, as you can wear it in front of your body in crowded spaces to deter pickpockets. A dress or shorts and t-shirt is a cool and comfortable option for wandering around in the sun
for hours on end.
Nightlife – ​Puerto Vallarta's nightclubs call for slightly elevated ensembles. Men will need to
wear jeans or slacks along with a button-down shirt, and formal shoes. Women should plan
to wear a dress and heels, or formal shoes. It can be chilly at night, particularly in the dry
season, so take a light jacket just in case.
What NOT to bring to Puerto Vallarta
---
Flashy jewelry – ​It typically isn't wise to bring excessive jewelry when traveling. Wearing a lot of jewelry only makes you stand out as a target for thieves. Wouldn't it be a shame to lose a prized piece while on vacation? Leave your jewels safe at home and settle for wearing something more understated.
A regular towel – ​It can be tempting to bring your favorite fluffy towel with you — especially if you have space in your luggage, but it's just not worth the effort. Because the air is so humid in Puerto Vallarta, a traditional towel will likely never dry, which will make it uncomfortable to use, and even more uncomfortable to pack in your luggage again when you head home. Skip it in favor of a microfiber towel.
Heavy clothing – J​ust like your towel, heavy cotton clothing just won't ever feel dry in Vallarta's humidity. Jeans are okay in the dry season, as long as they aren't too tight, but skip cotton sweatshirts or sweatpants, and bring something lighter instead. You'll just end up feeling sweaty and uncomfortable otherwise.
Boots – ​Boots are tempting airport attire because they're so easy to slip on and off, but they are overkill for Vallarta. They're going to be far too hot and heavy to wear in the humidity, and they'll just take up valuable space in your luggage. Skip them and bring sneakers instead.
Books – ​Books are bulky and susceptible to moisture damage, so it's best to skip them when visiting Puerto Vallarta. A Kindle offers hundreds of titles at your fingertips and takes up far less space. Additionally, Kindle titles are usually less expensive to buy than a traditional paperback!
Excessive Cash – ​Banks and ATMs are plentiful in Mexico, so there's really no need ever to carry a substantial amount cash. Doing so only makes you a target for theft (it's not likely, but it does happen). Most large stores in Mexico accept credit or debit cards at this point, so you'll be fine without large quantities of cash. Take a little bit, and withdraw more as needed
[/toggle]
What NOT to wear? – (Click to expand)
Heavy cotton clothes are not a good idea for Puerto Vallarta. Stick to lightweight, breathable fabrics that will wick sweat and keep you feeling fresh in the heat and humidity. However, you should also take care not to wear anything that is too revealing. Mexico is very much a Catholic country, and revealing clothing offends some and draws unwanted attention from others. Err on the conservative side when packing.
FAQs about traveling in Puerto Vallarta
---
What are some of the points of interest?
The "Elizabeth Taylor house," now a boutique hotel called Casa Kimberly, is a famous landmark in Puerto Vallarta. The actress purchased the property with Richard Burton after the pair filmed The Night of the Iguana in Vallarta during the 1960s. The beautiful home is a
favorite spot for a photo op.
The malecón, Puerto Vallarta's oceanfront boardwalk is a must-visit destination. Browse the numerous boutique shops, stop for ice cream, as you enjoy the beautiful sea views. You can even catch a performance of the voladores de Papantla, an ancient Mesoamerican dance
ritual that is performed along the malecón.
The Los Arcos marine area, while not precisely in Puerto Vallarta, is a popular destination for tourists. It features arch-shaped rock formations and can be accessed on a snorkeling or sailing tour. Discover colorful fish as you snorkel amongst the arches.
Do you need a visa to visit Puerto Vallarta?
American and Canadian citizens do not need a visa to visit Puerto Vallarta. When you arrive in Mexico, you will receive a stamp in your passport granting you permission to stay in Mexico for up to 180 days. If you're visiting Mexico from another country, check the visa
requirements before leaving for Mexico to ensure your paperwork is in order.
Do I need to tip?
In restaurants in Mexico, it is standard to tip 10-20% of the bill. Always check the bill to ensure that the gratuity was not included in the total (this isn't legal, but it does happen from time to time). It is also commonly expected that you will tip bellhops, tour guides, bartenders, and cleaning staff in the hotel. The amount you tip these individuals is entirely left to your discretion. It is not standard to tip taxi drivers in Mexico.
Do I need to speak Spanish to visit Puerto Vallarta?
While it's always best if you know at least a few words of the native language in any country you visit, Spanish is not essential in Puerto Vallarta. Because it is such a popular tourist destination, the vast majority of the population (at least those in public-facing jobs) will speak
some level of English. You will be able to find your way just fine in this city, even if you don't speak a word of Spanish. That said, it is a nice gesture if you can exchange at least a couple of basic pleasantries in Spanish.
What is the food like in Puerto Vallarta?
Puerto Vallarta is home to some of Mexico's most delicious food. You will find plenty of the classic Mexican dishes that you know and love; tamales, enchiladas, and of course tacos. However, you'll be missing out if you don't try some seafood as well. Ceviche, lobster, and fish tacos are all plentiful (and not to be missed) in Puerto Vallarta.
What is the best time of year to visit?
While the dry season, November through May, is the best time to visit when it comes to weather, it's also the busiest season. The shoulder season is a fantastic time to visit, either October, or June, because the weather will still be ideal, and the crowds will have diminished slightly. August is the rainiest month of the year, so plan your trip accordingly.
Are there any great day trips from Puerto Vallarta?
Puerto Vallarta is the biggest city on its section of coastline, but it is bordered by small, sleepy beach towns on either side, which you can reach easily within an hour or two. Sayulita lies to the north of Puerto Vallarta and is renowned as a surf town, but really is overall a laid-back beach town with a bohemian vibe, perfect for soaking up the Mexican sun at a slower pace. It is easy to access Sayulita by bus or rental car, in about an hour from Puerto Vallarta. To the south lies the peaceful, unassuming town of Yelapa, which is accessible only by
water taxi. If you're really looking to chill out, this is the ideal spot to escape the crowds
Like us on Facebook here: