Updated on by Asher Fergusson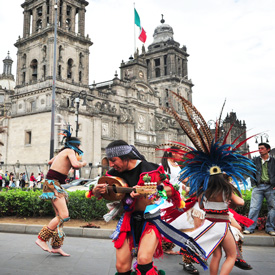 Whether you're visiting for work or pleasure, Mexico City has tons to keep you entertained and active! It's often hard to decide what to pack, though – I get questions frequently about what to wear in Mexico City, what NOT to bring, and many other details that travelers need to know before departure.
Check out our list to find answers to your questions, and don't forget to look at our guide to how to pack according to the season you're visiting in! Be prepared for fun, intrigue, and incredible sights and experiences.

What to Pack for Mexico City – 17 Essentials
---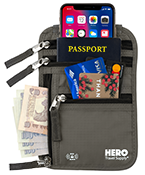 A neck wallet is a great way to keep your passport, wallet, and smartphone safe when traveling. Mexico City is notorious for petty crime, and while it is generally safe, it's crucial to take precautions against pickpockets. Keep your valuables in a handy neck wallet tucked beneath your clothes, particularly when in crowded areas.
Available on HeroTravelSupply.com with an exclusive 15% discount using the coupon code "HERO".
---

This portable charger is ideal for keeping the batteries on your devices topped up during your trip. There's nothing worse than being trapped in a beautiful place with a dead camera battery. Save yourself from that fate with this tiny device!
---

The weather in Mexico City can be unpredictable and you may experience a rainy day or two during your visit. Come prepared with a windproof travel umbrella so you're covered in any situation. This one is awesome because it's durable and can fit two people underneath.
---

In crowded spaces, it's especially important to protect your valuables from theft. This backpack keeps your belongings secure and has the added benefit of protecting your credit cards and identification from scanners. Plus, it's water resistant so you won't have to worry about your valuables in the event of rain showers.
---

The tap water in Mexico isn't safe to drink, but buying small single-use bottles is bad for the environment, and the expense can add up quickly. Buy a 10-liter bottle when you arrive to refill your smaller bottle from each day. This LifeStraw bottle comes with a built-in filter for an added layer of protection as well.
---

You're likely going to spend your time in Mexico City doing a lot of walking around and exploring. Especially if you're visiting during the summer, there's no doubt you'll end up hot and stinky by the end of the day. Toss these handy deodorant wipes in your purse or daypack for a quick refresh whenever you need it!
---


Having your personal information stolen is a huge hassle, especially when you're globetrotting. I can tell you from personal experience that hackers are literally lying in wait for unprotected users of foreign wireless networks. This VPN service is the best way to protect yourself when using public or unsecured WiFi networks while traveling. It'll also grant you access to sites from home that may not be available in the host country.
---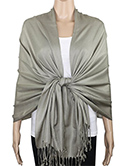 Mexico City sits at a high altitude, and as a result, a sunny and warm day can turn brisk when the sun goes down. A stylish scarf or pashmina shawl is the perfect way to add a stylish layer to your outfit when the air gets nippy.
---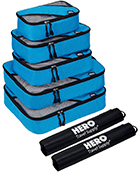 Packing cubes make packing and unpacking so much more efficient. They help you condense items down into the smallest possible form, saving valuable real estate in your pack. Plus, if there are any items you're not sure you'll need (like heavy layers or rain gear), just stick them in a separate cube to avoid unpacking them unless necessary!
---

If you happen to fall victim to the infamous Montezuma's revenge, these pills will come in handy. It would be a shame to miss out on exploring one of the most incredible cities in the world just because you ate something funky, so come prepared!
---

There's no doubt that you'll be doing a lot of walking during your visit to Mexico City. Be sure to pack comfortable, trendy flats that go well with any outfit and will keep your feet happy during your trip. These ones come in a variety of different colors and are a great option.
---

Travel insurance is essential anywhere you go. You never know when a little accident or unexpected illness might require medical assistance, which can be very expensive. Avoid jeopardizing your travel budget by investing in insurance before you take off.
View their plans at WorldNomads.com ➜
---

If your accommodation doesn't provide a towel or the one it provides isn't up to your cleanliness standards, a quick dry towel will certainly come in handy. You'll also be glad to have this for day trips throughout your stay. This quick dry towel is lightweight, compact, and can easily be tossed in your daypack.
---

Mexico City is warm year round, so you'll want to be sure to stay hydrated. Particularly if you get sick or feel the negative effects of a hangover, electrolytes will be a godsend to replenish the lost vitamins in your system and help your body absorb the water you're drinking.
---

Mexico City is one of Latin America's most fabulous cities and you'll want to dress to impress if you're heading out for a nice dinner or a night on the town. This trendy jumpsuit is perfect for any occasion, and can be dressed up or down with the right accessories.
---

In any big city, it's wise to bring hand sanitizing wipes to ensure you stay healthy and germ-free, particularly before and after eating and before touching your face. These wipes are small and compact and can easily be tossed into your purse or daypack for easy access whenever you need them.
---

Though you will likely find many people in Mexico City with at least some level of English, you should try to learn a few basic phrases to help you get by. People will be much more likely to help you and work with you if they feel that you're putting in some effort to respect their language and culture.
Other Mexico City packing list items you may need
---
What should I wear in Mexico City?
---
With over 20 million residents, Mexico City is one of the largest cities on the planet. It's also one of the most diverse, which can make packing for your visit a bit of a challenge; you never know what you might get up to! Mexico City calls for stylish, but practical clothing. The culture in Mexico is very much rooted in tradition, and as such, locals take care to make themselves look composed in public; they wear well-pressed clothes, shirts with collars, and even ties. You should plan to put some extra effort into your appearance as well. Mexico City's trendiest neighborhoods are bound to be on your itinerary, and you'll fit in best in fashionable but practical clothing; think jeans and a neat top. You're sure to be doing a lot of walking as you visit historical sights, museums, and explore the city so comfortable walking shoes are an absolute must.
What should WOMEN wear in Mexico City? – (Click to expand)
Local women, particularly those who live in cities, tend to wear stylish, composed outfits. They take care to style their hair, put on makeup, and wear jewelry as well. While it may not be practical for visiting women to go all out when it comes to hair and makeup, you will blend in best if you wear well-styled ensembles. Jeans and a blouse are a great go-to outfit for Mexico City, as the climate tends to be spring-like (hot in the sun, cool in the shade). Comfortable shoes are a must during the day, but you can swap them for heels or flats in the evening for a night out if you wish. Avoid wearing sandals because the streets can be dirty and crowded. It's generally safest to wear a small, crossbody purse on the front of your body to avoid falling victim to pickpockets.
What should MEN wear in Mexico City? – (Click to expand)
Men visiting Mexico City will feel most at home in jeans or khakis, paired with a button-down shirt. Mexican culture is quite conservative and formal, and locals generally make an effort to look well-put-together. Visiting men should plan to do the same. It can be scorching during the day, so short sleeves are ideal, but the temperature can be erratic, especially outside of the summer season; always be prepared with a sweater or light jacket. Stylish sneakers or walking shoes are great for days out exploring, but keep a pair of dressy shoes in reserve for a nice dinner out.
---
WINTER (November, January, February)
Winter is the most challenging season to dress for in Mexico City. During the day, the temperatures often sit in the mid 70's, while at night they fall as low as freezing. Layers are the name of the game at this time of year. During the day, carry a thermal jacket, or a merino wool sweater as a compact extra layer. Stylish boots paired with thick socks will have you looking fashionable and warm when the temperature dips at night.
SPRING (March, April, May)
Spring is the warmest season in Mexico City, with the average daily temperature hovering in the mid-80's. Frustratingly, the temperature can still fall quite low at night, so again, it's essential to pack layers. During the day, a sundress, or shorts a t-shirt, and sneakers will be most comfortable, but when the sun goes down, you'll be in need of pants and a sweater. A pashmina is a great accessory for women during this time of year to help add warmth to a spring outfit. Be sure to wear sunglasses and sunscreen at this time of year also, as the rays can be punishing.
SUMMER (June, July, August, September)
Mexico City's rainy seasons begins in June and stretches into September. Rain showers frequently occur during this time of year, but typically only last an hour or 2. If you visit during Spring months be sure to bring a light rain jacket. Average daily temperatures are in the mid 70's at this time of year, but due to the high altitude, they often drop to the 50's at night. Moisture-wicking clothes are ideal during this season, in the event you get caught in a shower. Pack lightweight or synthetic tops, and a fleece outer layer for extra warmth.
FALL (October)
Fall in Mexico City lasts just one short month. The temperatures remain about the same as during the summer, while the rainfall decreases significantly. It is one of the most pleasant times of the year, weatherwise. You can plan for comfortable t-shirt weather during the day. Just add a light jacket or sweater for the evening, and you're good to go!
How to dress for activities in Mexico City
---
Browsing museums – Mexico City has an incredible assortment of museums and art galleries, many of which are equally as impressive on the outside as they are on the inside. Whether you're browsing the collection at the National Museum of Anthropology or visiting Frida Kahlo's Casa Azul, you'll want to be sure to wear comfortable shoes. Long hours spent standing on tile or concrete floors are punishing on your body. Also, many museums require you to check your bag if it's larger than a medium purse; keep this in mind when planning your visit, as the queues to check and later collect your belongings can be lengthy. A small crossbody purse is always an ideal option for women.
Exploring Teotihuacán – Teotihuacán is a world-famous archaeological site just outside of Mexico City, and a must-visit for history enthusiasts. The ruin sits on an arid plain, and shade is virtually nonexistent. Wear lightweight clothes that are comfortable for walking and scaling pyramids. Plan to carry a daypack with plenty of extra water and sunscreen; even the most sun-tolerant individuals will be overexposed. A sunhat and sunglasses are essential as well.
Dining Out – Mexico City is home to some of the country's best restaurants, many of which will have a dress code. For women, an evening dress paired with booties or heels, and a light jacket will keep you looking stylish and warm, while men should plan to wear a jacket and button shirt.
Visiting Cathedrals – There is evidence of the Spanish conquest, in the form of incredible and ornate cathedrals, on almost every street corner in Mexico City. There's no doubt that you'll want to visit some of these impressive works of architecture. When you do, keep in mind, that the majority of these sites are functioning places of worship. Dress conservatively; covered shoulders are ideal, and mind those hemlines! Also be sure to turn off the flash on your camera and speak quietly so as not to disturb the worshippers.
Attending A Football or Lucha Libre Match – These exciting sporting events call for team colors, and spill resistant clothing. Even if you fail to spill a cerveza all over yourself, one of your neighbors is bound to do it for you. In the event that you don't already own a Pumas jersey, pick one up at the stadium! Or just wear comfortable, casual clothing. Jeans a tee shirt are just fine, and bring a fleece jacket or sweater in case it gets cool when the sun goes down.
What NOT to bring to Mexico City
---
1)

Sandals
– Mexico City really isn't the place for sandals. The streets are dirty and bustling, and your poor feet are bound to be trampled. On top of that, you're bound to be walking long distances, and sandals just won't be comfortable. Skip them and opt for walking shoes instead.
2)

Jewelry & Valuables – It can be tempting to pack elegant jewelry or a nice watch to wear on a night out, but it's not a practical option for Mexico City. As a visitor, you're bound to stand out already, don't draw extra attention to yourself with flashy valuables.
3)

Revealing Clothing – Mexico is a conservative Catholic country. Not only do they find it surprising and inappropriate when individuals wear revealing clothing, but it's bound to draw extra, unwanted attention. It's okay to wear shorts and tank tops but skip anything that's particularly revealing.

4)

Casual clothes
– Yes, jeans and t-shirts are okay, but in general, it's best to look polished, not sloppy. Mexicans are quite formal when it comes to dressing in public, and they see it as a sign of respect when you take the time to look presentable. Skip sweatpants and baggy t-shirts, and opt for composed ensembles.
5)

Books
– Even just a guidebook adds too much extra weight and bulk to your luggage. Bring a Kindle instead and download your reading material for the trip. That way you'll have plenty of extra space left over for souvenirs!
6)

Excessive Cash
– It's not wise, or necessary, to travel with excessive cash within Mexico City. There are reputable banks with secure ATMs throughout the city so you'll always be able to withdraw some money when you need it. Additionally, you will be able to pay with your credit card in most places. That said, it IS wise to keep a small collection of coins (in pesos) for tipping.
What NOT to wear in Mexico City
---
When visiting Mexico City, avoid wearing overly casual, sloppy clothing, as it will only draw attention, and not necessarily in a good way. It's also best to avoid wearing immodest clothing, which may be seen as offensive in this conservative, Catholic country. Mexico City, like any major city around the world, calls for stylish, well-composed outfits. At the same time, there's no need to dress overly fancy either; avoid wearing flashy jewelry or watches. Stick to versatile, practical clothing, and you'll fit right in.
FAQs about taking a trip to Mexico City
---
Is Mexico City Safe?
Mexico City has a reputation for being dangerous, and while there are areas of high crime, overall it's a safe city. That said, it is important to take precautions, especially if you are traveling alone. Petty crime is the most common issue, and while it's typically nonviolent, it can be a massive inconvenience. Always take care to conceal your valuables, especially in crowded places. Additionally, take extra precautions when you're out after dark. Don't walk alone at night; instead, opt for an inexpensive uber to get you safely to your destination.
What's the best way to get around?
There is a large assortment of public transportation options available to you in Mexico City. There is a metro, city buses, metro-buses, taxis, and of course, uber. While the most sensible option really depends on where you want to go, and when, typically Uber is the easiest way to get around for a few different reasons. Rates are much lower than in Taxis, plus you don't have to worry about negotiating the cost of the ride, because the app will tell you in advance. Furthermore, you don't have to exchange any cash with your driver, which is always convenient! That said, the metro can be a great (and super cheap) way to travel, but it becomes uncomfortably crowded during peak hours, so plan accordingly.
When is the best time to visit?
There is never really a bad time to visit Mexico City, as the weather is comfortable all year long. However, to get the most out of your visit, it's a good idea to consider local events when you're planning your trip. The city plays host to many entertaining cultural events throughout the year, including a Pride parade, Day of the Dead celebrations, along with many music festivals and more.
Where is the best area to stay?
Some of Mexico City's trendiest neighborhoods are also the best spots to use as the base of your trip. Roma, La Condesa, and Polanco are all centrally located neighborhoods with distinct cultures of their own. Roma is a young, bohemian borough while La Condesa is a trendy, upscale neighborhood filled with tree lined streets and sidewalk cafes. Meanwhile Polanco is one of the most modern and upscale neighborhoods in the entire city. It features some of Mexico City's premiere hotels and shopping destinations.
What are some of the main points of interest?
– Frida Kahlo's Casa Azul in Coyoacan. This house turned museum was the birthplace and family home of Frida Kahlo. Browse her incredible artwork, and even some of her wardrobe pieces as you wander the halls of the famous home.
– Palacio de Bellas Artes is an art museum and theatre, noteworthy for both its incredible architecture and its collection of works. Inside you'll find pieces of art by some of Mexico's most famous artists. Outside is an essential photo opp.
– Museo de Templo Mayor. This museum was built around an ancient pyramid which was discovered underneath the heart of Mexico City. Viewing the ruins is an incredible contrast of old and new, and a fascinating way to understand the history of Mexico.
How many days do I need to fully explore the city?
There's no doubt that you could spend the rest of your life exploring Mexico City and still not manage to see it. However, if we're being realistic, you can get a great sense of the city in 4 or 5 days. Because the city is so sprawling, it's difficult to explore more than one neighborhood in a day. Take a look at a map when planning your trip to ensure you have enough days to visit each of the attractions on your list. Also, expect to have a low-key first day. Many visitors need a day to adjust to the high altitude; build the adjustment period into your schedule so as not to feel guilty for taking a lazy day.
Are there interesting day trips from Mexico City?
There are many enjoyable day trips from Mexico City.
– The silver mining city of Taxco, Guerrero is a great spot to pick up souvenirs while exploring a quaint colonial village in the hills.
– The ruins of Teotihuacán are just an hour outside of Mexico City, and are not to be missed. You can climb the pyramid of the sun (one of the largest in the world) and learn about the history of the Aztec people.
– You can also visit the colonial city of Puebla, south of Mexico City. This colorful town is known for its Talavera pottery, and the delicious Mexican dish, mole poblano. It's a great place to go for a break from the hustle and bustle of Mexico City.
---
Other Central America packing lists you may like…
Aruba | Bahamas | Belize | Cabo San Lucas | Cancun | Caribbean | Caribbean Cruise | Central America | Costa Rica | Cozumel | Cuba |Dominican Republic | Guatemala | Jamaica | Mexico | Nicaragua | Panama | Playa del Carmen | Puerto Rico | Puerto Vallarta | Punta Cana | Virgin Islands |
Please note: We have over 200 packing lists covering practically every popular travel destination in the world. Access them all on our packing list overview page ➜