Updated on by Asher Fergusson
G
uatemala is a sought-after destination for those wishing to experience an incredibly welcoming and vibrant culture along with a diverse and gorgeous climate. There are tons of activities – think swimming holes, hiking trails, volcano exploration, visiting Mayan ruins – and so much to see that it can be hard to know what to pack!
This guide was put together to make planning your trip easier. We'll help you decide what to bring, what NOT to pack, what to wear in Guatemala, and the answers to other FAQs. Enjoy your trip, and be sure to bring an open heart and mind, and a carefree smile!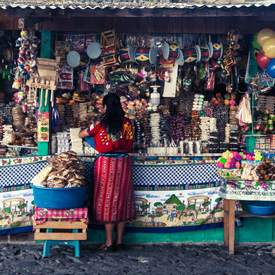 What to Pack for Guatemala – 17 Essentials
---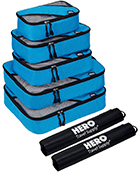 If you don't already use them, packing cubes are about to change your life! Keep organized and avoid overpacking by separating your clothes and belongings into these convenient and vibrantly colored cubes. You'll never have to dig through your luggage searching for that one specific t-shirt ever again!
---

You'll never have to worry about your phone or camera running out of battery when armed with this lipstick-sized portable charger. It's small enough that you won't notice the extra weight in your daypack or purse when you're out and about for the day and will come in handy when you need it most!
---

It's always good to have activated charcoal tablets on hand just in case you fall victim to food poisoning or Giardia. Traveling in Guatemala tends to involve lengthy bus journeys where the opportunity for bathroom breaks is scarce. Activated charcoal tablets will come to your rescue if you happen to fall sick on a travel day.
---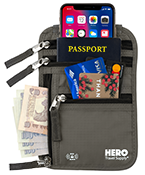 Particularly in some of Guatemala's more touristy destinations, you'll need to be wary of pickpocketing and petty theft. Avoid this by wearing this neck wallet beneath your clothes to secure all your valuables. We love this one because it's large enough to hold your phone, passport, and wallet!
Available on HeroTravelSupply.com with an exclusive 15% discount using the coupon code "HERO".
---

Guatemala is a developing country, and as such, there are times when water is scarce, cold, or simply unavailable. Dry shampoo will keep you looking fresh even when the luxury of a shower is unavailable to you. Use it to quickly freshen up and look and feel a bit cleaner than you actually are!
---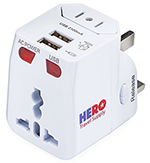 If you're coming from the U.S., you likely will not need to use a power adapter to plug in your electronics in Guatemala. However, if you're coming from Europe or anywhere else, a universal travel adapter will be essential. This one is awesome because it works all over the world and includes several USB ports so you can charge multiple devices at once.
---

Travel insurance is essential for any trip abroad. If you're using any public transportation often you will be separated from your bag (which is placed in the luggage compartment under the bus) during your journey. In the event that you and your luggage are not reunited at the end of the bus journey, you'll be glad to have the insurance coverage to fall back on. We recommend using TravelInsurance.com to compare and find the best insurance. Typical plans cover lost or stolen items, flight cancellations, emergency evacuations and some plans even allow you to "cancel for any reason" which is good to have these days!
Compare policies at TravelInsurance.com ➜
---

A day of exploring in Guatemala's humidity can leave you feeling less than fresh. Toss these handy deodorant wipes in your purse or daypack for an easy way to refresh while you're on the go. These are especially great if you're on a long bus ride or overnight stay with no access to a shower.
---

Guatemala's rainy season extends from May to November, but showers are possible all year round. On top of that, when it rains in Guatemala, it pours. Be sure to pack a windproof travel umbrella like this one to throw in your daypack if you see rain clouds brewing in the distance.
---

Whether you're strolling through the streets of Antigua, browsing in the market of Chichicastenango, or scaling ruins at Tikal, you'll surely want to snap some photos to commemorate the trip. Expensive smartphones can make you a target for pickpockets, so consider this compact and inexpensive alternative. As a bonus, it's waterproof, so you'll be able to trek through caves with it at Semuc Champey as well.
---

Taking precautions to avoid bug bites is critical in Guatemala. Much of the country consists of dense jungle, and some areas are even subject to malaria warnings. Additionally, bug bites can become infected quickly in the warm, humid climate, so it's best just to avoid them all together. These wristbands (in conjunction with insect repellent) last for up to 300 hours, so you can just throw one on and forget about it!
---


Using a VPN when you connect to WiFi in public places is essential. In places like cafes, airports, and hotels, you will be vulnerable to potential hackers looking to steal your sensitive information, such as passwords and credit card numbers. Protect against this by turning on your VPN any time you connect to WiFi in public in Guatemala.
---

A microfiber towel is a traveler's best friend. It's compact and dries exceptionally fast. It works great for the beach, the pool, or just hanging around the hotel. And because it comes in a handy stuff sack, it can even substitute as a pillow if you need one. Don't visit Guatemala without it!
---

Spanish is the official language of Guatemala, and English is not widely spoken. If your Spanish is rusty or lacking, a phrasebook will be your best friend. Sure, Google Translate works most of the time, but your need to communicate doesn't cease when the WiFi connection does. This pocket-sized edition is great and easy to carry around!
---

Tap water in Guatemala isn't safe to drink, and while single-use plastic bottles are usually readily available, the LifeStraw will come in handy if you find yourself without access to bottled water. It's compact, can provide up to 1000 Litres of clean water before it needs replacing, and provides a much more environmentally friendly alternative.
---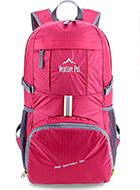 A daypack is essential in Guatemala. It will come in handy for excursions during the day, such as volcano hikes or exploring Mayan ruins. You'll also be glad to have it on travel days when the rest of your luggage is stowed in the hold under the bus. Keep your valuables (passport, wallet, phone), a water bottle, and some snacks in your daypack so they are easy to access during your bus journey.
---

A travel sheet is great for ensuring that wherever you sleep is clean and hygienic. The silk fabric is lightweight and packs into a compact pouch that fits easily inside your luggage. Additionally, the material is soft and breathable which keeps you feeling cool and fresh during warm nights.
---
Other Guatemala packing list items not to forget
---
What to wear in Guatemala
---
Your wardrobe in Guatemala will vary depending on what your itinerary includes, but generally, casual clothing is in order.
Guatemala's temperature averages about 70 degrees throughout the country, though it may be slightly cooler at high altitudes, and warmer along the coast. It can be quite humid, especially in the mountains, so lightweight clothing is ideal.
You won't find much need for formal clothing in Guatemala, but there are high-end restaurants to be visited in some cities, like Antigua. A simple, composed outfit is perfectly suitable for dinner out. Think, chinos and a button down for men, and a maxi, or knee-length dress for women.
Remember, the temperature can drop at night, especially in the mountains, so be sure to pack a sweater and a pair of pants or leggings for the evenings.
What should WOMEN wear in Guatemala? – (Click to expand)
Women in Guatemala typically wear casual, but conservative clothing. Dresses or slacks paired with a blouse are an everyday ensemble. Some women dress in traditional attire, which consists of a full-length skirt paired with a cotton blouse and a shawl if the weather is cool.
Because the standard dress is casual, packing for Guatemala is pretty easy. Visiting women should plan to bring layers, as it can be cool out in the evening. Leggings or sweats are ideal, paired with a long sleeve shirt or sweater. During the day it can be quite warm, so shorts or sundresses will be the most comfortable.
What should MEN wear in Guatemala? – (Click to expand)
Guatemalan men typically wear slacks or jeans paired with a tee shirt or button-down shirt. Visiting men should feel comfortable doing the same. Though, visitors won't be as acclimatized to the heat and humidity so shorts may be more comfortable than pants.
As for footwear, because the streets are mainly dirt or cobblestone, running shoes or sneakers are the best option. They'll keep your feet clean and your footing sound. Sandals are just fine around town as well but probably aren't as comfortable for long walks.
Rainy Season (May, June, July, August, September, October)
Guatemala's rainy season is also the colder season. During this time of year you can expect heavy rain showers, but usually, they don't last the entire day. The temperatures are typically warm (around 70 degrees) during the day but can dip into the mid 60's after dark, especially at high elevations. If you're visiting Guatemala during the rainy season a rain jacket is essential. Also be sure to pack synthetic clothing that will quickly dry if you get caught in a shower. Waterproof trail shoes are a great footwear option for this time of year, as they'll help protect your feet and keep your footing in the mud.
Dry Season (November, December, January, February, March, April)
The temperature in the dry season is slightly warmer than during the rainy season, and won't drop as much when the sun goes down. If visiting Guatemala during this time of year, you can expect plenty of sunshine. Shorts, t-shirts, and dresses are comfortable during the day, and long sleeves help keep the bugs off in the evening. Rain showers can still occur during this time of year, so take a rain jacket just in case.
Dressing appropriately for the activity
Walking Around Town​ – When exploring Guatemala's colorful towns and cities, casual but well-composed outfits are your best bet. The locals always dress nicely, so you should do your best to look put together as well. Comfortable shoes are ideal because the streets are often dirt or cobblestone. If you're planning to visit religious sites, take care to dress conservatively — skirts to the knee for women, and shoulders covered. A pashmina comes in handy for transforming a sleeveless outfit into a conservative one.
Hikes & Ruins​ – Guatemala is famous for the Mayan ruin at Tikal. This extraordinary archaeological site features numerous ancient structures which jut out from the top of the jungle canopy. You will spend much of the day in the direct sunlight while visiting Tikal, and you will do lots of walking (and climbing of ruins). Be sure to wear lightweight clothing, and take a daypack equipped with a water bottle and extra sunscreen. Secure sandals or running shoes will keep your feet comfortable as you walk around all day. The same attire is fitting for volcano hikes.
Semuc Champey ​ – This famous national park in Guatemala's mountains consists of a renowned limestone bridge dotted with crystalline pools with delightfully refreshing water. Underneath the bridge is an underground river and plenty of caves to explore. You'll want to wear water shoes, a swimsuit, and synthetic clothing for your day at Semuc Champey, as you'll be in and out of the water a lot. A waterproof camera is ideal for helping you capture the experience.
Chichicastenango Market – ​Every Sunday and Thursday people from the surrounding area gather in the town of Chichicastenango and hold a massive market. You buy everything from textiles to leather goods, and, of course, food. When browsing the market women should carry a small, crossbody purse on the front of their body, as crowds are a feeding ground for pickpockets. Sensible shoes are also in order, to protect your feet from being trampled by strangers. If you take a daypack to carry your purchases home, be sure to keep your money in an inside pocket.
What NOT to bring to Guatemala
High Heels -​ Heels are simply unnecessary for Guatemala. Between the dirt roads and cobblestones, wearing them is just too much of a challenge. On top of that, the typical dress in Guatemala is quite casual; wearing heels will make you look out of place. Leave the heels and home and use the extra space in your suitcase for souvenirs.
A lot of jewelry – ​Petty crime isn't unheard of in Guatemala, and excessive flashy jewelry will only make you more of a target. Additionally, it won't fit in with the low-key, down-to-earth style for which the local Guatemalans are known.
Electronics – ​It's best to limit the number of expensive devices you carry with you on your trip to Guatemala. Not only do they put you at risk for theft, but, the wifi situation in Guatemala is spotty unless you're staying within a major city. There's no sense in porting around devices if you can't even connect with a network to use them on! Keep your electronics to the bare minimum and save yourself the weight in your pack.
Rolling Suitcase – ​While there's nothing wrong with bringing a rolling suitcase to Guatemala, it's just not that practical. There aren't very many places outside of the airport where you'll actually be able to roll it. It will be much easier to port around a travel pack, which you can throw over your shoulder.
Jeans​ – With the humidity level, warm temperatures, and chance of showers, jeans just aren't a practical clothing item for Guatemala. You're unlikely to wear them outside of the airport, and they're heavy to cart around. Lightweight travel pants or leggings are much lighter and will dry quicker if they get wet.
Makeup – ​Makeup isn't essential in Guatemala. You won't look out of place if you wear it, but you'll blend in just fine with a bare face. It's most likely going to sweat right off if you do attempt to wear it, especially if your itinerary involves hiking, or caving. If you do bring makeup, stick to the bare minimum.
What NOT to wear in Guatemala
Guatemala's casual street style means that there's no need to pack formal wear for your visit. You won't look out of place in a button down shirt or a sundress, but leave high heels, slacks, and fancy jewelry at home. You won't miss it.
You should also avoid bringing heavy cotton clothing, like jeans and sweatshirts. These items will perpetually feel damp in the humidity, and they'll be far too warm to wear most of the time. Instead, stick to synthetic outer layers, and travel pants.
FAQs for Guatemala travel
1. What is the best time of year to go?​
The best time to visit Guatemala is between November and April, which is the dry season. The beginning of the wet season, which extends from May to October, can also be a pleasant time of year, as there aren't as many tourists.
The temperature is quite comfortable all year round, but the heavy rain during the wet season may cause roads to be impassable, and make it generally challenging to get around within the country. September and October are the peak months for tropical storms which can ravage the country and cause mass destruction.
2. Do you need vaccinations to visit Guatemala?
It's best to ask your doctor for their recommendation of which vaccines you should get before visiting Guatemala. That said, the Center For Disease Control recommends vaccinations for Hepatitis B, Malaria, and Rabies.
None of these vaccines are required, but they may be worth considering depending on the nature of your visit. If you're planning to spend a lot of time outdoors in nature, Rabies and Malaria may be a good idea.
3. What is there to do in Guatemala?
Guatemala has many different types of activities to offer. It is a fantastic destination for
adventurous travelers who enjoy hiking and spending time in nature. Many travelers base in ecolodges in the mountains and spend their days exploring coffee plantations, hiking volcanoes, kayaking in lakes, swimming in rivers, or exploring Mayan ruins. There are also many colorful towns and cities to explore, from those surrounding Lake Atitlán to Antigua in central Guatemala. These towns are great places to base for weeks at a time. They draw visitors from all around the world who spend their days learning Spanish and immersing themselves in Guatemalan culture.
4. What is the best way to get around?
– Guatemala is easily accessible by chicken bus (most commonly used by the locals), shuttle, or, if you're willing to spend some extra money, you can hire a private driver.
Chicken buses are the cheapest mode of transportation, but, they aren't necessarily the most comfortable. For journeys longer than a couple of hours you'll probably be most comfortable in a shuttle. Shuttles are large vans that carry 15 to 20 passengers and often have air conditioning.
5. What type of food do they eat in Guatemala?
Most Guatemalan meals consist of meat served alongside rice and beans. A soup or stew usually precedes the main dish. Some dishes that you might recognize from Mexico such as tamales, and chiles rellenos, among others, can be found in Guatemala as well.
6. How much does it cost to travel in Guatemala?
A room in a mid-range hotel in Guatemala runs about $40 USD, while a bed in a hostel costs about $10. Of course, you can spend much more than that if you wish, but a mid-range hotel will provide a basic, but clean room.
When it comes to eating the cost will vary depending on where you eat. Comedores, which are small eateries where you pay a fixed price for a set menu, will cost about $5 for a full meal. If you eat in a proper restaurant, you can expect to spend about $10 for an entree.
Transportation costs in Guatemala are very low. A chicken bus will cost from $2 to $5 depending on the distance you are traveling, whereas a more comfortable shuttle bus will cost about $20.
Can I pay for things with a credit card in Guatemala?
Many large chains, hotels, and major restaurants will have the means to accept credit card payments, but your average independent store will not. In touristy areas, it is more common for businesses to accept card payments, but more often than not they will be cash only.
It's not wise to carry a ton of cash with you in Guatemala because petty crime is relatively common, so try to plan out your daily expenses and carry only the amount of money you expect to need.
If your bank charges hefty ATM fees, withdraw a big lump of cash every week, and store it in various compartments throughout your luggage which you leave in your hotel. This way you can skip the ATM fees, and not have to be worried about carrying excessive cash on your person.
Other Central America packing lists you may like…
Aruba | Bahamas | Belize | Cabo San Lucas | Cancun | Caribbean | Caribbean Cruise | Central America | Costa Rica | Cozumel | Cuba |Dominican Republic | Jamaica | Mexico | Mexico City | Nicaragua | Panama | Playa del Carmen | Puerto Rico | Puerto Vallarta | Punta Cana | Virgin Islands |
Please note: We have over 200 packing lists covering practically every popular travel destination in the world. Access them all on our packing list overview page ➜