Updated on by Asher Fergusson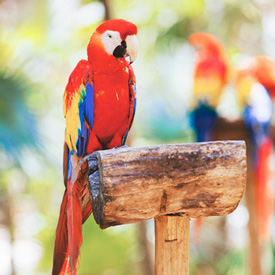 Wondering what you really need for this gorgeous tropical destination? Many people feel daunted when deciding what to pack for tropical locations, as there's so much to do and being prepared can seem tough.
I've put together a list of the top items you'll need for your vacation, along with guides for what to wear in Playa del Carmen, what NOT to bring, and answers to the most-asked questions to help you feel prepared and successful.
This is a relaxing place – prepare to let your worries fade away and allow yourself to be flexible and ready for anything. You'll enjoy your trip to its fullest!

What to Pack for Playa del Carmen – 17 Essentials
---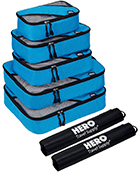 Packing cubes are a total game changer when it comes to packing for vacation. Avoid overpacking and keep your belongings organized by separating them into these brightly colored cubes. This set is amazing because it also comes with separate cases for laundry and shoes.
---

A microfiber towel is a staple for anywhere you may be traveling. Microfiber is super soft and comfy, plus it dries incredibly fast (even in humid environments), so you never have to worry about packing a damp towel in your suitcase.
---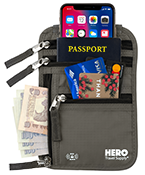 A neck wallet is an essential item to bring with you to Playa del Carmen. Keep your phone, wallet, keys, passport, and any other important items secure and organized at all times with this handy pouch. Wear it around your neck and under your clothes to keep your valuables out of reach for pickpockets.
Available on HeroTravelSupply.com with an exclusive 15% discount using the coupon code "HERO".
---

It's such a drag when your camera or your phone runs out of battery in the middle of sightseeing. With a small portable charger like this one, you can keep your devices topped up while still documenting every moment of your trip in photos and video!
---

Depending on what season you're planning to visit Playa del Carmen, you may experience spontaneous rain showers. The precipitation can be very heavy and you'll want to keep dry in the event of rain. This windproof umbrella is great for travel and can fit two people underneath.
---

Playa del Carmen can get HOT! Keep cool by packing a convenient hand held travel fan that you can easily toss in your beach bag or daypack. This one's amazing becomes with a rechargeable battery so you'll never have to worry about your fan dying when you need it!
---


Be sure to use a reliable VPN whenever you connect to WiFi in public places, like in cafes, restaurants, or hotels. Doing this will keep your private information, like passwords and credit card numbers safe from anyone who may be looking to steal it. It will also grant you access to websites that may be blocked or censored by the host country.
---

Tap water in Mexico isn't drinkable, and hydration is essential when visiting a tropical climate such as Playa del Carmen. Avoid using single-use water bottles which are an environmental disaster. Instead, this Lifestraw bottle will filter contaminants from the tap water, making it easy to have a steady, safe supply of water at all times!
---

You're bound to spend much of your visit to Playa del Carmen in or next to the water, so a waterproof camera is the best way to capture your favorite moments safely. Get ready to wow your friends back home with images of sea turtles, coral reefs, and rock formations beneath the surface of cenotes! This affordable camera can be submerged to 30m below water, shoots 4K video, and can be operated using a remote control!
---

Sunscreen is essential for any trip to Playa del Carmen. Even the most sun-tolerant individuals are likely to burn when spending extended time on the water. This reef safe brand will protect your skin without harming the natural sea life; it's a win-win!
---

An unsettled stomach can really throw a wrench in your vacation plans. If you are concerned about falling victim to the dreaded Montezuma's Revenge, take a couple of these tablets at the first sign of trouble. They'll help absorb unwanted toxins and leave you feeling your best again.
---

Insurance is essential any time you travel. It gives you peace of mind that your belongings will be covered in the event of damage or theft. Plus, you can rest easy knowing that if any health issues arise you'll be able to receive treatment without derailing your entire travel budget.
Compare policies at TravelInsurance.com ➜
---

Whether you're planning to lounge on the beach or next to the pool, this beach bag is a great way to carry everything you could possibly need. As a bonus, it has an insulated cooler compartment on the bottom which is perfect for storing cold water and/or a 6-pack– you're on vacation, after all!
---

Because so much Mexican food is eaten with your hands, you'll need to go the extra mile to make sure you don't contaminate your meal. Unfortunately, sometimes running water and soap are hard to find in restaurant bathrooms or street food stands. Come prepared with hand sanitizing wipes to avoid the risk of food poisoning when you eat.
---

After spending all day in the sun and saltwater, your skin is bound to feel a little parched. Keep it hydrated with this aloe vera gel. And, in the unfortunate event that you get sunburned, this will offer some relief. Keep it in the fridge for maximum relief on sunburned skin.
---

A waterproof phone case is an important item to pack for your trip to Playa del Carmen. You won't have to worry about leaving your expensive smartphone on the beach when you take a dip in the ocean, as you can simply bring it along with you in this handy case. This case even allows you to take photos and videos in the water.
---

During your trip to Playa del Carmen, you'll want sturdy but breathable footwear and these sandals are just the thing. Wear them at the beach, into town, or on an adventure activity. No matter where your Playa del Carmen trip takes you, these sandals will keep you comfortable and supported.
Other PDC packing list items not to forget
---
What should I wear in Playa del Carmen?
---
Playa del Carmen is a paradise for beach lovers in Mexico's Caribbean. Though Mexico tends to be a formal country in many ways, it's totally acceptable (and expected) to wear nothing but beach attire in Playa del Carmen. It's not uncommon to see swimsuit-clad travelers roaming the streets as they shop for souvenirs. That said, with many high-end resorts and restaurants you won't look out of place if you choose to dress up.
The climate is hot and humid, so lightweight, and breathable pieces are ideal. Linen pants and shirts can look dressy while offering comfort from the heat and activewear will help wick sweat while you're out and about. Of course, shorts and t-shirts are a comfortable option for any occasion.
Because the terrain is exceptionally flat, you can wear flip-flops everywhere, but lightweight runners will offer a little more cushioning and support for those days when you plan to do a lot of walking.
What should WOMEN wear in Playa del Carmen? – (Click to expand)
Beach attire is ideal for Playa del Carmen. The vibe is definitively casual, and the temperature is almost always hot. Dresses are suitable for offering relief from the heat and humidity. Lightweight blouses and shorts are a good option as well. Synthetic activewear fabrics are great for active days as they will help wick sweat, and they dry quickly if you are in and out of the water.
For evenings on the town, a sundress or maxi dress will transition effortlessly from day to night. If you need a more formal look throw on a pair of wedge sandals and a little makeup and you're good to go. Sandals are the ideal footwear for Playa del Carmen; flip flops are perfect for the day while wedges or heels will elevate your look for the evening.
What should MEN wear in Playa del Carmen? – (Click to expand)
Playa del Carmen has many high-end resorts and restaurants, which may demand more formal attire, but overall the atmosphere is casual. Men will feel most comfortable in shorts and t-shirts. To transition from day to night, just swap your tee for a button-down, and you're all set for a night out.
In the winter the temperatures can be somewhat chilly at night (as low as 65 degrees), so you may wish to bring a pair of pants if you visit during this time of year. Because the entire town is flat, sandals are totally manageable as your primary form of footwear.
WET SEASON (May, June, July, August, September, October)
Playa del Carmen's wet season stretches from May to October, with June and October being the rainiest months. While rain showers and thunderstorms are frequent during this time of year, they typically don't last for more than an hour at a time. The rest of the time the weather is blazing hot and humid.
If you're visiting Playa during this season pack with heat and humidity in mind. Favor airy, breathable fabrics, but also bring a couple of pieces to offer relief from the harsh sun. A swimsuit coverup or a rash guard will save you from sunburn on a long beach day. A travel umbrella or rain poncho will come in handy in the event you get caught in a shower.
DRY SEASON (November, December, January, February, March, April)
From November through April the temperature in Playa del Carmen is comfortable, sometimes even chilly, and rain is scarce. This is, coincidentally, the most popular time of year for visitors as the climate is so agreeable. During the day you'll be comfortable in beach attire; dresses or shorts and t-shirts are ideal. In the evening, however, the temperature can be as low as 65 degrees, so you may wish to bring a pair of pants or a light jacket for extra warmth.
How to dress for activities in Playa Del Carmen
Beach Day – Playa del Carmen has some of the most beautiful beaches in Mexico. If you're planning to spend the day lounging seaside, be sure to pack plenty of sunscreen, as you'll need to reapply. A sunhat and polarized sunglasses will protect your face and eyes from the glare of the water, and a sarong is the perfect swimsuit cover-up/beach towel for the occasion.
Cenote Swimming – There are hundreds of cenotes to be explored in the Riviera Maya, many of which are within mere minutes of Playa del Carmen. For a day of cenote exploration be sure to pack a daypack with your swimsuit, snorkel, biodegradable sunscreen, and travel towel. It's also wise to bring a water bottle and snacks, as there may not be any food available near the cenote.
Visiting Ruins – Tulum and Chichén Itzá are just two of the archaeological sites you may wish to visit from Playa del Carmen. If you're planning to spend the day exploring Mayan ruins, you'll need to take measures to protect yourself from the sun, as shade is scarce in these locations. A sunhat, as well as a daypack, armed with a water bottle and sunscreen, is essential. Also be sure to wear comfortable shoes, as you're bound to do a lot of walking.
A Night Out – Playa del Carmen is well known for its nightlife, namely the club Coco Bongo. However, there are plenty of other clubs, bars, and restaurants that are worth visiting. There's no need to look particularly fancy for a night out in Playa (though you can dress up if you want to!), but it's a good idea to look put-together. For men, a nice pair of shorts and a button shirt will do, whereas women will look great in a dress and heels. Sandals are still totally acceptable footwear for the evening, but closed-toed shoes will protect your feet better in crowded bars.
What NOT to bring to Playa del Carmen
---
The climate in Playa del Carmen is tropical, and therefore quite humid. It's important to avoid bringing heavy fabrics, like thick denim or cotton, which will soak up the moisture in the air and never dry. Instead, stick to lightweight, breathable fabrics, like light cotton or linen, or even synthetics, which will dry quickly. It's also best to avoid bringing flashy jewelry and other valuables. While Playa del Carmen is quite a safe city, it's best not to draw attention to yourself by flaunting valuables. Instead, leave your prized items safe at home.
What NOT to wear in Playa
---
While Playa del Carmen is a very casual city, especially by Mexico's standards, it's still best not to wear overly revealing clothing. Mexico is a Catholic country, and risqué outfits can draw unwanted, negative attention. It's also wise to avoid wearing a lot of flashy jewelry, as tourists may be easy victims of petty crime. A little bit of jewelry is fine, but leave expensive, statement pieces at home.
FAQs for a vacation in Playa Del Carmen
---
Where is the best area to stay?
Unless you're staying at an all-inclusive resort, where all of the amenities you need are readily available, it's best to stay in the center of Playa del Carmen. Within the center, everything you could need can be found within walking distance (or a short taxi ride), including the beach! As long as you stay on the ocean side of the highway, between the Playacar development, and CTM Avenue, everything will be walkable.
What is there to do nearby?
Playa del Carmen is located right in the heart of the Riviera Maya. To the north lies Cancun and the south Tulum. Across the water about 45 minutes by ferry, sits the island of Cozumel. Each of these destinations has something unique to offer, whether it be incredible restaurants, Mayan ruins, snorkeling reefs, or cenotes to explore.
What is the best time of year to visit?
The best time to visit, weatherwise, is in the dry season, between November and April. This is also high season, and the town can be extremely crowded. To avoid the crowds and still take advantage of the great weather, plan your visit for November or February. November will put you in town ahead of the Christmas crowd, while February will allow you to skip the spring break crowd.
Is tipping expected?
Yes, tipping is standard in Playa del Carmen (and Mexico in general). Mexicans usually tip 10 – 20% of the value of the meal in restaurants, so you should plan to do the same. It's also expected that you tip cleaning staff in your hotel (20 – 50 pesos per day), bellhops, shuttle drivers, and baggers in grocery stores. It is not standard to tip taxi drivers.
What is the best way to get around?
Though Playa del Carmen is quite walkable, sometimes the heat can be overbearing. Taxis are a reliable way to get from A to B within the city. If you're feeling a little adventurous, you may consider renting bikes for the duration of your stay. The city is flat, so cycling is quite easy.
If you're planning to travel between towns in the Riviera Maya, your best option is a local Colectivo (an inexpensive shuttle van), or an ADO bus. The ADO buses are large, greyhound-like buses that traverse the entire country. They are comfortable, air-conditioned, and make very few stops between destinations. Colectivos, on the other hand, stop frequently but cost much less money.
A rental car is always an option for those who prefer to do their own driving. However, public transportation is much cheaper if you're only trying to get from A to B.
Do I need to speak Spanish?
While Spanish is always appreciated in Mexico, it is not essential for visiting Playa del Carmen. Due to the large ex-pat community, and the number of tourists visiting from Canada and the United States, most locals in public-facing roles speak at least some English. You should be able to manage just fine with little to no Spanish, but again, the locals genuinely appreciate it when you take the time to learn a few basic phrases.
What is the ideal amount of time to stay?
There are so many activities at your disposal, and places to explore in and around Playa del Carmen, that you could easily fill a few months there. However, you can undoubtedly squeeze the highlights into a week-long trip. 5 to 7 days is the ideal time to get a feel for the destination and some of the surrounding areas without wearing yourself out!
---
Other Central America packing lists you may like…
Aruba | Bahamas | Belize | Cabo San Lucas | Cancun | Caribbean | Caribbean Cruise | Central America | Costa Rica | Cozumel | Cuba |Dominican Republic | Guatemala | Jamaica | Mexico | Mexico City | Nicaragua | Panama | Puerto Rico | Puerto Vallarta | Punta Cana | Virgin Islands |
Please note: We have over 200 packing lists covering practically every popular travel destination in the world. Access them all on our packing list overview page ➜