Updated on by Asher Fergusson
A
popular destination from tourists all over the world, Punta Cana welcomes swimmers, snorkelers, and beach bums to enjoy its year-round tropical climate and beautiful beaches. Punta Cana is also located quite close to the historic towns of Higuey and Cabeza del Toro. History buffs will enjoy a day trip to Higuey, the 500-year-old city is home to landmark moments in the Spanish colonization.
Because of its tropical climate, diverse population, and varied activites, this spot can be tough to pack for. We also include a guide for what to wear in Punta Cana, what NOT to bring, the seasons, and some FAQs to help you plan the best trip possible.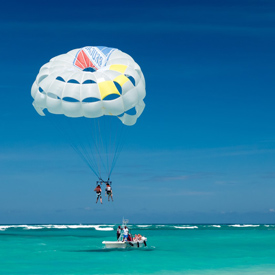 What to Pack for Punta Cana – 17 Essentials
---

With a reliable waterproof phone case, you'll never have to leave your smartphone unattended on the beach again and risk it getting stolen or covered in sand. This case is awesome because it not only protects your phone from the elements, but it also allows you to take photos and videos while in the water.
---

A trip to Punta Cana isn't just endless blue waters and white sands, even though those are beautiful too. To capture the wildlife, adventure activities, and travel memories, make sure to bring a good underwater camera. We love this one because it's waterproof, compact, and affordable.
---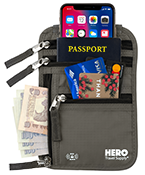 A neck wallet will protect you from pickpocketing and petty theft during your trip to Mexico. Large enough to hold your passport, phone, wallet, and other valuables, this neck wallet can be worn around your neck and hidden discreetly beneath your clothes to keep your belongings organized and secure.
Available on HeroTravelSupply.com with an exclusive 15% discount using the coupon code "HERO".
---

Don't forget to pack a trendy swimsuit cover up to protect your skin from 11am-2pm when the sun is at its strongest. Sticking to a cover up made from delicate and breathable fabrics like this one will keep you cool, and your skin will thank you for it.
---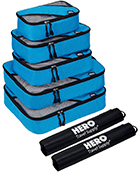 If you've never used packing cubes, they will be a total game changer for you! Keep all your belongings organized and prevent overpacking with these awesome brightly colored cubes. With a space to label each cube's contents on the outside, you'll never have to dig through your suitcase searching for underwear again!
---

Whether you're out and about exploring Punta Cana or spending the day relaxing on the beach, the last thing you'll want to do is stop somewhere to recharge your phone or camera. Toss this lipstick-sized portable charger in your purse or beach bag so you can recharge your electronics as needed throughout the day.
---

The pain of a sunburn can easily be relieved by applying aloe vera gel liberally and frequently. It's sticky stuff but it works to hydrate your skin to heal the damage and relieve the pain. For even more relief, keep your aloe vera in the refrigerator during the day. When you come home in the evening, the extra cold temperature will soothe sun damage.
---

Keep your sunblock, towels, water bottles, and beach reads all in one sand-proof place, like this handy beach bag. This one is awesome because it comes with an built-in cooler to keep your snacks and drinks at the perfect temperature all day.
---


Important any time you travel is a reliable VPN. Use it whenever you connect to WiFi in public places, such as at airports, hotels, and cafes to protect your sensitive information from potential hackers. Using a VPN will ensure that your credit card numbers and personal information remains private. This will also help you access websites from your home country that may be blocked in the Dominican Republic.
---

The tap water in Punta Cana is not safe to drink, but instead of using endless single-use plastic water bottles, opt for a more environmentally friendly option. This reusable LifeStraw water bottle has a built-in filter to ensure your drinking water is clean and safe to consume.
---

An incomparably valuable travel item to pack on your trip to Punta Cana is a quick dry towel. Perfect in a variety of scenarios, this towel dries quickly which allows you to toss it in your daypack or beach bag almost immediately after use. It will also come in handy if the towel your accommodation provides doesn't meet your cleanliness standards.
---

Don't be the victim of pickpocketing and petty theft during your vacation in Cozumel. Particularly in more touristy areas, you'll want to avoid becoming a target. Keep your phone, passport, wallet, and keys safe and out of sight in this handy neck wallet that can be worn beneath your clothes.
---

You don't want to get stuck in a situation where you wished you had travel insurance but don't. Give yourself peace of mind knowing that no matter what happens, you're covered in any situation. We never travel without World Nomads, which covers your costs for lost or stolen items, flight cancellations, and emergency medical expenses.
View their plans at WorldNomads.com ➜
---

Speaking of sand proofing, you can't go wrong with a sand proof blanket, like this one available on Amazon. The sand resistant material ensures that sand is easily wiped away, allowing for more comfortable post-swimming naps on the beach.
---

Though the food in Mexico is renowned as some of the world's most delicious cuisine, your body may not be used to the region's germs or you may come in contact with food or drinks that don't sit well with you. Prevent discomfort and potential food poisoning by bringing activated charcoal tablets, which will absorb and expel any unwanted bacteria in your system.
---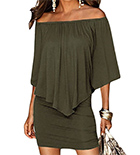 You'll definitely have at least one opportunity to wear a gorgeous dress in Punta Cana. Whether it's a nice dinner or a night out on the town, you'll be glad you packed some stylish evening wear. This dress is perfect for warm Dominican nights because it's lightweight, breezy, and looks great on a variety of body types.
---
17. Mesh Slip-On Water Shoes: Women's & Men's

You may decide to try your hand at kayaking, bodyboarding, or any of the many aquatic sports you can explore in Punta Cana. It is a good idea to protect your feet with a pair of rubber water shoes that will also provide some friction and stability if you decide to go sailing or wakeboarding.
Other packing list items for Punta Cana
---
What should I wear in Punta Cana?
---
Dominican style is mostly relaxed and suited towards the year-round tropical weather. Similar to American style, it is casual and comfortable with a few key exceptions. Known for its resorts, like Punta Cana, the Dominican Republic relaxes its dress code for vacationers—with resort wear significantly more relaxed by the beach or poolside. With so many aquatic sports available—from scuba diving to sailing and snorkeling— and the tropical heat, dress for comfort and protection. With Spanish and native Taino influences, bright colors are always welcome.
That said, there are a few exceptions. The Dominican Republic is a Catholic country and emphasizes more modest dress in church and more formal settings. Meanwhile, if you go out to dinner or drinks in trendy Santo Domingo, you will be expected to dress up. That means swapping out your flips flops for high heels and proper trousers. Feel free to dress to the nines!
What should WOMEN wear in Punta Cana? – (Click to expand)
Women feel free to wear bold colors, bright dresses, and sandals. Whether you're out on the town or relaxing on the beach, the tropical and Spanish influences permeate local fashion. Opt for natural fabrics that keep you cool and protect your skin. Otherwise, the Dominican Republic is the perfect place to experiment with summer fashion. It is perfectly acceptable to show a little skin, especially on the beach or in trendy Santo Domingo restaurants, but for formal occasions and visiting historic churches, keep legs and shoulders covered.
What should MEN wear in Punta Cana? – (Click to expand)
To keep cool, men will also want to opt for natural fabrics like linen and cotton. They'll keep you protected during the day, and most items, like a linen button-down, will transition well from beach to a night on the town. While the Dominican Republic boasts a casual sense of fashion, flips flops are a no-go off the beach. Opt for comfortable boat shoes and colorful shorts, or light fabric trousers if you go out for drinks off the resort.

---
Spring — March, April, May:
Temperatures do not vary too much year-round in the Dominican Republic, with winter temperatures still quite hot. Spring temperatures see the thermometer go up by only a few degrees, from a February average of 28 (84) to an April average of 31 (88). Technically hurricane season begins in May. While it's good to keep an eye out for inclement weather, conditions stay pretty clear until August.
Summer — June, July, August:
June and July are the nicest months of the year. The average sea temperature for Punta Cana is 32°C (82) – that's the same as in June. While this temperature is great for swimming and sailing, with tropical winds at your back, bear in mind that the sun index is quite strong. For starters, it's not uncommon for temperatures to get much hotter than that. Moreover, with the strong sun index and longer days, you'll need to be extra cautious to avoid sunburn.
Autumn — September, October, November:
September still remains hot, with average temperatures around 28 degrees. By October, it begins to cool down by a slim margin, with temperatures reaching 29 or 30 (86 to 89) and steadily into December. The sun index gets a little weaker, so those visiting from more temperate climates, like New York or London, will find autumn weather a pleasant change of pace.
Nevertheless, September and October are peak times for hurricane season, so be extra mindful of weather reports. Otherwise, your vacation may be interrupted by heavy rains and dangerous conditions.
Winter — December, January, February:
Christmas in the tropics? With temperatures hovering around 84 degrees (28), who can say no to such pleasant conditions? Far away from hurricane season, you can expect a January and February full of sunshine. January occurs in the dry season, so you can expect perfect conditions to explore the island's natural beauty.
What NOT to bring to Punta Cana
---
1)

Heavy Footwear
– Unless you're hiking a natural trail, leave your heavy trainers and hiking boots behind. The lighter you pack and the lighter you dress the better for Punta Cana.
2)

Dark Colours
– Just like your fabrics, keep your colours light. Resort wear may be relaxed, but who wants to dress like Morticia Adams to go to the beach? If you go into town, bright colours are encouraged by the local fashion sense.
3)

Electric hairstyling tools
– Natural is the way to go, especially as the heat, wind, and humidity are bound to do a number on a perfectly polished coiffe. The most stylist and easy-to-maintain option? Let your hair down, literally, and you'll blend in with the locals.
4)

Too many layers
– You'll do well to bring a light jacket or jumper for the breezy evenings, but if you bring any autumn or winter outerwear with you, you'll be boiling. A simple wind-resistant jacket will take you through any sailing adventures, and a breathable cover-up will suit for any evenings out.
FAQs for traveling in Punta Cana
---
1) What is transportation like?
Public buses, known as guaguas, connect the Punta Cana and Bavaro area. However, taxis and shuttles are easily available (fairly affordable and infinitely faster) to connect you to the airport or any major hotel. If you want to explore the island, your best bet is to rent a car yourself and travel on your own schedule.
2) What Cities should I visit?
Punta Cana is a small town that offers over 32 kilometers of beach territory, golf courses, and a few local joints to try the local cuisine. That said, the country is a small island nation so it never hurts to spend a day or two in the capital, Santo Domingo, or explore historic towns like La Vega or Santiago.
3) Do people speak English?
While Spanish is the official language, most people in resort towns like Punta Cana speak pretty proficient English. Still, it is always polite to learn how to say thank you (gracias) and please (por favor). Small efforts will go a long way.
4) Is it safe to drink the water?
No, it isn't, as the tap water is not purified. Your best bet in all cases is bottled water, and opt for drinks without ice if you can't see where the ice is sourced. If you're taking a tour, bring a bottle of spring water with you.
5) What is the best time of year to visit?
Spring, Autumn, and winter are all lovely, as the heat cools down just a little. Summer brings extreme hit and direct sunlight so if you're prone to sunburn, it may the time of year to avoid taking a trip.
6) What currency is used in Punta Cana and the DR?
The official currency is the Dominican peso, which you can easily exchange at hotels or the airport upon landing. That said, if you are at a resort, you can tip in American dollars, which servers can exchange just as easily. Many restaurants and hotels in Dominican cities will accept American dollars and Euros directly.
7) Do I have to tip in restaurants and bars?
It is customary and good courtesy to leave 10% if you enjoyed your services. Some restaurants will add 10% gratuity to your bill, so make sure you look at your check before leaving extra. You will know if it has been added if you see "propina incluida" on the check.
8) What is the food like?
Dominican food is a real mix – of fresh with fried, of meat paired with colorful fruits and veg – all of which are absolutely worth your while to try. Sancocho, a traditional meaty stew, is packed with flavor—especially if you go for sancocho de siete carnes, with a varied selection of meat ingredients, which promises a rich and varied flavor. Vegetarian? Try mangu, a plantain mash, with coffee for breakfast. Otherwise, opt for stewed beans, braised chicken, and don't skip out on the fried plantains. Expect a rainbow on your plate with contrasting flavors and textures that are sure to tickle your palate.
---
Other Central America packing lists you may like…
Aruba | Bahamas | Belize | Cabo San Lucas | Cancun | Caribbean | Caribbean Cruise | Central America | Costa Rica | Cozumel | Cuba | Dominican Republic | Guatemala | Jamaica | Mexico | Mexico City | Nicaragua | Panama | Playa del Carmen | Puerto Rico | Puerto Vallarta | Punta Cana | Virgin Islands |
Please note: We have over 200 packing lists covering practically every popular travel destination in the world. Access them all on our packing list overview page ➜