Updated on by Asher Fergusson
A
Caribbean paradise awaits you in the form of the Virgin Islands, located slightly east of Puerto Rico. The Islands themselves are a collective; one group of islands is considered territory of the United States, while another group is considered British territory.
Below, you'll find a list of all of your packing needs as well as some helpful tips including what to wear on the Virgin Islands, what NOT to bring, and answers to FAQs so you can make the most of your experience.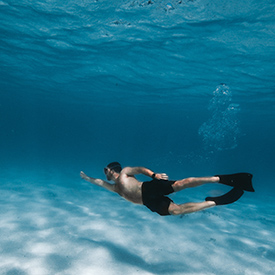 What to pack for Virgin Islands – 17 Essentials
---

Due to the small size of some of the islands, your excursions might take you across the entirety of St. John or St. Croix, for example, so you'll want to have a trustworthy daypack like this one to keep your belongings safe and dry, and your hands free. Use it when you're engaged in a more athletic adventure, such as hiking or climbing.
---

It's always best to keep yourself prepared for any situation, and your safety is a priority when it comes to pre-planning. A well stocked first aid kit is an essential on a trip where there are numerous activities and geological sites involved. Pack this lightweight and compact case in your suitcase and be sure to take it along with you as you move throughout the day.
---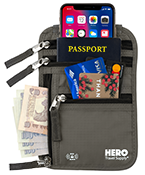 Many travellers have reservations about leaving some of their most important documents in their suitcases, in their hotel rooms, or in any other location that's not specifically on their person. This RFID-blocking neck wallet takes that fear away and allows you to carry your ID, money, and other essentials with you without weighing you down. It's also small enough that you can conceal it under a shirt or a jacket should you want more security.
---

For those who want to charge their phones and other devices on the go, a compact charger / power bank such as this one is the perfect option for you. It's small enough to carry around in a purse or a pocket, and can give your cell phone enough charge to last for hours on end. Don't get stuck without cell phone access again!
---

With the amount of exposure you'll have to water – either by going to one of the fabulous beaches on the Islands or in enjoying the many water sports there are to check out – you'll want to protect your phone and even take pictures to capture the excitement. This waterproof phone case ensures that the fun doesn't have to stop. It's also a universal fit, so anyone in your travel group can use it.
---

If you're worried about taking pictures with your phone underwater in a waterproof case, you might want to instead opt for this underwater camera. The picture clarity is breathtaking, and you'll be able to share your experience with your friends and family back home as though they were there with you! You can even capture video with this camera, and it comes with two rechargeable batteries to boot.
---

We've all experienced the chaos that is the packing process, and it can be even more hectic when our belongings get tossed around in our suitcases. Fortunately, there are the HERO packing cubes, which not only allow you to organize your belongings; you can also store them comfortably one on top of the other to free up space in your suitcase. Label them according to how you've organized the contents, and you'll never again need to fish through your bag for a stray item.
---

A first aid kit isn't the only form of safety you'll want to bring with you on your Virgin Islands trip. Investing in travel insurance is something not many of us think about, but when we need it, we're sure glad to have it on hand. TravelInsurance.com makes it simple to compare plans that will protect you from damages, lost items, and various medical emergencies that might arise on your trip. Plans typically include emergency evacuations, trip cancellations and trip interruptions.
Compare policies at TravelInsurance.com ➜
---

Due to the wetter, more humid climate in the Virgin Islands, you're going to encounter an array of bugs. Instead of spending your time swatting and itching, opt for this travel sized, deet-free bug repellent that will keep your skin free of bites. It's long lasting, but recommended you apply once in the morning and once in the evening if you'll be out all day.
---

Packing for just the beach can be an adventure in itself, especially if you're going to a beach that you're not altogether familiar with. This beach bag is perfect for the occasion: with multiple pockets and compartments both inside and outside the bag, flexibility for a handful of towels, flip flops, and any sunscreen you might pack, as well as a zippered section to keep your more important items safe, you'll be glad you brought it on your excursion.
---

Take your beach look up a notch with this stylish bikini cover up, a lightweight and comfortable addition to your beachwear that you can also wrap around your shoulders if you need to protect yourself from the sun or cover yourself up in the sea breeze. What's more, the fabric won't tear or get ruined when wet, and you can customize the cover up to fit your body.
---

Due to the proximity to the equator, the sun is exceptionally strong on the Virgin Islands. You're going to want to keep this rash guard on you to protect yourself from the sun's rays, as well as opt for something that offers UV protection. Even if you're someone who doesn't burn easily, it's in your best interest to guard yourself from the skin damage you might not be able to see with the naked eye.
---

Nights can get breezy but will still remain warm on the islands. If you're going out to dinner, you'll want to pick something that is breathable and flowing to accommodate the heat on the island, even in the evening. This gorgeous bohemian inspired dress is the perfect option, which you can pair with some wedge sandals and a handbag to complete the look.
---

You'll be doing a lot of walking throughout the Virgin Islands, and not all of it will be related to hiking. Because of the tremendous views and the sloping nature of some of the roads, you'll find yourself outside quite a bit to take in the scenery. For this reason, protect your feet with a breathable walking shoe that also offers you support for your heels and ankles.
---

Like travel insurance, a Virtual Private Network (VPN) is another item we tend to overlook. Many of us assume the hotel or the resort we're staying in will have Wi-Fi, but if you want to protect your sensitive information, such as logins, passwords, and more, then you'll want to invest in this device. You might also be able to access websites that could be blocked in your area.
---

Ideal for camping, hiking, or a day spent by the water, this microfiber quick-drying towel is perfect for whatever itinerary you have planned for yourself. Gone are the days when you have to lug a wet towel back in your beach bag; now you can take advantage of the quick absorption as well as the carrying case provided with the bag to ensure that the rest of your things don't get wet. The microfiber also has a "fuzzy" feel, which makes for a comfortable stretch out in the sun.
---

June to November is the official rainy season on the Virgin Islands, so you'll want to make sure you pack this heavy duty umbrella to take with you when you're out and about. It's compact enough to fit in your carry-on and in any day back or back pack you intend on bringing, and protects from not only strong rains but the wind as well.
Other Virgin Islands packing list items not to forget
---
What to wear on the Virgin Islands
---
The climate on these Caribbean islands is tropical, meaning the heat can be dense and wet, yet the evenings tend to cool off. Though there is debate as to whether or not the Virgin Islands have a "rainy season", there is heightened precipitation beginning around the end of May / early June and then continuing into November or even December, which is when things start to cool off.
Knowing this, you're going to want to first and foremost pack loose-fitting, lightweight clothing that won't weigh you down in the sheer humidity. Choose light colors that won't attract the sun even more. You'll want to pack some trendy or fancier clothing to dine out in, but these can be flowy dresses for the ladies or lightweight, even short-sleeved shirts for the men.
Of course, while you want to look your best, you'll have to feel your best as well. The Virgin Islands offer a multitude of outdoor activities and excursions, for which you will need proper footwear – such as light, breathable walking or running shoes and cool-dry athletic wear – if you want to see all of the sights but yet remain protected from the sun and humidity.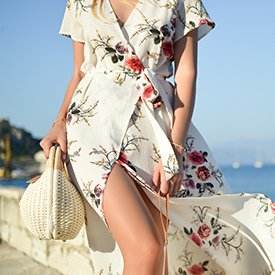 What WOMEN should wear in the Virgin Islands – (Click to expand)
Below is a sample women's clothing list. (All items link to Amazon.com for your convenience).
If exploring the outdoors, opting for breathable, quick-dry clothing whenever possible is going to keep you cool and dry. Always remember to wear sunscreen that is tailored to your particular skin type, and don't overexert yourself on these activities. While a sporty tank top might keep you cool, it won't protect your shoulders, arms, and neck from the sun. Remember that no matter the activity, heavier fabrics are not a good idea. Stick to light colors and cotton or the more breathable synthetics.
Finally, your beach attire should reflect the beauty of the islands! A tropical bathing suit with cute sandals is all you need to blend in on the beaches.

What MEN should wear in the Virgin Islands – (Click to expand)
Below is a sample men's clothing list. (All items link to Amazon.com for your convenience).
Beachwear should also be chosen based on the activity you're participating in. If you and your friends or family are simply lying by the water on the sandy beaches, then a simple pair of trunks is ideal. If you're going for more of a sportier water excursion, then be prepared to bring a heftier swimsuit and maybe some personal flotation devices.
When hiking or sightseeing, always choose lighter fabrics with more of a breathable design. Men will want to choose whites, tans, and light shades of colors to ensure that the sun and humidity don't drain them.

DRY SEASON in the Virgin Islands

– December through March

Though there is a joke that summer lasts all year long in the Virgin Islands, it is noticeably cooler during the dry season from December to March, even early April. Because the Islands are so close to the equator, you will enjoy long hours of sunshine, but don't forget that the sun's rays will therefore be that much stronger.

During the dry season, it's best to stick to light fabrics and colors. Choose quick-dry tank tops and lightweight shorts if you are walking or hiking. As it gets cooler at night, opt for something flowy, such as a maxi dress or a skirt, coupled with a shawl or something to wrap around your shoulders should you get cold. Men would do well to stick to linen shirts (known as guayaberas) for strolling around or going out to dinner, as these are breathable yet stylish.

Always remember to pack a few bathing suits, as you'll be engaging in many water activities. And as usual, sunscreen is a must.
The average temperature during the dry season remains at a comfortable 73℉ as a low and hovers around 86℉ as a high (23℃ to 30℃). Water temperatures are typically around 79℉ to 81℉ all year round (26℃ to 27℃).
WET SEASON in the Virgin Islands

– April through November

Rainfall during the wet season can last for as a little as 20 minutes to a full afternoon, depending on where you're travelling. For this reason, it is in your best interest to bring an umbrella, a rain jacket, and shoes that you don't mind walking around in while it's raining.

Although there is a known wet season, don't think your plans will be ruined by the weather. You can still pack your favorite items to go hiking in or swimming in, and as long as you cover yourself for potential rain, you can also bring a nice outfit to go out on the town. As the wet season is also part of the hotter group of months, protect yourself from the sun's rays with a sun hat and some sunglasses.

The average temperature during the wet season can range from a low of 77℉ to a high of 90℉ (25℃ to 32℃). Water temperatures typically stay around 79℉ to 81℉ all year round (26℃ to 27℃).



Dressing Appropriately for the Activity – (Click to expand)

Snorkeling / Scuba Diving:

Should you go snorkeling, scuba diving, or sea trekking, you will want to make sure you bring a quick-dry bathing suit, any personal flotation devices that might be required of you, and water shoes so that you don't risk anything getting ruined due to the elongated exposure to water. Be sure to also pack some goggles for better visibility under the water, a waterproof camera and/or watch, as well as sunscreen!

Beach: It's no secret that water activities will encompass the majority of what you do on the islands. Pack a couple of bathing suits, a beach cover-up, and some comfortable sandals so you can walk along the gentle waves. As always, you'll need sunglasses and sunscreen to protect yourself from the intense sunshine, as the days tend to be longer on the island.

Island Touring: Just because the islands are small doesn't mean there's not a lot to see! You'll be doing plenty of walking, and you'll thank yourself for choosing a comfortable walking shoe that's lightweight, breathable, and even water-resistant should you decide to go that route. Opt for a light t-shirt or an athletic shirt that moves with your body, some comfortable shorts, and some type of a hat to keep the sun off your neck and your face. Spritz a few sprays of bug spray on your body before you leave and you're ready to hit the towns.

Nightlife: The nightlife on the islands is as much about the fashionable clothing statements as it is the entertainment. Choose a flowy dinner dress and high heeled shoes, or a snazzy guayabera and some dressier shorts or slacks, and you'll be ready for dinner, dancing, and more. If you're wearing jewelry, make sure it's not too heavy or clunky. Lighter pieces won't weigh you down and will be an elegant addition to your outfit.

What NOT to bring to the Virgin Islands
---
1)

DON'T BRING Heavy / bulky clothing:
You will only weigh down your suitcase and take up precious room in the closets that you'll have in your hotel or the home you've rented. Plus, you won't be wearing anything bulky with average daily temperatures of 79℉ / 26℃! If you must bring something for the cooler weather, choose a light shawl or wrap.
3)

DON'T PACK Only dark clothing: Dark colors will attract the sunlight, something you want to avoid on this excursion. Instead, go for the lighter hues or even just white. This goes for your swimwear, your athletic outfits, and your dinner outfits. It might be fine if you're traveling during the cooler months and want to bring a darker outfit for the evening; just be mindful of how your body reacts to certain temperatures.
5)

DON'T PACK Excessive amounts of cash: There's no reason to be burdened with an excessive amount of cash, especially if you're travelling from the United States, where the currency is the USD anyway. Plus, it's a risk leaving it in the hotel room or the bedroom of the house you're renting. Pre-plan how much you'll bring by building a preliminary budget.

2)

DON'T PACK Expensive jewelry:
Sure, you want to look your best, but you don't need to bring your most expensive pieces in order to achieve a fashionable Caribbean look. Wear light pieces, such as gold or rose gold, of just one or two chains at most; a few rings; and some thinner earrings such as hoops to round out your outfit. Expensive jewelry is too valuable for you to risk losing or damaging.
4)

DON'T BRING Low-SPF sunscreen: Even if you're someone who doesn't "burn easily", it's always a good idea to bring a more robust SPF of sunscreen so that you don't risk increasing your UV exposure. If you can find a waterproof sunscreen, then you'll be even better off.
6)

DON'T PACK Expensive technology: It can be tempting to want to pack your camera, your laptop, your e-reader, your cell phone, and other expensive devices, but try to choose only a few for this trip. Not only will your luggage be lighter if you do, but you'll avoid any water damage to those important electronics.

What NOT to Wear in the Virgin Islands – (Click to expand)
Some of the islands are known for their tremendously steep hills. If you're going walking or hiking, make sure you're not wearing any open-toed shoes or any shoes that you deem to be too delicate or fragile for this kind of walking. A good hiking or trail running shoe should take the place of a fashion sneaker, for example.
Always check the weather before you go, as well. You are not going to want to wear bulky items, such as a sweater or a turtleneck. The weather does not get cool enough on the islands for what would typically be considered "winter wear".
Finally, always make sure that the outfits you choose, if you're going to be by water, are waterproof. You wouldn't want to ruin an expensive pair of clothing by accidentally getting it wet!

FAQs about the Virgin Islands
---
1. What islands make up the Virgin Islands?
Three major islands make up the U.S. Virgin Islands: St. Croix, St. John, and St. Thomas. There are also around 50 minor islands. The British Virgin Islands, on the other hand, consist of Tortola – the largest island – followed by Anegada, Virgin Goda, and Jost Van Dyke.
2. What are the major beaches in the Virgin Islands?
On St. John, two of the major beaches are Cinnamon Bay – which stretches a mile – and Trunk Bay. On St. Croix, you'll want to visit Sandy Bay, the beaches on Jack's and Isaac's Bay, and if you can get to it, Turtle Beach on Buck Island. While on St. Thomas, Coki Point Beach and Lindquist Beach are the must-sees.
3. What kind of heat is it, humid or dry heat?
This depends on what time of year you're going, but overall the heat is a tropical one, meaning it is dense and humid. Of course, there might be days that are a little breezy and will feel like dry heat, but this might be the exception. If you are traveling between December and April, average temperatures will be a bit cooler than the other months, and it is during this time that the heat might not be as intense. From May to November, however, when the precipitation couples with the heat, it's going to feel much denser outside.
4. What kind of currency is used there?
Both the U.S. and the British Virgin Islands use the U.S. Dollar. If you're traveling from outside the U.S., always remember to check conversion rates before you leave.
5. What languages are spoken in the Virgin Islands?
The most widely spoken language (and the official one) is English, though you might hear people speaking Spanish and Creole, as well.
6. Is it expensive to go to the Virgin Islands?
The Islands do tend to be more on the expensive side, and this is largely because of how many items they need to import, which will drive up the cost of things like dining, groceries (if you need to go grocery shopping), and other forms of retail. If you research your restaurants and hotels beforehand, there is a good chance you can find some of the deals that are out there. September to November will yield cheaper flight prices, and it is widely known that January is the "low season", so look out for price drops at the beginning of the year.
7. What is there for children to do in the Virgin Islands?
If your child or children gravitate toward water sports and activities, you are in luck. There are opportunities for boating, snorkeling, swimming, and more. Older children might enjoy the sea-trekking experiences, where they can walk the ocean floor while wearing the proper equipment and engage with the ocean life down there.
Children who are more on-land adventurers will enjoy horseback riding, Jeep excursions that wind you through the hills and roads on the islands as you take in the view, and the many different hiking trails throughout the islands.
8. What is the local cuisine like?
The predominant cuisine on the islands is Caribbean, but that doesn't mean you can't sample food from other cultures, as well. The islands feature a plethora of restaurants which represent various cultures and countries. Some local kitchens incorporate Indian influences and serve up curried meat and vegetable dishes.