Updated on May 5, 2022 by Asher & Lyric Fergusson
B
oth Asher and Lyric Fergusson were fortunate to study abroad as students. In fact, they first met at their university because Asher (originally from Australia) received a scholarship to study in the USA for his undergraduate degree.
These experiences have lead to many great opportunities and they haven't stopped traveling since.
This scholarship program aims to support current students wishing to experience new cultures and to broaden their perspectives.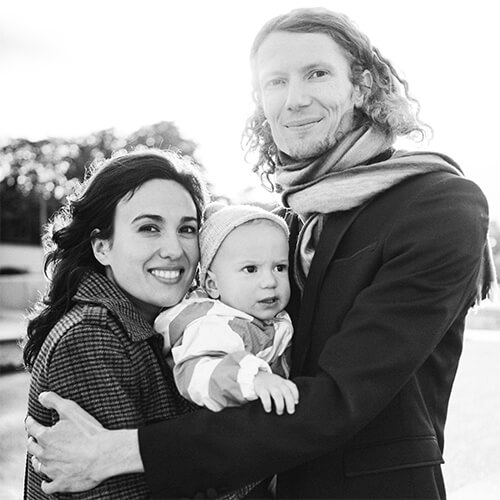 Please note: due to COVID-19 we had to cancel several semesters of scholarships. However, we are now back open for Spring 2023 applications!

Scholarship Details
---
Before each Fall and Spring Semester
One winner will receive:
$1,000 scholarship for studying abroad
Optional 1hr call with Asher for tips on studying abroad ($120 value)
And one runner-up will receive:
$250 scholarship for studying abroad
The total value of each bi-annual scholarship is over $1,250.

Who Can Apply
---
Candidates must:
Be a US citizen or permanent resident
Be a full-time student (undergraduate or masters)
Have GPA of 3.0 or higher
Have already applied or been accepted into a Spring or Fall semester study abroad program eligible for credit by their college, or university
Be planning to attend a study abroad program outside the US and Canada
Submit a 400 to 500 word application essay (details below)
How to Apply
---
First, make sure you've read all the above eligibility requirements and full-length rules below. Once you're convinced of your eligibility, simply fill out this Google Form.
2023 Spring Application Deadline: December 1st, 2022
2023 Spring Award Date: December 31st, 2022
2023 Fall Application Deadline: May 1st, 2023
2023 Fall Award Date: May 31st, 2023
The winning candidate will be notified via email and published on this webpage.
Your essay needs to answer these two questions (400 to 500 words max):
What do you hope to gain from your study abroad experience?
How do you think this experience will improve your life and/or future career?
Scholarship Rules
---
One entry per student.
Only winning applicants will receive a notification via email.
The 2023 application period starts on May 1st, 2022.
If you fail to answer the essay questions adequately or write more than 500 words your application will be deemed ineligible.
To be eligible you must have already applied or been accepted into a 2023 Spring or Fall semester study abroad program eligible for credit by your college or university.
The scholarship is not available for Summer or Winter programs.
Once submitted, no confirmation email will be sent to the applicant. Any other requests related to the application will not guarantee a response from Asher or Lyric.
The essay must be written in grammatically correct English.
All essays must be 100% original. You acknowledge that your essay once submitted becomes property of Asher & Lyric and may be posted on their blog and social media accounts.
Asher & Lyric will personally review all applications. They will select one winner and one runner-up per semester based upon the most interesting, compelling, deserving and well-written essay submitted by the deadline. Their decision will be made by the award date and will be final.
The winning recipients must be willing to share a photo of themself and a short experience quote from their study abroad experience that can be used in the "Previous Award Recipients" section of this webpage. See below for examples.
This scholarship award must be used solely for study abroad expenses. The winner will be responsible for any applicable taxes. The winner must also provide a completed W-9 form (per tax law) in order to receive the $1,000 check in the mail.
Still have questions? Contact us ➜

Previous Award Recipients
---
The winning applicant will receive an email notification each semester on or before the award dates above. We will also add their name to the list below.
Please note: due to COVID-19 we had to cancel the Fall 2020, Spring 2021, Fall 2021, Spring 2022, and Fall 2022 scholarships. However, we now accepting applications for Spring 2023!
---
Spring 2020 Winner – Avani Fachon (University of Colorado, Boulder)
Avani from the University of Colorado, Boulder who is studying for one semester in Iquitos, Peru.
March 28th, 2020 Update: Here is Avani's experience so far.
Hola a todos! For the past two months, I have had the opportunity to study in a region of the Amazon Basin near Iquitos, Peru; I have also been able to visit Cusco and the Peruvian Andes. From conducting surveys on pink dolphins and frogs at the Tamshiyacu Tahuayo Regional Conservation Area, visiting the Maijuana community of Sucusari, learning about the impacts of climate change on tropical montane cloud forests, to hiking through mossy polylepis forests at Abra Malaga, comparing vegetative composition of white-sand and terra-firme broadleaf forests, exploring the Incan citadel of Machu Picchu (as pictured!), and being quarantined with my friends at a hotel in Cusco, I have had so many unforgettable experiences and greatly expanded my knowledge on Peru's tropical & political ecology, culture, and language.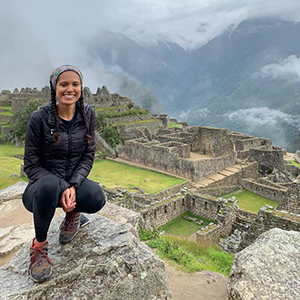 Although we were repatriated and required to return home early due to the COVID-19 outbreak, my heart feels full, and I am so grateful to have had this experience. I am very thankful for the support which Asher & Lyric have given me for this journey– muchísimas gracias.
---
Spring 2020 Runner-up – Sandrine Bakuramutsa (MSU)
Sandrine from Michigan State University who is studying for one semester in Guatemala.
May 5th, 2020 Update: Here is Sandrine's experience so far.
Growing up in Rwanda, I have also seen many small businesses and the hard work of small business owners around my neighborhood. However, those businesses seemed very normal to me that I never for once questioned how they incorporate sustainable development tools such as microloans, cooperatives, direct and Fairtrade to grow these businesses and impact the community.

By participating in Grassroot tools of sustainability: Service Learning in Guatemala, a Michigan State University education abroad program that happened in March 2020, I was able to see small businesses we visited in Guatemala from an academia point of view and understood how tools for sustainable development are incorporated to amplify a long-term impact of small businesses.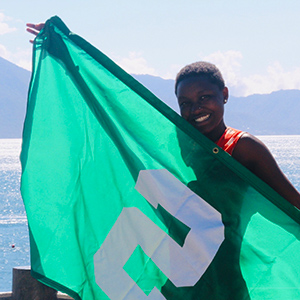 I was also amazed by the hospitality and loving culture of Guatemalan people, the food and the beauty of the country's topography. It was my first-time visiting Guatemala and I absolutely loved the experience.
---
Fall 2019 Winner – Musaab Froukh (University of Illinois at Chicago)
Musaab from the University of Illinois at Chicago who is studying for one semester in Gaborone, Botswana.
November 5th, 2019 Update:
Here is Musaab's experience so far.
"Dumela y'all! These past 3 months of being in Gaborone have been absolutely enlightening and I couldn't be more grateful for having the opportunity to gain such valuable experiences and be immersed in such an incredible culture. At first, I was a little worried about being thrown into this new culture, but I have come to learn to embrace the differences between my home culture and this new culture that I've learned to appreciate."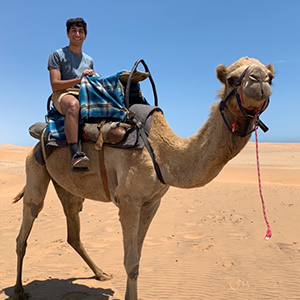 ---
Fall 2019 Runner-up – Isabella Andrus (Michigan State University)
Isabella from Michigan State University who is studying for one semester in Lesvos, Greece.
November 11th, 2019 Update: Here is Isabella's experience so far.
"I will always cherish my study abroad experience. I got to learn about and live in a new culture. I experienced new foods and learned to become more adventurous. However, my favorite experience that I will never forget was working with the refugees on the island of Lesvos in Greece. We painted the unaccompanied minors rooms together with them and threw them a party to celebrate Eid al-Adha. I plan on going back to the island in the future and working with Movement on the Ground."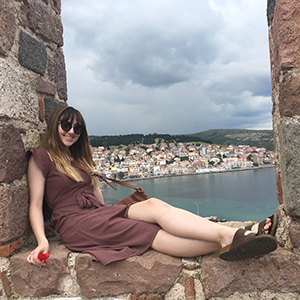 ---
Spring 2019 Winner – Amanda Brea (Bates College)
Amanda from Bates College who is studying for one semester in Florence, Italy.
February 7th, 2019 Update: Amanda just sent us this picture and statement after being Florence for a few weeks – looks like she's already having a great experience!
"My name is Amanda Brea and this semester I had the opportunity to study abroad in Florence, Italy with Syracuse University. I have only been here for a short period of time and I can already wholeheartedly admit that this experience has changed my perspective. I have been able to immerse myself into Italian culture and am finding myself seeing parallels between my identity as a Dominican-American and Florentine life."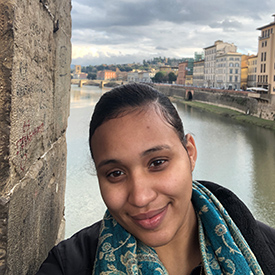 ---
Spring 2019 Runner-up – Anna Feldman (Syracuse University)
Anna from Syracuse University who is also studying for one semester in Florence, Italy.
February 19th, 2019 Update: Here is Anna's experience so far.
"Ciao da Firenze! It is incredible how quickly a city on the other side of the world can feel like home. Florence has been so welcoming and every day I feel extremely grateful to be here. Living with a host family has really helped develop my conversational italian and appreciation for Italian cuisine and culture. I was a little apprehensive at first about balancing my engineering coursework with all the excitement and busyness of being abroad, but everyone is here for your success and understands the importance of travel and exploration. Overall, an absolutely unforgettable experience."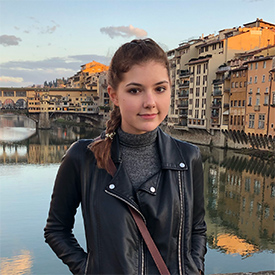 ---
Fall 2018 Winner – Devin Cain (University of Maryland)
Devin from the University of Maryland who is studying for one semester in Madrid, Spain. UPDATE: In October 2018, Devin posted this 3 min video of his experience in Spain so far. Looks like he's having fun!
About Asher & Lyric
---
Asher & Lyric Fergusson are passionate travelers and journalists who have lived all over the world and especially enjoy exploring Europe and Hawaii. One of their most-loved topics to write about (apart from their in-depth research studies) are detailed checklists on what to bring for an overseas trip. Here are a few links to some of their packing lists for the most popular study abroad destinations:
Africa | Australia | Bali | Brazil | China | Costa Rica | Ecuador | Germany | India | Ireland | Italy | Japan | London | Mexico | New Zealand | Paris | Peru | Prague | Spain | Thailand
They also write about their personal travel experiences and often focus on sharing tips for having a safer and more enjoyable journey. Their favorite city to visit is Paris and their favorite country to visit is India. They have two young children named Kingsley and Aurora.