Updated on by Asher Fergusson
T
aking a two-week trip is a luxury, and something to get very excited about. However, packing for two weeks of travel can be intimidating – just how much should you bring?
Many factors can impact what you want to pack, including the weather, your destination, and whether you plan to bring a carry-on or check your luggage. Luckily, there are some things you pack bring no matter the destination. Below we've compiled a two-week packing list that includes the 17 of the most important items to help you out. You'll also find sections advising you on what to wear on a two-week trip, what NOT to bring, plus some FAQs.

What to Pack for Two-week Trip – 17 Essentials
---

Packing for two weeks means living out of your luggage for an extended period. The #1 item I would recommend for a trip this long is packing cubes. These cubes will help organize your luggage and your life. They come in a variety of colors so everyone on the trip can have a different color, and include two laundry bags to keep your clean and dirty items separate – a must when traveling for two weeks!
---

Because your activities and the weather may vary throughout your trip, it's a good idea to pack some lightweight pants that dry quickly. These come in both capri and full-length, and feature UPF 50+ protection. Because they pack up small, they can fit right in your carryon without taking up too much space.
---

This towel is super absorbent and dries quickly – it can come in handy no matter your destination. Additionally, it packs up into a tiny bag and is extremely lightweight, so it won't take up valuable space in your luggage.
---

After planning your amazing trip, and finally taking your flight, the last think you want is to feel jetlagged. You don't want to spend the first days of your trip tired and dragging. Taking a homeopathic remedy like this one will help you feel better, with no side effects.
---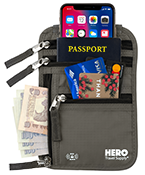 When traveling for any length of time, it's critical to keep your most important assets (phone, passport, cards) with you at all times. This pouch is ideal for keeping your items handy at all times, but discreetly. It's guaranteed for life and includes RFID lining for an extra layer of protection.
---

You'll definitely need to plug in and recharge during your two-week trip, and depending on your destination, your current charger may not work. This universal adapter works all over the world, allowing you to plug in in over 100 destinations. Plus, it packs up small and can fit right in your handbag or carryon.
---

Hopefully your trip will include lots of time out and about exploring your destination. Don't get caught with a dead battery right when you want to snap your best photos! This lipstick-sized charger will fit in even a small purse, and will fully charge your phone. I can't tell you how many times I've been so thankful that I threw one in my bag for the day!
---

This toiletry kit holds absolutely everything you'll need, but packs up flat so it doesn't take up valuable space in your luggage. When paired with the packing cubes above, it will keep your suitcase or backpack totally organized. We also like that it hangs from a hook or bar, so you can access everything even if there's little space to get ready.
---

While out and about traveling throughout your trip, there will be many occasions when you'll need to clean your hands, but might not be able to access a sink and handwash. Packing a small hand sanitizer spray like this will keep you safe and free of germs. Plus, it's small and fits right in a purse or daypack. We recommend a few per person for a two-week trip.
---

If your trip involves any kind of excursions – hiking, vising beaches, spending time on the water – you'll want to bring all the necessities. This daypack will fit your water bottle, umbrella, sunscreen, and everything else you'll need throughout the day. Because it's lightweight and folds up, you can pack it away when not in use. We also like it for flights as our extra bag.
---

Hopefully your two-week trip will include time at the beach, poolside, or swimming! Traveling to and from the beach or pool, you'll want to cover up. This cotton and lace cover up will allow you to remain modest while looking great. Throw it over your bikini with some cute shorts, and it can be worn to lunch or to grab a drink!
---

You'll want some versatile footwear for a two-week trip, so that you don't have to pack too many shoes. These slip-on water shoes can be worn for hiking, walking, and of course, going in the water. They are much lighter than heavy hiking shoes, and feature a "water grain" outsole that gives you traction even when they are wet.
---

After all the careful planning and packing, you don't want bug bites to ruin your trip! Depending on your location, insects can carry harmful diseases like West Nile Virus. We like this bug spray because it's plant-based and DEET-free, but still effective. You can choose between the 2oz (allowable size for your carryon), or the wipes, which can travel anywhere.
---

No matter where you travel, internet and Wi-Fi access can be hard to find and insecure. Packing a portable VPN such as this will ensure that you have reliable access and a safe and secure connection, leaving you with one less thing you need to worry about and helping you relax and enjoy your trip even more
---

No matter how much you plan, the unexpected can always happen. When traveling for two weeks, you'll definitely want to get some travel insurance to protect you. We always use TravelInsurance.com to find plans that protect us against lost luggage, flight cancellations, and other unexpected issues – it gives us a great peace of mind while traveling.
Compare policies at TravelInsurance.com ➜
---

Because you are traveling for two weeks, you'll need to pack for various kinds of weather. This lightweight umbrella is guaranteed for life, and packs up small to fit in your handbag – you'll be very happy you packed it if you get caught in an unexpected shower!
---

No matter your destination, you'll want to look great. Choosing a dress that can be casual for lunch and shopping or dressed up for a night out is important. This dress looks great on many different body types, but most importantly, it's comfortable!
Other Items to Pack for a Two-week Trip
---
What to wear during a two week trip?
---
Depending on your location, the season, and the activities you are doing, you will want to pack different items of clothing. No matter where you go, you'll want to focus on packing versatile items that can be worn for various activities. Also, remember to pack light – almost everyone packs more than they need.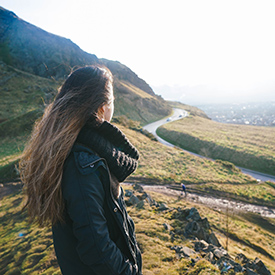 What women should pack – (Click to expand)
Below is a sample women's clothing list.
(All items link to Amazon.com for your convenience).
You'll want to pack comfortable shoes because chances are you'll be walking no matter what your destination is. We recommend packing lightweight sneakers that you can walk in, sandals for warm-weather destinations, and flip flops for casual wear. A crossbody bag in a neutral color can be used in almost any location or season.
A dress that can be dressed up or worn casually is also a must. If you are heading somewhere tropical, make it a flowy sundress. For metropolitan destinations, choose a comfortable dress like #3 above that you can wear to a café, or to a classier dinner. For outfits, be sure to pick items that can mix and match with each other – this way you can have more outfit options while packing less. Remember to choose lightweight fabrics that can layer rather than heavy or bulky items.

What men should pack – (Click to expand)
Below is a sample men's clothing list.
(All items link to Amazon.com for your convenience).
In general, menswear is larger and heavier than women's clothing, so you'll want to focus on lightweight items that can pack well. We recommend both moisture-wicking fabrics and natural, breathable fabrics that can layer easily. Many pants can be dressed up or down depending on the situation. Adding a lightweight blazer to dark jeans or lightweight pants can dress them up enough for a nice dinner.
Shoes can be extremely bulky in luggage, so try to choose only 2-3 pairs, tops. We recommend lightweight sneakers that are comfortable for walking or hiking and flip flops or sandals for casual warm locations. Choosing dark or neutral shoes – rather than colorful athletic shoes – can be disguised as dressier shoes for locations requiring that look.

If your two-week trip includes hiking, you'll need more rugged clothing. Your sneakers should be a little heavier-duty than basic tennis shoes, and you'll want to pack appropriate accessories, such as a water bottle, baseball hat, and quick-dry layers for clothing. You may also want to include things like a travel first aid kit. You can pack all of this in a lightweight daypack for easy access.
If you are planning a more tropical, relaxing vacation for two weeks, you'll likely want to pack more than one swimsuit (so you always have a dry one ready), as well as some coverups for traveling to and from the pool or beach, and for throwing on to grab a quick drink. A trip like this will also require sunscreen and a sunhat, and you'll want to throw everything together in a handy beach bag.
If you're planning on seeing the sites in a city, you'll need to pack strategically for that as well. You'll be doing a good deal of walking, so your shoes will be the most important part of your day – make sure they are casual, weather-appropriate, but most of all, comfortable. You may need to dress a little nicer for a city trip than a beach trip, so make sure to include some versatile pieces that you can dress up easily. You'll also want a water bottle and a cross-body bag to carry your essentials.

What NOT to bring on a two-week trip
---
1)

Too many clothes:
Two weeks sounds like a long trip, but if you pack wisely (lightweight, versatile items that can mix and match), you really won't need that much clothing.
2)

Bulky clothing is also a no-no: As long as you pack clothing that can be layered, there is no need for heavy clothing. You'll want to make sure your luggage has room to bring home any treasures you pick up on your travels.
3)

Too many or bulky shoes: Shoes take up a ton of room in your luggage, so plan for lightweight sneakers and small sandals that can be slid into your luggage next to your packing cubes.

4)

A hair dryer:
Almost all hotels will provide a hair dryer for you, and you will not enjoy lugging one around for two weeks.
5)

Full-size toiletries: Even if you are checking luggage, you won't need a full-size shampoo bottle for a two week trip. Pick up some small travel-size items, and when you can, try to pack solids instead of liquids.
6)

Books: If you plan to spend some of your vacation (or plane ride) reading, throw in a Kindle rather than books. Books take up too much valuable luggage space and you can easily fit thousands on a slim, lightweight Kindle.

What NOT to Wear – (Click to expand)
When packing for a two-week trip, think minimal, versatile, and lightweight. You won't want to wear overly flashy clothing or pieces that clash with each other. If each piece in your luggage can be worn more than one way, or with more than one outfit, you're on the right track. The same with jewelry – choose just a few classic pieces that can go with most of your outfits.
Make sure the clothing you choose is lightweight. Although versatile, a jean jacket takes up more space than a basic cardigan, and both can be thrown on as an extra layer. Lightweight sneakers can often be substituted for heavy hiking shoes to save both weight and space in your luggage.

FAQs about a two-week trip
---
1. What are the rules for carry-on bags?

You'll want to check with your airline, but generally you can bring on one "carry on" sized bag, and one small item like a purse or handbag. Liquids are still limited to 3.4 oz or less in most areas, and many sharp objects like pocket knives and scissors are still prohibited.

2. How can I save money while traveling for 2 weeks?

One of the best cost-saving strategies I've used while traveling is to cook breakfast at my Airbnb, pack lunch for a day out, and enjoy dinner at a restaurant. This allows you to enjoy the dining and nightlife of your destination, while still saving some money. Another essential cost-saving tip is to bring a water bottle and snack wherever you go, so you never need to spend time or money purchasing them.

3. How do I keep everything for 2 weeks organized?

Two words: Packing Cubes. They are a game-changer for long trips. I like to use one for tops, one for undergarments, one for pants, etc. I also like to keep my dirty clothing separate, either in another packing cube or laundry bag.

4. How can I do laundry while traveling?

Doing laundry on your trip means you can pack fewer items, which is essential for a two-week trip. Some accommodations will offer laundry, both at hotels and Airbnbs. If you don't have laundry facilities available, using a travel laundry soap, such as a this one, will allow you to do some laundry by hand in a sink, and hang to dry on a travel clothesline a such as this.

5. How can I stay in touch with family and friends?

Depending on your destination, there are several apps to help you stay in touch. WhatsApp is a great app that allows you to call, text, or video chat all over the world, and uses WiFi, so you can often save on international data fees. It's great for families or groups that want to share group messages. Facebook Messenger also allows you to video chat, and many people already have an account.

6. What's the best way to store/share my photos during the trip?

If you are using a digital camera, it's a good idea to bring extra SD cards as backups. If you use your phone for photos, you can conveniently back your photos up to the cloud, and delete off your phone for more space. I like to use Google Photos to store my photos throughout the trip – I upload every few days and can sort through them later. Sharing photos is easy using Instagram, Facebook, or other social media apps.

7. How can I find cool things to do while traveling?

Do a little research before you leave. I think it's a great idea to search out blogs and other publications from travelers that have been to your destination. While you're traveling, there are several handy apps to help you find neat things to do as well. I use TripAdvisor, Yelp, and Visit A City for finding the best sites, food, and accommodations. Google Translate is also a great app when traveling abroad.

8. What if I forget to pack something?

Almost anything you can pack can be purchased at your destination. It's often easier to purchase items while traveling (such as food and snacks) than to try to pack it in your luggage. There are a few things like prescriptions and glasses that are essential, but almost anything else can be found all over the world.
Other packing lists you may like…
3-Day Trip | Baby Packing List | Baby Travel Gear | Bachelorette | Backpacking | Beach | Birthright | Bonnaroo | Burning Man | Business Trip | Cabin | Camping | Canoe Trip | Car Camping | Carry-On | Castle Trip | Cheerleading Camp | College Dorm | Convention | Cruise | Day Hike | Deer Hunting | Desert Trip | Destination Wedding | Diaper Bag | Digital Nomad | Disney | Disney Cruise | Elk Hunt | Fall | Float Trip | Flight | Girl Scout Camp | Girls | Glamping | Golf Trip | Honeymoon | Hostel | International | Island Vacation | Kids | Lake House | Long-term | Men's Packing List | Minimalist | Motorcycle | Moving Abroad | Music Festival | Overnight | Peace Corps | Resort | Road Trip | Round The World | Ski Trip | Snowboarding | Spring Break | Study Abroad | Summer Camp | Summer Vacation | Teen | Theme Park Trip | Toiletries | Toddler | Tropical Vacation | Ultralight | Wedding | Winter Vacation | Weekend | Zoo Trip
Please note: We have over 200 packing lists covering practically every popular travel destination in the world. Access them all on our packing list overview page ➜