Updated on by Asher Fergusson
T
he Sunshine State is the perfect location for a vacation or just a weekend getaway!
Known for its gorgeous white sand beaches, year-round warm weather, nightlife, theme parks, and of course Disney World, there is no shortage of entertainment in the great state of Florida.
Sometimes it can be hard to know what to pack for Florida so we've created this complete checklist including what to wear in Florida, what NOT to bring and other important travel FAQs.
Be sure to bring your sense of adventure then just relax and go with the flow!
What to Pack for Florida – 19 Essentials
---

You'll obviously be around water in Florida, and you're almost definitely going to be using your phone as well. Protecting your devices from water damage should be a top priority, and this waterproof phone case makes that easy! Your phone's touchscreen and buttons are still accessible and usable while it's sealed inside, and you can even use the front and back cameras! The price is hard to beat so it fits into any budget.
---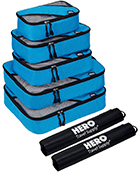 I can't say enough good things about packing cubes. They make organizing our items much easier, plus they compress bulky items down to save space in our luggage. I also like that I can move the smaller cubes between my luggage and my daypack with ease. This is especially handy when traveling with children.
Available on HeroTravelSupply.com with an exclusive 15% discount using the coupon code "HERO".
---

A swimsuit cover-up is essential, but often forgotten. When you're lounging poolside or on the beach, you won't feel like wearing clothes, but it's nice to have a lightweight cover-up to wear for sun protection. It's also handy to throw on over your suit when you're running out for lunch or to grab a drink. This cover is adorable and so flattering!
---

Sun, beach and relaxation; that's what I think of when Florida comes to mind. Use this travel towel to quickly dry off from a quick dip in the ocean or lay it down to enjoy a sand free beach picnic. This is the perfect towel for people on the go as it lightweight, super absorbent and easily tucks away in any bag. When you bring a travel towel with you to Florida it makes all things possible.
---

I'm an active person, and I love water sports. I use a rash guard frequently to protect me from the sun and from friction caused by sports gear like surfboards. These rash guards are family favorites. They're both well fitted and extremely comfortable, and they don't make you feel overheated even when wearing them in direct sun. In fact, they keep you cooler while also adding SPF protection of 50+!
---

Though you can expect a lot of warm, sunny days in Florida year round, you will also likely encounter at least one rainy or partly rainy day during your trip. Be prepared for the weather by packing a reliable windproof travel umbrella like this one.
---

A great, flattering outfit can do wonders for your comfort and confidence while you're out on the town. Bring a rockin' outfit like this one to wear when you feel like getting dressed up a little – you'll be glad you did!
---

During your time in Florida, you will likely be using your smartphone for all manner of things, including navigation, photos, communication, music, and more. Don't get stuck with a dead phone or camera battery when you need it most! Instead, toss this lipstick-sized portable charger in your purse or daypack to charge your devices on the go.
---

Many people are surprised to learn that the water in Florida isn't especially cool. Taking a dip in the ocean or in a pool isn't going to cool you down much unless there's a good breeze that day. That's where this cooling pad comes in. It's very easy to use and reusable so that you can drape it over your neck, back, arms, or head if you need to cool down while out and about.
---


Any time you connect to WiFi on your phone or laptop in public places, such as in hotels, airports, or internet cafes, you leave yourself vulnerable to potential hackers. By using a VPN, you eliminate the risk of leaving your sensitive information, such as credit card numbers and password, exposed. As an added perk, a VPN can also help you get around paywalls on popular news sites that restrict your monthly article views.
---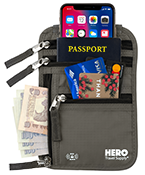 It's always a good idea to keep your valuables, like passport, smartphone, wallet, keys, and credit cards organized and secure whenever you're traveling. Use this handy neck wallet to house your valuable belongings and wear it tucked under your clothes for optimal protection.
---
12. Mesh Slip-On Water Shoes: Women's and Men's

Water shoes are often overlooked, but they deserve a place in your Florida luggage. They're wet and dry comfortable, supportive, quick-drying, and self-draining so you don't have to slosh around in soggy shoes after strolling along the shore or exploring tidal pools and reefs. I especially like these ones since they're as comfortable as tennis shoes but they have holes for sand and water to drain out. I regularly wear mine hiking, snorkeling, and swimming.
---

If Florida is more than 100 miles away from home for you, it's important that you've got solid trip protection! TravelInsurance.com is a great way to find coverage for a wide range of activities and includes a ton of affordable options.
Compare policies at TravelInsurance.com ➜
---

The theme for Florida is water protection, and your activity bag should keep with that trend. A drybag is incredibly handy when at the beach, snorkeling, kayaking, surfing, or doing anything else that involves risking your belongings getting wet. Pop your items into the bag, roll it up tightly, clip it closed, and sling it over your shoulder like a regular backpack, and know that your items will stay dry the whole time. The bag will even float if dropped in the water.
Pro Tip: When choosing a size for your drybag, it's better to get a larger bag than a smaller one. In order to work properly, the top of the bag must be rolled several times before being clipped in order to be truly waterproof, and a small bag can't do that it's overstuffed.
---

Florida is notorious for mosquitos, so plan to protect yourself and those you're traveling with from bites. I prefer these wristbands because I can slip one on and forget about it – it'll protect me all day with fewer chemicals. However, I also like to layer on a deet-free insect repellent spray when I'm in a particularly buggy area, just in case!
---

A combination of heat, humidity, and outdoor activities will leave you sweaty and grungy at times. I can't stand feeling this way when I'm not able to shower, so I carry these wipes with me whenever I travel. They're individually-wrapped and safe for sensitive skin, so I can use one or two to freshen up whenever I need to.
---

We've all become a bit obsessed with hand sanitizer this last year, and rightly so. This bottle not only kills 99% of germs, but it smells great too and works like a charm. It sometimes can be hard finding a place to clean up quickly, but this hand sanitizer not only makes it doable, but hassle free. Feel fresh, clean and safe on your trip to Florida when you have this in your bag.
---

It sucks to miss out on photos of water activities simply because you're worried about your camera. I didn't want to buy a really expensive underwater camera but I also didn't want to compromise image and video quality. This camera is a great balance of the two at an affordable price.
---

A beach bag is an obvious essential, but one with a cooler is next-level awesome. This one has plenty of beach item storage, plus enough room for drinks and snacks to keep you refreshed while you're having fun in the sun!
Other Florida packing list items not to forget
---
What to wear in Florida
---
1) Depending on the activities you have lined up for your Florida trip, deciding what to wear can be simple. If you're going to the beach in Miami, you don't need to wear much – a swimsuit, flip flops and a cover up are ideal. A hat and sunglasses are also a good idea too. For days in a city or elsewhere, shorts and a tank top are good to beat the summer heat. If you're going in the winter, dress in layers. Long sleeved shirts and jeans or leggings are perfect! No matter what, bring comfortable walking shoes.
2) If you're planning on going to Disney World during your trip, wear comfortable shoes, breathable clothing, and nothing that will chafe. Bring a sun hat, and be ready for rain with a poncho.
3) Check local weather reports just in case.
What NOT to take to Florida:
---
If you're flying, make sure to check out what items cannot go in your carry on bag. These items are TSA prohibited:

1)

Flammables
2)

Firearms
3)

Sharp objects
4)

Liquids (unless you follow the liquids rule – see FAQ)
5)

Household tools
6)

Camping equipment
7)

Medical tools
8)

Various miscellaneous items
Here is a link to the
TSA
website
FAQs about taking a trip to Florida:
---
1) What's the best time of year to go to Florida?
The best time to go to Florida is November through May, because there is a much lower chance of rain and more comfortable temperatures. The worst time to visit Florida is during the peak rainy season months of August through October.
2) Can I use a tent or umbrellas at the beach?
Definitely. A day at the beach doesn't mean you need to be in the sun all day. Using a tent or umbrella will shade you from harmful sun rays.
3) What are some good beach reads?
We all have different taste in books, but if you're in the mood for a juicy but light-hearted beach read, check out this list.
4) Is there anything special I should bring when going to the beach with kids?
Extra snacks are always a good idea. As are water diapers, a playpen, water wings (floaties), pool noodles, and anything that will keep the kids entertained! Definitely bring an umbrella to avoid heat exhaustion, as well.
5) Can I bring my dog to the beach?
Some beaches are dog-friendly, while others are not. If the beach you are going to happens to allow dogs, there will most likely be a strict leash policy. Research your particular beach destination online to get specifics.
Other North America packing lists you may like…
Alaska | Arizona | Appalachian Trail | Austin | Banff NP |Beach | California | Canada | Camping | Chicago | Colorado | Cruise | Day Hike | Denver | Desert Trip | Destination Wedding | Disney | Glacier NP | Grand Canyon NP | Grand Teton NP | Havasupai | Hawaii | Honeymoon | Kalalau trail | Kauai | Key West | Lake trip | Las Vegas | Maui | Miami | Moab | Myrtle Beach | Nantucket | New York | Oregon Coast | Orlando | Pacific Crest Trail | Portland | Quebec | Road Trip | RV Trip | San Diego | San Francisco | Seattle | Sedona | Texas | Washington, D.C. | Wisconsin Dells | West Coast Trail | Yellowstone NP | Yosemite NP | Zion NP
Please note: We have over 200 packing lists covering practically every popular travel destination in the world. Access them all on our packing list overview page ➜