Updated on by Lyric Fergusson
F
or two years, I was lucky enough to live in Wyoming close to Yellowstone.
It's one of the most popular parks in the U.S. — for good reason! This sprawling mass of protected land offers stunning scenery, unique geothermal features, and a variety of family-friendly activities year-round.
If you've booked a trip and are now wondering what to pack for Yellowstone, this post covers everything you'll need. Toward the bottom, you'll also find a list of things not to bring on your trip, as well as our tips on the best clothes for Yellowstone and some FAQs about visiting the park.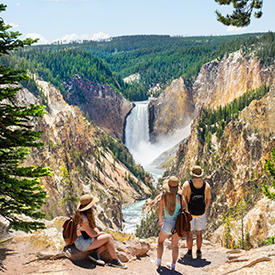 What to Pack for Yellowstone – 21 Essentials
---

Whenever you go to a national park you're entering the wilderness and it's best to be prepared. This incredible little bracelet has a built-in emergency whistle, fire starter, compass, and small knife in addition to the 12 foot long military-grade paracord rope. It's an essential item to bring whenever you go hiking in case of an emergency or if you get lost etc. Plus, it's very affordable and easily adjustable for any wrist size.
---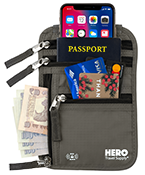 For shorter hikes and quick jaunts, this neck wallet is an awesome solution. It holds your cell, keys, cash, and cards and can be safely tucked beneath your hiking clothes. It helps me be hands-free when I'm trying to wrangle my two wild toddlers at a scenic picture spot, or on a short day hike.
---

A sarong is always a useful travel item, especially if you're spending time outside. In Yellowstone, a sarong is the versatile item you need. It can easily be used as a picnic blanket, towel, or shawl – plus they're cheap and they dry quickly.
---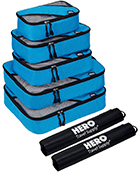 Whether you are road-tripping or catching a flight, we suggest bringing these packing cubes along to keep your gear organized because searching frantically through a disorganized suitcase is a nightmare! They also come with two awesome laundry bags so you can keep muddy pants or sweaty shirts separated from stinking up your clean stuff.
Available on HeroTravelSupply.com with an exclusive 15% discount using the coupon code "HERO".
---

Whether you plan to use your camera and smartphone for navigation, photos, videos, music, or anything else, you won't want to get stuck with a dead battery at an inconvenient time. Toss this convenient lipstick-sized portable charger in your daypack to always have a backup battery when you need one.
---

You'll need to bring a towel if you're planning to camp or just want to take a dip in one of Yellowstone's swimming holes, but leave the bulky bath towel at home. Quick-dry towels are much better for travel because they're lightweight and take up very little space (and, of course, they dry quickly).
---

Trust me on this one: you don't want to be attacked by horse flies, deer flies or mosquitoes while you're at Yellowstone National Park. The horse flies and deer flies are not friendly. Bites from these suckers can cause a sharp, burning sensation along with itchiness and inflammation. Peak season for biting insects is summer, but spring and fall can be bad too. This repellent seems to work well, and it smells fresh, too!
---

The best part of Yellowstone is the beautiful scenery you will encounter. From hiking canyons, wandering through lush forests, to resting by hot springs, feel refreshed and motivated when you pack a cooling towel. Be outside longer and enjoy the great outdoors without feeling sweaty or too hot. Be at one with nature and feel cool doing so.
---

A pair of sturdy sandals is convenient to have anytime you're planning on being outdoors in warm weather. You don't have to worry about getting them wet like regular shoes, and they're not likely to fall off and float away like a flip-flop. Whether you're planning on kayaking, boating, swimming, or doing some light hiking, put some sandals like these on your Yellowstone packing list.
---

A headlamp will prove useful in a variety of situations, including setting up your tent and campsite if it's already dark by your arrival, and early morning and moonlight hikes as well. Keep your hands free as your headlamp lights the way, preventing you from tripping over rogue vines and stones.
---

Yellowstone weather can be extremely unpredictable, one minute it could be sunshine, the next snow and then pouring rain; be prepared for all conditions with this umbrella. This umbrella comes in durable case and can withstand different levels of rain and wind. Feel safe and guarded away from the rain when you bring an umbrella with you to Yellowstone.
---

To keep your feet happy on the trail in Yellowstone, pack a good pair of hiking shoes (just be sure to break them in first). While some people choose to hike in sneakers, hiking shoes like these provide more traction and better support, making you less likely to get injured on your trip.
---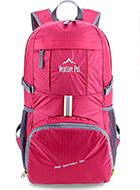 No matter what your travel style is, a daypack is one of the essentials to take to Yellowstone. Whether you're out on the trail, the lake, or on a bus tour, you'll need to be able to carry things like water, snacks, your camera, and a jacket. This pack from Osprey will take up almost no space in your bag but is big enough to hold everything you'll need for a day in the park.
---

Especially important when traveling to a natural wilderness area, travel insurance is absolutely essential. We recommend finding a policy with TravelInsurance.com because they'll help you find a policy that covers a wide range of activities as well as take care of the costs for lost or stolen items, emergency medical, and flight cancellations to the park.
Compare policies at TravelInsurance.com ➜
---

To make sure you're prepared, a First-Aid kit needs to be on your packing list for Yellowstone. When you're out on the trail, you'll want to be able to tend to things like blisters or cuts right away, so make sure you have some bandages, antibiotic cream, and alcohol wipes, at the very least.
---

You're likely to be spending the majority of your time in Yellowstone hiking and camping. If the occasional dip in a river or lake isn't cutting it for you, these deodorant wipes are sure to come in handy when you need a quick refresh and a shower isn't available. Toss them in your daypack and use them on the go.
---
17. Convertible Quick-dry Hiking Pants Women's and Men's

A good pair of convertible hiking pants will ensure you are comfortable when exploring Yellowstone's epic trails. Much more pleasant than jeans, Nylon-spandex blends are lightweight, quick-drying, and unrestrictive, making them ideal for traveling and spending time outdoors. The "convertible" feature is perfect for Yellowstone's unpredictable weather patterns. Just zip the bottom half on and off to ensure you have both comfortable hiking shorts and pants in one!
---

Visiting Yellowstone means spending a lot of time outside – and that means carrying water with you, especially if you're doing something active like hiking. Carrying a Camelback water backpack like this one, which you can keep refilling in the park, will save you money over buying bottled water every day – and it will create less plastic waste for the park to dispose of.
---

There's no shortage of water sources in Yellowstone, but you'll need to treat any water collected in the park before you drink it. While there are a few different options for water purification, most hikers prefer using a filter like this one.
---

The constant use of hand sanitizer has never been more prevalent than this last year. While you will be enjoying the wilderness and great open space of Yellowstone, do so germ free. This spray bottle is perfect if you're out of reach of civilization, and need a little help feeling fresh and clean quick. Don't let germs ruin your once in a lifetime trip to Yellowstone.
---

Blisters can really knock you solid and ruin a perfectly good day. This blister foot balm will not only prevent blisters from occurring while out exploring at Yellowstone, but can also help with inflammation. Simply apply to areas of need before putting on your shoes and enjoy sightseeing for the rest of the day. Put your feet first while discovering Yellowstone.
---
Other Yellowstone packing list items not to forget
---
What should I wear in Yellowstone?
---
The best clothes to wear in Yellowstone will depend heavily on what time of year you're visiting and what you're planning to do in the park. During the summer season, the temperatures usually call for warm-weather clothing during the day, especially at lower elevations. On many days in the summer, shorts and t-shirts will be the most comfortable choice. However, the weather is unpredictable (yes, it sometimes snows in July) and it's much cooler at higher elevations, so it's important to be prepared for anything. Even in the summer, make sure to pack some long pants, a fleece jacket or sweatshirt, and rain gear. You may want some flip-flops for wearing around your hotel or campsite, but your main shoes for Yellowstone should be sturdy, whether it's hiking shoes for the trail or water sandals for kayaking.
During the winter, even the highs are usually below freezing, so your clothing for Yellowstone will need to be warm and windproof if you visit between November and March. A sweat-wicking base layer, a warm mid-layer, and a waterproof outer layer will keep you comfortable no matter what you're doing in the park. For activities like cross-country skiing or snowshoeing, you'll probably want a pair of snow pants. During this time of year, a pair of gloves, a hat, and a scarf or neck gaiter should also be part of your Yellowstone wardrobe, as should wool socks and waterproof boots.
What NOT to take to Yellowstone
---
1)

DON'T BRING fancy clothes
– People come to Yellowstone to experience the outdoors, so there's no need for dressy clothes.
2)

DON'T TAKE unnecessary valuables
– There's always a small chance that things will get lost or stolen on the road or damaged by the elements. Unless it's something you'll need on your trip (like a camera), leave your valuables at home.
3)

DON'T PACK a bath towel
– Regular bath towels are notoriously large and bulky, and will be provided by your hotel anyway. If you're going to be camping in the park or plan to go swimming, opt for a quick-dry towel.
4)

DON'T BRING books
– Physical books are heavy and will take up a ton of space in your bag. If you think you'll want to do some reading during your trip, bring a Kindle instead.
5)

DON'T PACK lots of clothes
– Most people tend to pack more clothes than necessary when traveling, and just end up having heavy luggage to haul around. Only bring as many outfits as you'll realistically wear during the trip.
6)

DON'T TAKE gear you could rent
– While you'll need specific gear for many activities in Yellowstone, much of it can be rented there. Don't buy a bunch of new gear to bring if you don't need to.
FAQs about Yellowstone National Park Trips
---
1) Is Yellowstone accessible year-round?
You can visit Yellowstone any time of year, but you'll have a very different experience in the winter than in the summer. The season in which all of the park's roads and amenities are fully open is actually extremely short – only July and August, which are the most popular months to visit. However, many of the roads, campgrounds, visitors' centers, shuttles, and other amenities operate from April to November. Between December and March, most things in the park are closed, except for two of the lodges, a few visitors' centers, and a series of warming huts. During these months, the only road open to regular traffic is the one from the northeast entrance to Mammoth Hot Springs. You can still snowshoe and cross-country ski in the park during these months, and guided snowmobile and snow coach tours take visitors to areas unreachable by road.
2) Are bears a problem in Yellowstone?
Both black bears and grizzly bears live in and around Yellowstone, and seeing one is not unlikely. However, very few people get injured by bears in the park (over 90 million people visited between 1980 and 2011, and only 43 bear-related injuries were reported). Your chances of an unwanted encounter with a bear are higher when hiking in the backcountry, so make noise on the trail and carry bear spray in remote areas.
3) Where should I stay around Yellowstone?
There are nine lodges inside the park, of which two (Old Faithful Snow Lodge and Mammoth Hot Springs Hotel) are open year-round, while the others close from late-fall to early-spring. The park also has twelve main campgrounds (with sites for both tents and RVs), five of which can be reserved in advance. There are over 300 backcountry campsites as well, which have limited amenities and are only accessible by foot.
Many visitors prefer to stay outside the park's boundaries, and a range of accommodations is available in West Yellowstone, Gardner, and Cooke City (all in Montana). Slightly farther away are Cody, WY, and Island Park, ID, both of which offer some of their own attractions. Lastly, many choose to bookend their trip to Yellowstone with a couple of days in either Bozeman, MT or Jackson, WY.
4) What are the best hikes in Yellowstone?
With over 1,300 miles of hiking trails, Yellowstone has more hikes than you could count. A few very short hikes in the park lead to stunning viewpoints, including the popular Uncle Tom's Trail (which is mostly a steep staircase) and the aptly-named Observation Point Trail. Other short, easy hikes include the Natural Bridge Trail, Storm Point Trail, and Elephant Back Loop Trail. Some of the park's best longer and more strenuous hikes are Lava Creek Trail, Mount Washburn Trail, Purple Mountain Trail, and Avalanche Peak Trail.
5) What are the top things to do in Yellowstone?
If you're a nature lover, you'll never get bored in Yellowstone. Some of the must-sees in the park include Old Faithful, Mammoth Hot Springs, Grand Prismatic Hot Spring, Yellowstone Lake, and the Grand Canyon of Yellowstone. The 1,300 miles of trails make hiking one of the top activities in Yellowstone, and fishing, kayaking, and boating trips are also popular. Several companies run bus tours of the park, offering top-notch sightseeing. During the winter, snowshoeing and cross-country skiing are the best ways to get active, and snowmobile and snow coach tours take visitors into parts of the park that aren't otherwise accessible in the off-season.
6) What's the best time of year to visit Yellowstone?
The best time to visit Yellowstone depends on what you want to do there, but the most popular time is during July and August – the only months when all roads and amenities in the park are fully operable. During May and October, most of the park is still open and easily accessible, but the crowds are smaller, making these the ideal months for visiting. Of course, if you're interested in cross-country skiing and snowmobiling, or just seeking some peace and quiet, a winter visit to Yellowstone might be for you. You'll have the park mostly to yourself and get to see it in its untouched glory.
7) What kind of wildlife live in Yellowstone?
No matter what time of year you visit Yellowstone, you're nearly guaranteed to see some wildlife – and probably a lot of it. In fact, the park is home to nearly 70 different mammals and over 300 species of birds. Among the most interesting to visitors are black bears, grizzly bears, bobcats, cougars, bison, moose, bighorn sheep, elk, and mountain goats. Bird enthusiasts will appreciate the wide variety of bird species in Yellowstone, including bald eagles, peregrine falcons, trumpeter swans, and ravens.
8) How can I see Old Faithful?
Of the nearly 500 geysers in Yellowstone, only six erupt on a predictable schedule – and Old Faithful is easily the most famous one. It goes off about every 90 minutes, and you can check the eruption schedule at the visitors' center. Benches are set up near Old Faithful for easy viewing, or you can make the 1.1-mile hike up Observation Point Trail for a bird's-eye view of the eruption. The geyser area can get busy in the afternoon, but eruptions in the morning and evening are less crowded (and have unobstructed views).
9) Are there any safety concerns in Yellowstone?
There aren't too many health or safety issues in Yellowstone beyond the risks inherent with any outdoor activity. However, one of the most important things is to obey all signs and stay on the trails or boardwalks around geothermal features. Venturing into prohibited areas or attempting to go for a soak in the hot springs (which is illegal and known as "hot-potting") can be fatal. Visitors to Yellowstone should also be aware of bears, especially in the backcountry. Hike in groups of three or more if possible, and be on the lookout for signs of bear activity (tracks, scat, and evidence of feeding). Making noise on the trail will likely be enough to ward them off, but you should also carry bear spray in case you do encounter one. You can also find out about recent bear activity from one of the visitors' centers or other park offices.
When you're out in Yellowstone, it's also important to carry sufficient water (and purify the water you collect in the park). Bring a First-Aid kit with you, and be sure to wear sunscreen and insect repellent in the summer and warm clothing to prevent frostbite or hypothermia in the winter.
10) How can I save money while visiting Yellowstone?
It's easy to spend a small fortune on luxury lodges and adventure activities in Yellowstone, but a few budget-friendly choices can help make your trip much more affordable. Not surprisingly, camping is much cheaper than staying in a hotel – but if roughing it isn't your idea of a good time, you can still save by choosing a budget hotel in a nearby town like over the lodges inside the park. There are also plenty of affordable Airbnb rentals around the park, on both the Montana and Wyoming sides. Similarly, while the park has many places to eat, the food tends to be expensive, and you'll save a bundle by packing your own lunch and enjoying a picnic. If you'll be flying to Yellowstone, compare prices among the nearby airports (Jackson Hole, Bozeman, Billings, and Idaho Falls) to find the best deal.
While there is an abundance of activities and tours to choose from in Yellowstone, it's easy to fill your days for free without missing out on too much. You can always explore the park on your own, and many believe that's the best way to see it. Visiting the famous attractions like Old Faithful and Mammoth Hot Springs doesn't cost anything, nor does hiking its top-notch trails. There are also free ranger programs and campfire talks on offer during the summer.

Other North America packing lists you may like…
Alaska | Arizona | Appalachian Trail | Austin | Banff NP |Beach | California | Canada | Camping | Chicago | Colorado | Cruise | Day Hike | Denver | Desert Trip | Destination Wedding | Disney | Florida | Glacier NP | Grand Canyon NP | Grand Teton NP | Havasupai | Hawaii | Honeymoon | Kalalau trail | Kauai | Key West | Lake trip | Las Vegas | Maui | Miami | Moab | Myrtle Beach | Nantucket | New York | Oregon Coast | Orlando | Pacific Crest Trail | Portland | Quebec | Road Trip | RV Trip | San Diego | San Francisco | Seattle | Sedona | Texas | Washington, D.C. | Wisconsin Dells | West Coast Trail | Yellowstone NP | Yosemite NP | Zion NP
Please note: We have over 200 packing lists covering practically every popular travel destination in the world. Access them all on our packing list overview page ➜