Updated on by Asher Fergusson
A
nyone who loves the outdoors knows the John Muir quote "The mountains are calling and I must go." There's almost no place on earth where this sentiment is stronger than the Canadian Rockies. No matter if you're more a skier than a hiker, or vice versa, there is year-round beauty, fresh air and adventure to be found in Banff, Alberta, Canada.
We've put together a Banff packing list along with a section on what to wear in Banff. You'll also find information on what NOT to bring and FAQs.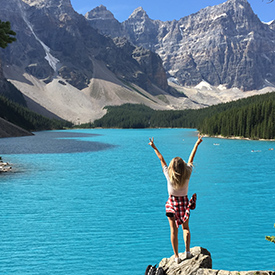 What to Pack for Banff – 17 Essentials
---

No one enjoys having to paw through their suitcase trying to find that lost pair of socks. These packing cubes help you keep all the things organized on your trip to Banff so you can spend less time with your nose in your luggage and more time in the beautiful outdoors. This set comes with a variety of sizes, including a couple of laundry bags and even has index cards for you to write down the contents so you can keep everything straight!
---

There is a lot of wild country around Banff! If an accident occurs or if you completely lose your bearings, this little gem is like having a Boy Scout tucked inside your backpack. It comes with fire starter, compass, loud emergency whistle, knife and 12 feet of military-grade paracord.
---

Rain is a common occurrence in Banff .. that's one of the things that makes it so beautiful! So having a reliable, windproof umbrella is important. It collapses down small for traveling but can provide protection for two people when open.
---

Originally started to combat guinea worms in drinking water for indigenous people in Africa, Lifestraw is committed to quality. The hollow fiber membrane filters out as close as you can get to 100 percent of bacteria, parasites, chemicals, microplastics, etc with its 0.2 micron pore size. And it will last for years! With proper care, one filter can handle up to 4000L (1000gal) of water.
---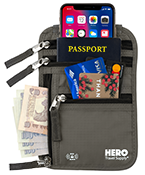 Keep your valuables safe while you travel around Banff. With it's RFID lining, this neck wallet is perfect for cash, credit cards, passports, hotel and car keys, even your phone! It's made from sturdy ripstop fabric and is easy to tuck inside your shirt to keep it close. And with its lifetime guarantee, if you ever have trouble with it, you can have it replaced.
---

Travel insurance, much like CPR training, is one of those valuable things to have that you hope you never need to use. But when it is needed, travel insurance can be a lifesaver. Literally. World nomads has over a decade experience providing coverage for even the most adventurous travelers, and has one of the most extensive lists of covered activities of any travel insurance available.
---

The struggle is real when it comes to mosquitoes in Canada. Sometimes you could swear you're being dive bombed by a bird they're so large. These natural, deet-free bracelets will help keep the little blood suckers at bay. Note: even with these, you'll probably want to also use bug spray as extra insurance against the wee beasties.
---

Small, portable chargers are invaluable on a trip where you'll be spending time away from civilization. Chargers like this one are easy to reload overnight and will prevent you from the unpleasant surprise of having your phone die. This is especially important if you're using the phone either for directions or as your main camera. It uses a standard USB cable to attach to your device and holds at least one, sometimes a couple of charges before needing to be recharged itself.
---

Whether it's coming from the sky, a lake or in frozen form on the slopes, water is abundant in Banff. You won't regret having a waterproof case to protect your phone, especially since this one allows you to go up to 100ft deep and continue to use your phone for photos or video. It also comes with a convenient neck-lanyard so you don't have to worry about dropping it in the lake.
---
10. Hiking Shoes/Boots Women's, Men's

Chances are high you'll be hiking while you're in Banff, so you definitely want sturdy, reliable shoes. Hiking shoes are a worthwhile investment, as they'll last you for a number of years and will save major wear-and-tear on your feet and body as you scramble over rocks and up mountains. The pairs linked here are great for summer and fall. If you're going to Canada in winter or spring, see our link in the 'Other Banff packing list items not to forget' section for some great waterproof boots.
---

The last thing you want when you're channeling your inner von Trapp is perpetually cold feet. These Smart Wool short hiking socks will cushion your feet as well as keep them both warm and cool. These are perfect for summer or fall hiking when you have low-cut shoes; for winter hiking or skiing, try these longer smart wool socks.
---
12. Quick Dry Travel Pants Women's, Men's

Quick dry fabric is an essential part of your outdoor wardrobe. These lightweight pants are much more comfortable on the trail than jeans, especially if it rains or you need to splash through a stream. Plus these are UPF 50, so even though they're light, they'll still protect your legs against the harsher sun at altitude.
---
13. Fleece Zip Up Vest Women's, Men's

Visiting Banff at any point in the year, you'll want to dress in layers. This full-zip fleece vest is perfect for summer and late spring/early fall trips. Since fleece is water resistant it'll also help keep you dry even if it's your outer layer.
---

Beanies, or 'toque' as they're known in Canada, are perfect year-round in Banff. If the wind kicks up when you're hiking, even on a sunny day your ears can start to feel like icicles. You'll want a warm, comfortable hat to throw on and the bonus is that this women's hat is cute!
---

In our covid/post-covid world, this gaiter will not only keep your neck and face warm and protected from wind and sun, it also easily doubles as a face mask when necessary. These also smush into the smallest corner of a backpack, no you'll never need to be without it whether you're hiking, canoeing, skiing or just taking in the view.
---

Hiking poles are an easy item to forget. But at altitudes ranging from 4500 to over 10000ft in the Banff area they are a useful assist on hikes, especially if you live closer to sea level. This set is strong but lightweight aluminum that will easily fit into your daypack without adding much bulk.
---

A daypack is another outdoor essential. This one will hold most all of the items listed above while not being super heavy on its own, so it doesn't give you the feeling of being on a multi-day backpacking trip. It also comes with multiple compartments making it easier to find items.
Other Banff packing list items not to forget
---
What to Wear in Banff
---
As you might expect for a wild, outdoorsy region, Banff is relaxed and casual in style. Unless your goal is to remain at one of the high-end resorts without venturing beyond its gates, you'll find little need for anything dressy, let alone formal. Even though Banff is fairly southern as Canada goes, the altitude is high so regardless of what time of year you visit, you'll want layers. Summer days are pleasantly warm, never really hot, while winter can be quite cold. At any point of the year, whether you're hiking, skiing or just sightseeing, as you alternately get sweaty and cool-off, you'll want the option to add and remove layers.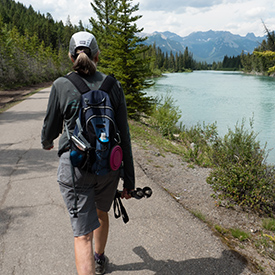 What Women Should Wear in Banff? – (Click to expand)
Below is a sample women's clothing list.
(All items link to Amazon.com for your convenience).
These clothes are the essentials that you should have any time of year that you travel. Of course, during colder times of the year, you'll need to bring additional warmer clothes along with a really warm jacket.
What Men Should Wear in Banff? – (Click to expand)
Below is a sample men's clothing list.
(All items link to Amazon.com for your convenience).
These are the base essentials you will want to bring with you. If you will be traveling during the colder times of the year, you will need to bring additional warmer clothes and a more heavy-duty jacket.
SPRING

– April, May, early-June:

Ski season around Banff lasts into May, so expect a range of temperatures. It's not uncommon to have wild weather fluctuations in the spring and fall, sometimes within the same day, so planning can be tricky, but base it according to your intended activities (skiing, exploring, hiking, etc). Layers are an absolute must to avoid needing to pack an abundance of clothing. Temperatures during the day average in the mid-40s to mid-50s and dip down toward freezing at night.
SUMMER

– mid-June, July, August

Summer is an outdoor playground in Banff. You'll still want layers, as temperatures can fluctuate quite a bit from day to day, and depending on your elevation, but lightweight layers and even shorts will work great. You might be comfortable into the evening wearing sandals to dinner, but overnight temps in summer still dip into the 40s, so you may want to stick with some fun sneakers, even if you opt for a slightly more dressed up restaurant. Daytime temperatures are likely to be in the 60s-70s, dropping into the 40s at night.
FALL

– September, October:

Much like in the spring, fall temps in Banff bounce around and you'll be glad you have layers on hand. Occasionally snows come as early as mid-late October, but generally, you can expect chilly, often cloudy days. Some good clothing options include: hat, jacket and vest, boots or hiking shoes, pants with base layer, long-sleeve shirt with base layer. Expect temperatures in the low 50s to low 60s during the day and flirting with freezing at night.
Outfit choices for fall, see spring list for both women and men
WINTER

– November, December, January, February, March

Winter is cold and beautiful in Banff. Due to its location at the Continental Divide, it gets lots of snow. Don't skip the sunscreen or sunglasses just because it's winter though .. UV is strong at this altitude and the sun bouncing off snow can still burn. Anticipate daytime temperatures with highs in the 20s or 30s with overnight drops to single digits.

What NOT to take to Banff
---
1)

Don't TAKE lots of clothes
– Do your best to choose items that mix and match well together. Rather than having an option for everything, bring fewer multipurpose items.
2)

Don't BRING scented lotions, etc – You'll be spending a lot of time outdoors and will need either bug repellent or sunscreen and sometimes both, all the time. Don't make your body care products compete with health products. Also, you don't want to attract unwanted animal visitors by having strongly-scented lotions, etc.
3)

Don't PACK valuables besides the basics – As casual as everything is in Banff, keep it simple. If it isn't crucial to your trip, leave it at home. If you're into photographs, your camera may well be the most expensive item you bring with you.

4)

Don't BRING formal wear
– hands-down you won't need it. Even at most resorts, it's common to find both men and women wearing jeans and shorts, sneakers, or sandals. See the suggestions under summer outfit choices for some slightly more dressed up options. Men, if you normally travel with a sports jacket, feel free to include one, but you definitely won't need to go beyond this.
5)

Don't TAKE easily rentable gear – Most everyone in Banff is into outdoor activities. Don't bother with trying to pack heavy, bulky items that you can rent once you're there. That said, make sure you leave room in the budget for those ski or kayak rentals.

FAQs about trips to Banff
---
1. What kind of wildlife am I likely to see?
Banff has a wide variety of wildlife ranging in size from the small rabbit-like creatures called pika to the largest of grizzlies. The most common animals people run across are hoary marmots (mid-sized rodents vaguely resembling beavers), pika, ground squirrels, and beavers. But at all times when venturing out of Banff Town, you should carry bear spray with you on the off-chance you run across one of those (it's most likely to see bears in spring once they've come out of hibernation). There are also many wolves, coyotes, deer and elk, Canada lynx, bighorn sheep, caribou, bison, and moose.
2. How best to get there?
Assuming you're coming from outside of Canada, the best option is probably flying into Calgary, Alberta, roughly 1 ½ hours away. From there you can rent a car (recommended). Some shuttles run between the two as well, each company all with their own schedules. However, for the money, renting is a better option as it then gives you the freedom to get around how and where you choose, not based on the time table set by a tour company. One caveat to this is how comfortable you are with winter driving. Many roads remain open during winter and they are generally well-maintained, but snow and ice on roadways are common, so if you are inexperienced or uncomfortable with this, you may be wise to use alternative methods.
3. What timezone is Banff?
Banff is in the Mountain Time Zone, the same as US cities, Boise, ID, Missoula, MT, Phoenix, AZ, or Denver, CO.
4. Can I see the northern lights?
At the right time of year, yes! The best chance to see this incredible phenomenon is from November to March. You can visit https://aurorawatch.ca, which is overseen by the University of Alberta and gives the likelihood of seeing the aurora borealis on a day to day basis.
5. Is Canada expensive?
That depends on your perspective. Compared to the US dollar, the Canadian dollar vacillates between slightly higher and slightly lower in value. Some sites estimate approximately $100/day/person for a trip to the Banff region.
6. Is the water safe to drink?
The tap water in Banff comes from deep underground wells, not from the natural springs in the area. Some people complain of a taste in the water, but it is considered to be a matter of preference only and not one of safety, and Banff is generally known to have good quality water. There are several water filling stations around Banff Town, so it is definitely an option to skip the expense and hassle of bottled water while you're there.
7. Do I need my passport?
Short answer: yes. If you are traveling from the US, you technically do not need a passport to get INTO Canada, but you will need one in order to reenter the US if you are traveling by air. Therefore, Canadian authorities will not allow entry for Americans who do not have the proper documentation to return. I haven't driven across the border recently, but I have heard friends say that passports are often asked for there as well. If you have anything other than a US passport, you may also need a visa, so check with your country's agreements specific to Canada.
8. What are the 'must-see' places/activities?
Banff truly is an outdoor lover's wonderland. It sometimes feels like there's an even more gorgeous view around every bend than at the previous one. The massive Canadian Rockies are an undeniable presence everywhere in the region. Depending on whether you'd rather swish through the powder or canoe on the pristine turquoise glacial lakes, your interests will instruct your decision on the time of year to visit.
If you make your journey in winter, there are some ski resorts within a few hours of Banff, several of which are world-renowned for their runs. The three within Banff National Park are Norquay (the closest to Banff Town), Sunshine Village, and Lake Louise. All of these are legendary for their slopes, with Lake Louise having the longest season, due to its being the furthest north of these. These are also incredible to visit during summer .. Lake Louise and nearby Moraine Lake are two of the most stunning glacial lakes I've ever seen!
The Banff Gondola provides breathtaking views at the top and is well worth the $60+ to ride.
Just about any location can be a stellar hike, but some favorites are Sunshine Meadows, the Parker Ridge Trail, Johnston Canyon, or the Athabasca Glacier.
The previously mentioned Moraine Lake is an awe-inspiring location to watch the sunrise and as one of the most photographed locations in Canada, make sure you have your camera!
As an après-ski or hike reward, soak your tired body in the Banff Upper Hot Springs.
Drive the extraordinary Icefields Parkway, a 250ish mile epic road trip from Lake Louise to Jasper and back.
Other North America packing lists you may like…
Alaska | Arizona | Appalachian Trail | Austin | Beach | California | Canada | Camping | Chicago | Colorado | Cruise | Day Hike | Denver | Desert Trip | Destination Wedding | Disney | Florida | Glacier NP | Grand Canyon NP | Grand Teton NP | Havasupai | Hawaii | Honeymoon | Kalalau trail | Kauai | Key West | Lake trip | Las Vegas | Maui | Miami | Moab | Myrtle Beach | Nantucket | New York | Oregon Coast | Orlando | Pacific Crest Trail | Portland | Quebec | Road Trip | RV Trip | San Diego | San Francisco | Seattle | Sedona | Texas | Washington, D.C. | Wisconsin Dells | West Coast Trail | Yellowstone NP | Yosemite NP | Zion NP
Please note: We have over 200 packing lists covering practically every popular travel destination in the world. Access them all on our packing list overview page ➜