Updated on by Asher Fergusson
W
ith a plethora of delicious restaurants, hip coffee shops, and beautiful outdoor sights, Portland is a city that has something for everyone. Whether you're looking to spend a weekend sipping on beers at one of the many breweries or hiking the lush green mountains that surround the city, there's so much to see and do.
With constantly changing weather, knowing what to bring along with you to Portland can seem overwhelming. This packing list will answer all your questions including what to wear in Portland, and what NOT to bring regardless of the season in which you're visiting.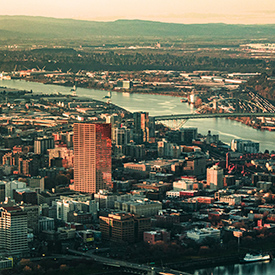 What to Pack for Portland – 17 Essentials
---

Portland is notorious for its rainy mornings and afternoons and there's nothing that will ruin your day like getting caught in the rain when you're trying to explore. Bringing this portable windproof travel umbrella will ensure that you'll stay dry and still be able to enjoy your vacation.
---

Oregon is one of the best states to visit if you're looking to get back in touch with nature. However, when doing so, you may not always have access to clean drinking water. LifeStraw water bottles are BPA free and include a filter which helps filtrate bacteria, parasites, and chlorine. Bringing a water bottle while traveling is always a smart choice but this ensures that you'll always have control over your drinking water all day, every day.
---

I don't know about you but bugs seem to gravitate towards me the minute I step outside. Being covered in bug bites is not only uncomfortable but it can also be dangerous to your health. Having a travel-sized insect repellent will keep those pesky mosquitos away so that you can spend more time focusing on your vacation and less time on scratching those bites.
---

Foldable daypacks are essential for any trip that involves hiking, mountain biking, or other outdoor activities. Resistant to water and wear-and-tear, this foldable daypack is ideal for holding all of your essentials. Bring along your water bottle, your wallet, your camera, and more all while you explore Multnomah Falls.
---

Packing cubes are the ultimate lifesaver when it comes to packing. They not only save room in your suitcase but they also compartmentalize your belongings so you know exactly where everything is. A visit to Portland in the fall and winter months means packing a lot of bulky items. With these, you never have to worry about running out of room in your suitcase. This 5-piece set comes in multiple sizes, separate laundry bags, and even notecards where you can jot down exactly what is in each cube.
---

I'm a huge advocate of getting travel insurance for every trip that you take. While it may sound extremely unnecessary on a domestic trip, it can help save you from a headache should you get into an accident during your stay or an airline loses your luggage. Medical bills can add up extremely quickly, even with health insurance. We never travel without it.
View their plans at WorldNomads.com ➜
---

Shampoo and conditioner are essential for all travel. But they can also spill and make a mess of your suitcase. Using a shampoo bar not only saves room in your bag but also prevents spills, allows you to go through TSA, and is more environmentally friendly. This Love Beauty and Planet bar is a 2-in-1 shampoo and conditioner bar that is vegan, paraben-free, and cruelty-free.
---

Okay, I know what you're probably thinking. "I can't pack a virtual private network and why would I want to include that anyways?" If you're going to be spending most of your time in Portland's many coffee shops, you're putting all of your data at risk. The last thing you want is to have all of your personal and financial information accessed by hackers (trust me, I learned the hard way).
---

Because of Portland's rainy climate, hiking can get a bit muddy. If the terrain isn't too steep and rocky, I highly recommend getting a good pair of water shoes to wear. This will help protect your nice shoes from damage and help protect your feet should you find yourself in a body of water with a rough seafloor. These give you excellent traction all while being quick to try and easy to clean.
---

Portland is one of the few destinations in the US that doesn't get too hot during the summer months. However, that doesn't mean that you won't sweat. When wandering the streets or exploring waterfalls, sweating is inevitable. And there's nothing worse than being self-conscious about your smell while out with friends or family. Instead of stressing about it too much, throw these deodorant wipes into your daypack and clean up anytime you begin to feel uncomfortable. The best part is that they're plant-based and aluminum-free.
---

Hand sanitizer is a must when you travel. There are many times where you won't have access to a bathroom to wash your hands, especially if you're out in the forests. Bringing a portable hand sanitizer will help ensure that you stay clean no matter what you get up to for the day.
---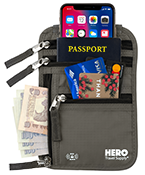 I'm a big fan of using a neck wallet. Many people choose to use them solely for international travel but I think they make traveling much easier. Carry your credit cards, cash, and other important documents on your body at all times without having to carry a large purse or backpack. This is especially great if you're looking to tackle the nature that surrounds Portland.
---

I'm using my phone constantly when I'm traveling. Whether I'm looking up new restaurants to try, calling an Uber, or trying to find directions, my battery dies quickly. Because of this, I like to have a phone charger on me at all times. The lipstick-sized charger packs a punch and will get your device fully charged in only 3-4 hours.
---

Forego the bulky safety equipment on your outdoor adventures and use this emergency paracord bracelet to keep you safe. The bracelet is complete with a fire starter, a compass, an emergency whistle, an emergency knife, and 12-feet of military-grade paracord. I would never go camping or hiking without one.
---

I think you've gathered by now that Portland is wet and packing clothes that will help you stay dry is key. Finding a good pair of weather-resistant quick-dry hiking pants will have you feeling much more comfortable during your trek. They'll also help you avoid bug bites so you won't have to douse yourself in too much insect repellent.
---

And of course, your hiking gear wouldn't be complete without a sturdy pair of hiking boots. Not only are they ideal for mountainous terrain, but they're also great for walking around the city for a day of sightseeing. They're meant to take you the distance so you know you'll be comfortable no matter what you're doing. Opt for a pair like these that are water-proof and extra durable.
---

Okay, so Portland isn't known for its high-end restaurants or luxurious hotels. However, that doesn't mean that you should skip out on packing a nice dress for a night out on the town. Whether it be date night or you're just looking to grab a drink and mingle with the locals, having a dress similar to this one will help dress you up in the snap of a finger.
Other Portland Packing Essentials
---
What to Wear in Portland
---
When figuring out what to wear in Portland, research the weather before you go. This way you can be aware of what the forecast is looking like before you head that way. I'd argue that it's one of the few destinations that it's better to be over-prepared rather than underprepared. The last thing you want is gloomy weather and all you have packed is shorts and t-shirts.
Ideally, you'll want things such as a light multi-use jacket, a raincoat, waterproof boots, and layering pieces that you can mix and match. Portland is known for its "hipster" style so if you want to look like a local, packing a flannel or two won't hurt.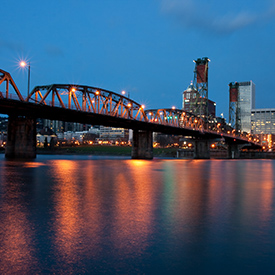 What Women Should Wear? – (Click to expand)
Below is a sample women's clothing list.
(All items link to Amazon.com for your convenience).
When packing for Portland, clothing items for men and women are very similar. If possible, pack versatile pieces that can be worn multiple times in different ways. This will help keep your suitcase light and you won't have to worry too much about what to wear each day. Because it can rain quite a bit, the most important thing to bring is a lightweight raincoat. Everything else can be layering pieces such as tank tops, jeans, t-shirts, and shorts, depending on the season.
If visiting during the colder months, swap out those t-shirts for thermals and sweaters, and don't forget to bring a warm winter coat that can withstand winter conditions (whether it be rain or snow). Beanies, gloves, and scarves are another great way to stay warm all while fitting in with the local attire.
What Men Should Wear ?– (Click to expand)
Below is a sample men's clothing list.
(All items link to Amazon.com for your convenience).
For men, packing all of the basics is key for Portland. You won't need anything fancy so you can ditch the nice button-ups and ties. Instead, opt for simple things like t-shirts, khaki shorts, hiking gear (such as pants and boots), sneakers, and of course, a raincoat. Again, if you want to fit in like a local, I like throwing on a flannel over a t-shirt in case there is a light breeze because they keep you covered with weighing you down.
If visiting during the colder months, focus on packing thermals, jeans, waterproof boots, a winter coat, a beanie, a scarf, and gloves. If you choose to participate in snow sports, you'll want to be sure that you have plenty of layers to keep you warm while heading down the slopes. Don't worry too much about packing snow gear as many resorts have attire (such as snow bibs and helmets) available for rent.

SPRING

– (March, April, May)

Spring in Portland means that the city is in full bloom. The winter showers bring colorful flowers and cherry trees to the parks and the sun is out more than the previous gloomy months. When packing for springtime in Portland, it's all about layers. While the sun may be out during the afternoons, it can still get a bit nippy in the mornings and evenings.

If visiting from warmer climates (such as the southwest), you may find the spring temperatures are still a bit cold. To be best-prepared pack sweaters, t-shirts, a light raincoat, scarves, jeans, and boots. The average temps during these three months range anywhere from 57 F to 68 F. The later into the spring, the warmer it will be so you can adjust accordingly.
SUMMER

– (June, July, August)

Summer is when Portland sees most of its visitors. There is very little rainfall and the days are long and full of sunshine. This makes packing pretty easy. Forego the rain gear and stick with t-shirts, dresses, shorts, and sandals. And of course, don't forget plenty of sunscreen and sunglasses.

Although Portland is not seaside, there are many parks with river access and waterfalls that are worth enjoying during your stay. Because of this, bringing a swimsuit is also not a bad idea. The trails to the river may be a bit muddy so this is when having those mesh slip-on water shoes will come in handy.

As for temperatures, you'll find that they range anywhere from 74 F to 81 F. There are times where temps can approach the mid to high 90's, however, this is rare.
WINTER

– (December, January, February)

While there is something to be said about Portland's sunny summers, there is something even more special about its misty green forests during the winter. Snowfall is rare meaning you won't have to worry about packing too many bulky pieces. A durable waterproof winter coat, sweaters, leggings, jeans, and boots should suffice. If you want to accessorize, beanies, scarves, and gloves are a great way to keep you warm while also keeping you fashion-forward.

During these three months, the average temperatures range anywhere from 45 F to 50 F.

Don't expect to see a lot of snowfall during the winter – in fact, Portland only sees about an average of 4.5 inches a year. But, if you are looking to ski or snowboard, you can make your way one hour east to Mount Hood where the average high is 35 F.

Dressing Appropriately for Activities: – (Click to expand)

Hiking

– If you plan on doing a lot of hiking, you'll want a good pair of sturdy hiking boots, quick-dry hiking pants, and insect repellent. Because Portland has a lot of standing water in the forests, the mosquitos can be a bit nasty so you'll want to stay protected as much as possible. And, as mentioned before, it can be a bit wet so if you choose to take a rainy hike, you'll want a light raincoat that is still going to be comfortable and breathable.

Snow Sports – When going skiing or snowboarding, you don't want to have to worry about the weather which means wearing the appropriate layers is important. Start with a base layer and add on either a snow bib or ski pants, a thick winter coat, gloves, a helmet, and goggles. And while it may seem silly, SPF is extremely important when on the slopes. The light reflecting off the snow can seriously sunburn your face.

Nightlife – Portland is a very casual city so getting extremely dressed up for a night out on the town isn't necessary. For men, jeans and a nice button-up with a pair of loafers will do. For women, stick to jeans and dress it up with a blouse and wedges.

Sightseeing – If you're set on walking around the city and exploring all of its hip shops and coffee houses, you're going to want to be dressed comfortably. Go for layers (depending on the season), a thin jacket if needed, and most importantly, a good comfortable pair of walking shoes. I typically like to go with close-toed shoes such as sneakers for maximum comfort.

What NOT to Pack for Portland:
---
1)

Don't BRING unnecessary valuables:
While it may be tempting to bring all of your expensive valuables (laptops, iPads, expensive camera gear, designer goods, etc.) on vacation, it's best to leave them at home and only bring what you need. Portland is a no-frills city so you won't need to impress anyone with your lavish items.
2)

Don't PACK heavy books: There's nothing quite like sitting in a quiet cafe, sipping on a cappuccino, and reading your favorite book. Especially in a new city. However, books are heavy and make packing quite difficult. Bring a Kindle instead and leave the physical copies at home.
3)

Don't TAKE suede/leather: Because of the rainfall of Portland, it's best to avoid bringing any goods that are made of suede or leather. This includes shoes, purses, clothing items, etc. Rain can do some serious damage to these materials and ruining an expensive piece of your closet isn't worth it.

4)

Don't BRING uncomfortable Shoes:
One of the best ways to see a new city is to explore by foot and Portland is no exception. Whether you plan on spending all of your time in the city itself or on the outskirts exploring all that Oregon's nature has to offer, bringing shoes that going to leave you covered in blisters isn't a smart choice. Instead, opt for waterproof comfortable shoes that you have already broken in.
5)

Don't PACK formal attire: Because Portland is such a laidback "hipster" city, wearing formal attire might make draw unwanted attention to yourself. Unless you plan on spending most of your time at galas, skip the fancy dresses and tuxes and opt for sundresses and a nice pair of shorts or khakis when you're looking to dress up a bit.
6)

Don't TAKE too many clothes: I'm a big fan of packing as little as possible for my trips. Because I travel so often, I've learned over time to pack the basics that you'll be able to mix and match. Especially if you're traveling during the winter months when the clothing tends to be a bit thicker and takes up more room.

Travel FAQs and Portland Vacation Tips:
---
1. What is the best time of year to visit Portland?

While it is the most popular time to visit Portland, I would say that the best time to visit is from June to August when you will be met with consistently warm weather. However, because this is the peak season, you will want to book in advance to ensure you get the best deal.

2. What is the best way to get around Portland?

Portland is known for having one of the easiest and safest public transportation systems in the United States. From the airport, you can hop on the light rail and take it into the city for less than $3. If you're looking to make day trips to places like Mount Hood, renting a car might be wise. If not, you can also simply walk or take Uber or Lyft.

3. What are the best things to do in Portland?

While I could go on forever with a list of wonderful things to do in Portland, some of my highlights include the Japanese Garden, Voodoo Donuts, Powell's City of Books, Pittock Mansion, Multnomah Falls, Mount Tabor Park, and Alberta Street.

4. What are the best coffee shops in Portland?

Portland is known for its coffee shops as well as its restaurants so picking the best is not an easy task. However, some of my favorites are Stumptown, Never Coffee, Lovely Rita, and Guilder.

5. How many days do you need in Portland?

While there is no "right" or "wrong" amount of time to spend in Portland, I recommend 3-4 days. This gives you plenty of time to explore the metro area and potentially areas outside of the city as well. If you're looking to see both the city and the surrounding areas, you may want to give yourself an extra day or two.

6. Where are the best places to ski in the Portland area?

The closest skiing destination in Portland is Mount Hood. Located one hour east of the city, it's complete with 5 different resort options, ranging from small family-friendly cabins to more luxurious options. You'll find slopes for all levels meaning beginners and experts can get their shred on.

7. Where should I stay in Portland?

Choosing where to stay in Portland all depends on what you are looking to accomplish while you're visiting. Staying downtown means being close to award-winning restaurants, beautiful art galleries, and hip shops. Some great downtown options include the AC Hotel Downtown and the Ace Hotel. A stay in the Pearl District will have you near art galleries, high-end shops, and cobblestone streets. Stay at McMenamins Crystal Hotel for a truly unique experience or opt for the Canopy by Hilton for a more modern stay.
Other North America packing lists you may like…
Alaska | Arizona | Appalachian Trail | Austin | Banff NP |Beach | California | Canada | Camping | Chicago | Colorado | Cruise | Day Hike | Denver | Desert Trip | Destination Wedding | Disney | Florida | Glacier NP | Grand Canyon NP | Grand Teton NP | Havasupai | Hawaii | Honeymoon | Kalalau trail | Kauai | Key West | Lake trip | Las Vegas | Maui | Miami | Moab | Myrtle Beach | Nantucket | New York | Oregon Coast | Orlando | Pacific Crest Trail | Quebec | Road Trip | RV Trip | San Diego | San Francisco | Seattle | Sedona | Texas | Washington, D.C. | Wisconsin Dells | West Coast Trail | Yellowstone NP | Yosemite NP | Zion NP
Please note: We have over 200 packing lists covering practically every popular travel destination in the world. Access them all on our packing list overview page ➜