Updated on by Asher Fergusson
T
hough it sometimes gets lost in the shadow of Yellowstone, Grand Teton National Park is a mesmerizing place in its own right. Named for a mountain peak that reaches nearly 14,000 feet, this Wyoming park boasts some of the country's best wildlife viewing, not to mention plenty of opportunities for hiking, rafting, camping, and even cross-country skiing in the winter.
This comprehensive Grand Teton National Park packing list also includes what to wear at the Grand Tetons for different seasons and activities. At the bottom we have tips on what NOT to bring, plus answers to some of the most common questions about visiting the park.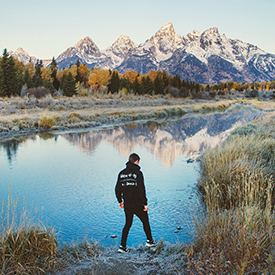 What to Pack for the Tetons – 17 Essentials
---

For trips into the backcountry especially, bringing a few survival necessities can go a long way, and a paracord bracelet makes it easier than ever. This one includes a whistle, a fire starter, a compass, and a small knife, all tied together in 12 feet of paracord that fits conveniently around your wrist.
---

From bison to moose to bears, spotting wildlife is one of the best parts of visiting Grand Teton. But it's critical – for your safety and theirs – to keep your distance from any animals. Bring a good pair of binoculars so you can enjoy watching the wildlife from a distance.
---

The main campgrounds in Grand Teton provide potable water, but you'll need to be able to collect – and treat – your own if you head into the backcountry. There are many options for purifying water, but using a Lifestraw water bottle has got to be the easiest. All you need to do is fill up the bottle, and the built-in straw will automatically treat the water as you drink. It doesn't take any extra time, involve any hassle, or give your water a nasty taste. If there's any chance you'll be going into the backcountry, make sure one of these bottles is on your Grand Teton packing list.
---

To keep your snacks fresh and your drinks cold, a cooler will be one of the top Grand Teton packing essentials. And if you're going camping during your trip, then a cooler is definitely a must. Just don't forget your ice packs!
---

You'll want to be able to keep your phone, camera, and other essential devices charged, but there won't be much access to electricity out in the park, especially if you're camping. Fortunately, a solar charger will let you keep all your batteries from going dead, no matter where you're at. Just attach it to the outside of your backpack or set it in the sun during the day, and you'll be able to plug in your devices at night – no electricity required.
---

A daypack is one of the most essential things to take to Grand Teton (or any national park, really). Whether you're going out on a hike, doing a boat ride, or taking a scenic drive, you'll need a daypack that can hold a few essentials. Don't let yourself get too weighed down, but bring along things like your phone, camera, water bottle, snacks, and sunscreen. So make sure your daypack is big enough to hold those essentials, and also comfortable to wear on the trail.
---

Packing cubes have totally changed the way many travelers pack, and they'll make packing for Grand Teton much easier for you, too. You'll be able to put specific types of items in each cube, so you'll know where everything is. It'll be easier to stay organized, and you won't have to constantly dig through your whole bag just to find one missing item.
---

If there's one thing almost every visitor to Grand Teton does, it's hiking. The park has trails of all lengths and levels, and if you're tackling one of the more strenuous hikes, it really pays to come prepared. A pair of hiking poles will make steep inclines more doable and much easier on your knees. Some types of poles can be heavy and bulky, though, so go with a collapsible pair to keep the weight down.
---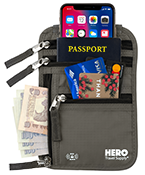 Like most national parks, Grand Teton can get crowded, especially during the summer. And wherever there are crowds, there can be pickpockets. To make sure none of your valuables get stolen, store them in a neck wallet like this one instead of in your pocket or purse. It'll keep your cash, credit cards, phone, and other small items secure, whether you're out on a hike or just waiting in line at the visitor center restroom.
---

To stay healthy and hygienic in the outdoors, hand sanitizer definitely needs to go on your list of Grand Teton essentials. On long hikes and bike rides or nights in the backcountry, using hand sanitizer is the best way to make sure you (and others) don't get sick. Keep a bottle in your purse or daypack so you always have it handy.
---
11. Quick-dry Hiking Pants Women's and Men's

Another key hiking-related item for your Grand Teton packing list? The right pair of hiking pants. Long pants will protect you from the brush, bugs, and sunlight better than shorts, and the park typically doesn't get too hot anyway. The fabric should be durable so your pants don't rip if they brush against something or get caught on a branch. And pants that dry quickly are ideal, in case you get caught in the rain or need to walk across a stream during your hike.
---

Speaking of rain, an umbrella is another one of the essentials for Grand Teton National Park. Really, we recommend keeping an umbrella with you whenever you're traveling. This one was specifically designed for travel; it folds down to just 12 inches and weighs less than a pound, so you'll barely even notice it in your luggage or daypack.
---

Many people choose to take trips without first buying travel insurance, but that's a risky move. You never know what could happen while you're traveling, especially if you're doing a lot of hiking, kayaking, and other adventure activities. Your regular health insurance may provide only limited coverage in Wyoming, but World Nomads will cover your expenses no matter where you go. Plus, they'll have your back in the case of situations like lost luggage and trip interruptions.
View their plans at WorldNomads.com ➜
---

Being out in nature, especially for days at a time, means one thing: you get sweaty and dirty. To stay fresh (and keep your tent mates happier), put some deodorant wipes on your list of things to bring to Grand Teton. It's much easier to travel with a few of these than with a regular stick of deodorant, especially when you're backpacking and every ounce counts. Even better, these wipes are biodegradable and made with renewable energy.
---

The relatively cool temps in Grand Teton, even in the summer, help prevent the mosquitoes and other bugs from getting too bad. But you'll still encounter them, especially if you're camping in the park. To keep the bugs at bay, make sure you always have a bottle of bug spray with you. A DEET-free version is better for your body and for the environment, plus it doesn't have that nasty chemical smell.
---

If you're planning to go for a swim or do some kayaking – and definitely if you're camping – you'll want to put a towel on your packing list for Grand Teton. But don't just grab a towel from your bathroom at home; regular towels are bulky and take ages to dry out, so they're not great for traveling or being outdoors. Enter the travel towel. These microfiber towels are thin and lightweight, they dry quickly, and they'll take up very little room in your luggage.
---

While you're out exploring the park for the day, you'll want to make sure devices like your phone and camera stay charged. You won't be able to plug them into the wall, but you can carry a tiny portable charger and plug them in on the go. This one is no bigger than a tube of lipstick, so you can easily store it in your purse or daypack.
Other Grand Teton Packing List Items
---
What to Wear in Grand Teton
---
Since you'll be spending a lot of time outside, your clothes for Grand Teton will need to keep you comfortable out in the elements. Fabrics that are breathable and dry out quickly will be the most comfortable and convenient. For enjoying the outdoors – and especially since this is a rural area of the American West – casual clothes will be the staple of your Grand Teton wardrobe, so choose items like shorts, hiking pants, and sweat-wicking tank tops or T-shirts. Even in the summer, the park gets relatively cool temps, especially at night, so a sweater or jacket for evenings is a must. And don't forget about your choice of footwear. Shoes for Grand Teton need to be comfortable and sturdy and make sure to break them in before your trip.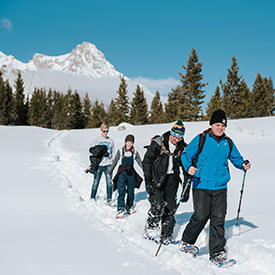 SPRING

– March, April, May

Springtime in Grand Teton brings below-freezing lows and frequent rain, and highs above 60 aren't too common. That means long pants, insulated shoes, and warm layers are a must. Don't forget a rain jacket this time of year, either.
SUMMER

– June, July, August

The summer months in the park typically have warm-but-not-too-hot days and chilly nights. Lightweight fabrics, shorts, T-shirts or tank tops, and sandals will be comfortable on most days, but there will probably also be days you'll need a sweater, jacket, or scarf. And warm clothes for the evenings are a must.
FALL

– September, October, and November

Fall in Grand Teton is nearly as chilly as the spring, but with less rain. With average lows below freezing (and, by the end of fall, highs below freezing), you'll need warm clothes if you visit this time of year. Pack things like sweatshirts, long pants, closed shoes, and a scarf.
WINTER

– December, January, February, and March

Not many people go to Grand Teton in the winter, but those who do are in for a real winter wonderland. However, visiting that time of year means cold weather – highs in the 20s and lows around zero – so warm clothing is critical. Plan on wearing a sweat-wicking base layer, an insulating mid-layer, a warm coat, and good boots. And make sure to bring a hat and gloves as well.

Dressing Appropriately for the Activity – (Click to expand)

Hiking:

The many hiking trails are among Grand Teton's top attractions for most visitors, so make sure to bring the appropriate clothes if you're planning to hit the trail. A comfortable pair of hiking pants is a must, along with a top made of breathable fabric and some sturdy hiking shoes or boots.

Camping: If you're camping in the park, it's especially important to bring clothes that will dry out quickly, so look for lightweight fabrics and clothing that's specifically formulated to be quick-drying. In addition, warm clothes for the evenings and especially warm pajamas are essential for camping in Grand Teton, even in the summer.

Kayaking & SUP: Grand Teton has plenty of great options for paddling, no matter what your preferred method is Activewear clothing that dries quickly will be the most comfortable, along with a pair of sturdy, snug-fitting water sandals.

Cycling: Another unique way to see the park is on two wheels; just make sure you come prepared for a comfortable ride. The best clothing for riding bikes includes fitted pants or shorts that are at least mid-thigh length, a sweat-wicking top, and a pair of closed shoes – along with a helmet, of course.

Snowshoeing & XC Skiing: The winter months in Grand Teton are cold, so activities like snowshoeing and cross-country skiing require seriously warm clothes. Start with a base layer made from wool or a sweat-wicking synthetic fabric, and wear a sweatshirt or fleece jacket over it. Snow pants, a warm coat, and insulated boots are also vital, as well as a hat and gloves.

What NOT to Bring to the Grand Tetons
---
1)

DON'T PACK excessive gear:
Yes, you'll need some gear for hiking, camping, or whatever activities you have planned. But don't bring more than you actually need – it'll just weigh you down.
2)

DON'T BRING a regular towel: Bath towels are one of the bulkiest and most inconvenient travel items out there. Fortunately, you can pick up a microfiber towel to use instead, which will dry out quickly and save space in your luggage.
3)

DON'T PACK too much stuff: Most people have a tendency to overpack, bringing along heavy or bulky items that never get used. Pare your Grand Teton packing list down as much as possible, and only bring the things you'll actually use.
4)

DON'T TAKE physical books:
Another thing that will quickly weigh down your bag is physical books, and they take up a ton of space, too. Pack an e-reader instead; it's smaller than a single book and will hold as many titles as you want. [/one_half]
5)

DON'T TAKE unnecessary valuables:
The risk is small, but there's always a chance of things getting lost or even stolen from your car or hotel room. Avoid a major loss by leaving your extra valuables at home.
6)

DON'T BRING lots of cash: You'll be able to use a credit card just about everywhere in and around the park. Other than maybe a few $5s or $10s for small purchases, you won't need much cash on your trip, so bringing a bunch of it is just a liability.

What NOT to Wear in Grand Teton – (Click to expand)
During most any national park trip, your focus is going to be on comfort and functionality, not fashion. That means you can leave any formal attire at home, including high-heeled shoes, which are far too impractical for walking around Grand Teton. Skip any other uncomfortable clothes as well, or your hours on the trail or in the car will feel long. Lastly, don't plan to wear only warm-weather clothes, even in the summer. The weather can be unpredictable during the day and downright cold at night, so packing nothing but shorts and T-shirts will leave you unprepared.

FAQs about travel to the Grand Tetons
---
1. What kind of wildlife lives in the Grand Tetons?

Grand Teton National Park is home to an abundance of wildlife, including many of the quintessential species of the Rocky Mountains. Some of the most impressive are grizzly bears, moose, antelope, elk, and bison. You can easily spot wildlife from your car, and there are several designated wildlife viewing areas in the park as well. Wildlife sightings are even more likely in the backcountry, far from noisy cars and crowds of tourists. Wherever you see animals in the park, be sure to keep your distance – 100 yards, if possible, especially for bears. Carry a canister of bear spray as well, just in case.

2. What are the top things to see in the Grand Tetons?

Grand Teton has tons of incredible things to see, but there are a few you really can't miss. The Snake River runs through some of the park's most scenic landscapes, and floating or rafting it is one of the top things to do in the park. Another way to take in some of Grand Teton's best scenery is by driving Teton Park Road, also known as the 42-Mile Scenic Loop Drive. Mormon Row, the site of well-preserved homesteads dating to the 1890s, is also a top attraction, and a must-see for history buffs.

3. Where are the best hikes in the Tetons?

With over 200 miles of trails, Grand Teton has something for hikers of every level. At just a mile and a half each way and without much elevation gain, the hike to Taggart Lake is one of the park's most popular easy hikes, and it offers great views of Grand Teton. The String Lake Loop hike is slightly longer but still an easy trail, and passes by several scenic lakes, including Jenny Lake and Leigh Lake. For a more strenuous hike, two of the best are Cascade Canyon and Amphitheater Lake, which are both about ten miles round-trip.

4. What can you do in the Grand Tetons during the winter?

Even though the campgrounds and tourist facilities are mostly closed in the winter, there's still plenty to enjoy in Grand Teton during those months. The hiking trails are open for snowshoeing, and Teton Park Road is even groomed for cross-country skiing. There are also snow coach tours of the park, which allow you to ride around in the comfort of a warm vehicle while enjoying the winter landscapes outside.

5. When is the Grand Teton National Park open?

The park is open year-round, but many of the campgrounds, lodges, and tourist facilities are closed outside the peak tourist season, which runs from May to September. Teton Park Road from Signal Mountain to Taggart Lake is closed to traffic from November through April, but cross-country skiers and snowshoers can access both ends of the road via Highway 191.

6. What is the weather like in the Grand Tetons?

During peak season, daytime temperatures in the park are usually in the 60s and 70s. While that sounds comfortable, campers should be aware that nightly lows are only in the 30s, so a high-quality sleeping bag and warm clothes are vital. Rainfall is generally low in the summer, but the weather can change quickly, and summer thunderstorms aren't uncommon. In the winter, daytime temperatures are generally in the 20s, and snowfall can be heavy. Spring and fall both bring moderately warm days and chilly nights, and spring is the rainiest time of year.

7. What is the best time of year to visit?

Most visitors to Grand Teton come between June and August, which is when all the facilities are open and the weather is at its most pleasant. However, this is also when the park is the most crowded. If your schedule allows it and you don't mind slightly cooler temperatures, September is a great month to visit the park. It will be less busy, and even though it's not as warm, you're unlikely to get much rain.

8. How do you get to the Grand Tetons?

The easiest way to get to the park is by flying into Jackson Hole Airport, which is actually inside the park (it's the only airport that's located in a national park). Jackson Hole is well connected to the rest of the country, although many flights only operate during the summer. If you've got the time, another option is to drive to Grand Teton via Yellowstone National Park. The two parks are only separated by the 27-mile-long John D. Rockefeller, Jr. Memorial Parkway. This allows you to fly into Bozeman, Montana, which has more year-round options and is also less expensive than Jackson.

9. Where can I stay around the Tetons?

The world-famous ski town of Jackson is only about ten minutes from the park and offers a wide range of accommodations for visitors to Grand Teton. However, hotel prices there are considerably higher than in other parts of Wyoming. The town does have a few hostels offering no-frills accommodation, though, and Jackson's many Airbnb rentals tend to be cheaper than the hotels. If you'd prefer to sleep under the stars, Grand Teton National Park has seven main campgrounds, most of which include access to showers, bathrooms, and drinking water. There are also a dozen backcountry camping zones, two-thirds of which are reserved for walk-in permits.

10. How can I save money while visiting the Grand Teton National Park?

Aside from the entry fee, you probably won't be spending too much money inside the park; however, the town of Jackson is a different story. Hotel rooms and food prices are surprisingly expensive, but there are a few ways to save money there. The best thing you can do is visit during the off-season – the fall is the best bet, as it avoids both the peak summer months and the popular ski season. This is when hotel prices will be at their lowest, and shops and attractions are more likely to be running sales.

You can also save money on food by minimizing how much you eat at sit-down restaurants. Start the day by grabbing something quick, like a bagel from Pearl Street Bagels, and then stop at a grocery store for ingredients to make a sandwich or salad to pack for lunch. If you can get off the trail early enough in the evening, many of the restaurants in town have happy hour specials that will also help you save.
Other North America packing lists you may like…
Alaska | Arizona | Appalachian Trail | Austin | Banff NP |Beach | California | Canada | Camping | Chicago | Colorado | Cruise | Day Hike | Denver | Desert Trip | Destination Wedding | Disney | Florida | Glacier NP | Grand Canyon NP | Havasupai | Hawaii | Honeymoon | Kalalau trail | Kauai | Key West | Lake trip | Las Vegas | Maui | Miami | Moab | Myrtle Beach | Nantucket | New York | Oregon Coast | Orlando | Pacific Crest Trail | Portland | Quebec | Road Trip | RV Trip | San Diego | San Francisco | Seattle | Sedona | Texas | Washington, D.C. | Wisconsin Dells | West Coast Trail | Yellowstone NP | Yosemite NP | Zion NP
Please note: We have over 200 packing lists covering practically every popular travel destination in the world. Access them all on our packing list overview page ➜