Updated on by Asher Fergusson
C
hicago on Lake Michigan in Illinois is the third largest city in the United States. Historically famous for its mega architecture seen in its Neo-Gothic tribune tower and the Art Institute of Chicago.
Below we will be providing you with an essential Chicago packing list along with a what to wear in Chicago section that should have you well prepared for your trip. Additionally, you'll find a section on what not to bring and helpful answers to FAQs.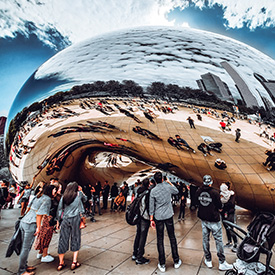 What to Pack for Chicago- 17 Essentials
---

Rainy days can ruin your day. Yeah, literally, and you don't want to get drenched in a northern deluge, especially when you're enjoying the sites on your lovely vacation. This is why you need a beautiful, snug umbrella to save you from this disaster while taking the time of your life to soak up the Northern sun. You know you'll love it!!
---

Pepper spray is a powerful substance containing Oleoresin Capsicum(OC), which causes excruciating burning pain that deters attackers and allows for a safe getaway. I recommend the Sabre Red Pepper Gel with its smart canister, which dominates the pepper spray market. It is very affordable, ranging between $10-20, fitting it right into your lean budget.
---

Packing cubes are the best way to streamline packing and unpacking. You can separate your belongings into groups and only open the cubes as you need them. They help you save space in your bag and shorten the process of packing and unpacking. When you use packing cubes to sort your luggage, you're able to account for items much more easily.
---

Daypacks are excellent for carrying your essentials during a full day of exploration. You have room for a camera, water bottle, sweater, snacks, portable Music Player, and a few other small belongings. It is collapsible and doesn't take up much space in the suitcase.
---

Keeping your smartphone, tablets, and all other gadgets charged while on the go is a 21st-century existential challenge. Luckily for you, there is a market supply of portable external batteries and charger alternatives with different lipstick shaped options that provide a solution to this problem.
---

You know how uncomfortable shoes are not just worth the stress when you begin to face the blisters and foot pain that they bring with them. You can always save yourself from all of that by getting comfortable flats that snugly fit around your feet, so you can focus on your walk around the Windy City and a heightened overall pleasant getaway.
---

It is no news that there are bacteria under the armpits responsible for producing bad smell. Deodorants help body parts to smell fresh by depositing a film on the skin with the fragrance which masks the odor. If you are the type that takes part in many activities or you simply have a high metabolism rate, deodorant wipes will help keep you fresh all through the day.
---

When you choose a good travel bug spray, you don't have to restrict yourself to a bad-smelling insect repellent. This DEET-free product gives you protection for pesky critters without exposing yourself to nasty chemicals.
---

Liquids are prohibited for passengers' luggage. Well, solid shampoo bars are the most efficient alternatives for liquid shampoos. A solid shampoo bar can last up to 80 washes. You want to take this along for the gorgeous hair throughout the trip.
---

A travel towel is essential and unique for its multipurpose capability. You can easily use it as a bath towel in your accommodation (if you don't like the ones provided for you) and immediately throw it in your bag for use at the beach.
---

Carrying a personal hand sanitizer is one habit we won't be letting go of in a hurry. Germs can be found wherever you look. The surfaces we touch contain enough germs to last a lifetime. When you touch your face with hands infested with these germs, you'll be putting yourself in harm's way. Ultimately, when taking a trip, you'll make use of entrances and exits. You'll need to apply a sanitizer everytime your hand comes in contact with public objects.
---

Lifestraw insulated water bottles offer maximum protection against bacteria, parasites, and microplastics, chemicals like chlorine and improves water taste. This makes it a perfect traveling companion that could potentially save your life in dire circumstances.
---
13. Gorgeous Outfit Women and Men

Bring your sunnies on your visit, and have the freedom of layering your ensemble to its best mix. A day dress topped with a cardigan, and finish it off with oxfords or kitten heels. Also, choose trousers with printed knitted sweaters for that autumn feel. You can never go wrong with those.
---

Whenever you travel, you should consider getting travel insurance in case of health emergencies. Apart from health emergencies, travel insurance could prove to be very useful when you have cause to cancel your trip. In the rare event of a terrorist attack or natural disaster, a comprehensive travel insurance comes in handy.
View their plans at WorldNomads.com ➜
---

Avoid the risk of card theft while paying bills online when connecting to wi-fi networks of cafes and or hotels. Antivirus software and a central password manager on your devices can only go so far in protecting your data from being exploited. VPNs offer much more security than all of those. A virtual private network is a must-have. In this regard, NordVPN comes highly recommended.
---

The best thing about this is that it is a roll-up bag — aside from the fact that it's a roll-up? It's a real bargain. At under $15, this kit is made from scratch-resistant and waterproof material, it hangs, and features four mesh compartments so you can pack in the maximum amount of toiletries.
---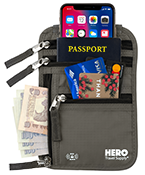 You cannot afford to lose important items like your Passport, credit card, work ID card etc. That is why you should consider owning a durable neck wallet to hold those items. Also, the risk of losing your IDs and credit cards to pickpockets is essentially negated. The neck wallet also makes these essentials easily accessible.
Other Chicago packing list items not to forget
---
What to wear in Chicago
---
Chicago usually has fluctuating weather, dramatic, I must say, it really could drop degrees in a matter of hours. That explains why they say if you wait 5 minutes, the weather will change. So much wind, but ironically not so much as the name "The Windy City" implies. That's another story entirely.
So, when planning a trip to the Windy City, don't just plan by the name. Chicago has four distinct seasons; however, depending on the length of your journey, you may be facing the heat of the Amazons, frost of the Nordic, or limitless monsoon rains. So, I'll answer you, no matter what you pack, never forget this- layers!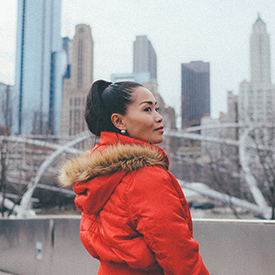 Fortunately, people in Chicago have mastered the art of using crafty weather to craft endless fashion opportunities.
A Chicago essential is denim. It is the clothing staple, can be in pants, skirts, jackets, and of different colors and styles. For a more blend-in, fashion-centric look, go for skinny jeans and stretchy jeggings on knee-high boots or ankle booties. Men can opt for straight-legged jeans (I'll prefer tapered, though), under a jacked denim shirt and chukka boots. That gives you that fulfilling aura of "denimness" and fills the gap for casual wear.
Capri pants for the summer, spring and fall seasons under a free-flowing cotton shirt and jacket and a slushy beanie gives you the breezy vibes while keeping you warm and snug, especially for evening strolls.
SPRING

– March, April, May:

Like waking up from a long winter snooze, Chicago starts bursting into life as its snows thaw, and the sun warms up its grounds. The temperature can rise as much as above 80 degrees Fahrenheit, and it's time for the outdoor springtime activities. Some items you can tick off your bucket list is to watch a Baseball match on Gameday, visit Cloud Gate, also known as "The Bean" in Millennium Park.

Take an evening saunter along the Magnificent Mile, feeding your eyes on its magnificent shops, enjoy the lovely afternoon warmness at The Riverwalk. The average temperature for Chicago in the spring can range from the 40s to mid-60s, depending on the month you roll-up.

A warm turtleneck, wool scarf, flare denim pants will keep you snug from the icy mornings in early March and put you in the upscale mood these times. Add a pop of color with a dashing red or yellow furry jacket. Other male items of clothing you want to pack along are a pair of base layer pants, comfy sweatshirts, sneakers, and a classy Ray Ban spectacles.
SUMMER

– June, July, August:

Let's give the women a concise two-week wardrobe checklist for summer, and you'll not need another list anymore. Maximally you only need three pairs of shoes: a pair of heels, snug sandals, and a couple of bouncy sneakers. You will need two pairs of pants. I prefer jeans, they always got you no matter what- and another couple, probably flair, cotton pants. Add three cotton t-shirts to the mix, and you may go for the colorful ones to match the ambiance of your destination. Also, three sets of blouses; two sets of nighties/ pajamas, seven underwear, a bathrobe, and bath suits.

Other summer accessories include: scarves, shawl, don't forget your popping jackets. Lastly, your tote bag or a trendy cross purse, you don't want to be caught dead in that drab handbag your busy life swivels in. Nothing would make men look consistently classier than a well-tailored trench coat perfect for the late spring and early Summer weeks are at 80 degrees Fahrenheit and weather can shift from sunny to cloudy in minutes. Windbreakers, tracksuits, and bomber jackets are also the bomb, and they pair magnificently well with jeans and sneakers.

Don't forget your superb hot shades. Blazers can also work well with three-piece suits and as well as on a pair of denim jeans on a couple of desert shoes as long as it doesn't give off a skimpy vibe. You want to look as impeccable as possible.
The average temperature in Chicago in summer ranges between 80 -95 degrees Fahrenheit and the warmest month is July, which can be wet with occasional outbursts of rain, and at night you can often hear thunder and lightning. Land breezes and the urban heat island effect is prevalent in the city centers and may increase the summer heat intensity.
FALL

– September, October, and November:

If you wish to spend your getaway time exploring the great arts in the Windy City, or inside its many restaurants and shopping centers it has, then the Fall season offers a great many opportunities to do so. October ushering in the Fall brings with it the cold weather, festivities, unique attraction, and great food. These events include the Chicago marathon, the Columbus Day Parade, and good old Halloween.

If you're visiting this season, never forget to pack your warm layers. Take a trench coat with a zip-out lining, a lined leather jacket, or a peacoat. You might want to hold a pair of lined leather gloves and a hat with a wool scarf, especially if your accommodation is along the Magnificent Mile as you'll be doing a lot of walking. Warm and comfortable footwear like boots and sneakers make for a more pleasant experience.

In October, the temperature ranges between 44-65 degrees Fahrenheit, and it is lower in November. You don't want to be caught off-guard by the weather.
WINTER

– December, January, February, and March:

Let me warn you, Chicago in winter is cold. Arctic cold. And it must not be taken with levity. You have to learn how to protect yourself from the elements adequately. It's a real fight against the cold. A match you do not want to lose. So, I'm going to tell you how to dress for the Chicagoan winter appropriately, and it boils down to our recurrent ensemble- layers!!

I'm going to be advising you how to put on the layers while not compromising your fashion sense. Also, keep in mind that these ideas are for frigid weather, less than 20 degrees Fahrenheit. Getting a Patagonia coat can change everything for you, so also a trapper hat. They are warm and comfy and keep most of the cold out if you are ever desperate even while under one, you can draw in the flaps right under your chin to keep you warm.

So for the layering, here we go:

Women can put on leggings, then pull some knee-length socks up over the legging. Then two pairs of socks over that, and a denim flair pant over it all. Get a long-sleeved, tight-fitting shirt, a sweatshirt, with long enough sleeves to go over your wrists to cover your finger, a woolen sweater, and a jacket over it all.

A scarf is essential, so are mittens or gloves since you will be outdoors.

The temperature of Chicago at this time ranges between 24 degrees Fahrenheit to 35 degrees Fahrenheit.

Dressing Appropriately for the Activity – (Click to expand)

Nightlife –

In the Stereo Nightclub, you don't want to wear hats, or a hooded shirt, shorts, baggy pants, tank tops, gym shoes or sandals. And this holds similarly for the Zentra Nightclub. The Club Nikky Chicago is a bit more flexible but no sports or gym clothes too. And you might want to get a more fitted dress covered by a jacket. Same as the Excalibur Nightclub.

Water sports: beach attire is ideal. So, bathing suits, trunks, flip flops, and beach shoes are the deal. You are going to get wet, plan for that. You might also be needing spring skiing attire, waterproof jackets, and gloves; all waterproof athletic clothing, no jeans or cotton of any kind. All water-resistant or quick-drying clothes strongly suggested.

What NOT to Bring to Chicago
---
1)

Heavy books
2)

Unnecessary valuables
3)

Too many clothes
4)

Equipment you will not use
5)

Bulky towel
6)

Lots of cash
FAQs about Chicago
---
1. What is the weather like in Chicago?

The climate of Chicago is classified as hot-summer humid continental with all four seasons distinctly represented. Winters are cold, and it frequently flows with temperatures around 0 degrees Fahrenheit in dead chill weather. Summers are warm and humid, with temperatures hotter in the hinterlands. Spring and Fall have seasons of both chilled and warm weather, with sunny skies and occasional rains.

2. When is the best time of year to visit Chicago?

The best time to visit Chicago is during April through May and between September and October when the weather is warm and allows for numerous festivities and public events. Summer holds the peak tourist and festival seasons, with higher accommodation rates, but if you can manage the winter months, you'll find much cheaper hotel and flight deals.

3. How can I get around Chicago?

You can navigate the great city of Chicago by its expansive public transportation system, taxi, Uber, or you can just get yourself a cheap rental. You may want to think of Chicago as a vertical city, with Lake Michigan as a border to the east and the City's numerical grid system as an easy reference for directions.

4. What is Chicago known for?

Most people will probably answer this by "Chicago. Windy. Oprah." cliché, there is so much to Chicago than just these. Talk about the food, especially the deep-pan pizza, the Willis Tower, its rich and diverse traditions, the fact that they don't call it "sneakers" and its gym shoes, the Dibs, etc. You're in for a golden treat.

5. What are the best places to go in Chicago?

Chicago has the perks of a major city: world-class museums, fantastic Nightclubs, a great downtown, and a jarring skyline. You should plan to see the Art Institute of Chicago, The Field Museum, the Grant Park, and spend quality time window-shopping along The Magnificent Mile.

6. What are the best ski resorts in Chicago?

The east and west coasts may boast of beautiful mountain terrains, but the Midwest collection of skiing isn't to be ignored. From Traverse City, MI, by taking the interstate Highway 94 east to Interstate Highway 196 north of The Grand Rapids, you can quickly get to Nub's Nob, Shanty Creek, Crystal Mountain, Otsego and Boyne resorts. All less than an hour's worth of drive.

7.What national parks are in Chicago?

There are the mammoth Cave National Park, the Great Smoky Mountains National Park, the Isle Royale National Park, the Apostle Islands National Park, the Apostle Islands National Lakeshore, the Sleeping Bear Dunes National Lakeshore, etc. To look up these sites, you can see the national database on national parks here.

8. What kinds of wildlife does Chicago have?

According to the Chicago Animal Control, many animal species live and thrive in Chicago. The most common animals they deal with are raccoons, squirrels, opossums, snakes, rats, mice, several bird species, and bats.

9. How can I save money when visiting Chicago?

You can cut down spending on your traveling by getting an under $100 ticket from Spirit Airlines and flying off-season. You can explore Airbnb, Couchsurfing, or a private motel, which should probably cost around $25-$30 in the off-seasons. Take a self-guided tour of your favorite places instead of hiring a tour guide and packing your on-the-go lunch. Explore free attractions.
Other North America packing lists you may like…
Alaska | Arizona | Appalachian Trail | Austin | Banff NP |Beach | California | Canada | Camping | Colorado | Cruise | Day Hike | Denver | Desert Trip | Destination Wedding | Disney | Florida | Glacier NP | Grand Canyon NP | Grand Teton NP | Havasupai | Hawaii | Honeymoon | Kalalau trail | Kauai | Key West | Lake trip | Las Vegas | Maui | Miami | Moab | Myrtle Beach | Nantucket | New York | Oregon Coast | Orlando | Pacific Crest Trail | Portland | Quebec | Road Trip | RV Trip | San Diego | San Francisco | Seattle | Sedona | Texas | Washington, D.C. | Wisconsin Dells | West Coast Trail | Yellowstone NP | Yosemite NP | Zion NP
Please note: We have over 200 packing lists covering practically every popular travel destination in the world. Access them all on our packing list overview page ➜