Updated on by Asher Fergusson
T
he Oregon Coast is a wild and wonderful place to visit. From the rugged sea cliffs to the salty air billowing around on the ever-present wind to the sometimes quiet, sometimes bustling picture-perfect seaside towns, it is one of the most drivable, beautiful places in the western US.
Western Oregon is a region that never gets terribly hot, so packing is somewhat simplified, but you definitely want to plan ahead for a visit there since you need to pack for contingencies. Keep reading to see our essential packing list items, as well as what to wear on the Oregon Coast , what NOT to pack and answers to some of the most common FAQs about the Oregon Coast.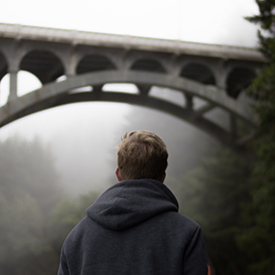 What to pack for the Oregon Coast – 17 essentials
---

Keep your toothbrush separate from your socks, separate from your sweaters. These handy cubes are perfect for helping maintain your peace of mind while living out of your suitcase and help you be able to spend more time enjoying your travelling instead of rummaging through bags for your chapstick.
---

Much of the beach access along the Oregon Coast is via hikes down from the tops of cliffs. Collapsible hiking sticks make that trek much less treacherous. These strong, yet lightweight aluminum hiking sticks keep your keister mud-free while not adding a lot of bulk to your backpack.
---

If a visit to the Oregon Coast is more than 100 miles away from home for you, World Nomads travel insurance is the way to go. It comes in handy not only for any medical needs if you slip down a muddy trail, but also for cancelled reservations or flights, lost luggage and a host of other travel inconveniences either minor or major.
---

Hopefully your plan is to do a lot of hiking while you visit the Oregon Coast. Even if your type of hiking is foraging through shops in a quaint little town, this reusable water bottle from Lifestraw will come in handy no matter what type of water you have available to you.
---

Losing power on your devices is a hassle, especially if you're using them to navigate or as your main camera. This little guy, literally no larger than a lipstick tube, can save your day. It contains more than 2 full phone charges and recharges easily via a usb cable.
---

Even if your plans include nothing more dangerous than strolling along the beach, this emergency bracelet is invaluable. It includes everything from a compass to an emergency whistle to firestarter. It's like having your own personal Boy Scout assistant on your trip!
---

The Oregon Coast is, well, wet. A waterproof phone case can save you a bundle of cash, time and frustration if you get caught unaware by a wave while trying to get that perfect sunset shot or if you're surprised by a rainstorm in the midst of your picnic.
---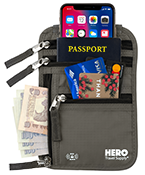 No one wants that momentary panic of trying to locate travel documents, credit cards or hotel keys. This neck wallet eliminates all of that and keeps those important items right where you want them .. close to you!
---

Seems like scarves and/or masks are going to be with us all for a while. This moisture-wicking scarf will help keep your neck and face protected from the elements. It can also be used to help protect against viruses when you're window shopping in town.
---

If you spend all your time in Oregon directly on the coast, mosquitoes might not be too bad due to the wind, but as rainy as the area is, having some type of bug repellent is highly recommended. These bracelets are unobtrusive and easy to pack in addition to being good protection against the beasties.
---

As we've mentioned, chances are high that you'll get rain at least once on a trip to the Oregon Coast no matter what time of year you visit. Keeping your feet warm and dry will make any hike or day of shopping more comfortable.
---

Between possible rain, getting in and out of the waves and working up a sweat on a good hike, quick-dry pants are a great way to stay comfortable on a trip to the coast! These also have convenient zip-close pockets so you don't drop anything along the way.
---

No matter what time of year you visit, layers are a smart choice at the Oregon Coast. These fleece vests are cozy and warm without adding too much heat or bulk.
---

Even if you stay in a hotel or seaside airbnb, this quick-dry towel is great to add to your daypack for any hikes or beach strolls. It also has an easy snap loop so you don't have to put it away wet.
---

Unless you visit in the rainiest of months, you're likely going to enjoy hours of beautiful sunshine every day at the Oregon Coast. To help keep it from becoming too much sun, this hat is helpful for shading face and neck from over-exposure.
---

Daypacks are a great way to be able to keep your hands free while still having access to all the little things you need for a day's adventures. This one is lightweight and compact, making it easy to fit into your suitcase while you travel, but large enough to handle all the snacks, towels, cameras and treasures you pick up along the way.
---

An umbrella is an essential part of packing for any Oregon Coast visit. And a windproof umbrella is a godsend for this perennially blustery locale. This travel umbrella will keep you dry when you need it without giving up in the first stiff breeze, but it's also collapsible in order to not take extra space in your luggage.
---
Other Oregon Coast packing list items NOT to forget
---
What to wear on the Oregon Coast
---
While it's entirely possible to spend your time at the Oregon Coast moving entirely between shopping and restaurant ventures and your car to get you to the next destination, we're guessing that's not why you want to visit there. The coast of Oregon is a beautiful, untamed space and you're going to want to get out there and soak it all in!
To do that, you want to be sure and have comfortable travel and outdoors-friendly clothing with you. Depending on the season, you might be fine in shorts or you may be sticking with your favorite hoodie. Regardless, you're going to want to include layering options since, as we've mentioned, the Oregon Coast is generally windy and the weather can vary quite a lot within the same day.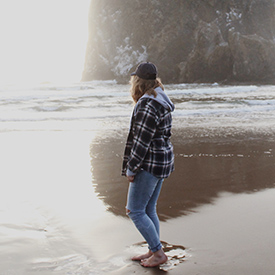 The Oregon Coast, being in the Pacific Northwest, is a relatively temperate climate year-round. There is rarely, but occasionally snow in winter and a summer day above the 80s is a bit of a unicorn. Winters are pretty wet, getting upwards of 10" of rain per month in some locations and during the summers it isn't uncommon to have a marine layer that makes the day start out chilly and foggy. At any time of year, it's a good idea to have comfortable walking shoes and/or water shoes and you'll always want to keep the layers available to throw on something a little extra when the sun slips behind its 100th cloud of the day.
WINTER

– December, January, February

During the winter at the Oregon Coast, you're not likely to do any swimming, but you're still going to get plenty wet. Make sure you have a lightweight weatherproof jacket along with your windproof umbrella. Temperatures will range from the 30s-low 50s and you're more likely than not to spend at least part of your day in anything from a drizzle to a torrent. Long, or even lined pants are good, and depending on how you handle cold, you may want a base layer as well. This is the time for cozy fleece vests or jackets, flannels, and sweaters. Good hiking boots over your wool socks for the feet and a fluffy beanie for the head will keep you snug while exploring.
SPRING

– March, April, May

Oregon Coast spring is a warmer, less rainy version of winter. Temperatures are likely to be in the 40s-60s. Depending on what kind of temps you're used to, you may be good with either pants or shorts this time of year as well as short or long sleeves, but make sure you still have that weatherproof jacket handy. If your feet don't get too cold, you might be brave enough to try hiking sandals at this point but probably still want a lightweight beanie to protect your ears from the wind at the beach.
SUMMER

– June, July, August, September

Summertime is beautiful along the Oregon Coast! Days will typically reach into the mid-80s with nighttime temps likely to drop into the 50s. Rain is always possible and the wind is pretty much guaranteed, so throw the weatherproof jacket and a beanie into your daypack just in case. You may also want your swimsuit, but keep in mind the water temps in Oregon stay in the 40s-50s all year, so it will be bracing, to say the least! Swimming or not, shorts and short sleeves will be great during summer along with your hiking shoes or sandals.
FALL

– October, November

Spring and fall have very similar temperatures so the packing recommendations for spring apply here. Fall typically does have less marine layer though, so you see more sun, which always feels warmer than a cloudy day with the same temp. The later into the fall you go, the more rain you're likely to encounter, so plan accordingly.

What NOT to take to the Oregon Coast
---
1)

DON'T TAKE Lots of clothes:
do your best to choose items that mix and match well together. Rather than having an option for everything, bring fewer multipurpose items. You are likely to get sandy and dirty, so make sure you bring sufficient (or a way to do laundry) without overdoing it.
3)

DON'T TAKE Leather or suede: These items are not likely to fare well in the damp climate of the Oregon Coast and there's no need to include items that cause you stress while you're visiting. Leave your favorite leather jacket and suede shoes behind for a trip to a drier location.
5)

DON'T TAKE Impractical/uncomfortable shoes: We are loathe to recommend not having some cute sandals while on a trip, but your feet will thank you to only include shoes that are also comfortable to wear! You're likely to do quite a bit of walking and though much of it may be on the beach, keeping your tootsies happy will pay off.

2)

DON'T TAKE Heavy items such as books:
An e-reader, like a Kindle, is perfect for the Oregon Coast. Especially if you decide to camp you don't want to be loaded down with tons of extra weight. Streamline your packing list to include smaller, lighter weight items.
4)

DON'T TAKE Jewelry or other valuables: These will only cause you worry and stress .. especially if you're staying in a campground. You're likely to be happier if you stick to simple basics, even if you do choose to include a piece of jewelry for a night or two out.
What NOT to wear at the Oregon Coast – (Click to expand)
Don't bother with overly dressy clothes. The Oregon Coast definitely has a 'beach town' vibe nearly anyplace you'll go and being as it's in the notoriously down-to-earth PNW, even if you spend time in Portland on your way in or out, you'll be more than comfortable in any of the dressier options we include above in the 'what to wear' section.

FAQs about the Oregon Coast
---
1. When is the best time to visit?
As always, that depends largely on your interests. Summer is far and away the most popular time, but each season has its appeal. Winter can be soggy, but both dramatic and intimate. Spring is one of the less-traveled times on the Oregon Coast and fall is more popular with adult-centric crowds since most kids are back in school already. Each season has its perks, so depending on whether you'd rather spend your day strolling the beach, investigating tidepools, or maneuvering the crowds of a music festival will weigh into your decision.
2. What are fun things to do?
There is so.much.to.do. along the Oregon Coast! Between the charming seaside town of Astoria (where 'The Goonies' was filmed, incidentally) to Thor's Well to Haystack Rock to the Yaquina Head Lighthouse you could literally spend weeks exploring all that's there and still feel like you've only just scratched the surface. That said, besides the places already mentioned, a few of our favorites include Samuel Boardman State Park, the Cape Sebastian Corridor (a good place for whale watching in the spring), the Oregon sand dunes, and the Coos Bay/North Bend area.
3. Are there good places to eat/drink?
In a word, YES! Many of the small towns will be heavy on the diner-type eateries but Oregon is known for its craft beers and many places also feature fantastic food to accompany the suds. Depending on whether you're focusing south, central or northern coast, do a little sleuthing for that region and you're sure to come up with delicious options! If breweries are your thing, the northern half of the Oregon Coast is heavier on those but they are literally scattered all along the coast.
4. Can the drive be done in one day?
Technically yes, but why would you want to? The Oregon Coast is roughly 360 miles long so if your main goal is to say you've driven the state end to end, you can definitely accomplish that. The better choice, in our opinion, is to take your time. Take Highway 101 which winds along the cliffs for much of the distance and you'll likely find your breath taken away and an overwhelming desire to pull off the road and spend time absorbing the view approximately every 15.2 seconds.
5. Is there much wildlife?
Definitely yes. The aquatic life is incredible; tide pool inhabitants, sea lions, gray whales migrating every spring and fall, along with aquatic birds like puffins and pelicans. You can also find Roosevelt elk, seals, eagles, and other birds of prey depending on which part of the coast you are visiting.
6. Can you swim in Oregon?
You can swim, you can even surf, but it will be bracing, to say the least. The water temps at the Oregon Coast average in the 40s-50s year-round, so it can be a shock to the system if you're used to more temperate waters. Fortunately, gear for cold weather swimming continues to improve, so if you really want to be able to say you swam off the Oregon Coast you can .. even in winter if you're really determined. Oregon definitely isn't the bikini-coast like Southern California or Hawaii. Even in summer, you're likely to want a 1-piece suit instead, but if you're brave and it's a warm enough day you just might be fine in your teeny-weeny polka dot bikini after all.
7. Where should I stay?
If you are visiting the Oregon Coast during the high season (summer) you'll want to book lodging well ahead of time as it can fill up very quickly. There are lots of vacation rentals if you want privacy and the option to spread out more. But many of the small motels are very clean and comfortable as well. Again, there are simply too many adorable little towns to visit or stay in on the Oregon Coast to possibly list them all, but picking one each from the southern, central, and northern regions, our list of favorites includes Bandon, Newport, and Astoria.