Updated on by Asher Fergusson
Q
uebec is Canada's largest province with major cities including Quebec City and Montreal. It spans the whole eastern seaboard where people are spoilt for choice with endless activities and scenery. From the national parks, to the snowboarding mountains, relaxing countryside lakes or the picturesque cities, Quebec has everything you could possibly want.
The frigid winters become an outdoor enthusiast's dream, while the summers turn the charming cities into vibrant lit streets. So, dust up on your French and get packing for your adventure using our Quebec packing list and what to wear in Quebec suggestions. Also, you'll find information on what NOT to bring and answers to FAQs.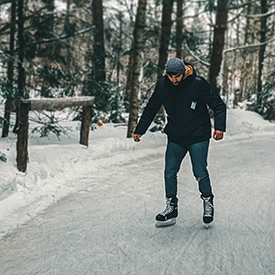 What to pack for Quebec – 17 Essentials
---

Quebec's climate can be very unpredictable, one moment it will be beautiful and the next it will be raining. Packing a travel umbrella is added reassurance on a rainy day. This umbrella is compact and lightweight making it easy to store in a backpack or purse, it can comfortably fit two people and will make an excellent addition in event of a rainy day.
---

If you're visiting Quebec I would highly recommend bringing a pair of hiking/ snow pants. Hiking pants are great to wear because they protect your legs from mosquitos, brush and the sun. I would definitely suggest a nylon material pant because they are lightweight, breathable and sturdy, perfect for hiking and snow sports if you layer up.
---

The summer months in Quebec bring many mosquitos, so make sure to bring insect repellent. Although these mosquitos don't generally carry diseases, they still leave an itchy bite. On those cooler evenings be sure to use insect repellent, especially if you are by the mountains or lakes. This repellent last up to 8 hours and has 40% deet, ensures long lasting protection and is perfect for all outdoor activities.
---

This sanitizer spray is the perfect size to pack into your daypack or purse. This spray is ideal to enjoy a day free of germs. Use it for outdoor activities or casual activities, it is convenient, lightweight, and waterless. It is easy to use and useful for all travelers.
---

With Quebec being an outdoor enthusiasts' playground; a sturdy, comfortable pair of hiking boots is essential. With the lakes, mountains and national parks at your doorstep you will be using hiking boots almost every day. Pair hiking boots with a thick thermal sock and you have boots that can be used in any weather condition.
---

A VPN is designed to protect sensitive information like passwords and credit card numbers from potential threats like hackers whenever you log on to public WIFI. This could be when you use WIFI in public hotels, cafes or restaurants. Although the risk of this happening in Quebec isn't major, it's still better to be safe than sorry.
---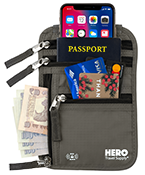 A neck wallet is perfect for almost every activity in Quebec. This little wallet can hold credit cards, cash, phones, passports and documents safely close to you without having to worry about losing valuables or being a victim of pickpockets. This item is small and convenient, perfect for a day trip snowboarding, hiking or shopping around a city.
---

The water in Quebec is perfectly safe and clean to drink so why waste money on plastic water bottles. The best option is to bring your own reusable water bottle and fill it up at your accommodation, restaurants or cafes. This way you can eliminate plastic waste, save money on buying water and in general help the environment.
---

Portable chargers are increasingly a traveling necessity. Gone are the days where you have to worry about finding a charging port in a cafe. Keep this in your backpack or purse and quickly plug in your phone or camera to enjoy a carefree day with a full battery. Enjoy exploring without a worry.
---

With so many different activities and weather to pack for in Quebec, packing cubes makes finding items a breeze. Easily use packing cubes to store and arrange clothes, toiletries or other traveling essentials into sections for a hassle-free traveling experience. Your suitcase turns from a mess into a well-organized and condensed suitcase.
---

If you are planning on doing any hiking, skiing or camping while in Quebec, you will need to bring a travel towel with you. A quick dry towel is the ideal towel to pack for any activity, its lightweight, small and dry's very quickly.
---

This item is essential for any hiker while visiting Quebec. This fabulous bracelet has a built-in emergency whistle, a fire starter, compass, small knife and has a 12-foot military long grade paracord rope. This bracelet is small compact and can be a life saver in case of emergency while hiking.
---

Even though Quebec is generally very safe and reliable, it's still important to look at Travel Insurance when visiting. Having Travel Insurance can help if your flight is cancelled, luggage problems or you have an unexpected medical emergency. Travel Insurance is that added security blanket to make your holiday feeler safer and carefree.
---

Do not forget to bring a Day Pack with you to Quebec. This item will be used daily with all the time exploring what the cities have to offer, hiking, skiing or casually relaxing at the lakes. A waterproof, sturdy and reliable Day Pack is all you need to carry your belongings, such as snacks, a reusable water bottle and umbrella during the day.
---

This three in one jacket is perfect for any season you plan on going to Quebec. In the winter wear the full jacket with a sweater underneath to keep you warm during daily activities. In the summer use the inner jacket on cool summer evenings or use the outer layer by itself as a rain jacket. This three in one jacket is not only great in Quebec's climate, but for everyday life too.
---

One of the best purchases of my life is my waterproof phone case. With all the outdoor activities in Quebec you really put your phone at risk for water damage. Snowboarding, and hiking around the national parks is an easy way to drop or expose your phone to risk, the waterproof case allows you to be worry free while using the phone.
---

With temperatures way below zero in the middle of winter, warm gloves or mittens are vital. I promise you will not go outside without them. Be sure to get fleece lined and waterproof mittens to protect against the harsh conditions such as rain, sleet and snow. These will keep your fingers warm and ready for the day.
Other Quebec packing list items NOT to forget
---
What WOMEN should wear in Quebec – (Click to expand)
Below is a sample women's clothing list. (All items link to Amazon.com for your convenience).
If you're going to Quebec for outdoor fun and adventure, pack activewear. Hiking, camping, or snow sports are all brilliant, but you need to dress appropriately. Thermal leggings, nylon hiking pants, activewear tops, hats, all-purpose jackets, and comfortable shoes are all crucial items.

What MEN Should Wear in Quebec? – (Click to expand)
Below is a sample men's clothing list. (All items link to Amazon.com for your convenience).
A staple piece to bring would be tailored jeans and a t-shirt. The jeans you can pair with different shirt options for a casual outing or night on the town. A basic t-shirt can go under flannels, button-downs, thicker coats, or used for outdoor activities. The most important thing when dressing in Quebec is to be sure you're dressing for the weather, so if you get that right you will fit in perfectly.

---
SPRING:

(March, April, May)

Quebec's Spring normally is still chilly but can bring a mix of sunshine and rain. By the end of spring, the days can be reaching the low 60°F's but will always be chilly at night. It's best to always wear jeans, sweaters, a waterproof boot, and carry an interchangeable winter jacket which can double as a rain jacket. One day it could be beautiful, the next it could be rainy and cold. Generally speaking, spring is the ideal season to pack layers, so you can layer up on those chilly days, layer down on the sunny days, and find a happy medium on rainy days.
SUMMER:

(June, July, August)

People in Quebec take full advantage of the nice weather in the summer. After a frigid winter and chilly spring, you will see all of Quebec outside and making the most of these long and warm days. It's best to bring lightweight breathable clothing, such as jeans, shorts, dresses, t-shirts, blouses, a button-down, and a light jacket. Although the weather is beautiful, there is still a need for a light jacket or sweater on those breezy nights.

This time of year, you can have a bit more fun with shoes, ditching the boots and incorporating sandals, fashionable sneakers, and maybe a dress shoe into the occasion. But never let Quebec fool you, there always chances of showers or a chilled night, be prepared.
FALL:

(September, October, November)

Fall is just as beautiful as summer with the leaves changing, humidity low, and warm days. From the end of October through November it does start to drop dramatically in temperature, so once again bring layers and options. This is the perfect time to pack jeans, t-shirts, the ever so popular flannel, and light rain jacket, pair it with vans and get ready to go apple picking or see the changing of the trees.
WINTER:

(December, January, February)

Winters in Quebec are by far the coldest months you will have to endure. The daylight hours are short, and the air is bitterly cold. You can expect snow, snow, snow, lots of ice, rain, or a combination of them all at the same time. Winter in Quebec is no walk in the park. It is essential that you bring warm layers, like thermal layers, warm pants, thick sweaters, hats, mittens/gloves, scarf, warm socks, heavy coat, and really good boots for snow and ice.

You can not wear enough layers in Quebec; remember to bring sunglasses too, just because it's cold doesn't mean the sun doesn't shine.

Dressing appropriately for the Activity – (Click to expand)

Dining and Nightlife – Most people in Quebec tend to eat a little later, so bring a light jacket to keep you warm on those summer nights. This is the time where I would try to look a bit smarter. In the summer wear a nice dress, pretty sandals, and purse, while men can get away with tailored jeans, a patterned button-down, and blazer. This is the time to wear the best your closet has to offer.

Snow Sports – There are many fabulous skiing areas in Quebec to choose from, so start packing so you can experience them firsthand. This is the time to pack for cold weather, with warm layers, snow pants, waterproof snow jackets, waterproof insulated gloves, and hats. Activewear tops are perfect because they are breathable and long johns are essential and highly suggest a balaclava for those extra chilly days.

Hiking – Quebec is home to some beautiful national parks and hiking trails, that you don't want to miss. The scenery is spectacular so be sure to bring hiking pants, an activewear top, hiking boots, a baseball hat, an interchangeable jacket, and a backpack to carry essential in. Be sure to bring insect repellent in the bag so you can enjoy the captivating views and wildlife.

Water Sports – In the middle of summer you have to go to some of the lakes and reservoirs and beaches in Quebec. Locals make the most of the summer either relaxing by the water or enjoying some water sports. Make sure to pack a swimsuit, cover-up or breathable clothes, flip flops, hat, and a dry bag to keep your belongings dry. Always wear sunblock and don't forget your sunnies.

City Tours – While Quebec's nature and outdoor activities are amazing the cities are just as vibrant. With Montreal and Quebec City being the biggest. In the summer they offer festivals, amazing outdoor restaurants, cafes, and shopping. The cities are chicer and more sophisticated but still dress with comfort in mind to enjoy the sights. Jeans, shorts, casual loose layers with comfortable walking shoes, sunglasses, and a nice purse, people will think you're a local in no time. In the winter pair, it with a parka and hat and enjoy the brightly lit streets.

What NOT to bring to Quebec
---
1)

DON'T BRING Books: There's no need to bring lots of books with you to Quebec. Even though it's great to read and relaxing afternoon activity, it will way your bag down and create more clutter in your suitcase. I would suggest a kindle or another form of e-reader.
2)

DON'T TAKE Valuables (Jewelry): If it's valuable I really suggest leaving it safe at home. Although Quebec is safe you still never know about pickpockets or thieves. If you are considering doing any activity as well, valuables are not needed and get in the way.
3)

DON'T BRING Sports Equipment (unless professional): Unless you are a professional skier, snowboarder, hiker or biker I would leave sports equipment at home. Firstly it can be expensive to travel with equipment and secondly it could be damaged along the way. Renting sports gear is available everywhere and not too costly, look into it beforehand and find a reputable store.
4)

DON'T PACK too many Clothes: With laundromats everywhere and room service in hotels there is no need to overpack your suitcase. The key to going to Quebec is to pack a few versatile pieces that you can pair with many different looks. That's why layers are great; you have options.
5)

DON'T Go easy on the toiletries bag: Quebec has many drug stores where you can get anything you desire, so don't fret if you forget something at home. Pack the necessities that you always need or like but don't go overboard, you can easily pick up anything. This elevates the weight of your bag and allows you to bring more essential items.
6)

DON'T WEAR High Heels: Whether you are going to Quebec for outdoor activities or going to the cities to check out the sites, high heels really aren't needed. Some of the old cobblestone streets make it difficult to wear heels and the weather can cause icy conditions which make high heels, not an ideal shoe. Instead, bring some booties with a thicker heel that offers more stability.
What NOT to Wear in Quebec – (Click to expand)
Don't wear single layer items – As I have previously mentioned, it is so important to bring layers. In the winter months it is too cold not to wear layers and, in the summer, fall and spring it can be unpredictable, always come prepared with options.
Uncomfortable shoes – No matter if you decided to make this trip activity focused or sight-seeing and enjoy the cities, bring comfortable shoes. This is not the time to try out new shoes, bring your trusted reliable comfortable shoes.
FAQs about Quebec
---
1. When is the best time to visit Quebec?
This depends on what you want to get from your trip. If you want warm weather, festivals and swimming go in the summer. If you want Christmas markets and good skiing, go in the winter. However, both these seasons will be busy with tourists and locals. Quebec in the spring brings warmer weather, the skiing is still fabulous, and you can explore cities without being so cold. The fall brings cooler days, with fewer crowds from the summer.
2. Where are the best ski and snowboarding mountains?
The best mountains in Quebec are Mont Tremblant, which is a lovely European style ski village. Then there is Mont Sainte Anne which is close to Quebec City and has one of the best rail parks in the Province. There are many more in Quebec but these two are ones to look out for.
3. What are the best national parks?
Île-Bonaventure-et-du-Rocher-Percé National Park scenery is mesmerizing. You will find incredible hiking trails and can even experience bird tours to see some exceptional wildlife. Mont Tremblant is also a stunning national park, with trails, lakes, and skiing. There are many more national parks that also exist and need to be seen, they offer many amazing trails, scenic views, and wildlife.
4. What else is there to do in Quebec other than snow and water sports?
One of the best things to do in Quebec is to go to the sugar shacks. This happens in the spring and it's when you go to the maple trees to try the fresh maple syrup. It is also commonly known as sugaring off. I promise it will be the best maple syrup you will ever taste.
5. What's the best food dish to try?
Quebec has many delicious restaurants and cafes that deliver excellent food. If you want to try something that is well known in Quebec it's poutine. Poutine is french fries, drizzled with gravy and topped with squeaky cheese curds, it's warm and absolutely to die for. There is no bad time to eat poutine.
6. How to get around Quebec?
Quebec has excellent transportation, with buses and trains, but this can sometimes be costly if you're moving between big locations. In the cities, public transport or taxis are best, but between locations, I would suggest renting a car. Renting a car allows you to see beautiful Quebec without a schedule.
7. When are the best festivals and markets?
The summertime is filled with back to back festivals ranging from Montreal's international Firework Festival to the Poutine Festival and much more. The main markets in the winter are the Vieux- Port de Quebec Christmas market and Quebec Christmas Market. They are filled with stalls selling unique gifts, offer delicious food and drinks, they put you in the spirit.
8. Will I see wildlife?
This depends on where you go in Quebec, but if you go to any national park or ski mountain you will see wildlife. Quebec has an incredible migratory bird population for bird watchers, and you might even get to see a moose, bear, beavers, or wolves if you're lucky. While you won't typically see these in the city if you go off the beaten path it is quite common.
Other North America packing lists you may like…
Alaska | Arizona | Appalachian Trail | Austin | Banff NP |Beach | California | Canada | Camping | Chicago | Colorado | Cruise | Day Hike | Denver | Desert Trip | Destination Wedding | Disney | Florida | Glacier NP | Grand Canyon NP | Grand Teton NP | Havasupai | Hawaii | Honeymoon | Kalalau trail | Kauai | Key West | Lake trip | Las Vegas | Maui | Miami | Moab | Myrtle Beach | Nantucket | New York | Oregon Coast | Orlando | Pacific Crest Trail | Portland | Road Trip | RV Trip | San Diego | San Francisco | Seattle | Sedona | Texas | Washington, D.C. | Wisconsin Dells | West Coast Trail | Yellowstone NP | Yosemite NP | Zion NP
Please note: We have over 200 packing lists covering practically every popular travel destination in the world. Access them all on our packing list overview page ➜