Updated on by Asher Fergusson
M
yrtle Beach, South Carolina is an affordable, family-friendly vacation site, and is one of the most popular spring break destinations in the U.S. Known for its long stretches of sandy beach, mild springs, and warm summers, the area also features amusement parks, museums, and world-famous golf courses.
Knowing what to pack for Myrtle Beach can be difficult, so we've created this Myrtle Beach packing list of the essential items you'll need, as well as sections on what to wear to Myrtle Beach, what NOT to pack and other important FAQs.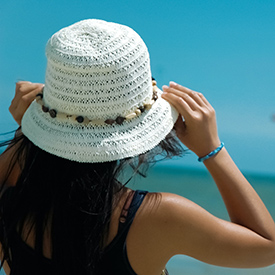 What to Pack for Myrtle Beach – 17 Essentials
---

If you're planning a day at the beach, this cooler bag will be perfect. It holds enough snacks and drinks for a couple or the whole family, but isn't too bulky like large plastic coolers, making it easy to carry out to the beach. Throw in a small icepack, and your food and drinks will stay cold for hours, even in the hot sun.
---

This adorable coverup is easy to throw on over your suit, and looks great for the beach or poolside hanging. Even though it's a coverup, it looks like a cute dress. It comes in many colors, and features lightweight fabric that looks great on all different body types. Comes in Small-XX Large.
---

These rash guards are great for a day at the beach – you'll be comfortably protected from the sun, sand, and water. The fabric is breathable and quick-dry, so you'll be ready for any activity.
---

This skort offers versatility for any activities you plan while visiting Myrtle Beach – golf, beach day, shopping, or strolling the boardwalk. If offers moisture-wicking, quick-dry fabric, and comes in tons of cute prints and colors. Because it's lightweight and stretchy, you'll be comfortable as well.
---

Keep everything organized in your luggage with these packing cubes…I can't travel without them now. I like to use different cubes for different types of clothing (tops, undergarments, etc.). They are also a game-changer for traveling with a family – everyone can have their own color to keep everything neat and organized. They come with two laundry bags as well to keep your clean and dirty clothes separated.
---

This bag will hold all your beach essentials – water bottle, sunscreen, phone, wallet, Kindle, everything! The interior lining is waterproof, the bag is washable, and sand brushes right off. The exterior and interior pockets help keep everything organized, all while looking great!
---

One of the most important additions to your beach bag is a blanket for the sand. This compact blanket folds up into a tiny pouch to fit in your bag, but is large enough for you to stretch out on. It's sand and water resistant, and comes in six great colors. It also features a clip to attach to the outside of your beach back or daypack.
---

This beautiful dress will make you look great for a stylish night out, while also being incredibly comfortable. We love its versatility – it can be dressed up with some jewelry and heels, or dressed down with sandals and a sunhat. It comes in many colors and prints, and sizes Small-XX Large. Because it's flowy and lightweight, it will look great on many different body types.
---

Perhaps one of the most useful products for beachy holidays – this leave-in conditioner helps you detangle, condition, and protect your hair when out in the sun and surf. Just spray it on it the morning (no need to rinse) and know your hair will be protected and conditioned all day. Using natural ingredients, it's vegan, gluten-, paraben-, and cruelty-free, so you can feel good about using it. For use on all hair types.
---

I love keeping these cleansing wipes in my beach bag – they help you clean up, leave you feeling so refreshed, and smell great. They can be used as a makeup removal wipe, facial cleanser, or just to freshen up after a long day at the beach.
---
11. Mesh Slip-On Water Shoes: Women's and Men's

These slip-on shoes are the perfect versatile accessory for Myrtle Beach. They are lightweight for strolling and shopping, but perfect for the sandy beach and ocean. The sole adds extra grip for slippery conditions, and the breathable fabric adds to your comfort.
---

We like to carry travel insurance wherever we go, and World Nomads is our top choice. You'll feel less worry and more assurance knowing your trip is protected against cancellations, weather events, and unexpected medical costs.
View their plans at WorldNomads.com ➜
---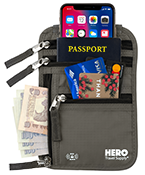 This small wallet can hold your passport, cards, cash, and anything else you want to keep close by while traveling. Because it's small and sleek, it can be worn underneath your clothes, but it's large enough for your essentials. The RFID lining adds and extra layer of protection for your necessities.
---

When you aren't able to wash your hands with soap and water, or you just want an extra layer of protection, throw this sleek little travel hand sanitizer in your bag. This 6-pack allows everyone in the family to have their own, so you'll never be caught without one.
---

If you've planned a day out shopping, site-seeing, or strolling the boardwalk at Myrtle Beach, you don't want it ruined by rain. This lightweight umbrella packs up neat and compact, so it fits right into your tote or purse. Additionally, it has a lifetime replacement guarantee, and is made in the USA.
---

If you're planning to enjoy a day at the beach, be sure to keep your phone protected from the sand and the water. This pouch holds your phone, cards, cash, and anything else small that you want to protect, and the locking clasp assures you your valuables will stay safe.
---

No matter what you plan to do in Myrtle Beach, packing a water bottle is a good idea – it keeps you hydrated, and saves you money. Although the drinking water in Myrtle Beach is fine, you can be certain you are drinking fresh, clean water with this filtered water bottle.
Other Items to pack for Myrtle Beach
---
What what to wear to Myrtle Beach?
---
Depending on your activities, you'll need to bring different items. If you plan to spend most of your time at the beach, swimwear, flip flops, and a coverup are essential. If you want to spend more time shopping, dining, and seeing the sites like museums, a sundress or tank and shorts is fine. For dinners out or Broadway shows, something a little dressier (but not too formal) is perfect.
If you plan to go boating or golfing, be sure to pack some specific items for those activities. You'll need a sunhat and sunglasses no matter what the activity. Whatever the season, you can plan to keep it pretty casual at Myrtle Beach.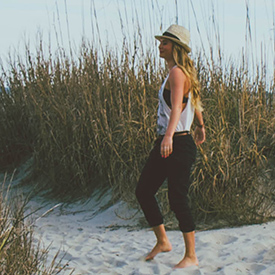 SPRING and FALL

– (March-April and October-November)

If you enjoy mild temps, consider visiting during spring or fall. Spring break season is in February-March, which means more people and higher rates – it's slightly cheaper to visit in the fall. You'll want to wear layers of lightweight clothing, and pack a light sweatshirt or jacket for the evenings. Average highs are around 66° F (19° C), and the lows in these seasons average around 52° F (11° C).
SUMMER

– (May-September), average high around 86° (30° C)

Summer is perfect in Myrtle Beach if you're coming for the warm and beachy weather. Pack shorts and sundresses, and expect to spend time at the pool or beach. High temps average around 85° F (29° C) in summer, and lows are around 70° F (21° C).
WINTER

– (December-January), average high 57° F (14° C)

Winter means low rates and fewer crowds in Myrtle Beach, but chilly temps. It's still a great time to visit, and you won't have to deal with any crowds. Dress in layers and pack long sleeves and jeans. Expect highs around 58° F (14° C), and lows averaging 40° F (4° C).

Dressing appropriately for the activity - (Click to expand)

Walking the Myrtle Beach Boardwalk – Think casual and cool. Wear lightweight, comfortable shoes, and choose lightweight fabrics that you can layer on and off as the temps change throughout the day. If you are planning on catching a show in the evening, pack a light dress or dress shirt, and plan to dress them up with jewelry or a dinner jacket.

Beach/Pool – Hopefully your trip to Myrtle Beach includes plenty of time spent poolside or at the beach. Bring a hat, sunglasses, flip flops, sunscreen, snacks, and your water bottle. Pack all of it in your beach bag, and don't forget a beach blanket to relax on like the one linked above.

Outdoor Festivals – If you plan to include one of the many festivals in Myrtle Beach as part of your trip, plan for a full day out in the weather. This means a daypack with a water bottle, sunscreen, packable umbrella, some lightweight layers of clothing, a hat, and some snacks.

What NOT to bring to Myrtle Beach
---
1)

DON'T BRING Beach chairs:
Many resorts have their own chairs, and it's much easier to rent one for the day that to travel with your own.
2)

DON'T BRING Full size towels: Your hotel or resort should provide towels for the beach, and you can throw in a smaller, quick-drying towel which fits much better in your bag than a large, full-size towel.
3)

DON'T BRING Overly formal clothing: Myrtle Beach is very laid back and family-friendly, so you should not need any formalwear. Pack a nice-looking outfit for dinner out, but plan on casual wear most of the time.

4)

DON'T BRING a Hairdryer:
Hairdryers take up too much valuable space in your luggage, and most accommodations have one you can use. Better yet – let your hair dry naturally and go with the beachy look!
5)

DON'T BRING Books: Books are bulky and take up room in your luggage. Consider a Kindle or tablet, which you can fill up with reading and enjoy on the beach!
6)

DON'T BRING Anything you can buy there easily: Myrtle Beach is a rather standard small U.S. city, meaning you can pretty much buy anything there that you can at home. Consider not packing items that may take up too much room and just grabbing what you need while you are there.

What NOT to wear – (Click to expand)
Don't plan on bringing formal wear – you can get around Myrtle Beach in shorts and a tank most of the time, and you'll want to be comfortable if you plan on visiting amusement parks or museums. This means you don't need to pack formal clothing. Think beachy, lightweight, and comfortable when selecting your outfits. Myrtle Beach is almost always warm and sunny, so heavy clothing is also not necessary. Be sure to throw in some light layers if you travel in the spring or fall, but bulky warm clothing is seldom necessary.
FAQs about Myrtle Beach
---
1. What is the best time of year to visit?

Any time of year is a great time to visit Myrtle Beach, but for the sunniest, warmest weather, you'll want to plan a summer trip. Spring break is also nice at the beach, but can sometimes be a bit chillier than other destinations. Peak season is May through September, so expect a little higher prices – if you're looking for a bargain, plan your trip from October to February.

2. What should I do in Myrtle Beach?

Besides enjoying the beach, of course, there's tons to do in Myrtle Beach. It's a very family-friendly destination as well. Walk the boardwalk and see all the attractions, or head over to the Family Kingdom amusement park for the day, which includes Skywheel, one of the tallest Ferris wheels in the US. There are also epic golf courses, Broadway shows, museums, zoos, and more!

3. What is the Grand Strand?

The Grand Strand is a stretch of beach that extends over 60 miles along the Atlantic Ocean, with Myrtle Beach at the center. There are luxury resorts and budget-friendly hotels all along the Strand, and plenty for families to see and do.

4. How affordable is Myrtle Beach?

Myrtle Beach is one of the most affordable cities in the US and a very affordable vacation destination. If you are looking to save, planning an off-season trip will cost even less. However, if you want to splurge, there are top-rated restaurants, luxury spas, and golf courses as well.

5. Should I rent a car?

Depending on where you stay and what you want to do, a car may be necessary. If you want to visit museums and amusement parks, a car would be helpful. However, the area does have taxis and rideshare such as Uber if you don't plan on taking too many outings.

6. What are the best things to do with kids?

Myrtle Beach truly has something for everyone and plenty for kids. One of the best things to do is spend a day at the beach in the ocean and sand, but there are also amusement parks, water parks, mini-golf, museums, and zoos.

7. Do I need to worry about hurricanes?

Though the area has been spared from most major storms, there is always a risk of hurricanes along the Atlantic. Myrtle Beach does lie in the path of some hurricanes, so if you plan your trip during hurricane season (June through November), you will want to look into travel insurance like World Nomads to feel extra peace of mind.
Other North America packing lists you may like…
Alaska | Arizona | Appalachian Trail | Austin | Banff NP |Beach | California | Canada | Camping | Chicago | Colorado | Cruise | Day Hike | Denver | Desert Trip | Destination Wedding | Disney | Florida | Glacier NP | Grand Canyon NP | Grand Teton NP | Havasupai | Hawaii | Honeymoon | Kalalau trail | Kauai | Key West | Lake trip | Las Vegas | Maui | Miami | Moab | Nantucket | New York | Oregon Coast | Orlando | Pacific Crest Trail | Portland | Quebec | Road Trip | RV Trip | San Diego | San Francisco | Seattle | Sedona | Texas | Washington, D.C. | Wisconsin Dells | West Coast Trail | Yellowstone NP | Yosemite NP | Zion NP
Please note: We have over 200 packing lists covering practically every popular travel destination in the world. Access them all on our packing list overview page ➜