Updated on by Asher Fergusson
O
rlando attracts around 60 million visitors a year for good reason. It boasts Walt Disney World, the Universal theme parks, and SeaWorld just to name a few of its attractions. Nicknamed "The City Beautiful," Orlando certainly offers much to enjoy.
I've put together an Orlando packing list to help you prepare for your trip, along with sections on what to wear in Orlando, what NOT to bring, and FAQs.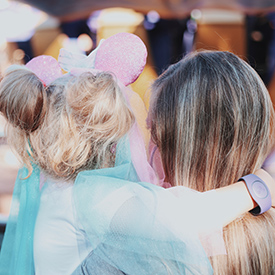 What to Pack for Orlando – 17 Essentials
---

From theme park visits to exploring the many dining, shopping, and other activities Orlando has to offer, you will be doing a lot of walking. The right pair of waterproof shoes can be comfortable enough for long strolls with the added benefit of avoiding "soggy shoes" situations (often brought on by water rides).
---

Orlando is known for two things: heat and humidity. Chilly pads act as a cooling towel to help stave off the heat.
---

Another great item to beat the heat is a small hand-held fan. These are particularly useful when watching parades or spending time in other areas where you simply can't catch a hint of shade.
---

From browsing the Web to capturing the perfect selfie, your cell phone will be your most loyal travel companion. Be sure you can charge it on the go by carrying a compact charger.
---

A lot of sunscreens contain chemicals that can be hard on your skin, not to mention ocean life. Consider sunscreens that offer healthier, more eco-friendly solutions.
---

While you're in Orlando you might spend a fair amount of time on your computer adjusting hotel reservations, checking-in for flights, and maybe even keeping tabs on your work email. While WiFi cafes are an option, they also open you up to hackers that are trying to steal your sensitive data. Keep your connection secure with a Virtual Private Network (VPN), which can be used with the simple push of a button.
---

Travelers often have two choices when it comes to drinking water: expensive bottled water or drinking water that comes from a public fountain. With this re-useable water bottle you can save money. Its filter can also help stave off some of the potentially harmful bacteria you might find in public sources.
---

Whether you are trekking to the beach or a resort pool, odds are you are going to need a towel. Options like this are super chic, extra absorbent, lightweight, and travel easily.
---

From wave pools to flume rides, odds are you will get wet throughout your Orlando vacation. Bring a camera that can stand up to all the water play.
---

A waterproof backpack is almost a must if you are visiting theme parks, where water rides are in popular demand. You want the splash to get you wet—but your expensive gadgets and other belongings are best kept stowed away in a safe, dry place.
---

If you are trying to capture that perfect social media image while you are on a water ride or dipping your toes into warm ocean waves, you might be in for more than you bargained for. Keep your cell phone safe for any situation with a waterproof cell phone case.
---

From touching handles on the tour buses to hanging on for dear life on coaster rides, you'll be touching a lot of surfaces. A good hand sanitizer is a must-have.
---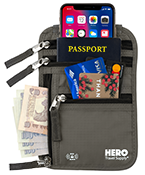 From savvy pickpockets to rattling coaster rides that tend to send haphazardly stowed items flying away, keeping your valuables safe while on your Orlando vacation can be a tricky proposition. A neck wallet not only keeps your stuff safely stowed away, but also makes it easier to access essentials like park passes and credit cards without having to dig through your backpack.
---

Depending on what time of year you are traveling, you'll want to be prepared for Orlando rain. A lightweight umbrella that won't weigh down your luggage is a great option, and worth the extra weight it takes up in your day bag. There's nothing worse than shopping for an overpriced umbrella after the rainfall is already soaking you.
---

It's unlikely that anything serious will happen while you are traveling to Orlando. But travel insurance can be a wise investment; if you do need it, you'll certainly be glad you had it. When it comes to travel, it is often better to be safe than sorry.
---

Humidity and heat are a deadly combination. It only takes minutes outside for you to feel like you need another shower, even if you just barely took one. Stay fresh on the go with refreshing deodorant wipes.
---

Orlando often ranks high in terms of mosquito-infested cities in the U.S.A. A less than auspicious title to hold, but a reality nonetheless. Be sure to protect yourself from pesky bugs, especially if you are going during the height of mosquito season (June, July, and August).
---
Other Orlando packing list items not to forget
---
What to Wear in Orlando
---
When planning what to wear for an Orlando trip, remember these two weather conditions: hot and muggy. After all, Florida is "The Sunshine State" and it certainly lives up to its name!
Pack accordingly with clothes that will stay comfortable in the heat, especially if you are traveling during the summer months. If you are traveling during the winter months, be a bit more mindful of evening temperatures. It's not unheard of for Orlando to get as cold as 30 degrees.
No matter what time of year you are visiting, you'll want to pack a comfortable pair of shoes. Water-resistant shoes can be wise especially if you will be visiting a theme park.
Remember that Orlando is not immune to temperature fluctuations, so it is always wise to check that weather report right before you make those final adjustments to your packing list. In most cases, it never hurts to pack a light sweater or jacket for cooler evenings.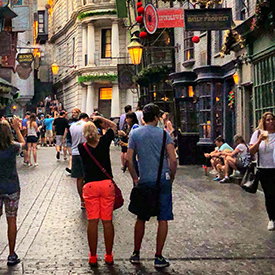 What WOMEN Should Wear on an Orlando Trip – (Click to expand)
Below is a sample women's clothing list. (All items link to Amazon.com for your convenience).
Packing a lightweight jacket, comfortable closed-toe sandals, and a hat are also musts. You don't want to have to pay top dollar to buy these items at a touristy gift shop.

What MEN Should Wear on Orlando Trip – (Click to expand)
Below is a sample men's clothing list. (All items link to Amazon.com for your convenience).
Don't forget a hat to shield your eyes from the sun. Pack a sweater in case the evenings get chilly. Choose comfortable shoes that will get you from A to Z without your feet paying the price.

Spring

– (March, April, May)

Spring is many people's favorite time of year to visit Orlando for its cooler temperatures. However, in March, averages can even start to delve in the 50-degree range, so if you feel like that's colder than you are comfortable with, be sure to be prepared with a lightweight sweater for evenings.
Summer

– (June, July, August)

Orlando temperatures in the summer are famously hot and humid, so be sure to pack at least a couple of pairs of shorts that you can mix-and-match with short-sleeved shirts. Don't forget to pack closed-toe sandals which are better for avoiding stubbed toes, and comfortable sneakers.
Fall

– (September, October, November)

While rain knowns no time restrictions, it is during the Fall months (and as early as August) that you are most likely to encounter rainy weather in Orlando. Water-resistant shoes are a wise bet. Temperatures will be cooling off so you might want to consider longer layers. Overall, November in Orlando is still relatively warm with the average low falling around 60 degrees — that's pretty warm! It never hurts to pack layers—a light scarf and sweater are solid basics to start with.
Winter

– (December, January, February)

Orlando is warm year-round, so you'll still enjoy daytime averages of the 70s and 80s even throughout the winter. Perhaps more than any other time of year, though, it is wise to pack for cold contingencies. Evening lows of 30-degrees are not unheard of! The good news is you don't have to worry about snow. Consider packing a warm sweater, as the temperature extremes during Orlando winters can be almost as unpredictable as your favorite roller coaster ride.

Dressing Appropriately for the Activity – (Click to expand)

Theme parks:

A day at a theme park can be incredibly fun, but if you aren't dressed for it, it can be incredibly uncomfortable too. Check the weather forecast for the day and make sure you dress appropriately and consider what the evenings will feel like.

Comfortable shoes

are also a must, and avoid clothes that chafe.

Waterpark/pool: The odds are high that you will be visiting a swimming pool or even the beach while you are in Orlando, so be sure to pack your favorite swimsuit, sandals, and swimwear coverup.

Nightlife: Orlando has some fantastic cuisine to offer, from themed restaurants to epic seafood. Be sure to pack for at least one nice dinner out. A stylish sundress is always a good idea, but depending on where you are going, jeans, a cute top (or a dressier shirt) are always solid options as well.

What NOT to bring to Orlando
---
1)

DON'T TAKE Unnecessary valuables
From figuring out bus schedules for I-Drive to locating the shortest theme park ride, you'll have enough to sort out once you arrive in Orlando. Save yourself some stress and leave "keep expensive jewelry safe" off the list.
3)

DON'T TAKE Blow dryer Most hotels have a blow dryer, so there's no need to pack one.

2)

DON'T PACK More than one pair of jeans
While jeans are appropriate for some parts of the year in Orlando, it's unlikely that you will need more than one pair (unless your trip is going to be longer than average or the weather is uncharacteristically cold).
4)

DON'T TAKE Guide Books You can find a great deal of information on the internet about fun things to do in Orlando. Hotel lobbies and local tour operators also have tons of information to offer. The odds are you can find everything you need without carrying around a bulky guidebook.

What NOT to Wear on a trip to Orlando – (Click to expand)
Heavy clothing:
No matter what time of year you are traveling to Orlando, you are likely to encounter humidity. Humidity and heavy layers will just make you plain uncomfortable.
Open-toe shoes: Open-toe shoes can be a tricky thing when traveling—your favorite cork sandals can be great for traversing the neighborhood around your hotel or walking to the nearest trendy cafe. But when it comes to theme parks, they can be a no-go proposition. They shouldn't be crossed off your list necessarily, just choose how you wear them wisely.
Clothing that is too revealing: Nothing screams tourist louder than clothing that is too revealing. Remember that Orlando is a fairly family-focused destination and save yourself the crusty looks from other tourists and theme park staff. They probably won't appreciate your fashion faux pas.

FAQs about travel to Orlando
---
1. Is it safe to travel to Orlando?
Orlando is considered a safe city for tourists. For most travelers, the biggest threats you are likely to face are the mosquitoes and overpriced tee shirts. But just like any other city, Orlando has its share of crime. Tourists should be especially aware of pickpockets. Make sure you keep your wallet and cell phone stowed safely away. Remember, it is always best to leave your valuables at home!
2. What is Orlando famous for?
Beyond the star attractions of its Universal and Disney theme parks, Orlando also offers phenomenal shopping, dining, and nature experiences. People love to travel to Orlando to swim with the manatees during certain seasons and take in the sights of the Everglades courtesy of an airboat.
3. How many days should I spend at Walt Disney World?
This is largely a matter of individual preference based on taste, budget, and how much time you have available to you. Many visitors spend between 4-5 days at Walt Disney World. This allows at least one day each to spend at its four theme parks: Disney's Animal Kingdom, The Magic Kingdom, Epcot, and Disney's Hollywood Studios.
4. What is there to do in Orlando besides theme parks?
Orlando offers several activities outside of theme parks. One popular activity is an airboat safari tour of the Everglades, where you can sight alligators and even eat one (of the chocolate variety, of course). There are numerous museums and theaters as well, including crowd favorites such as Madame Tussaud's and Ripley's Believe it or Not!. Another popular activity is to drive to the Kennedy Space Center, which takes a little less than an hour.
5. How far is Orlando from the beach?
From Orlando, you have several choices for beach days. You can head toward the Atlantic, or in the opposite direction, you have the beaches of the Gulf Coast. Each has its own style and offerings. Depending on which beach you choose, you might drive upwards of an hour or more. Daytona Beach, aka "America's Most Famous Beach" is about an hour's drive from Orlando.
6. What can adults do in Orlando?
Orlando isn't just for kids—and that goes for theme parks too. But if you are looking for activities geared a bit more toward adults, there are options for that as well. Besides the nearby Kennedy Space Center, there's the ICON Orlando which offers gorgeous views and a romantic ride. Looking for a unique approach to after-dinner drinks? Put on your thermals and check out Icebar, a below-freezing bar featuring 70 tons of ice in its interior design. You even drink from ice glasses at an ice bar.
7. What can you do in Orlando for free?
Orlando has many fun things to do that don't cost a penny. There's the Kraft Azalea Garden, Lake Eola, and University of Central Florida Arboretum to name a few. And don't forget the free art galleries. The Cornell Fine Arts Museum is particularly worth a visit with its vast range of collections dating back centuries. You'll even encounter works by Andy Warhol and Grandma Moses there.
8. What is the best month to go to Orlando?
Orlando is generally warm year-round, but winter months can get deceptively cold. Most people find the weather very pleasant in the spring months when the highs are a bit more moderate, and the lows generally fall around the 50 to 60-degrees mark.
9. How can I get around Orlando without a car?
Orlando has a booming tourism industry, and its infrastructure reflects that. Many of its best attractions and restaurants are connected via I-Drive. The I-Ride Trolley traverses this street back and forth on a pretty consistent basis.
Other North America packing lists you may like…
Alaska | Arizona | Appalachian Trail | Austin | Banff NP |Beach | California | Canada | Camping | Chicago | Colorado | Cruise | Day Hike | Denver | Desert Trip | Destination Wedding | Disney | Florida | Glacier NP | Grand Canyon NP | Grand Teton NP | Havasupai | Hawaii | Honeymoon | Kalalau trail | Kauai | Key West | Lake trip | Las Vegas | Maui | Miami | Moab | Myrtle Beach | Nantucket | New York | Oregon Coast | Pacific Crest Trail | Portland | Quebec | Road Trip | RV Trip | San Diego | San Francisco | Seattle | Sedona | Texas | Washington, D.C. | Wisconsin Dells | West Coast Trail | Yellowstone NP | Yosemite NP | Zion NP
Please note: We have over 200 packing lists covering practically every popular travel destination in the world. Access them all on our packing list overview page ➜