Updated on by Asher Fergusson
N
antucket will be a vacation to remember when you go to this small and beautiful island. With spectacular beaches and exceptional restaurants, the stunning scenery of Nantucket will blow you away. With Nantucket being a seasonal destination, the locals and tourists know how to make the most of the summer season.
Fill up the day by biking, boating, to surfing, to enjoy a jam-packed adventure, or relax and feel like I a superstar on this hidden gem of an island. To help you prepare we have created a Nantucket packing list and what to wear in Nantucket section. You'll also find information on what NOT to bring and answers to FAQs.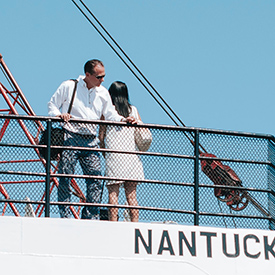 What to Pack for Nantucket – 17 Essentials
---

A beach bag is an essential item on your Nantucket vacation. With a new beach to discover each day, a waterproof beach bag allows you to pack your supplies with ease to make your beach experience carefree and fun. This bag is lightweight and big enough to hold snacks, drinks, sunscreen and beach items for all day fun.
---

Water shoes are great for almost every water activity on Nantucket. The beaches sometimes have dramatic drops offs from the changing tides and can have rocky bottoms. Bringing a pair of comfortable water shoes will protect your feet from rocky bottoms or create a nice grip for water sports.
---

A waterproof phone case is needed when packing for Nantucket. Easily use your phone in any situation without worrying while out and about. Take it paddle boarding, boating or to the beach without the fear of water damage. This case is easy to use and works perfectly for functionality while your phone is enclosed.
---

A swimsuit coverup is great item to bring while vacationing in Nantucket. Easily wear it round town before going to the beach or wear it to run errands. Make sure its comfortable because if you don't have a car you most likely will be getting around by bike or foot. A lightweight breathable coverup will be great for those warm days.
---

A microfiber towel is extremely useful to pack when packing. Whether you're at the beach, on the boat or paddle boarding around the island this towel will be used. These towels dry quickly, are easy to fit in bags, are soft on skin and are an excellent accessory for any water activity.
---

Nantucket is a very fashionable island so be sure to pack a nice outfit for special occasions or dinners. A lovely dress for women and slacks with a button down for men are perfect. A dressy outfit is ideal for Nantucket restaurants as they boast renown fish menus and excellent nighttime bars.
---

Nantucket is very chic and fashion forward vacation destination, so bringing a nice pair of shoes with you is important. Wear them for evening dinners or wandering around the old town. Although the shoes should be nice also make sure they are comfortable, as the streets are cobblestones and very uneven.
---

With Nantucket being an Island it's no surprise that you might end up by the water for most of your vacation. Experience the true Nantucket experience with your belongings being dry and safe while partaking in the water activities Nantucket has to offer. This dry bag is big enough to fit numerous pieces for protection and safe keeping during outings.
---

With Nantucket offering so many activities a portable charger will be a life saver. Gone are the days worrying about have dying phones and half charged cameras. Enjoy Nantucket stress free while your technology is charged on your day trips or long evenings wandering the beaches or enjoying the delicious restaurants.
---

Travel Insurance is a wonderful idea to get when traveling to any vacation spot. Having Travel Insurance gives you a safety net in case of flight cancelation, lost luggage, or if you have an unexpected serious injury. It's better to be safe than sorry, so get travel insurance in case of emergency.
View their plans at WorldNomads.com ➜
---

Packing cubes are completely essential when going to Nantucket. They allow you to easily find select clothing items like swimsuits or toiletries in your bag in any situation with ease. Packing cubes can change any packing disaster into a dream with each cube being organized, sorted and having an exact location for each item.
---

I highly suggest bringing a day pack to Nantucket, with the island offering numerous outdoor activities, it will definitely be used. Use it for a jam-packed biking or beach day. This allows you to pack supplies like sunscreen, towels, snacks and water to hold you over until returning back to your accommodation.
---

With the water being a huge part of Nantucket, an underwater camera is a great extra when packing for your vacation on this stunning island. Take it with you swimming at the beaches, to surfing lessons or relaxing pool evenings. This allows you to get great pictures without the worry of damaging a normal camera in beautiful spots.
---

Luckily the tap water in Nantucket is perfectly safe to drink so bringing a lifestraw water bottle is an excellent idea. Bring this along with you on day trips to the beach, biking riding or boating to stay hydrated. Keeping your trip to the Nantucket environmentally friendly and resourceful.
---

Although the summertime can be quite warm and muggy, the chances of cooler evenings or mornings are inevitable. A nice light jacket is perfect to throw on over outfits to keep you warmer, or if the jacket is waterproof it can double as a rain jacket. This one is small, lightweight and can fit in a backpack or purse.
---

The beaches in Nantucket are beautiful, so for that reason a beach blanket is your best bet when relaxing and enjoying the scenery. Bring this along for a fun, high intensity beach day or bring it for an afternoon picnic. Keep the sand away and relax while this blanket is designated for your own enjoyment. .
---

A Travel Umbrella is a great item to bring with you to Nantucket. Nantucket will have random showers and its best to always be prepared. This umbrella is lightweight and compact making it easy to store in a backpack or purse for day trips or nightly strolls in case of a rainy moment.
Other Nantucket packing list items not to forget
---
What to Wear in Nantucket
---
Nantucket is a very chic, fashionable destination; however, you still want to be comfortable on your vacation. Dressy outfits for dinner and nighttime is best, while casual attire and swimwear is perfect for daytime activities. The main town in Nantucket is made up of all old cobblestones and pavements so be sure to bring shoes that are comfortable for walking on uneven surfaces. With some of the islands favorites brands consisting of Vineyard Vines, Black Dog and Lily Pulitzer anything fancy, fun and boat loving will do.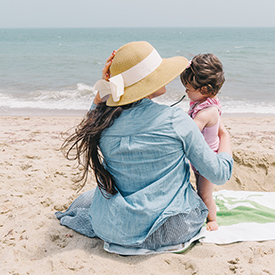 Nantucket is also a season destination, so although you most definitely can go during the winter months, it is not common as much of it closes down. The following items of what to wear in Nantucket is vastly for the months between May and September.
What Women Should Wear in Nantucket – (Click to expand)
Below is a sample women's clothing list. (All items link to Amazon.com for your convenience).
Women in Nantucket tend to be summertime fresh style; they wear lots of whites or creams and in evenings dress it up with jewelry and fun wedges. During the day they wear casual boating attire, but it still looks effortless, pretty, and comfortable. The most important thing for a woman to wear in Nantucket is accessories, sunglasses, necklaces, or hats that can easily take a daytime look into something perfect for the evening.

What Men Should Wear in Nantucket – (Click to expand)
Below is a sample men's clothing list. (All items link to Amazon.com for your convenience).
Men will want to be well dressed and somewhat preppy while in Nantucket. During the height of summer wearing shorts, a nice polo with either sneakers or flipflops are perfect for everyday activities or throw on swimming shorts for a casual beach day. Evenings in the mid of summer are still quite warm so chinos, a button-down or nice shorts with boat shoe pair for a lovely evening enjoy restaurants and nightlife.

SPRING in Nantucket

– March, April, May

Going to Nantucket in the spring is sometimes a gamble with the weather and what shops will be open. The springtime can still be quite cold and rainy so rain jackets, warm layers, comfortable walking shoes are highly needed. With most of Nantucket opening for Memorial Day weekend, the earliest time to go would be the beginning of May to have a few warmer days.
SUMMER in Nantucket

– June, July, August

Summer in Nantucket is vibrant, fun, and bright. Summer weather is warm, occasionally humid but generally lovely, perfect weather. Keeping it chic, smart, and stylish is all that Nantucket is about, and remember those accessories. Dresses, pants, button-downs, bathing suits, wedges, and boating shoes will have you fitting in and feeling like a star.
FALL in Nantucket

– September, October, and November

Fall in Nantucket still boasts beautiful weather but once it hits October the temperature starts to drop. For cooler days and evenings, I would still wear trendy clothes, like fitted pants, blouses boating shoes, and light jackets to keep warm.
WINTER in Nantucket

– December, January, February

Wintertime is very cold, grey and windy, this is what would be considered the offseason. Most of the shops and restaurants close and it's very slow. However, if you decide this is the time you would like to visit wearing heavy jackets, warm layers and boots are best. I wouldn't suggest coming in winter months, as it is a seasonal island.

Dressing Appropriately for the Activity – (Click to expand)

Dinner –

Evenings in Nantucket are beautiful, with the restaurants and bar being very lovely. This is the time to dress very well and use your best clothes in the closet, such as nice dresses, wedges, boat shoes, pretty purse, and jewelry. Men should be chinos, button-downs, loafers, and belts. If possible, try and wear the classic "Nantucket Reds".

Biking – Since Nantucket is very small, most people coming for a vacation will not bring a car and will bike everywhere. You can either be a serious biker exploring the islands or have it be your mode of transportation. For this a sundress with exercise shorts or bathing suits under neither is perfect or shorts, polo shirts, comfortable shoes, and backpack are essential.

Beach – The beaches in Nantucket are breathtaking so be sure to go to one of the many when planning your trip. Swimsuits, cover-ups, flipflops, sunglasses, and sun hats are pretty self-explanatory but definitely bring a beach bag too. Fill the beach bag with a beach blanket, sunscreen, towels, snacks, drinks, and anything to make the beach day more enjoyable and relaxing.

Shopping – The main town will have you feeling like you stepped back in time with the cobblestone streets and old buildings. It boasts lovely shops, exquisite art galleries, and quirky gift shops. Stylish but casual clothing is best, allowing you to dress down a bit with shorts, t-shirts and sandals or flipflops. This is the time to buy some souvenirs or Nantucket inspired clothes to remember your vacation.

What NOT to Bring to Nantucket
---
1)

Books:
With the main transportation being walking, biking or taxis you definitely want to keep the packing as light as possible. Bringing books will weigh down your bag and take up valuable space from more essential items. If you want to read, think about downloading a reading app on your phone or purchase a kindle or other e-book device.
2)

Bath Towel: Most accommodations will provide a bath towel when staying on Nantucket, so no need to bring one. It is a better idea to bring a microfiber towel to use on the beach, boats, or outdoor activities. They are also smaller, more compact, and quick-drying making it an excellent equivalent to a bath towel.
3)

Gear you won't use: Unless an avid biker or water sportsman, I wouldn't bring any items with you to Nantucket. There are numerous rental shops in the town or on beaches for daily rentals for a reasonable price. However, if you do choose to bring your own gear please pack a padlock to lock everything up and make sure your accommodation has space to hold it.

4)

High Heels:
With the old streets being very uneven and built with cobblestones high heels are probably the worst thing to ever wear. You will easily fall over and could hurt yourself if you do choose to wear something with a heel, think about wedges or little booties.
5)

A Car: Nantucket truly is tiny so there is no need to bring your car with you. The only people with cars on the island are locals and people who spend the whole season there, not to mention it can be costly on the ferry. Renting bikes is a fun form of transportation, taxis are an option or scooters, enjoy the quaintness of the island and leave the car at home.
6)

Don't pack too much: Packing versatile options is what will get you through your trip to Nantucket. Bring options that can be worn during the day then dresses it up for evenings. An easy way to do this is by bringing accessories or a couple of different pairs of shoes to switch it up. You will probably have to carry your own suitcase so make it easier on yourself and pack light.
What NOT to Wear in Nantucket – (Click to expand)
Grungy clothes:
Since Nantucket is a nice destination, I would hold off on wearing anything to Grundy or messy. You don't have to wear expensive clothes at all, just make sure you look well put together. As long as you feel like you are comfortable and feel good, then anything you wear is fine.
Uncomfortable shoes: I cannot stress this enough, wearing comfortable shoes is the most important thing. Everything you will be doing will entail some form of activity and with this being an old town comfort on the streets is vital. Once out of town the streets and sidewalks are paved, but you could be walking for a few miles or biking so be sure to pack reliable shoes.

FAQs about Nantucket
---
1. What is the weather like in Nantucket?

In the summer Nantucket is beautiful, it can be a little humid but there is always some form of a breeze to cool it down. However, there are random showers and rainy days so definitely be prepared and bring a rain jacket. From October to April it can be quite cold and frigid, so to be safe going to Nantucket in the offseason is not the best idea weather-wise.

2. When is the busy season in Nantucket?

The busy season is from Memorial Day to Labor Day. Since they only have the main season it is always busy and relatively the same price point. Always look after Labor Day in September to visit, it can be a bit quieter and cheaper but still have the nice weather.

3. When is the best time to visit Nantucket?

To enjoy all that Nantucket has to offer, such as boating, beaches, bilking and relaxing the only time to come is the summer. The season is so short this little gem packs a whole lot into 4 months and you do not want to miss it. Not to mention the restaurants, bars, and shops are must-sees.

4. How do I get around Nantucket?

Most hotels, home rentals or other forms of accommodation are either in town or a short distance from the main port in town when you arrive. You can easily catch a taxi, rent a car or scooter, easily walk or bike. Everything is nearby, so you never have to worry about going too far for anything and most of the local's bike.

5. What are the beaches like in Nantucket?

The beaches are sandy and wonderful for swimming or relaxing. Easily watch people paddleboard or surf along the sandbanks and enjoy strolls over dunes. It is very rare but sharks to come to Nantucket, so always be on the lookout and be careful. The scenery is spectacular, and you can always walk 10 minutes down from the entrance to have your own private area.

6. How do I get to Nantucket?

There is a very small airport in Nantucket (ACK), that charter small planes that normally come from Boston, New York or Providence but can sometimes be pricey. There is a ferry from a few destinations on mainland Massachusetts, New York, and Connecticut. The ferry is about an hour and a half, a pretty boat ride, and is a very easy option. Leave your car on the other side for a small fee and take your bags with you to Nantucket. Check out for times, schedules and locations.

7. What is there to do in Nantucket?

Apart from the beaches and delicious restaurants, a trip to Nantucket is nothing without going to the famous Cisco Brewery, the Chicken Box, the whaling museums, or chartering a boat. The brewery is outside serving delicious beers and cocktails along with great food trucks and host numerous live bands. It is also a perfect place for families and young children. The chicken box is a Nantucket favorite with live music, dancing, and drinks for a great after-dinner activity. It may be small but there is more than enough to keep you occupied.

8. How to save money in Nantucket?

Unfortunately, Nantucket is pretty pricey, but there are few ways to keep it cheaper. Instead of eating out for every meal make sandwiches beforehand and take them to the beach instead of getting takeout. Bring cash with you and stick to a budget, a lot of the town is cash only so it will come in handy. It's hard not to spend money in Nantucket but if you are frugal it can be done.
Other North America packing lists you may like…
Alaska | Arizona | Appalachian Trail | Austin | Banff NP |Beach | California | Canada | Camping | Chicago | Colorado | Cruise | Day Hike | Denver | Desert Trip | Destination Wedding | Disney | Florida | Glacier NP | Grand Canyon NP | Grand Teton NP | Havasupai | Hawaii | Honeymoon | Kalalau trail | Kauai | Key West | Lake trip | Las Vegas | Maui | Miami | Moab | Myrtle Beach | New York | Oregon Coast | Orlando | Pacific Crest Trail | Portland | Quebec | Road Trip | RV Trip | San Diego | San Francisco | Seattle | Sedona | Texas | Washington, D.C. | Wisconsin Dells | West Coast Trail | Yellowstone NP | Yosemite NP | Zion NP
Please note: We have over 200 packing lists covering practically every popular travel destination in the world. Access them all on our packing list overview page ➜