Updated on by Asher Fergusson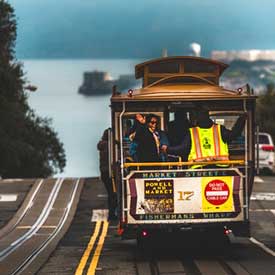 San Francisco is a mecca of all things alternative, punctuated by a top-rate foodie scene, some stunning vistas, and those giant homes from Full House. If you're getting ready to visit the Bay Area, you're in for a treat.
But if it's your first trip there, you're probably asking, "What do I need to pack for San Francisco?" Read on for the complete San Francisco packing list, with a section on what to wear in San Francisco and what NOT to bring. Toward the bottom of this post, you'll also find a list of what NOT to take to San Francisco, as well as some frequently asked questions about the costs, logistics, and highlights of travel there.

What to Pack for San Francisco – 17 Essentials
---

San Francisco gets a ton of rainy days all year round but the most common rainy months are between November and March. No matter when you're visiting, any packing checklist for traveling to San Francisco needs to start with a good windproof umbrella (and a solid list of things to do on a rainy day!).
---

Most visitors to San Francisco end up doing quite a bit of walking, and the city's streets are notoriously steep and uneven. A pair of good walking shoes is one of the top things to bring to San Francisco, and the more comfortable they are, the more your feet will thank you at the end of the day.
---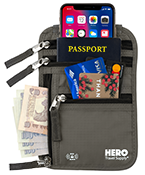 A neck wallet is a super valuable item to bring with you to San Francisco. Especially in crowded or touristy areas, you'll want to make sure your valuables are safely tucked away and organized. This neck wallet is large enough to hold your phone, wallet, passport, and anything else you may need.
---

During your trip to San Francisco, you'll likely spend the majority of your days out and about exploring. Pack everything you'll need for the day in this stylish backpack and fit in with the trendy local scene. This pack is great because it's comfortable, large enough to carry everything you'll need, and goes well with any outfit.
---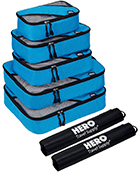 Packing cubes are one of the best ways to stay organized while you travel. Instead of unpacking your whole bag to find that sweater you swear you brought, just pull out the appropriate packing cube. No matter where you're planning to travel, make sure you pick up a set of these.
---

Tossing a lipstick-sized portable charger in your purse or daypack will be a lifesaver during your trip to San Francisco. It will ensure your phone and camera batteries stay charged throughout the day, which is essential if you plan to use your devices for navigation, photos, music, communication, and more.
---


A VPN is critical any time you connect to public sources of WiFi, such as in cafes, hotels, and airports. Protect yourself from the threat of hackers who may try to steal your sensitive information like credit card numbers and passwords by simply turning on your VPN. As a bonus, it can also help you get around paywalls for news sites that restrict monthly article views!
---

You'll definitely want to check out San Francisco's exciting nightlife and foodie scene while you're in the city. Dress up with at least one gorgeous outfit, like this trendy jumpsuit. It's low maintenance, lightweight, and looks great on a wide variety of body types.
---

When you're spending most of your time wandering around outdoors, carrying a water bottle is essential. Using an eco-friendly bottle instead of a disposable plastic one is par for the course in San Francisco, so pick up a stainless steel version like this one before your trip.
---

A quick dry towel will come in handy in a variety of situations during your trip. Whether you're headed to the beach or on another day trip from the city, you'll want to toss this lightweight towel in your daypack so you'll be prepared for anything. If your accommodation doesn't provide a towel, this will also be a great option.
---

San Francisco is situated right on the bay, and if the weather is nice you'll definitely want to go for a swim! This cute cover up is perfect to throw on over your swimsuit after a day in the water as you walk around and enjoy more of San Francisco's natural beauty!
---

Any time you're traveling to a far away place, it's essential that you have reliable travel insurance. As long as your destination is more than 100 miles from home, World Nomads should be your go-to. They'll take care of the costs for lost or stolen items, medical expenses, and flight cancellations so you'll always be covered.
View their plans at WorldNomads.com ➜
---

San Francisco is known for its stunning natural beauty surrounding the city, so you'll likely be doing some hiking or at the very least, you'll be doing a lot of walking during your trip. Stay hydrated by adding electrolytes to your drinking water to help absorb the vitamins your body needs.
---

Activated charcoal quickly absorbs and expels any toxins in your system to keep you feeling healthy and comfortable during your trip. Should you fall prey to overeating or eat something that doesn't sit well with you, these activated charcoal caps will be a godsend.
---

San Francisco is surrounded by gorgeous natural landscapes characterized by mountains and the bay. If you have the time, you should definitely consider going on a hike during your trip to San Francisco. You'll need a sturdy pair of hiking shoes like these to keep you comfortable and safe.
---

Whether you're headed to the beach or get caught in the rain, you'll want to make sure your smartphone is protected from the elements. This awesome waterproof phone case will do just that, and even allows you to take photos and videos underwater!
---

A scarf is a simple way to dress up an outfit, and it's something you can easily put on or take off in response to San Francisco's unpredictable weather. A medium-weight scarf like this one will be useful nearly any time of year, and will take up almost no space in your bag.
Other San Francisco packing list items not to forget
---
What to wear in San Francisco
---
When it comes to clothes for San Francisco, almost anything goes – and that's part of the appeal of this city. In a place that's known for being liberal, alternative, and a little out there, there isn't much that would make locals bat an eye. Combine that attitude with the state's namesake "California casual"style, and you don't have much to worry about. Not surprisingly, there are few occasions that would call for high heels. Given the city's steep hills and uneven roads, the best shoes for San Francisco are definitely flats.
More important than wearing a particular style of clothing for San Francisco is dressing in layers. With the drops in temperature in the evening and the sweat you'll work up on the city's steep hills, packing for San Francisco is practically like packing for different climates. Visitors to the city will be best served by bringing clothes that layer well and accessories that can easily be added or removed.
Overall, San Francisco's weather is significantly cooler than people from elsewhere usually imagine, so you'll want to pack warmer clothes than you might initially think. Even during the summer – and in September, the warmest month of the year – it frequently stays in the low 70s during the day and dips down to the 50s at night. Rain is also a frequent occurrence, especially in the winter, so you'll want a rain jacket or umbrella to be prepared.
What NOT to take to San Francisco
---
1)

DON'T BRING heavy books
– You might want to catch up on some reading during your BART ride or while sitting in one of San Francisco's coffee shops, but leave the physical books at home. For less than the weight of one book, you can bring a Kindle and have access to as many titles as you want.
2)

DON'T TAKE too many clothes – Almost everyone brings way too many clothes when they travel. To avoid having to lug around stuff you won't need, only bring as many outfits as you'll actually wear during your trip.
3)

DON'T PACK excessive valuables – There's always a risk that things can get lost or stolen on the road, and pickpocketing is an issue at some of San Francisco's tourist attractions. Pack the things you'll actually need, like your camera, and leave your other valuables at home.

4)

DON'T TAKE a heavy winter coat
– Temperatures in the Bay Area rarely drop down to freezing, so this is not a place you'll need much cold-weather gear.
5)

DON'T BRING only summer clothes – At the same time, many people make the mistake of assuming that California is inherently warm and only bring lightweight clothes to San Francisco. Even during the summer, lows are in the 50s, so you'll get chilly if you don't have something to put over your t-shirt.
6)

DON'T PACK abath towel – Towels are notoriously bulky and take forever to dry, making them terrible for travel. Your hotel will almost certainly provide a towel, and if you think you'll need your own, opt for the quick-dry variety.

FAQs about travel to San Francisco
---
1) What is the weather like in San Francisco?
In general, San Francisco's weather is mild and fairly comfortable year-round, though the frequent fog and coastal winds make it colder than many people imagine. As in most of the U.S., December-February are the coldest months, with temperatures mostly in the 40s and 50s. It rarely snows in San Francisco, but winter is the rainiest time of year. Unlike the rest of the U.S., however, the city's warmest month is September, though highs are still just around 72.
2) When is the best time of year to visit?
Fall is usually considered the best time of year to visit San Francisco, as September and October are the warmest months and receive relatively little rain. Despite the less pleasant weather, the summer is the high season for tourism in San Francisco, so you'll also benefit from fewer crowds in the fall. Spring is a bit cooler but also less crowded, so April and May are also good months to visit.
3) How can I get around San Francisco?
Compared to other West Coast cities, San Francisco has a fairly comprehensive public transportation system – which is good news, since the cost and scarcity of parking can make driving a nightmare. The city's train and subway system, BART (Bay Area Rapid Transit), has six routes and connects San Francisco with surrounding areas. There's also a bus system, called the SF Muni, as well as the cable cars, which are a means of transportation as well as an attraction. For getting to places that are beyond public transit, Uber or Lyft will usually be easier and cheaper than a taxi.
4) How much does it cost to visit San Francisco?
As one of the most expensive cities in the U.S., San Francisco isn't the easiest place to travel on a budget, but if you're careful, it's possible to do it on around $80 a day. The accommodation alternatives, an abundance of free things to do, and the availability of cheap dining options can all help to keep costs down. Compared to other cities in the U.S., San Francisco has a large number of hostels, which are among the cheapest places to stay. Couchsurfing is also an option here, with local hosts offering their couches and spare rooms to travelers for free, and Airbnb (which started in San Francisco) is also usually cheaper than hotels.
San Francisco is known for its dining scene and is home to some world-class restaurants – but there are also some good budget options. The city's many ethnic restaurants tend to be on the cheaper side, especially in Chinatown, as do the food trucks. Eating during happy hour can also save quite a bit. Lastly, tours of Alcatraz notwithstanding, a lot of the popular things to do in San Francisco are free. Walking across Golden Gate Bridge, hanging out in the eponymous park, taking a free walking tour, and strolling around Fisherman's Wharf won't cost you anything.
5) What neighborhood should I stay in?
San Francisco has more well-known neighborhoods than nearly any other city in the U.S. – but that makes it even harder to decide where to stay. Since this city has something for everyone, though, it just depends on what you're looking for. SoMa is known for its foodie scene, Embarcadero has easy access to great hiking, and Union Square has a huge range of hotels and lots of free things to do. Of course, the city's famed neighborhoods of Haight-Ashbury, the Mission, and the Castro are all great places to stay as well, depending on your style.
6) What are the top things to do in San Francisco?
Among the most popular attractions in San Francisco are the Golden Gate Bridge, Alcatraz, and Fisherman's Wharf. Other top spots include the 1,000-acre Golden Gate Park, the huge public food market at Ferry Building Marketplace, and Twin Peaks, which offers the best views of the city. Top museums in the city include the San Francisco Museum of Modern Art, the Asian Art Museum, the California Academy of Sciences, and the Exploratorium. Of course, San Francisco's many fascinating neighborhoods are tourist attractions in themselves, including the Mission, Haight-Ashbury, and the Castro. And don't forget to ride a cable car!
7) Where can I go to get off the beaten path?
San Francisco is home to a lot of major tourist attractions – and it gets a lot of tourists – but this city also has some amazing places to get off the beaten path. Walk along the coastline at Land's End, hang out at Dolores Park, or climb the 16th Avenue Tiled Steps. For some less-visited museums, try the Cable Car Museum, the Gregangelo Museum, or Musee Mecanique. Just strolling through one of the city's neighborhoods can be an offbeat adventure in itself, and you never know what you might find.
8) What are the best day trips from San Francisco?
The adjoining cities of Berkeley or Oakland both make for easy day trips from San Francisco, as do the vineyards of Napa Valley or Sonoma Valley. You can also go down to Half Moon Bay or Santa Cruz to surf (or just lie on the beach). Big Sur is a great place for a scenic drive, and the hiking in Lake Tahoe can't be beaten. Muir Woods National Monument, Angel Island State Park, and Mt. Tamalpais State Park are other great places to enjoy nature.
9) What are the top festivals in San Francisco?
San Francisco has so many festivals, there's almost certain to be at least one going on while you're there. Outside Lands is one of the city's biggest music events, though San Francisco is famous for its many jazz festivals (including Fillmore Jazz Festival, North Beach Jazz Festival, and San Francisco Jazz Festival), and there's also Hardly Strictly Bluegrass and the San Francisco Blues Festival. The city has numerous street fairs as well, including How Weird Street Faire, the Haight-Ashbury Street Fair, the San Francisco Street Food Festival, and the Castro Street Fair. It's probably no surprise that the city hosts a massive St. Patrick's Day Parade and Festival, and in December is the Christmas equivalent, SantaCon.
10) What vineyards should I visit from San Francisco?
Wine-loving travelers in San Francisco will be faced with a choice: whether to visit Napa Valley or Sonoma Valley (or both!). As the country's largest wine-growing region, Napa Valley is home to an astonishing 400 wineries covering 800 square miles. But Sonoma Valley was actually the birthplace of California's wine industry, and now has about 100 wineries spread out over 1,600 square miles.
Sonoma is relatively less crowded and has a more laid-back feel than Napa, and the tastings are also cheaper. But Napa offers some of the very best wines in the world, and the smaller area makes it easier to minimize driving time. Visiting both areas in one day will mean a lot of time spent in the car, so avid wine drinkers may want to plan separate trips to each.
11) Is San Francisco Safe?
Yes, it generally is. Especially in the touristy areas, the worst you'll probably have to worry about is pickpockets and overly expensive cab rides. There are certain places it's not ideal to go without a local to guide you, but for the most part, it's not an issue! Just take standard precautions: don't walk alone at night, don't carry excessive cash, and try not to stand out as a tourist.
---
Other North America packing lists you may like…
Alaska | Arizona | Appalachian Trail | Austin | Banff NP |Beach | California | Canada | Camping | Chicago | Colorado | Cruise | Day Hike | Denver | Desert Trip | Destination Wedding | Disney | Florida | Glacier NP | Grand Canyon NP | Grand Teton NP | Havasupai | Hawaii | Honeymoon | Kalalau trail | Kauai | Key West | Lake trip | Las Vegas | Maui | Miami | Moab | Myrtle Beach | Nantucket | New York | Oregon Coast | Orlando | Pacific Crest Trail | Portland | Quebec | Road Trip | RV Trip | San Diego | Seattle | Sedona | Texas | Washington, D.C. | Wisconsin Dells | West Coast Trail | Yellowstone NP | Yosemite NP | Zion NP
Please note: We have over 200 packing lists covering practically every popular travel destination in the world. Access them all on our packing list overview page ➜