Updated on by Asher Fergusson
P
acked with things to do and learn, Washington, DC is a top travel destination for visitors of all ages. Depending on where you're from, the crowds, transportation, and weather in the nation's capital can be a shock.
This packing list has everything you'll need, including what NOT to bring, what to wear in Washington, DC, how to pack for different seasons, and some general FAQs.
A visit to Washington, DC can be an overwhelming and even an exhausting experience. Don't forget to be patient and bring along your sense of humor!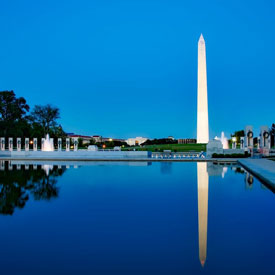 What to Pack for Washington, D.C. – 17 Essentials
---

It generally rains about 1 in every 3 days any time of year in Washington, DC, and since you'll probably be outside and walking around quite a bit, you do not want to forget your windproof travel umbrella! This one is awesome because it's sturdy and can fit two people underneath.
---

If you plan to visit DC during the fall or winter, you'll definitely want to put a peacoat on your list of things to bring. Wearing a peacoat is the best way to stay warm and look put together at the same time, and you'll fit in great with the well-dressed locals.
---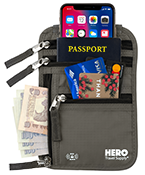 A neck wallet is an especially important packing list item when visiting a crowded, touristy city like Washington, DC. You'll want to make sure your valuables are organized and secure, and this neck wallet is the best way to do just that. Wear it around your neck and under your clothes to avoid the wandering hands of pickpockets!
Available on HeroTravelSupply.com with an exclusive 15% discount using the coupon code "HERO".
---

If there's one thing you'll probably be doing a lot of in Washington, DC, it's walking. This is a pedestrian-friendly city and many of the top attractions are within walking distance of each other. Your shoes for Washington, DC need to be comfortable for walking or your feet will be screaming by the end of your first day. These ones are cute, comfortable, and go great with any outfit.
---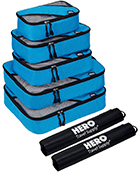 Packing cubes are a serious game changer when it comes to staying organized and avoiding overpacking! You'll never have to furiously dig through your luggage again in search of a clean pair of socks, as these individually labeled cases do all the work for you. This set comes in multiple colors and includes separate cases for laundry and shoes!
---


Using a VPN is essential when connecting to public sources of WiFi abroad. Whether you're in an airport, cafe, or hotel, you'll want to make sure your sensitive information, like credit card numbers and passwords, are protected from potential hackers. This VPN is cheap and easy to use, we never travel without one!
---

A stylish backpack makes a great carry-on and is also convenient for taking day trips or just spending long days out in the city. This one is trendy and large enough to hold all your necessities, like sunscreen, an umbrella, a water bottle, and some snacks.
---

There's no doubt you'll want to use your phone and camera throughout the day during your trip to DC. Whether it's for navigation, photos, music, or anything else, it's essential that you always have a means of charging your devices on the go. Slip this small portable charger into your purse or pocket and use it as a convenient backup battery.
---

During the hot summer months, wearing flats will help you stay a bit cooler while still remaining stylish, since this is still Washington, DC! This pair is super cute, comfortable, and versatile, perfect for spicing up an outfit or completing a classic look.
---

Any time you travel, it's important to make sure you're covered in the case of inconvenience and emergency. We love to use World Nomads because they'll cover the costs of things like emergency medical, lost or stolen luggage, and flight cancellations.
View their plans at WorldNomads.com ➜
---

DC is a great city with tons to do and a vibrant nightlife. Chances are, you'll spend at least one night of your trip at a nice dinner or out on the town. Dress to impress with a gorgeous outfit, like this simple and stylish jumpsuit which looks great on a variety of body types.
---

Compared to many cities in the US, Washington, DC is a fairly dressy place. To blend in with the locals, put a smart dress on your Washington, DC, packing list – or maybe a few, if you're planning to go out to nice restaurants or shows.
---

Washington, DC is home to a variety of delicious American and international cuisine and there's no doubt you'll want to try it all! If you happen to overeat or ingest something that doesn't agree with you, take these activated charcoal tablets which will expel the toxins in your system and keep you feeling good.
---

Washington, DC is incredibly hot and humid during the summer, so staying hydrated can be a challenge. While bottled water is available everywhere, it creates a ton of plastic waste and the cost will start to add up, plus the tap water is safe to drink. Put a reusable water bottle on your packing list and fill it up wherever you go.
---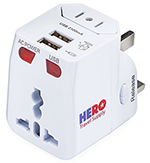 If you're traveling from North America, you will not need an adapter to plug in your electronics in Washington, DC. That said, if you're visiting from another country, you'll need to make sure you have a reliable adapter for your trip. We recommend this universal power adapter which also comes with USB ports to plug in multiple devices at once.
---

Especially during the summer months, Washington, DC can get HOT! Pair intense humidity with long days filled with walking and exploring and there's no question that deodorant wipes will quickly become your best friend! Toss a pack in your purse or daypack and refresh whenever you need to.
---

In the hot summer weather, you'll need to be sure to keep hydrated. Adding electrolytes to your water will help your body absorb what you're drinking and will keep you feeling great, regardless of the weather. Electrolytes are also a wonderful cure for a hangover after enjoying a night in the city!
Other Washington DC packing list items to consider bringing
---
What should I wear in Washington, DC?
---
The best clothes to wear in Washington, DC,will depend on what time of year you visit. During the city's notoriously hot and humid summers, loose-fitting clothes made from lightweight, breathable fabrics will make the weather a bit more bearable. In the cold and often snowy winters, on the other hand, you'll want a coat, a scarf, a hat, and gloves to stay warm. Regardless of the time of year, though, it's a good idea to pack clothes that can be layered; even in the coldest temperatures, you'll start to warm up when walking around, and mayend up wanting to remove a layer or two. Year-round, the typical Washington, DC, wardrobe tends to be a little bit on the dressy side. Bring some nicer outfits to blend in with the locals, especially for going out in the evenings. Still, unless you know you won't be doing much walking, you'll also want some comfortable shoes for Washington, DC – your feet will thank you.
Spring: March, April, May
This is a pleasant time of year to visit, with moderate temperatures and relatively low humidity. You'll want at least a lightweight jacket, though, and closed-toed shoes will be a better choice early in the season. May is also the rainiest month of year, so don't forget your umbrella.
Summer: June, July, August
Summers here are extremely hot and humid, so bring sandals and choose clothes that are as lightweight as possible. Breathable fabrics like linen, rayon, and cotton blends will be the most comfortable. Sunscreen is another must-have item this time of year.
Autumn: September, October, November
September is still hot and humid, but temperatures quickly drop off after that. A lightweight jacket should be sufficient in autumn, but opt for closed-toed shoes if you're visiting later in the season.
Winter: December, January, February
Temperatures in the winter are frequently below freezing, so warm winter clothing is essential. Plan to wear sweaters or other warm clothes, and pack a coat, a hat, a scarf, gloves, and boots.
What NOT to take to Washington, DC
---
1)

DON'T BRING too many clothes
– Many people tend to overpack when they travel, especially when it comes to clothes. To make sure your luggage doesn't weigh you down, consider how many outfits you'll realistically need, and pack accordingly.
2)

DON'T TAKE unnecessary valuables
– Some of the touristy parts of Washington, DC, are prone to pickpocketing, so don't risk it by bringing valuable or sentimental items you won't actually need.
3)

DON'T PACK heavy books
– Pack more than just one or two books, and you'll start to feel the weight in your bag. If you plan to do some reading on your trip, save space and weight by bringing a Kindle instead.
4)

DON'T TAKE abath towel
– You probably won't have any need for your own towel in Washington, DC, and they're notoriously big and bulky. If you really want to bring one, leave the regular bath towel behind and opt for a quick-drying travel towel instead.
5)

DON'T PACK overly casual clothes
– People in Washington, DC, tend to dress relatively formally much of the time. To avoid sticking out as a tourist, pack outfits that look polished but are still comfortable.
6)

DON'T BRING lots of cash
– There's no reason to carry a bunch of cash around and risk having it get lost or stolen. Withdraw what you need from an ATM once you arrive, or just use your credit card for purchases.
FAQs about travel to Washington, DC
---
1) What's the best time of year to visit Washington, DC?
Because the city's summers and winters are both so extreme, the best times of year to visit Washington, DC, are mid-spring and mid-autumn. During these months, the temperatures are moderate and the humidity is low, and it's alsomuch less crowded than in the summer.
2) What neighborhood should I stay in?
The Washington, DC,metropolitan area is large, spanning both the District itself and parts of neighboring Maryland and Virginia, so there are many great neighborhoods to visit. Staying in the Capitol Hill area will give you the closest proximity to all the major sights, and it's a great neighborhood for people who prefer quiet in the evenings. Georgetown is less accessible but is known for its top-notch shopping and dining scene, not to mention beautiful views over the Potomac. Adams Morgan is a largely residential neighborhood, and is quiet during the day but lively at night. DCers are known for their brunching habit, and Adams Morgan has some of the best brunch spots. Penn Quarter, host to a number of festivals, is the place to stay if art is your priority, as it's home to many different theatres, museums, and art galleries. H Street in the northeast has a rougher past and is a less-visited area, but is one of the city's up-and-coming neighborhoods; it's full of character and charm, as well as great bars.
3) How does the public transportation system work?
The metro system in Washington, DC, has six color-coded lines and is the easiest way to get around the city. Riding the metro requires a SmarTrip card, which can be purchased online, at a station, and at various stores. Metro fares are between $2 and $6, depending on the distance and time of day, and one-day and multi-day passes are available; just do the math to see if they make sense for you.
For getting to locations that aren't on the metro, Washington, DC, has the country's fifth-largest public bus system, which connects to local bus systems serving all the surrounding areas. Many visitors also take advantage of the DC Circulator, which offers frequent service and access to many of the city's top sights for just $1. The city recently added the DC Streetcar as well, with one line currently running from Oklahoma Ave. to Union Station and several others planned. As of now, the streetcars are free.
4) How can I save money in Washington, DC?
Washington, DC, is one of the country's most expensive cities, and the cost of a trip there can easily start to add up. Fortunately, there are plenty of ways to slash your spending if you're willing to think a little bit outside the box. For example, the city has a number of hostels, which will probably be the cheapest option for accommodations, especially if you're traveling alone. Airbnb rentals are often cheaper than hotels as well, and if you're lucky, your host will give you some insider tips on things to do and see.
Restaurants in Washington, DC, also tend to be expensive, but you'll save a lot by avoiding places that cater to tourists. You can also pick up groceries for some of your meals, and pack a picnic if the weather's nice or cook up a couple dishes in the kitchen at your hostel or Airbnb.
While some of the city's attractions are pricey, many of them have deals and specials that will get you in for less. Don't forget that all the Smithsonian Museums are free, and Washington, DC, offers tons of other free things to do as well, especially during the warmer months.
5) Which Washington, DC, city pass is the best?
There are several Washington, DC, city passes, offering admission to different combinations of attractions plus various other perks. To choose the best one for you, or decide if it even makes sense to get one, figure out which attractions you want to visit and how much they cost individually.
The Washington, DC, Sightseeing Pass is valid for seven days and includes a one-day hop-on, hop-off bus tour, as well as your choice of 1, 2, or 4 attractions from their list. Passes start at $49. The FreeStyle Pass DC covers your choice of up to 5 attractions, plus 2 days of hop-on, hop-off bus access, and it also includesa guided night tour. Passes start at $69. The Washington, DC,Explorer Pass offers a list of 20 attractions, and sells 30-day passes for your choice of 3, 4, or 5 attractions. Passes start at $54. Lastly, with Smart Destinations' Build Your Own pass, you can choose however many attractions you want off their list of 20, and get 20% off compared to paying individually.
6) What are the best museums in Washington, DC?
There are so many museums in Washington, DC, you'd be hard-pressed to find someone who's been to them all. To start with, there are 17 Smithsonian Museums in the city; most are located around the National Mall, and all are free to enter. Among the most popular are the National Air and Space Museum, the National Museum of Natural History, and the National Museum of American History.
The city also has many other museums that receive rave reviews, including the National Museum of Art, which is probably the most prominent. In addition, the Newseum is an interactive museum tracing the history of communications in the U.S. and analyzing the role of the media in our society. The International Spy Museum is another unique option, as the only museum in the U.S. dedicated to espionage. The National Geographic Museum hosts changing exhibits featuring the impressive work of National Geographic explorers and photographers. Lastly, the United States Holocaust Memorial Museum, the U.S.'s official memorial to the Holocaust, is a must-see.
7) What are the top monuments to see?
The National Mall, the heart of Washington, DC, contains eight of the most famous monuments in the U.S.: the Lincoln Memorial, the Washington Monument, the Jefferson Memorial, the Roosevelt Memorial, the Martin Luther King, Jr., Memorial, the Korean War Veterans Memorial, the World War II Memorial, and the Vietnam Veterans Memorial. Several other important monuments are located in Arlington, VA, including the Pentagon Memorial, the Air Force Memorial, and the Marine Corps Memorial.
8) What are the top government buildings to visit?
The two top government buildings to see in Washington, DC, are easily the White House and the U.S. Capitol. Free tours of the White House are available to visitors, but must be reserved at least three weeks in advance. Free tours of the Capitol can be booked through the Visitor Center, or some Senators and Representatives offer their own tours to constituents. The Library of Congress is also open to visitors and offers free walk-in tours, and the National Archives Museum is free of charge. The Supreme Court Building doesn't have tours but is open to the public, including the courtroom.
9) Where can I get off the beaten path in Washington, DC?
Washington, DC, is a city full of tourist attractions – but there are plenty of other things to do if you want to get off the tourist trail. Explore one of the city's new up-and-coming neighborhoods, like Logan Circle, the H Street Corridor, or Edgewood. Visit one of the many markets, such as Union Market for artisan products and local food, or Eastern Market for food, handicrafts, and community events. Get outside and enjoy Yards Park on the Anacostia River, Meridian Hill Park in Columbia Heights, or Rock Creek Park in the northwest quadrant of the city.
10) What are the top day trips from Washington. DC?
If you're looking for a break from the city, consider one of these great day trips from Washington, DC. Go for a leisurely drive on the Blue Ridge Parkway, or head to Shenandoah National Park to drive the famed Skyline Drive. To get outdoors and enjoy nature, Chesapeake and Ohio Canal National Historical Park and Gunpowder Falls State Park each have over 100 miles of trails.
For history buffs, the Fredericksburg and Spotsylvania National Military Park, Antietam National Battlefield, and Fort McHenry National Monument and Historic Shrine are all less than an hour and a half away. Wine lovers should head down to Charlottesville, where the Monticello Wine Trail boasts over 30 wineries. Or if you prefer beer, take a self-guided brewery tour along the Brew Ridge Trail instead.
---
Other North America packing lists you may like…
Alaska | Arizona | Appalachian Trail | Austin | Banff NP |Beach | California | Canada | Camping | Chicago | Colorado | Cruise | Day Hike | Denver | Desert Trip | Destination Wedding | Disney | Florida | Glacier NP | Grand Canyon NP | Grand Teton NP | Havasupai | Hawaii | Honeymoon | Kalalau trail | Kauai | Key West | Lake trip | Las Vegas | Maui | Miami | Moab | Myrtle Beach | Nantucket | New York | Oregon Coast | Orlando | Pacific Crest Trail | Portland | Quebec | Road Trip | RV Trip | San Diego | San Francisco | Seattle | Sedona | Texas | Wisconsin Dells | West Coast Trail | Yellowstone NP | Yosemite NP | Zion NP
Please note: We have over 200 packing lists covering practically every popular travel destination in the world. Access them all on our packing list overview page ➜