Updated on by Asher Fergusson
D
reaming of a cool, splash-filled summer? The Wisconsin Dells, in the southern part of the state, lies on the Wisconsin River in a region known for sandstone formations carved by glaciers long ago. Nearby lies the forest reserve of Mirror Lake State Park, which is known for nature trails and camping. It's perfect for families with children, but also offers entertainment in the evening for adults.
Because this is different from the basic trip a family might take in the summer, I've put together a Wisconsin Dells packing list of 17 essentials along with recommendations for what to wear in the Wisconsin Dells. I've also included answers to FAQs and a second on what NOT to bring, to make sure you're ultra prepared for this splash worthy vacay.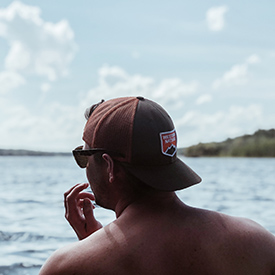 What to pack for the Wisconsin Dells – 17 Essentials
---

It's not just the splash of the rides that will get you wet in Wisconsin! It frequently rains there, which attributes to the lush green foliage and numerous lakes. The rain showers are typically short lived, so they won't 'rain' on your vacation, so to speak! Just have this travel umbrella handy, and you can save yourself from being wet from the splashes that will inevitably come your way.
---

No matter where you are in the Dells, water is always around. But the best drinking water may not be. The LifeStraw water bottle filters 99.99% of bacteria, parasites, and other contaminates, making any beverage as clean as can be. Have one of these along for each person on your trip!
---

These bracelets are becoming quite popular as survival tools in the wilderness, so if you plan to take a day in nature in the nearby Mirror Lake State Park, bring a paracord bracelet by A2S Protection just in case you should need it. Not only does it have the cording that can be used for numerous situations that arise, but it's a compass, flint fire starter, fire scrapper, small emergency knife, and emergency whistle all rolled into one. It's always nice to be prepared if you find yourself in a pickle.
---

Struggling to find items quickly can be quite the challenge when you're living out of suitcases. Staying organized is key, and these HERO packing cubes can really help. I normally put my son's t-shirts and shorts in one cube, his long-sleeved sweaters and pants in another, and accessories in another. No more lost time digging around for the sunscreen! I suggest having a set for each suitcase.
Note: My hubby and I personally designed these packing cubes after having subpar experiences with the low-quality ones available on Amazon. Our packing cubes come with premium YKK zippers, puncture-resistant ripstop Nylon and quality workmanship backed by our lifetime replacement guarantee. As a fun bonus, they come in a variety of colors so that you can choose your favorite.
---

It's doubtful you will find an outlet at the waterpark, but you will have plenty of sun! Ditch the usual powercord and bring this Blavor Solar Phone charger instead. It doesn't take up much space, has a lower price point than most, and fits most of the newer versions of iPhone and Samsung models. You'll also be helping the environment by going green!
---

You'll likely be outside most of the day; either on hiking trails, at the lake, or at a water park. A refreshing drink or cold fruit will be your best friend, so bring this Lifewit cooler to pack all your favorite beverages and snacks. What I love about this cooler is that it's easy to carry, is collapsible (great for travel), has additional side compartments, and holds an impressive 32 cans of soda!
Note: some parks will allow you to bring in drinks/food, and some won't. Call them ahead of time to ask. Many only allow unopened water bottles, which is still perfect for this cooler!
---

Bird watching is a popular pastime in the Wisconsin River State Natural Area. If you plan on observing wildlife, especially birds of the area, bring some binoculars, like these from Aurosports. They are lightweight and fit in the palm of your hand, making them easy to take with you anywhere. They even have a low-level night vision feature.
---
8. Mesh Slip-On Water Shoes: Women's & Men's

If you're going into the river or lakes nearby, you'll want to protect your feet with comfortable water shoes. What makes these Aleader shoes so amazing is how well they form fit to your feet, as well as the breathable fabric and excellent traction. These really are top of the line for a reasonable price!
---

If camping in the Dells is part of your plan (so many great campsites available!) solid shampoo will be your new favorite item. It is small, and can be used for hand washing as well as shampooing. Plus, it minimizes your use of plastic and liquids. I chose this one from Love Beauty and Planet because it smells incredible and is infused with coconut water. I suggest putting it into a baggie so that if it's wet, it won't get on other things in your pack.
---

Whether you're hiking or at the water park, iGuard hand sanitizing spray by Minteer Formulas is a wonderful option to keep the germs away. Use it before eating, after using the restroom, and anytime in-between. I love how this has a lid that can clip on to the outside of my backpack, allowing for easy access. This pack will last quite some time; over 600 sprays! Use iGuard to keep yourself and your family healthy and safe in the Dells.
---

Whether it's sweat, rain, pool splashes, or river water, you're likely to get wet in the Wisconsin Dells. No one enjoys walking around in wet clothing, so try to wear a quick dry pant that converts to shorts, so that in the evening when it's cooler, you have pants to keep you warmer. These Jesse Kidden pants are lightweight and have several pockets for essentials. One of the most important things to keep you going with a positive attitude is comfort, which these definitely provide.
---

Bugs love water and plants, so they are hard to avoid in the Dells. Repel them with a repellent that has DEET for maximum effectiveness. Cutter has this very small spray that won't add weight—it's less than half an ounce! I was pleasantly surprised to find that the smell is light and the feel on the skin is not greasy nor sticky. Easy to put into a pant pocket. Use this repellent to create a barrier against irritating insects that can spoil the outdoors.
---

Like I've mentioned previously, you're more than highly likely to encounter water in the Dells, no matter which fun activity you pick for the day! Ever since finding a dirty wet sock in my backpack after a dayhike, I've made sure to bring a set of Wet Dry Bags to store items such as wet swimsuits, dirty laundry, or even snacks that could potentially leak. They are great for dry items too; to ensure they STAY dry around water. Trust me, that's a MUST at the water parks! This UBBCARE set of wet dry bags is useful because of the double zipper for two compartments and a strap for attaching it to a stroller handle or pool chair. Keep the dry and wet things separated on your next trip, and have peace of mind when you get home that you won't find that infamous wet bathing suit bottom!
---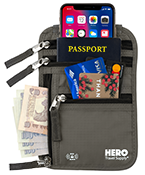 I like to keep the most important things close to me, so I use this Hero Neck Wallet under my shirt with my identification and emergency information. This would also be a good place to store a dose of prescription medicine if necessary. Anything you simply DON'T want to lose along the way, and/or want to conceal, use a neck wallet to guard your belongings. The heavy duty fabric and YKK zippers will endure your hike without a problem. It also comes with a lifetime replacement guarantee for peace of mind. Note: Although water resistant, it is not waterproof. So anything that needs to stay 100% dry, place in a small baggie before putting it into the neck wallet.
---

Sometimes I really want to pack light…which means I opt for a small daypack instead of a bigger backpack. This Venture Pal daypack is super lightweight (less than one pound!) and folds up into a small carrying pouch. It has a water proof pocket that will come in handy around the Dells area! One of the best features is the durability, with extra stitching at the major stress points. If you're looking for something small to assist you in carrying the necessities, a daypack will do the job.
---

I never knew towels could be so compact until I bought the Youphoria towel on Amazon. Usually, packing beach towels (a must for the Dells waterpark or lake) is very bulky and takes up so much space. But these Youphoria towels are quick dry, super light, soft, and fold up to fit in a mesh carrying bag. It really is quite amazing how quickly they dry! Perfect for multiple dips in the lake.
---

If Wisconsin Dells is 100+ miles away from home for you, you'll definitely want to secure proper travel insurance. You never know what can happen before and during a trip, and it's better to be safe than sorry when it comes to protecting your family and belongings. World Nomads is excellent because they'll cover the costs for lost and stolen items, flight cancellations, and even medical expenses.
View their plans at WorldNomads.com ➜

Other Wisconsin Dells packing list items not to forget
---
What to Wear at Wisconsin Dells
SPRING in Wisconsin Dells

– March, April, May

This is a desirable time to spend time in the Dells, especially if you're camping or spending time on the lake. You'll experience warm days and cool nights. Expect a few short rain showers during your visit. Blooming flowers and budding green leaves also start to sprout, and the air is crisp in the evening.
SUMMER in Wisconsin Dells

– June, July, August

With highs generally in the mid-'80s, this is typically perfect weather for all the water activities that the Dells are known for. Still, bring a light jacket for the evenings, as lake breezes can sweep in.
FALL in Wisconsin Dells

– September, October, November

It's not unheard of to snow in the late fall, so keep that in mind, especially if you're traveling in November. It can be chilly during the day if you're not in direct sun. Make the most of your trip by bird watching and hiking. Note: watch for hunting areas.
WINTER in Wisconsin Dells

– December, January, February

I'm not going to lie; Wisconsin winters can be downright freezing at times. However, there are so many fun activities for families, that it makes it all worthwhile. Ice skating, sledding, skiing, and snowball fights are some of the exciting things you could do, or go to one of the very large indoor waterparks and imagine the summer sun.

What NOT to Bring to the Wisconsin Dells
---
1)

DON'T BRING books
A kindle with a waterproof cover will so much more useful than bringing heavy books. Also, since so much of the Dells is focused on water, you won't ruin your good reads.
2)

DON'T PACK unnecessary valuables You're on vacation, but the Wisconsin Dells is known for waterparks, hiking, lake activities, and other outdoor adventures. Avoid losing items or becoming a target—leave the valuables at home or in the hotel safe.
3)

DON'T TAKE too many clothes Some accommodations have a laundry service if it comes to it, so pack light. An outfit her day will suffice, especially if you plan to be in the pool for a good portion of the time. Try packing items like jeans and pullovers that can be worn multiple times. You'll save valuable suitcase space this way.

4)

DON'T BRING gear you won't use
Plan to go hiking? Or spend the day on the lake? You'll be tempted to bring way too many tools/gadgets/non-essentials, which will weigh you down. Consider how long the hike will be, as well as how well known the trail is. Shorter hike during the day time? Avoid bringing a flashlight, for example. You can always use your phone's flashlight if necessary.
5)

DON'T PACK bath towel Most accommodations will provide these, and often will provide pool towels, as well. A quick-dry travel towel will be useful for a day on the lake, but no need for a bigger bath towel that will take up too much space in your day pack.
6)

DON'T TAKE lots of cash You're not out in the boonies; almost everywhere in the Wisconsin Dells will accept credit cards. Flashing a bunch of cash when you're paying a bill will just make you a target for theft. A little cash (especially for tipping) and a credit card (or two) for should be all you need.

FAQs about the Wisconsin Dells
---
1. When is the best time of year to visit the Wisconsin Dells?

That depends on what activities you want to focus on. If you're desirous of waterpark life, then the BEST time to go is offseason, as many of the waterparks are indoors, and you'll have fewer crowds in the winter! You'll also score better deals. However, if you're wanting to ensure there is snow for skiing or tubing, Dec- Feb are your best months. Before that or after that, you can't guarantee a frozen wonderland. If hiking and lake life is what you're after, spring and fall are your best options, because the air won't be as sticky as the summer, but you won't freeze your tail off in the winter, either. So, you can visit the Dells at any time! Just adjust your activities to get the best experience.

2. How can I get around in the Wisconsin Dells?

If you're flying into Wisconsin, it's best to get a rental car for your Wisconsin Dells trip. There's so much to see and do on the outskirts of the area, that you'll want the flexibility to go where you please. Yes, Uber is available and can be a nice option as well. However, there is limited public transportation in Wisconsin, so save yourself the headache and find a good deal online for a rental car.

3. What are the best things to do around the Wisconsin Dells?

Most people picture the many water parks when they picture the Dells, and why wouldn't they?! It's what the area is known for and so many fun family memories can be made. However, there's more to the Dells than just that. Mirror Lake State Park is a lovely hiking area full of lush green vegetation, a great view, and birdwatching opportunities. There are golf clubs in the area, as well as camping opportunities near the Wisconsin River. Plenty to stay busy with!

4. What are the best ski areas in the Wisconsin Dells?

The Nordic Mountain Ski Area is quite well known by locals and travelers alike. Many people choose to go sledding, or 'tubing' down the hills instead of ski. But why not do both if the conditions are right?! This ski area has a great reputation and is reasonably priced.

5. What are the best breweries in the Wisconsin Dells?

The Wisconsin Dells Brewery is a hot spot for lovers of microbrew. If you time your trip right, you can coincide with some of the fairs and festivals they'll be part of during the year. Moose Jaw Pizza and Brewing Co is also a favorite, with locations popping up in other Midwestern locations. The décor and friendly staff are sure to please. Best of all, these breweries are right in the heart of the Wisconsin Dells, so they are easy to get to. Takeout is also available.

6. What kinds of wildlife does the Wisconsin Dells have?

There's a wildlife park that draws in a lot of folks who visit the Dells, call Timbavati Wildlife Park. However, if you're just looking for sightseeing of local wildlife, it will depend on the time of year. However, deer, squirrels, skunks, otters, foxes, and raccoons are the most common. Even though there are bears in the area, it's unlikely you will see one. Trails around Mirror Lake State Park will charm you with some sightings of critters, so definitely put that one on the list.

7. How can I save money when I go to the Wisconsin Dells?

Before your getaway begins, check Groupon and LivingSocial for deals on restaurants and activities in the area. That has saved me a lot on numerous trips I've taken. Also, plan in some free activities, like the Wisconsin Deer Park. Highly popular among tourists, this free park has deer that will eat out of your hands. Also, the Riverside and Great Northern Railway is a free museum that offers history about the area and the railway system. For a small fee, you can ride on the train around the park. Another great way to save money is to opt for an accommodation that has a kitchen. Making your own meals will save you in the long run! Lastly, if you're staying at a hotel, ask the front desk if they have any coupon booklets for the area. More often than not, coupons are available for local restaurants and tours.
Other North America packing lists you may like…
Alaska | Arizona | Appalachian Trail | Austin | Banff NP |Beach | California | Canada | Camping | Chicago | Colorado | Cruise | Day Hike | Denver | Desert Trip | Destination Wedding | Disney | Florida | Glacier NP | Grand Canyon NP | Grand Teton NP | Havasupai | Hawaii | Honeymoon | Kalalau trail | Kauai | Key West | Lake trip | Las Vegas | Maui | Miami | Moab | Myrtle Beach | Nantucket | New York | Oregon Coast | Orlando | Pacific Crest Trail | Portland | Quebec | Road Trip | RV Trip | San Diego | San Francisco | Seattle | Sedona | Texas | Washington, D.C. | West Coast Trail | Yellowstone NP | Yosemite NP | Zion NP
Please note: We have over 200 packing lists covering practically every popular travel destination in the world. Access them all on our packing list overview page ➜