Updated on by Asher Fergusson
T
he Pacific Crest Trail covers some of the most beautiful terrain in the US! At 2,650 miles long and spanning the country from Mexico to Canada, it's no wonder it's such a popular hiking destination. With rugged mountains, deserts, alpine lakes, gorgeous forests, and my personal favorite—the gorgeous Ramona Falls—there is something for everyone!
Any multi-day hiking trip requires careful preparation so we've provided you with Pacific Crest Trail packing list as well as a section on what to wear on the Pacific Crest Trail. You'll also find helpful answers to FAQs and what NOT to bring on your adventure.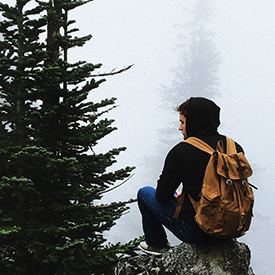 What to Pack for the PC Trail – 17 Essentials
---

Your backpack will carry all your essentials, and it's important you find the perfect fit! I've had great luck with the Osprey backpacks—the hipbelt takes a huge strain off of your back, and there is a convenient sleeping bag compartment and hydration pack sleeve. They are very durable and come in multiple sizes so you can choose the right one for the length of your backpacking trip.
---

Hiking boots will make or break your trip—take it from someone who's dealt with the blisters that come from bad boots! These Keen hiking boots are one of my favorites. They're waterproof, and the price point is unbeatable for the quality! Just make sure to break them in before your big hike.
---

You'll have long days on the trail, so even with the best boots you may have some rubbing or chafing. I recommend being prepared with mole skin that you can cut and fit on any irritated spots before they turn into blisters. Plus, you'll be the hero of your group if anyone else needs some!
---

Trust me—you'll need a hydration pack for long hikes! Not only is it a lightweight way to store a lot of water, but it's much easier to stay hydrated when you don't have to dig out a water bottle. This hydration pack is equipped with a fast flow bite valve and comes in several sizes.
---

Even if you don't think you'll need these, bring them! A hot meal after a long day on the trail is a must, but matches are also an important part of your emergency gear. Make sure they are stowed in a waterproof container as well, and you can have warmth on even the coldest days.
---

You're probably planning on using your phone as a GPS/emergency backup/camera, so you're going to need a way to recharge it! This solar charger won't take up too much weight in your backpack, and you can even attach it to the outside of your backpack to charge your phone while you hike! Or if you want to plug your phone in at night, you can also purchase a power bank to store the charge.
---

This is a genius survival tool that every hiker should have. It contains 5 survival essentials: a 12 foot long paracord, loud emergency whistle, small knife, compass, and fire starter. Make sure to put this on from day one of your hike and these essentials will literally be at your fingertips!
---

The terrain on the PCT will vary widely, and these hiking poles will come in handy when you encounter rugged or steep parts of the trail, or if you're just on mile 10 and need some extra support! These are lightweight and easy to stow, so they won't get in your way when you aren't using them.
---

I recommend comfortable pants made from a synthetic material that can dry quickly after that inevitable rainstorm you're bound to encounter. These fit the bill, and they are also zip-off, which is perfect for variable temperatures. With the bonus of sun protection and durability, these are the ideal hiking pants.
---

Especially if you're hiking in Oregon and Washington, you're going to run into some rainstorms, and you want to avoid getting soaked on the trail at all costs! Make sure to have this durable yet lightweight travel umbrella in your pack to help keep you dry. It's also windproof, so you're prepared no matter what!
---

You'll want some shelter at night from the elements, and your tent needs to be lightweight, weather-resistant, and durable. This one definitely ticks all those boxes, coming in at around 4 pounds! It's easy to assemble, and the gear storage area will come in handy for stowing your pack.
---

No matter where you're hiking on the PCT, sunscreen is a must! Nothing is worse than getting a sunburn on the trail, but this 100 SPF sunscreen has you covered. Even on cloudy summer days, make sure to reapply this, and remember that as you head into higher elevations the sun gets more intense.
---

Mosquitoes can be bad on the PCT in June and July, so make sure to save room in your pack for some insect repellent. The compact size is perfect for backpacking, and this stuff will send the mosquitoes for a hike!
---

You remember how I said you're going to want a hot meal after a long day of hiking? This impressive little stove is how you can pull that off! It's tiny, but it can quickly boil a pot of water or heat a pan to fry up that trout you pulled out of the lake. You don't want to be without it!
---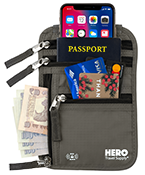 It's a smart idea to bring a credit card and phone, but you'll need a safe and secure place to stow them while you're hiking. This neck wallet is an ideal hands-free way to keep your valuables safe yet accessible during your hike! It is discreet while still being heavy-duty, so it can hold up to all the rigors of your backpacking adventures.
---

The Pacific Crest Trail is unpredictable, even with the best planning and organization. If you are 100 miles away or more from home, this travel insurance is a must. Having travel insurance will give you peace of mind and cover you even in case of medical emergencies.
View their plans at WorldNomads.com ➜
---

A water filtration or purification system is a necessity on the PCT, since you can't rely on water caches. This one is loved by hikers everywhere. It's good for up to 100,000 gallons of water, and removes both bacteria and protozoa like giardia. It's a powerful tool, yet fits in the palm of your hand.
Other Pacific Crest Trail packing list items not to forget
---
What to Wear on the Pacific Crest Tail
---
When hiking the PCT, you're going to want to wear synthetic fabrics to wick moisture and help keep you warm. Layers are very important, especially during fall, winter, and spring. Even in the summer, make sure you have an extra insulating layer just in case! Wool or synthetic hiking socks are also a must, as are already broken-in hiking boots.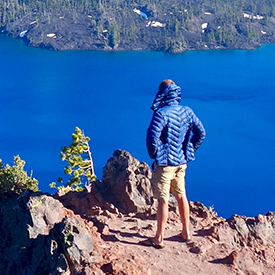 What Women Should Wear on the Pacific Crest Trail? – (Click to expand)
Below is a sample women's clothing list.
(All items link to Amazon.com for your convenience).
These are your must-have clothing items to pack no matter the time of year. Of course, you'll want to bring more in colder seasons! Don't forget the rain poncho, as you never know when a shower is going to come along!
What Men Should Wear on the Pacific Crest Trail? – (Click to expand)
Below is a sample men's clothing list.
(All items link to Amazon.com for your convenience).
These are the basic clothing items I recommend men to pack for hiking the Pacific Crest Trail. You'll need to expand on this list for cooler times of the year (more on that below), but make sure to start with these basics.
SPRING

– March, April, May

You'll want to pack medium weight thermal base layers, medium weight gloves, and waterproof overgloves. This is the perfect time of year to hike southern California portions of the trail, but if you begin to head too far north you will have to battle snow. If you do venture into snowy areas, make sure to bring a snow shovel and avalanche beacon!
SUMMER

– June, July, August

This is an ideal time to hike the northern portions of the PCT, from northern California to Canada! You'll want lightweight thermal base layers, swimming shorts, a quick-dry shirt, and maybe even water shoes.
FALL

– September, October, November

The end of September can bring snow in Washington, while Oregon and Northern California can see snow in October. Pack for the possibility of snow with medium weight thermal base layers, medium weight gloves, and waterproof overgloves. You'll also want to have that snow shovel and avalanche beacon as well as any other snow gear. With that said, this is a great time to hike desert portions of the trail in California!
WINTER

– December, January, February

If you're a back-country skier, this time will be ideal for you! But if you're mostly a hiker, you'll want to wait for when the trail isn't buried in snow. If you do venture out in winter months be prepared. Pack insulated boots, expedition weight thermal base layers, expedition weight gloves, and hand warmers. You'll also need a snow shovel, avalanche beacon, snow shoes and poles, and an ice axe.

What NOT to Bring on the Pacific Crest Trail:
---
1)

Heavy items:
It's to your advantage to pack as lightweight as possible, so double check the weight of everything you're bringing, and leave that book at home!
2)

Unnecessary electronics: You're going to be in the great outdoors—you might as well take the chance to unplug! Carefully evaluate any electronics you're thinking about bringing and make sure they are really necessary.
3)

Excessive toiletry items: I hate to break it to you, but you won't smell good on the trail no matter how much deodorant and shampoo you bring! Pack a bar of soap and call it good.

4)

Gear you won't use:
Make sure you've tested all your gear on day hikes, and if there's something you didn't find yourself reaching for, leave it at home.
5)

Heavy water bottle: This is not the time for that stainless steel thermos!
6)

Difficult-to-prepare meals: After a long day of hiking you'll be starving, but not in the mood to prepare something time-consuming, so save the complicated cooking for after your trip.

What NOT to Wear on the Pacific Crest Trail? – (Click to expand)
There are some clothing items you don't want to find yourself stuck with while on the trail. You want to avoid jeans or denim of any kind, as they won't be comfortable for your long hiking days. I also recommend not wearing cotton base layers, as cotton traps moisture and is very slow to dry. Also, make sure not to wear untested, brand new hiking boots! You don't want to get out on the trail and discover you bought the wrong size!

FAQs about the Pacific Crest Trail:
---
1. When is the best time of year to hike the Pacific Crest Trail?

Spring and fall are perfect times to hike desert portions in California. You'll find Oregon and Washington sections of the trail are very nice July-September when the snow has melted. Mosquitoes are less of a problem in August and September, but snow can return as early as the last week of September in the Washington mountains!

2. What is the weather like on the Pacific Crest Trail?

The weather can vary a lot depending on which portion of the PCT you are hiking and what time of year. It could range from as warm as 110° F to 20° F with snow conditions! This website is a great place to check the current weather conditions in the area you are considering hiking.

3. Which section is the best to hike?

That depends on what you are looking for, but one of the most popular sections is the Alpine Lake Wilderness area in Washington. It is a gorgeous 67-mile trail with everything you could ask for—lakes, mountain views, and stunning wildflowers!

4. What can I expect for water availability?

In California, you may have to go up to 30 miles before you get to refill water. Check the water report and make sure you are prepared with adequate water filtration systems and storage!

5. What about safety on the trail?

There is always a risk in any backpacking adventure, but if you travel smart and prepare well you can have an enjoyable experience! Get first aid training, make sure to let people know where you will be each day, travel in a group if possible, and pack your safety equipment carefully!

6. How can I best train and prepare for this hike?

Start with a well-rounded fitness program, take day hikes with a lightly-weighted backpack, and work up to longer hikes with your fully-weighted pack. Don't forget mentally preparing yourself for the challenges this epic adventure will certainly bring!

7. How much does it cost to hike the Pacific Crest Trail?

You should budget $10-20 a day for things like food, shipping costs for resupply boxes, and fuel. Buying all new gear can range from $2,000-$4,000.

8. What should my food resupply strategy be?

You will want to bring around 2 pounds of food per person per day. If you aren't going longer than 5-7 days, you can likely carry your own food. If you're going on a trip longer than 7 days, you'll want to look into options for mailing resupply boxes to different points along the trail.

9. Do I need a permit?

You might! If you are doing a trip longer than 500 miles, if you plan to head north into Canada, or if you want to cook food or boil water in California, then you'll definitely need to get a permit. Depending on where you are headed, you may need other permits, but you can easily check this out here.

10. How much time will it take to hike?

Depending on your fitness level, you can plan to hike 10-20 miles a day, or 12 miles a day for a conservative average. For the average person, hiking the entire trail will take between 4-6 months, while hiking just the Alpine Lake Wilderness portion will take 5-7 days.
Other North America packing lists you may like…
Alaska | Arizona | Appalachian Trail | Austin | Banff NP |Beach | California | Canada | Camping | Chicago | Colorado | Cruise | Day Hike | Denver | Desert Trip | Destination Wedding | Disney | Florida | Glacier NP | Grand Canyon NP | Grand Teton NP | Havasupai | Hawaii | Honeymoon | Kalalau trail | Kauai | Key West | Lake trip | Las Vegas | Maui | Miami | Moab | Myrtle Beach | Nantucket | New York | Oregon Coast | Orlando | Portland | Quebec | Road Trip | RV Trip | San Diego | San Francisco | Seattle | Sedona | Texas | Washington, D.C. | Wisconsin Dells | West Coast Trail | Yellowstone NP | Yosemite NP | Zion NP
Please note: We have over 200 packing lists covering practically every popular travel destination in the world. Access them all on our packing list overview page ➜