Updated on by Asher Fergusson
T
ravel-planning always feels like a balancing act, especially for a short trip. Every decision–from where to go, what to pack, and what to do–carries extra importance. Whether you're visiting friends over a long weekend, venturing to a secluded cabin, or hitting famous big-city sights, it's important to prepare so you can make the most of your limited time.
We've assembled the ultimate guide to help you master every 3-day getaway, replete with an essential 3-day trip packing list, what to wear on a 3-day trip, what NOT to bring and an FAQ that covers everything from travel methods to destination.
What to Pack for a 3-day Trip – 17 Essentials
---

When you're heading out on a short trip, it's crucial to get off on the right foot with functional luggage. This 2-piece set is ideal for a 3-day trip! If you opt for flying, the spinner suitcase makes a lightweight carry-on, and you can bring the matching tote as your personal item. The interior of both the suitcase and tote are outfitted with plenty of pockets for organized packing.
---

No matter how many compartments your luggage has, you'll significantly up your organization when you invest in packing cubes. This stackable set is our favorite, coming with a set of five assorted-size cubes and two laundry bags. There's even a slot where you can label the contents of each cube!
---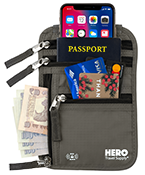 Whether you're navigating an airport or wandering a new city, it's important to have a secure way to carry your essential cards, identification, and other documents. This adjustable neck wallet is the perfect solution; not only is it outfitted with RFID protection, but it includes multiple zippered pockets for easy organization.
---

Wireless, comfortable, and noise-cancelling–what more could you want in a set of headphones? We find it essential to bring a good pair on any trip, whether you'll be utilizing them during a car ride or tuning out passengers on a long flight. This model is one of our favorites, featuring ear-cushioning, a built-in microphone, and an easy-fold design.
---

No matter your destination, you can never be totally sure when inclement weather will strike, but this travel umbrella provides assurance; this is our go-to choice for the road and home. It folds up small to fit unobtrusively in your car or luggage, unfurls with the click of a button, and is wind-resistant, providing more coverage than similar models.
---

Once you've reached your destination, it can be burdensome to bring a purse or bag around with you. This daypack is a perfect solution for both men and women! This bag folds into itself for simple storage, and features multiple zippered pockets to organize everything you need–then slip it over your shoulders!
---

Regardless of the nature of your 3-day trip, it's wise to equip yourself with a towel. This versatile quick-dry option comes in multiple sizes: use it while camping, after swimming, at your accommodation, or even on the beach. It packs easily in your luggage or daypack to carry around any destination!
---

If your trip involves camping, a cabin, or even sleeping on a friend's floor, you'll probably want to bring a sleeping bag! This 3-season option is waterproof, folds and compresses for easy packing, and features a zippered bottom to release your feet, as well as a drawstring top to keep your head warm in cold weather.
---

There's nothing more inconvenient while traveling than phone damage, particularly on a short trip. Whether you're navigating in a drizzle, spending some time near the water, or clumsy-fingered, this waterproof phone case should eliminate any concerns (and save you the headache of trying to track down a phone repair service). The case also guards against snow and dirt, ensuring protection in any activity!
---

We've all made the mistake of neglecting to pack a good jacket while traveling, and sometimes utility is more important than style! On a 3-day trip, it's worth bringing a windbreaker to guard against this weather. This pullover model is hooded, water-resistant, and has both a zippered and open front pocket. Tuck this in your luggage, and rest assured that you'll be prepared for all types of weather!
---

Caffeine-lovers will understand the pain of not having access to coffee. On a 3-day trip, getting your daily brew can be a bit of a gamble; unless you build it into your plans, stopping for a coffee can cut into valuable time, and it's not worth purchasing a whole bag of grounds for such a short trip. If you're someone who needs caffeine, bring instant packets along! They're convenient, plus you'll save both time and money.
---

Although a portable speaker may not seem like an obvious choice, having the option can enhance your trip! This wireless, outdoor-friendly option has simple controls and a long battery life. A good portable speaker can give any accommodation a homey touch; if you're planning to make your own meals, it's great for playing your preferred soundtrack, and you can also connect it to your laptop to decompress with a movie.
---

Much like a sleeping bag, it's always a good idea to bring your own pillow while traveling–especially if you'll be spending your nights on a floor or in a campground. This easy-pack, memory-foam pillow is designed for traveling; it compresses into a small bag and offers ample neck support.
---

When you're going away for a short spell, it's important that you get good sleep. Otherwise, you risk wandering around your destination in a fog! This adjustable sleeping mask solves any potential problems. It's made of memory foam for cloudlike comfort and is contoured to fit snugly and block out light.
---

Security is crucial, even over a 3-day trip! When you invest in a good VPN, you can dodge the pitfalls of cyber corruption and ensure that all your information is protected. Since having sensitive information stolen during our travels, we always secure our network with a VPN. NordVPN is our trusted provider, and you'll be able to connect to wifi without worry.
---

A white noise machine may also increase your chances of getting some shuteye! Whether you're drowning out background noise in a hostel or adding auditory texture in a secluded accommodation, it's worth the investment! This portable model features 26 sounds with multiple volume levels, comes with a headphone jack, and is charged through USB. It also includes a programmable auto-shutoff so you don't run down the battery!
---

Although it's a bit more frivolous than some other items, we've found that an instant camera is a great way to document your travels! Although smartphones take effortless photos, there's something so special about holding a printed image. This model is small, easy to bring along, and takes aesthetically-pleasing, pocket-size photos so you can bring back more tangible relics from your trip!
Other 3-day packing list items not to forget
---
What to wear on your 3-day trip
---
When you're going away for three days, packing should be a breeze. Unfortunately, that's not always the case! What you pack hinges on your destination and activities, so it's important to have a clear idea of what you'll be doing. Spontaneity is half the fun, though, so it's also essential to give yourself some wiggle room–for example, if you're planning a weekend of city sightseeing but are debating a hike, make sure you reflect that option in your clothing!
It's not always possible to set plans in stone; allow flexibility by packing smart. Choose versatile, multifunctional pieces that can easily change environments. A pair of chic but comfortable sandals, for example, can go from the city sidewalks to an intimate dinner with the right swap of top.
The bottom line is this: your wardrobe shouldn't limit you on any excursion, no matter how short!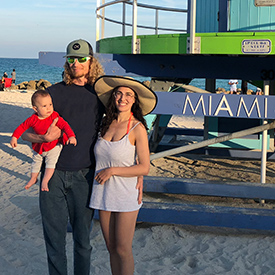 What Women Should Wear on a 3-day Trip – (Click to expand)
Below is a sample women's clothing list. (All items link to Amazon.com for your convenience).
On a three-day trip, women should supplement activity-appropriate outfits with neutral, comfortable staple pieces: plain tops with detail, a casual dress, solid-color bottoms (whether you're a pant, skirt, or shorts person), and complementary accessories. By prioritizing a staple outfit and choosing mix-and-match pieces, you'll have plenty of outfits for a variety of scenarios. If, for instance, you're whisked off for a bachelorette weekend, it's essential to have an outfit for your big night out, which will take up valuable luggage real estate; you'll want to make sure all the other clothing you pack can be combined as needed.
What Men Should Wear on a 3-day Trip – (Click to expand)
Below is a sample men's clothing list. (All items link to Amazon.com for your convenience).
Like women, men also need to make sure they have the appropriate clothing for the occasion of their travel. After all the essentials have been packed, you can then turn your attention to other articles of clothing: button-down shirts with adaptable prints, neutral pants to pair with tops, and shoes that complement a range of colors. A short trip might not be the time to pack your favorite loudly-patterned shirt, but you can certainly dress an outfit up with smaller, easy-to-pack accessories.
What NOT to bring on your 3-day trip
1)

DON'T BRING Unnecessary extras or multiples:
When preparing for travel, it's tempting to pack multiples of an item, or things that you think you might use. This just adds to clutter, though, which is especially excessive on a short trip. When you're packing for a 3-day getaway, skip the duplicates and nonessentials; you'll be glad you did.
2)

DON'T PACK Full-size toiletries: When you're going away for such a short time, there's no need to burden your luggage with full-size toiletries. Purchase travel-size toiletries or–if you're a fan of sustainability and committed to brands–invest in small toiletry containers and fill them yourself. It'll save you time, space, and hassle!
3)

DON'T TAKE Books, magazines, etc: An e-Reader is a great investment, especially if you travel frequently! You can load a digital device with all your favorite entertainment and leave more room in your luggage for essentials.

4)

DON'T BRING Multiple pairs of shoes:
When you're traveling for a short spell, it's best to avoid lugging around multiple pairs of shoes–you likely won't get to wear them all! Instead, choose two or three pairs that can be worn with all of the clothing you pack.
5)

DON'T PACK Non-prescription medication: For a 3-day trip, you don't need non-prescription medication by the bottle. If you want to cover your bases with over-the-counter medicines, invest in some travel-size pill containers and pack just what you need.

What NOT to wear on your 3-day trip – (Click to expand)
When you're taking a short trip, you'll save yourself a lot of time choosing outfits, rifling through your suitcase, or schlepping around luggage when you streamline your wardrobe. Stay away from bold or clashing prints and patterns and select pieces that can be paired easily.
Jewelry-enthusiasts, beware: simplicity is key. It's overkill to bring a bunch of necklaces, bracelets, earrings, or rings on a short trip. Stick to a few items or frequent favorites that will allow you to jazz up an outfit. It's also worth noting that, depending on your plans, jewelry may not be necessary at all.
Unless your destination includes a wedding or black-tie event, stay away from packing an overly formal outfit. You'll likely never wear it, and it's far simpler to choose reliable, diverse clothing that you can dress up with accessoires.
FAQs for a 3-day trip
---
1. If I'm taking a 3-day trip, how should I get there?
a.) Whether you drive, fly, or take public transportation depends on your preferences, budget, and the amount of time you're willing to devote to distance traveling.
b.) If you opt for driving, it's easy to build some road-trip fun into your destination; do some research for landmark stop-offs or delicious eateries to hit up along the way! It will cut into your time to get to your destination, but it'll be worth it.
c.) Flying, while usually more expensive than gas, offers the benefit of convenience and less time. You'll reach your destination without having to worry about following directions, and you'll get there significantly faster.
d.) Public transportation, like busses and trains, tend to take longer than other options but also run significantly cheaper, making them a great choice for those who need to keep their 3-day trip budget-friendly. As a bonus, taking public transportation will free up time for any last-minute tasks to cross off your list, so you can fully enjoy your time once you arrive.
2. Where should I go on a 3-day trip?
If you have a window of time to take a short trip but no destination, you have far more choices than you realize! If you're wanting a whirlwind 72 hours, visit a large U.S. city like New York, Boston, Philadelphia, San Francisco, or Seattle–to name a few–and see the sights!
If you're looking to escape the drone and din of packed places, spend a few days reenergizing in the mountains, on a lake, or even on a farm. Northern Michigan, Maine, Vermont, Tennessee, or Kentucky are a handful of many great states for secluded getaways.
3. Where can I find a reputable place to stay?
Although Airbnb seems as popular as ever, we're wary of the company after having some bad experiences. In fact, we analyzed over 1,000 AirBnB horror stories and concluded that there's no way to guarantee an AirBnb is safe. So, what to do when you need a reputable place to stay?
If you'd rather not turn to Airbnb but want the same cozy comfort, look into established, well-reviewed bed and breakfasts. Locally-owned and operated accommodations have a reputation to maintain, and they offer a marriage of professionalism and comfort. Otherwise, you can opt for simplicity, and book a hotel.
4. What should I do?
The most important thing for a short trip–whether you're striking out on your own, visiting friends, or seeing family–is to plan well. If you don't have at least some idea of what you'll be doing before you arrive, you'll waste unnecessary time debating your options instead of getting out to see things. Not every minute of your day needs to be planned, but it's prudent to have a general idea of what you'll do. Moreover, don't give in to temptation and search out the same activities for every destination. Do your research to figure out what makes your destination unique, and structure at least a few of your activities around that to get a genuine feel for the place.
5. How much should I pack for such a short trip?
The most important thing to remember: pack light, and pack simple. You don't need to be lugging heavy suitcases around your destination; stick to a maximum of two bags that are easy to tote. Organize your suitcase with packing cubes, which will save you time grabbing what you need.
6. If I travel by plane, how should I adjust my packing?
If you're going to be traveling by plane for your 3-day trip, don't pack anything more than a carry-on–a checked bag shouldn't be necessary. At the airport, make sure that you follow TSA carry-on guidelines. Don't bring liquids in containers larger than 3.4 ounces, make sure all containers fit inside a clear, quart-size Ziploc bag, and pack your electronics so they can be easily removed while going through security.
7. How can I make my trip budget-friendly?
Traveling on a budget isn't always straightforward, but it's very possible! The most important thing is to research ahead of time to find free or low-cost alternatives for your favorite activities.
a.) Eating Out: when you're eating out, opt for local food trucks at least a few times–you'll support small businesses and get great meals with options that tend to run cheaper than dine-in. You'll also be able to enjoy the fresh air while people-watching, which is always fun in a new locale!
b.) Recreation: If you have the right mindset, you're guaranteed to find hidden gems anywhere! When visiting a rural area, take advantage of the free nature; go for walks and hikes, picnic, and–if you have the right setup–enjoy evening campfires and games. When you're in the city, do some research on the locals' favorite parks and tour the urban greenery. There are plenty more options as well: if you're interested in museums but don't want to shell out the full price, see if they offer discounts or designated free hours; make a list of unique stores to visit and do some window-shopping; or wander the downtown to get a feel for the place.
c.) Events: Whether a parade, carnival, festival, or special market, there are often free events that you can check out! Do some research, and turn to social media to see if events are scheduled around your destination at the time of your visit.
Other packing lists you may like…
2-Week Trip | Baby Packing List | Baby Travel Gear | Bachelorette | Backpacking | Beach | Birthright | Bonnaroo | Burning Man | Business Trip | Cabin | Camping | Canoe Trip | Car Camping | Carry-On | Castle Trip | Cheerleading Camp | College Dorm | Convention | Cruise | Day Hike | Deer Hunting | Desert Trip | Destination Wedding | Diaper Bag | Digital Nomad | Disney | Disney Cruise | Elk Hunt | Fall | Float Trip | Flight | Girl Scout Camp | Girls | Glamping | Golf Trip | Honeymoon | Hostel | International | Island Vacation | Kids | Lake House | Long-term | Men's Packing List | Minimalist | Motorcycle | Moving Abroad | Music Festival | Overnight | Peace Corps | Resort | Road Trip | Round The World | Ski Trip | Snowboarding | Spring Break | Study Abroad | Summer Camp | Summer Vacation | Teen | Theme Park Trip | Toiletries | Toddler | Tropical Vacation | Ultralight | Wedding | Winter Vacation | Weekend | Zoo Trip
Please note: We have over 200 packing lists covering practically every popular travel destination in the world. Access them all on our packing list overview page ➜