Updated on by Asher Fergusson
W
hen the time comes for travel with teens, you might find yourself ticking through a barrage of questions. How do you get everybody to agree on destination and activity? Where to start with
what
your teen should pack, much less how to organize their suitcase? What will keep your family entertained en route to your destination?
The list goes on, but first and foremost, traveling with your teen should be an exciting adventure. On the cusp of adulthood, teens offer keen insight into how the world may be seen and experienced.
To help, we've put together a Teen Packing List that includes 17 essential items. Additionally, you'll find sections on what teens wear, what NOT to bring, and a list of FAQs.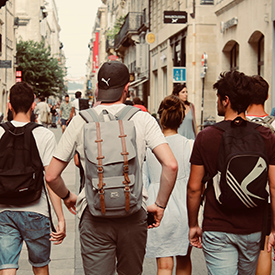 What to Pack for Teens – 17 Essentials
---

Packing cubes are essential for any travel, but they're particularly helpful when it comes to teens—especially if they aren't organizationally inclined. This set of 5 comes in a variety of colors, is stackable, and includes two laundry bags to keep those noxiously smelly teen clothes contained. You'll benefit from a set for yourself, too!
---

If you like to practice sustainable travel, refillable water bottles are a must. This BPA-free model is one of our favorites, and includes a powerful carbon filter that reduces bacteria and parasites to make even natural water sources—like a lake or river—a viable drinking option. It's the safest way to keep your teen hydrated!
---

We all know that teens love their music—so no matter your destination, this portable bluetooth speaker will come in handy. A fully-charged battery offers up to 24 hours of listening, and the speaker is outdoors-resistant; your teen will be able to take this speaker everywhere from a hike, to the beach, to a campfire.
---

When you're traveling internationally or anticipating long days of travel to reach your destination, jet lag relief is a must! If you're going to make the most of your trip, getting bogged down by exhaustion isn't on the agenda. Give your family and sleepy teens a necessary boost with this homeopathic solution
---

Organizing the luggage to get to your destination may be fine and dandy, but once you arrive, you and your teen will likely need portable bags to tote around all your necessities. We highly recommend this multi-zippered, lightweight daypack, which offers plenty of utility, organization, and style options. Plus, it compresses for easy packing!
---

Much like speakers, headphones tend to be a necessity for teens. Whether they're listening to music, engrossed in a Netflix show, or trying to block out the world around them for some shuteye, headphones serve a variety of purposes. This bluetooth set, which also comes with wired capabilities, is among our favorites. They sit over the ears comfortably, fold up for simple packing, and are super affordable!
---

Regardless of the activity, a full days worth of traveling often leaves you needing to reapply deodorant; this truth, although unfortunate, is universal. Teens in particular will appreciate having these natural, aluminum-free deodorant wipes at their disposal! You can drop them right into your daypack to freshen up as often as needed.
---

If you're planning beach days, picnicking, hiking, or camping over the course of your trip, this large, sand-resistant blanket is a must-have! It's designed to withstand a range of outdoor activities, is made from durable material, and folds into itself to create its own carrying case.
---

These microfiber cooling towels are essential for hot days under the sun, whether you're passing them on the beach or sightseeing. The material is designed to maintain their cool temperature for up to three hours without the use of chemicals. It also comes with its own carabiner clip, making it ultra-portable!
---

We've found that hoodies are a wardrobe staple for any travel—whether you're a child, teen, or adult. Although they're not always the pinnacle of fashion, they're cute, functional, and versatile. These two brands below offer a range of styles for every teen's preference! Stick this in their bag, and they'll have a solution when cooler weather comes through.
---

A power bank is essential if you want to avoid any inopportune dead battery situations, and it's especially helpful when you have a tech-happy teen along for travel. This power bank has a slim design, an LED power indicator, and multiple USB ports to accommodate all your charging needs.
---

Time spent traveling to or between destinations quickly becomes mundane for anybody. Teens with an artistic streak will be delighted by this prompt journal, which makes for a creative pastime! It's filled with eclectic and colorful prompts that will engage your teen's imagination. By the end of their trip, they'll be left with a unique relic of your time together.
---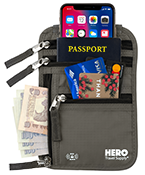 While traveling, we've all experienced moments of panic where we're certain we've lost a credit card, passport, tickets for an event—you get the idea. This neck wallet is the ideal remedy for those moments of disorganization. It comes with multiple zippered pockets, is secured with RFID protection, and has an adjustable strap. Don't just grab one for yourself—your teen will find them useful, too!
---

Whether they're frequent social media users or avoid it like the plague, your teen will thank you for the gift of this instant camera! The retro look of its mini snapshots has earned it a great deal of popularity, and the photos it takes are always atheistically pleasing! Your teen will be able to document your travels and come away with physical mementos from the trip.
---

This set of travel towels is the textbook definition of versatility! Made of quick-dry microfiber, these towels come in three sizes and roll up small for ease of transport and packing. These will cover all your teen's towel needs across a variety of travel scenarios. The largest-sized towel can even double as a yoga mat!
---

Speaking of water, what you definitely don't want is for your teen's phone to end up in a lake, ocean, or snowbank. You'll be able to dodge that hassle entirely when you bring this waterproof phone case along! The case is clear on both sides, so your teen's ability to snap pics won't be impeded, and it protects against many outdoor elements—including rain, snow, and dirt.
---

This ultra-soft travel pillow and blanket set will help your teen get comfy while traveling to your destination—and provides a necessary backup in case your linens situation isn't great. The blanket zips up into the pillow for seamless storage, and the they also come in a number of colors!
Other Teen Packing List items not to forget
---
What Teenagers Wear
---
While traveling, teenagers should pack articles of clothing that are fun, easy to combine into outfits, and reflect their personality. Depending on the season, destination, and planned activities, your teen's wardrobe will vary widely, but the goal of any travel wear for teens should be utility, comfort, and to instill confidence.
Teens who find themselves drawn to playful articles of clothing, like graphic shirts, can pair them with dark-wash jeans, a dressier shoe (such as oxford-style sneakers or a bootie), and a structured jacket to keep their clothing young but also appropriate for sightseeing, museum visits, or dinners out. Teens who prefer a more subdued style may opt for pieces that have a classic look with eye-catching details, like a peplum top or a printed oxford shirt.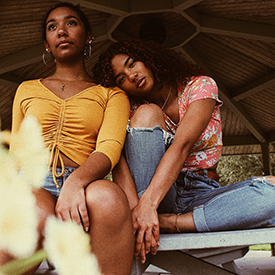 Ultimately, your teen's travel wardrobe should accommodate all of their planned activities and their preferences. If they fill their suitcase with versatile, mix-and-match options that show their creative side, then they're good to go!
What NOT to bring for teens
---
1)

Books:
If you have a teen who loves to read, that's great—just steer clear of packing physical books. Instead, have your teen load their favorite titles onto an eReader, and you'll free up a lot more space in their luggage.
2)

Bulky shoes and clothing: Depending on destination, your teen can pack strategically to avoid bogging down their suitcase with bulky items. Heading somewhere cold? Prioritize layers with thinner fabrics. Need to bring a pair of hiking boots? Research lightweight models to save space and keep luggage weight low.

3)

Multiple electronics :
Although teens are notorious for loving technology, travel presents an unrivaled opportunity to scale back and be present. Unless electronics are needed for schoolwork, have your teen choose one or two of their most-used devices and leave the others behind.
4)

Multiples of items: When it comes to traveling, it's a good rule to stick to what's necessary and most likely to be used. Rather than having your teen shove two or three similar shirts, jeans, or sneakers into their suitcase, have them narrow down their packing list; the same goes for accessories. Make sure the clothing they choose can be easily laundered!

What NOT to wear for teens – (Click to expand)
While traveling, teens should leave behind formal clothing unless they have plans that require dressing up; traveling presents an opportunity to embrace a casual lifestyle, so there's no need for your teen to bring clothing they're unlikely to wear. Teens should also leave behind any uncomfortable or restrictive clothing, especially when it comes to what they wear in the car or on a plane. Finally, limit the articles of clothing with polyester—this fabric is not accommodating to sweat or teenage body odors! In general, avoid stubborn or special-care fabrics to make laundry a lot easier.

FAQs about teenagers
---
1. How should my teen pack?

Depending on the age of your teen, their interests, and relative maturity, you might be tempted to pack on their behalf. However, having teens manage their own suitcase is a critical step to getting them involved and interested in your travel plans; use this as an opportunity to step back and encourage them to pack for themselves. Utilize organizational tools to make the process easier: start with a good luggage set, incorporate packing cubes, brainstorm a destination-specific checklist, and have item-designated bags at their disposal (e.g. one for toiletries, electronics, and accessories). When you follow these simple steps, you and your teen should find packing a breeze!

2. What travel destinations are great for teens?

When narrowing down travel destinations, make sure to pick places with plenty of activities that overlap with your teen's interest. If they're a history buff, or a lover of literature or theater, an international trip to London would bring them amply joy; within the U.S., New York City offers plenty of options. If your teen is more outdoorsy, check out any of the National Parks, or—internationally—consider planning a hike on El Camino de Santiago. Those are just two examples, but you get the idea; isolate what's most important to your teen, and consider that information when you choose a destination that works for your family.

3. How can I get my teen(s) involved in planning travel?

If you're planning to travel but haven't yet chosen your destination, the first step is to get your teen involved in figuring out the where. Approach this as an opportunity for conversation and reflection; ask them what they'd enjoy seeing, whether they have any travel goals, or if they have a dream activity in mind. Even if you don't end up landing on their preference, it's important to include them in conversations from the start.

If your travel destination is predetermined (i.e. if you're visiting family, have a timeshare, have to travel for work, etc.) invite your teen to do some research on the area and pinpoint activities they'd enjoy. Even if the destination isn't their first choice, you can get them engaged and excited by offering opportunities for them to be involved in planning logistics.

4. How do I keep my teenager engaged and off technology?

Are you wanting to use your family's travel time as an opportunity to unplug? In advance of your trip, brainstorm guidelines with your teen on which you both agree. Allow them to venture their own ideas as well; perhaps not every suggestion will be implemented, but you can arrive at a compromise. Ultimately, it's important to remember that you're their guardian, and any rules are at your discretion—but presenting them as mutual agreements, rather than dictations, will help move your teen in a more agreeable direction.

When it comes to keeping your teen engaged and present during travel, it's important to check in with them, ask them for thoughts or suggestions on activities, and make an effort to find mutual enjoyment—even if not everyone is enthusiastic about the activity. If you have a teenager that loves museums, for example, and one that avoids them, do your research and choose a museum that has an exhibition or unique activity that's tailored to the interests of your museum-adverse teen. Both teens will be happy when you've found ways to honor their desires.

5. What are some fun games to pass traveling time?

Although road trip games might sound more corny than practical, they're actually a lot of fun and great for bonding. Choose a variety that can be played on the road and at your destination; we recommend a mixture of board games, question-based games, and puzzles to accommodate a diversity of interests and moods. Get your travel companions—including your teens—involved in nominating some of their favorites!

6. Should we drive or fly to the destination?

Whether you drive or fly to your destination depends on a number of factors and comes down to a matter of personal preference. When traveling with your family—and especially teens—it's important to solicit feedback and consider what's best for everybody. If you have a flight-adverse teen, for instance, perhaps a day or two of car travel presents an opportunity for a road trip to your destination. On the other hand, if long hours in the car sound incredibly daunting to you and your teen, it may make sense to opt for a flight, especially if the destination is more than a day's drive away.

7. What traveling experiences will be most impactful for teens?

Most any travel experiences can be impactful for teens; it really comes down to personal preferences and interests. Travel presents an opportunity to expand your perspective on the world. Whether you're traveling within your country or branching out internationally, you're bound to encounter new ways of living. Approach travel as an opportunity for growth, even if you're planning leisurely days by the beach, lake, or pool. Research destination-specific activities, like farmer's markets, events, or festivals, that allow you to get a feel for the community. Make an effort to eat and shop locally rather than giving your patronage to franchise restaurants and chain stores. Finally, look into activities you and your teen can try together to branch out. Travel can and should be relaxing, but in cultivating an active experience, you'll meaningfully engage your teen and leave them with a lasting imprint of their experience. You might even pass along the travel bug—and find that they're planning your next trip for you.
Other packing lists you may like…
2-Week Trip | 3-Day Trip | Baby Packing List | Baby Travel Gear | Bachelorette | Backpacking | Beach | Birthright | Bonnaroo | Burning Man | Business Trip | Cabin | Camping | Canoe Trip | Car Camping | Carry-On | Castle Trip | Cheerleading Camp | College Dorm | Convention | Cruise | Day Hike | Deer Hunting | Desert Trip | Destination Wedding | Diaper Bag | Digital Nomad | Disney | Disney Cruise | Elk Hunt | Fall | Float Trip | Flight | Girl Scout Camp | Girls | Glamping | Golf Trip | Honeymoon | Hostel | International | Island Vacation | Kids | Lake House | Long-term | Men's Packing List | Minimalist | Motorcycle | Moving Abroad | Music Festival | Overnight | Peace Corps | Resort | Road Trip | Round The World | Ski Trip | Snowboarding | Spring Break | Study Abroad | Summer Camp | Summer Vacation | Theme Park Trip | Toiletries | Toddler | Tropical Vacation | Ultralight | Wedding | Winter Vacation | Weekend | Zoo Trip
Please note: We have over 200 packing lists covering practically every popular travel destination in the world. Access them all on our packing list overview page ➜