Updated on by Asher Fergusson
P
acking light for a vacation is one of the best ways to save money, time, and effort. But it's much easier said than done. The minute you begin, you compile a list of everything you think you need and before you know it, your full-sized suitcase is packed to the brim.
Luckily, no matter where you're headed, we've compiled an ultralight packing list that will help you pick and choose what to bring when you're looking to travel with the bare minimum. Additionally, you'll also find sections on what to wear when traveling ultralight, what NOT to bring and answers to FAQs.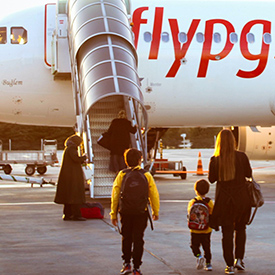 What to Pack for Ultralight Travel – 17 Essentials
---

Packing cubes are the ultimate lifesaver when it comes to packing light. They not only save room in your suitcase but they also compartmentalize your belongings so you know exactly where everything is. This 5-piece set comes with multiple different sizes, separate laundry bags, and even notecards where you can jot down exactly what is in each cube.
---

Jet lag can quickly ruin the first few days of a vacation. Rather than exploring a new city, you'll likely end up asleep in your hotel room, wasting precious time. This homeopathic jet lag relief helps relieve those symptoms and will have you walking off the plane feeling refreshed and ready to go. The best part? Because it has natural ingredients, there are no side effects.
---

Bottles of shampoo and conditioner are not only heavy but they take up a lot of space. Using a shampoo bar not only saves room but it also prevents spills, allows you to go through TSA, and is more environmentally friendly. This Love Beauty and Planet bar is a 2-in-1 shampoo and conditioner bar that is vegan, paraben-free, and cruelty-free. One use and your hair will be softer than ever.
---

Depending on where you are vacationing, you may not always have access to clean drinking water. LifeStraw water bottles are BPA free and include a filter which helps filtrate bacteria, parasites, and chlorine. It's great for backpacking, camping, and overall travel. Bringing a water bottle while traveling is always a smart choice but this ensures that you'll always have control over your drinking water.
---

If you're traveling internationally, you're going to need an adapter for your electronics. With universal adaptability, you'll be covered in over 100 destinations all over the world. From Greece to New Zealand to China, you'll be able to charge your phone, laptop, cameras, etc. This one also happens to come with a lifetime replacement guarantee so you'll never get stuck without one!
---

When packing light, the smaller, the better. We use our phones constantly when traveling to find the best places to eat and to get around so why not keep it charged at all times? This lipstick-sized charger packs a punch and will get your device charged on the go.
---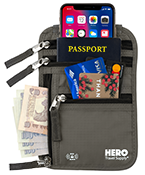 This hands-free compact travel pouch is perfect for long days at the airport or wandering around cities where pickpocketing may be common. It helps conceal your passport, IDs, credit cards, cash, and cell phone. Keep it around your neck when you want your valuables in one secure place that is still easily accessible.
---

I know what you're thinking. Why would a virtual private network (VPN) be on an ultralight packing list? During a trip to Paris, I had my credit card information stolen and I learned the hard way that a VPN is essential for all travel. It gives you an added layer of security so that you can keep all of your passwords and personal information safe while using a public Wi-Fi network. The last thing you need on your vacation is your identity stolen.
---

One of the best parts of traveling is getting to try all of the different cuisines. However, foods from around the world don't always agree with us. If you get a bout of food poisoning, taking these activated charcoal tablets will help absorb the toxins and help remedy your upset stomach. With no side effects, these tablets will have you up on your feet again in a matter of hours rather than days.
---

During my years of travel, I've come across many rainy days and I have been left very unprepared. There's nothing that will ruin your day like getting caught in the rain when you have activities planned. Bringing this portable windproof travel umbrella will ensure that you'll stay dry and still be able to enjoy your vacation.
---

Whether you're going hiking or you're just looking for a good lightweight travel backpack, this foldable daypack is ideal for holding all of your essentials. Resistant to water and wear-and-tear, use it to hold clothes, a water bottle, charger, laptop, and anything else you may need while traveling the world.
---

Travel insurance may seem like a silly thing that isn't too important but having it not only gives you peace of mind but also keeps you protected in the chances that something goes wrong. It covers the cost of your luggage if it goes missing, your flights if a cancellation occurs, and most importantly, your medical bills should you get injured or in an accident. As a family, we don't travel without it.
---

Good luggage is arguably one of the most important things to have. Every traveler should have a good carry-on suitcase as well as a full-sized bag. For traveling light, you'll want a sturdy carry-on suitcase like this one. It's not only light and expandable but it is extremely durable.
---

When out wandering the streets of a city or sitting by the lake, getting sweaty and smelly is inevitable. There's nothing worse than worrying about your body odor while you are out in public or with friends and family. Instead of stressing about it too much, throw these wipes in your bag and use them whenever you feel yourself getting a little warm. I love these because they are plant-based, aluminum-free, and contain aloe vera juice to help your skin stay hydrated.
---

If your travels involve hiking, camping, or swimming, I highly recommend getting a good pair of water shoes. They help protect you from muddy terrain and rocky sea floors all while being extremely breathable and giving you excellent traction. They are also quick to dry and very easy to clean.
---

Swimsuit coverups are a must-have for tropical getaways. After a dip in the ocean or pool, you can quickly throw it on and head to lunch. It's fashionable, comfortable, and dries quickly so you won't be stuck in a cold dress while eating. Plus it comes in multiple different colors and it takes up little to no space in your suitcase.
---

I always recommend bringing at least one nice outfit for your trip. There's a good chance you are going to want go to a nice dinner or grab cocktails and your everyday sundress isn't going to cut it. This wide-leg jumpsuit is the perfect combination of classy and sexy. It hugs all the right places and its high quality for a low price tag.
Other Ultralight packing items not to forget
---
What to Wear for Ultralight Travel
---
When packing light, the most important thing is that you pack things that are lightweight and can be layered. You're going to want clothes to be neutral so that you can mix and match outfits, especially on longer trips. This way you can wear outfits multiple times but can switch small aspects up so you're not constantly wearing the same thing over and over.
Great items to include are cardigans, windbreakers, a pair of jeans, long and short-sleeved shirts, and comfortable shoes that you can wear during multiple activities.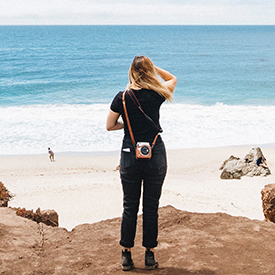 What Women Should Wear – (Click to expand)
Below is a sample women's clothing list. (All items link to Amazon.com for your convenience).

As I mentioned earlier, women are going to want to pack versatile staple pieces that you can mix and match throughout your trip. Ideally, you'll keep things casual while bringing one formal option if you choose to go out for dinner and drinks. Layering pieces such as tank tops and cardigans are the way to go when staying light.
You'll also really want to consider your destination and the season in which you are visiting. If you're traveling somewhere tropical you'll probably want to avoid bringing too many long-sleeved tops and jeans. If you're visiting somewhere that's chilly, make one of your biggest focuses a heavy winter coat. To save space in your bag, wear it on the plane and leave your suitcase for the layering pieces.

What men Should Wear – (Click to expand)
Below is a sample men's clothing list. (All items link to Amazon.com for your convenience).

Much like what women should wear, men should focus on being comfortable and airy while bringing layers in case the weather is cold. T-shirts, pants that you can dress up or dress down, button-ups, and comfortable shoes are key. I like flannels if there's a slight breeze because they keep you covered while not weighing you or your bag down.
If you're traveling during the summer months, skip out on heavy shoes and bring flip flops and a nice pair of loafers for nicer occasions. If you're vacationing during the winter, bring long-sleeved shirts that you know are warm that you can wear under your one winter coat.

SPRING

– March, April, May:

When packing for spring, you'll want to think about your destinations. Often spring requires layering as it can be cold in the mornings and evenings but beautiful and sunny during the afternoons. This is the ideal time to pack things like lightweight jackets, t-shirts that can be layered, shorts and jeans.

Many places have a lot of rainfall during the spring months as well so you might want to consider bringing a rain jacket with you along with some waterproof shoes (boots or sneakers would work best).
SUMMER

– June, July, August:

No matter where you're planning on visiting during the summer months, you're going to be met with sunshine. This means you can trade out the jeans and layering jackets for swimsuits, shorts, tank tops, dresses and flip-flops.

The best part about packing for summer is that because the clothes are less bulky, you'll have more room in your suitcase to pack a couple more outfit options. Whatever you do though, don't forget sunglasses, sunscreen, aloe and plenty of water.
FALL

– September, October, November:

Fall is a lot like spring in that the weather can vary drastically depending on where you're going. On the west coast, fall can be quite warm, especially in places like California and Arizona. If this is the case, you'll want to keep those layering items. If you're going somewhere where the leaves change color and the temperatures drop, you'll want to break out that lightweight jacket again along with some boots.
WINTER

– December, January, February:

Winter means bundling up! Winter clothes do tend to be heavier so you will want to remember to pack items that can be mixed and matched so that you don't overpack. Throw on your heavy winter coat before traveling so you can make room for things like sweatersthermals, beanies and boots.

Dressing Appropriately For Different Activities – (Click to expand)

The Beach – If you're going to be spending most of your time soaking up the sun on the shore, you're going to want to be sure to protect yourself. Aside from a swimsuit, bring a sunhat that covers your face, sunglasses, and a high SPF that will prevent you from burning. If you have extra sensitive skin, a swimsuit cover-up or a rash guard can offer additional protection.

Nightlife – Seeing another city's nightlife scene is one of the most exciting parts of a vacation. Going out on the town means changing out of your casual wear and into something a bit more formal. For women, a dress is always a great option though you can always stick to a good pair of jeans, a flowy blouse, and a pair of wedges. Men should wear a nice darker pair of denim as well with a classic button-up shirt and loafers.

Exercising – If you're looking to spend most of your time being active (whether it's playing sports or spending time in the great outdoors), a majority of your packing list should include activewear (leggings, mesh shirts, basketball shorts, etc.) and tennis shoes. If you're sticking to hiking, you'll want to bring bug spray and hiking boots that won't leave you with killer blisters.

Sightseeing – When sightseeing in big cities like Paris or Rome, you're going to spend most of your time on your feet which means the most important thing to pack is comfortable shoes. I typically prefer sneakers that I've already broken in that I know will keep me going for miles and miles. You'll also want to be equipped with layers, plenty of sunscreen, and a neck wallet or purse that pickpocketers can't get into.

What NOT to Pack for Ultralight Travel
---
1)

DON'T BRING Books:
Let's face it, as wonderful as it is to read a book during a quiet moment of vacation, they tend to take up a lot of space and weight quite a lot. That doesn't mean that you have to give up reading altogether. Stick to using something like a Kindle or an iPad where you can read e-books.
2)

DON'T PACK Camera Gear: I love taking photos during my travels and looking back at the photos later on. Unfortunately, camera gear is extremely heavy and most of it is unnecessary. If you're looking to shed a few pounds off your suitcase, ditch the gear for the time being. Bring just the camera alone and I guarantee you'll still be able to get the perfect shot.
3)

DON'T TAKE Too many shoes and clothes: You're probably reading this and thinking, "well duh" but you would be surprised at how easy it is to overpack. Ideally, you want less than a week's worth of clothes. This means 1-2 pants, 1-2 dresses, a couple of t-shirts, and one jacket (lightweight or heavy depending on the season).

4)

DON'T BRING a Laptop:
Your laptop is another heavy electronic that you can most likely pass on. If you're working while on your trip that is one thing but if you're just looking to use it for things like Netflix, stick to a tablet that is much lighter and much smaller.
5)

DON'T PACK Uncomfortable Footwear: When packing light, you've got to make every item count. This is especially true when it comes to your shoes. Only bring 1-2 pairs that you know you can wear in almost every situation. Whether it's hiking, swimming, sightseeing, or a night out, comfortable and versatile shoes are the name of the game.
6)

DON'T TAKE Formal Attire: Unless you're planning on spending most of your time at high-end restaurants and gatherings, you only need one formal outfit. Women, keep your formal outfit to one piece (such as a nice dress) as it will take up less space. Men, you'll likely already have jeans or a nice pair of pants packed so bring along one extra button-up shirt.
Packing Ultralight FAQs
---
1. How do I pack everything into a carry-on?

There are a couple of different techniques that you can use to help make the most of your carry-on. You can army roll your shirts, army roll your jeans use compression bags or use packing cubes.

2. How can I fold clothes to make them smaller?

I highly recommend checking out Youtube when it comes to finding ways to fold clothes to make them smaller. Marie Kondo has a great video on some techniques you can use!

3. How many shirts and pants should I bring with me?

There is no right or wrong number when it comes to how many items you should bring. For an ultralight packing list, I'd recommend staying anywhere from 3-4 shirts (both long-sleeved and short-sleeved) and 3-4 pairs of pants (both shorts and jeans).

4. Why should I pack light?

Packing light is a habit that I think everyone should get into. It not only helps you from overpacking but it also helps you save money. Many airlines offer extremely affordable flights but make you pay for bags. That can set you back $25-$100 depending on the airline! Having a carry-on versus a checked bag also ensures that you won't lose your luggage and it saves you time once you arrive at your destination. While everyone is waiting at the carousel for their bags, you'll be heading to your hotel to get your vacation started.

5. What are easy ways to make my bag lighter?

One of the easiest ways to make your bag lighter is to wear any heavy pieces while you travel. For example, if you need a heavy winter coat during your stay, wear it on the plane.

If you must check a bag, put some of your heavier items (such as jeans or a pair of shoes) into your carry-on. This will help you from ever having overweight luggage.

6. Is a minimal packing list sufficient?

Minimal is the way to go when it comes to an ultralight packing list. This means packing nothing but basics that you know will still help you remain stylish but will also keep costs and weight down.

7. What are the best bags to use for lightweight travel?

If you're looking to go ultralight, a sturdy duffle bag or small hardcover carry-on is the way to go. This still gives you plenty of room to bring along a backpack or purse if flying.
Other packing lists you may like…
2-Week Trip | 3-Day Trip | Baby Packing List | Baby Travel Gear | Bachelorette | Backpacking | Beach | Birthright | Bonnaroo | Burning Man | Business Trip | Cabin | Camping | Canoe Trip | Car Camping | Carry-On | Castle Trip | Cheerleading Camp | College Dorm | Convention | Cruise | Day Hike | Deer Hunting | Desert Trip | Destination Wedding | Diaper Bag | Digital Nomad | Disney | Disney Cruise | Elk Hunt | Fall | Float Trip | Flight | Girl Scout Camp | Girls | Glamping | Golf Trip | Honeymoon | Hostel | International | Island Vacation | Kids | Lake House | Long-term | Men's Packing List | Minimalist | Motorcycle | Moving Abroad | Music Festival | Overnight | Peace Corps | Resort | Road Trip | Round The World | Ski Trip | Snowboarding | Spring Break | Study Abroad | Summer Camp | Summer Vacation | Teen | Theme Park Trip | Toiletries | Toddler | Tropical Vacation | Wedding | Winter Vacation | Weekend | Zoo Trip
Please note: We have over 200 packing lists covering practically every popular travel destination in the world. Access them all on our packing list overview page ➜