Updated on by Asher Fergusson
A
weekend trip to the lake can be the perfect getaway for many of us as we look for a way to detach from the hustle and bustle of a busy life. The lake offers a great escape that isn't centered around fancy restaurants or shopping trips; instead, the lake can help connect you with nature and reset your mind, so you feel refreshed and recharged at the end of your journey.
In preparation for your lake trip, we've listed below, the 17 essential items we recommend taking along to make the most of your trip, in addition to what to wear at the lake. We also share what NOT to bring and other important FAQs.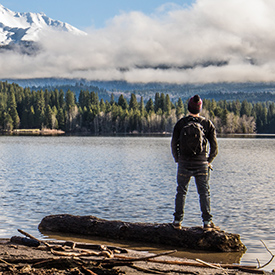 What to Pack for Lake – 17 Essentials
---

A cold drink is almost as necessary as a swimsuit when out on the water all day. Grab this easy-to-transport cooler to pack your drinks, lunches, and snacks while relaxing on the boat or hanging out at the dock. The insulation on this cooler is sturdy enough to keep ice without melting for up to five days, but the cooler is not too heavy to move quickly from one location to the next.
---

Of course, you'll want to have your phone capture the moments and memories made at the lake. However, the tricky part is making sure you don't get too near the water and damage or lose your phone. This phone pouch is perfect for making sure your phone stays dry while also giving you the option to capture photos and use your phone in other ways. Plan to keep your phone in the pouch and the attachable strap around your wrist for easy access and safekeeping!
---

You can't forget to bring a durable backpack while planning your day out in the sun! This backpack is waterproof, comfortable to hold, and large enough to fill with plenty of dry snacks, a first-aid kit, a towel, sunscreen, swimsuit cover-up, and more.
---

Organizing all of your belongings to bring on the trip can be difficult, but packing cubes make it a whole lot easier! Pack and label each cube with the clothes or accessories inside, then when you get to your destination, you don't have to search through an unorganized suitcase for that one outfit you can't remember if you brought. Packing cubes also include two large laundry bags, so you don't have to mix your clean and dirty items on the way back.
---

It wouldn't be a full day at the lake if you didn't spend at least some time in a water tube. You can buy pool toys to float around near the dock, but you can also purchase a sturdier tube to be pulled behind a boat for a fun activity for kids and adults of all ages! Getting tossed off the tube makes not only great pictures but also great memories.
---

Quick-dry towels are an excellent addition for your boat ride since they don't take up too much space and will keep you dry when you get out of the the water. This towel set also comes with a small pouch to store your towel, wet or dry, making it easier to carry along. I like to keep one in my daypack and bring one on the boat to dry my face and hands before snack time!
---

Hydration is vital when out in the sun all day, so don't plan to go out unless you have your refillable water bottle in hand. This Lifestraw water bottle is especially useful for lake trips because the center membrane works to filter out bacteria, chemicals, and microplastics that could be in the water. It's a perfect bottle to have with you if you can't refill it with tap or other water because any type of water can be filtered and made drinkable with the Lifestraw technology.
---

Reduce your waste by bringing along a reusable solid shampoo and conditioner bar while staying at the lake. J.R. Liggett's is a trustworthy brand with thousands of reviews for its many products. The bars come in a range of scents and can last even longer than the bottled shampoo we're used to using.
---

Wherever you're going, don't forget to pack an emergency first-aid kit that is easy to reach with everything you might need to be included. I like to keep one within an arm's reach anytime I'm watching kids play somewhere that could lead to an injury. Maybe it's a bit worrisome on my part, but I've never regretted having it!
---

Since separation is a possibility, have everyone in your group wear these Paracord Emergency Bracelets if anything happens to them, and they need others' help. The bracelet features a tool to start fires, a compass, an emergency knife, and a whistle if anyone finds themselves stranded. The bracelets are lightweight and adjustable to fit all sizes, so no excuses for not wearing one while out at the lake!
---

Since a good chunk of the time spent at the lake will be spent near the water on the deck, make sure to bring a comfortable beach chair to sit in while you enjoy the view! I like to make sure there's a cup holder and that the chair is made of mesh material so it won't stick to me, even if I'm wet. Find a cozy, lightweight chair that works to relax in and maybe doze off for a quick nap!
---

Whether your relaxing by the lake or going for a hike nearby, you don't want to get caught in the rain. We recommend throwing one of these compact umbrellas into your daypack so that you're prepared for whatever weather comes your way.
---

There's no reason to fret over what's for lunch when you have a handy picnic basket to carry all of your Tupperware, utensils, and food easily to wherever your picnic spot is that day. Pack it up ahead of time and set it to the side; all your cold stuff can fit into your cooler, and this basket will keep the food safe from any critters.
---

Any body of water tends to attract bugs, but lakes are especially attractive since wooded areas often surround them. It's usually not an issue during the day, but try to spritz on some bug spray as the sun begins to set so you won't be caught up in scratching and slapping at your legs when you could be doing something more fun!
---

A Swiss Army Knife is never a bad thing to have on you; it's the ultimate "just in case" tool. They can be used for such a wide variety of things and are easily packed in small daypacks or purses. This one also comes with an emergency whistle and fire starter — it's been rated among the best gear for hikers, hunters, campers, and emergency personnel.
---

You won't want to keep changing out of your shorts and shirts to get on and off the boat, so a swimsuit cover like this is the perfect other option. It's cute, lightweight, and dries quickly to keep you covered and warm when first out of the water or dry and stylish as you head back to your cabin or lake house at the end of the day.
---

It's always a good idea to protect your feet in the water, but that's especially true when at the lake. You're bound to see branches, rocks, and plenty of lake wildlife while near the water, so it's best to keep some lightweight water shoes on to protect your soles from the elements. Try out this mesh pair for ease coming in and out of the water (because that's pretty much all you'll be doing!)
Other Lake Packing List items not to forget
---
What to wear at the lake
---
Any lake trip is bound to involve you getting in and out of the water. Whether you are spending most of your time on the dock or the boat, you need to be comfortable and dry when not in the water. It's also never a bad idea to bring at least one nice outfit for the inevitable night on the town you'll have when you're tired of the cabin where you're staying.
I've put together a few cute and cozy outfits I know I would bring to the lake so I'd be covered for a hike, a swim, or an evening out.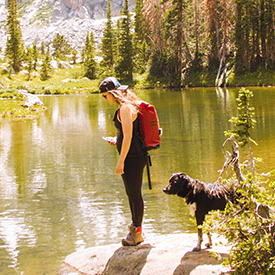 Dressing Appropriately for the Activity
---
Dressing Appropriately for the Activity – (Click to expand)
On the boat:
No matter what boat you find yourself on as you explore the lake, I'd recommend wearing a swimsuit, cover-up, and flip flops with hat and eye protection from the sun. I like to bring a dry change of clothes and keep it in my bag or stuff it into a side pocket on the boat, so I'll be comfortable when getting off at the end of the day.
Hanging out on the deck: Come equipped with a good book or loudspeaker for your hours lazing away on the deck by the water. If I'm not suntanning, I like to wear stretchy clothes and a light tank top or T-shirt while hanging out under the umbrella.
Nightlife: As fun as it is to cook your meals in nature, you'll likely want to go out to the nearest town at least one night while you're there. Depending on the area's humidity, you should be fine in a short-sleeve shirt and shorts or sundress. Don't forget to lather up with aloe and bug spray before heading out!

What NOT to take to the lake
---
1)

Lots of nice clothes:
Attire, including formal dresses and high heels, just don't have a place at the lake. The ground is usually mushy, and the atmosphere is moist save yourself from a possible mud stain and keep these outfits safe at home for the next trip!
2)

Heavy jackets: Hopefully, you're going to the lake in the warmer months, so you're able to appreciate all it has to offer fully. Even if temperatures drop a little at night, a light jacket or sweater should be enough to keep you warm.
3)

Lots of jewelry: Since most of your time will likely be spent outside, there's no reason to bring your most beautiful pearls or shiniest diamonds. It would be tragic if any jewelry was lost and could be next to impossible to recover if dropped in the lake. Take the safe route and only wear the jewelry you know won't be lost or that you'd be comfortable replacing.
4)

Cowboy boots:
Similar to high heels for women, men shouldn't bring boots or other clothes that they couldn't live with getting dirty.
5)

Too many books: I know, I know. I always promise myself I'll become a bookworm when I'm on vacation, but it seldom happens how I planned it. If you think you want to make a dent in your library, opt for an e-reader like a Kindle or Nook to save space in your bags.

FAQs about a trip to the lake:
---
1. What kind of activities should I do at the lake?

If you're planning on spending some time at a cabin on the lake, my recommendation is to find a way to rent a boat for at least a day to use to put around the lake. With the boat, you can do water tubing, skiing, kneeboarding, and wakeboarding — some of which are inclusive enough to be fun for all ages. When not on the boat, lake retreats are an excellent time for family games or to catch up on your reading list. If possible, take a few hours to explore the area around your cabin by taking a hike through the woods along the water.

2. What are the best lakes to visit?

Generally speaking, there are at least one or two beautiful lakes in every region of the United States. Most of the largest and most visited spots are in the west; places like Hot Springs, Arkansas; Ely, Minnesota; Grand Lake, Colorado; and Chelan, Washington. To the northeast, some of the most popular lakes are in Wolfeboro, New Hampshire, Rangeley, Maine, and Lake Placid, New York.

3. How long should I plan to stay at the lake?

You're selling yourself short if you don't at least allow for a full weekend at whichever lake you're visiting. I'd say up to a week is an excellent vacation, and ten days would be useful if you're meeting a large group or several family members there.

4. What type of games should I bring to play with at the lake?

Lakes are a great place to encourage outside games, so don't be afraid to get creative with the games you choose so the kids will come out to play. Bring a football or bouncy ball for the water, a few board games in case it rains, and outdoor games like ladder toss and cornhole for the whole family.

5. What type of animals live near/on the lake?

Freshwater lakes attract far more than just fish. Don't be surprised if you see water snakes, turtles, frogs, beavers, and even goats. Some people have reported seeing alligators in southeast lakes in Florida and Louisiana.

6. When is the best time to go to the lake?

Warmer months are the best time for a lake getaway, but that time can vary depending on where you are. For most Western locations, anytime after April or May and late September, it will be perfectly fine for a lake trip. For Northern areas, you may want to wait until the heat of the summer in June-August, so temperatures are warm enough.

7. How much does a boat registration cost?

Boat registrations vary depending on location and size of boats — some websites quote that this cost can be anywhere between $25 and $250. Typically, registrations are organized through the state's Fish and Wildlife Agency or the Department of Motor Vehicles. Like a car, registration paperwork should be in a safe place on board the boat in case an accident or proof of registration is needed.
Other North America packing lists you may like…
Alaska | Arizona | Appalachian Trail | Austin | Banff NP |Beach | California | Canada | Camping | Chicago | Colorado | Cruise | Day Hike | Denver | Desert Trip | Destination Wedding | Disney | Florida | Glacier NP | Grand Canyon NP | Grand Teton NP | Havasupai | Hawaii | Honeymoon | Kalalau trail | Kauai | Key West | Las Vegas | Maui | Miami | Moab | Myrtle Beach | Nantucket | New York | Oregon Coast | Orlando | Pacific Crest Trail | Portland | Quebec | Road Trip | RV Trip | San Diego | San Francisco | Seattle | Sedona | Texas | Washington, D.C. | Wisconsin Dells | West Coast Trail | Yellowstone NP | Yosemite NP | Zion NP
Please note: We have over 200 packing lists covering practically every popular travel destination in the world. Access them all on our packing list overview page ➜