Updated on by Asher Fergusson
S
taying in a resort while on a vacation is one of the best ways to maximize relaxation. All of your amenities are provided, especially if at an all-inclusive resort. You can spend your time relaxing by the pool or relaxing at the spa in between sightseeing. While packing for a resort, many of the things you will bring along are basics. However, there are a few things that you may not realize are important. This resort packing list will have you prepared for your vacation and allow you to focus on the important things like resting. We've also included sections on what to wear at a resort, what NOT to bring and helpful FAQs.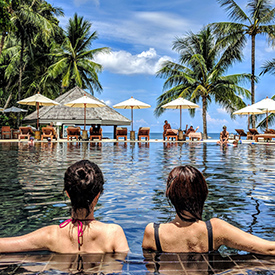 What to Pack for Resort – 17 Essentials
---

Packing cubes are the ultimate lifesaver when it comes to packing. They not only save room in your suitcase but they also compartmentalize your belongings so you know exactly where everything is. This 5-piece set comes with multiple different sizes, separate laundry bags, and even notecards where you can jot down exactly what is in each cube.
---

No matter where you're vacationing, having a waterproof case is wise. Especially if you're visiting somewhere tropical or you know you're going to be spending most of your time by the resort's pool. Not only will your phone remain in one working piece but you'll also be able to take some pretty cool photos.
---

If you're traveling internationally, you're going to need an adapter for your electronics. This one has universal adaptability meaning that you will be covered in over 100 destinations all over the world. From Greece to New Zealand to China, you'll be able to charge your phone, laptop, cameras, etc. This one also happens to come with a lifetime replacement guarantee so you'll never get stuck without one!
---

Whether you're out sightseeing or you're becoming one with nature, getting sweaty and smelly is inevitable. There's nothing worse than worrying about your body odor while spending time with loved ones. Instead of stressing about it too much, throw these wipes in your bag and use them whenever you feel yourself getting a little warm. I love these because they are plant-based, aluminum-free, and contain aloe vera juice to help your skin stay hydrated.
---

While I don't suggest bringing a towel to your resort stay, if you plan on spending time outside and doing outdoorsy activities such as hiking, kayaking, backpacking, etc., then I highly recommend bringing a fast-drying microfiber towel like this one that you can use for any sweat or water you may come across.
---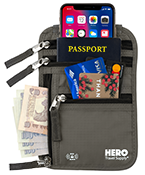 I'm a big fan of using a neck wallet. Many people choose to use them solely for international travel but I think they make traveling much easier. Carry your credit cards, cash, hotel room keys, and other important documents on your body at all times without having to carry a large purse or backpack.
Available on HeroTravelSupply.com with an exclusive 15% discount using the coupon code "HERO".
---

Hand sanitizer is a must when you travel. You're exposed to other people and germs daily while on vacation. Bringing a portable hand sanitizer spray will help ensure that you stay clean no matter what you get up to for the day.
---

I'm using my phone constantly when I'm traveling and I'm sure you do too. Whether I'm looking up new restaurants to try, calling an Uber or, trying to find directions, my battery dies quickly. Because of this, I like to have a phone charger on me at all times. The lipstick-sized charger packs a punch and will get your device fully charged in only 3-4 hours. And it won't take up any space in your purse!
---

There's nothing that will ruin your vacation more than being unprepared for rain showers. I've had this happen too many times to count. Bringing this portable windproof travel umbrella will ensure that you'll stay dry and still be able to enjoy your vacation. It's better to be prepared than sorry, trust me.
---

Many resorts have beautiful luxurious restaurants and bars which are the perfect excuse to get dressed up and enjoy a night out on the town. Whether it be date night or you're just looking to grab a drink and mingle with the locals, having a dress similar to this one will help dress you up.
---

While you can't technically pack a VPN, aka a virtual private network, having one is extremely important when you travel. If you're going to be spending your time on the hotel's Wi-Fi, you're putting all of your data at risk. The last thing you want is to have all of your personal and financial information accessed by hackers. I learned this lesson the hard way.
---

Jet lag can quickly ruin the first few days of vacation. Rather than exploring, you'll likely end up asleep in your hotel room, wasting the time that you have. This homeopathic jet lag relief helps relieve those symptoms and will have you walking off the plane feeling refreshed and ready to go. The best part? Because it has natural ingredients, there are no side effects.
---

Go out for a night on the town and drink one too many drinks? Or maybe you went hiking and didn't bring enough water on your voyage. Regardless of the situation, there's no such thing as too many electrolytes. These electrolyte packets are added to your water for rapid hydration. And the best part is that they have less than half of the sugar and calories.
---

I'm a huge advocate of getting travel insurance for every trip that you take. It can help save you from a headache should an airline lose your luggage or you get into an accident during your stay. Medical bills can add up extremely quickly, even with health insurance. It will also help protect you should your trip get unexpectedly canceled.
---

Along with a gorgeous dress, having stylish shoes is a must. Especially if you're planning on dressing up for a night out. For women, opt for something like these wedges and men, consider loafers such as Sperry's.
---

I don't know about you but bugs seem to gravitate towards me the minute I step outside. Being covered in bug bites is not only uncomfortable but it can also be dangerous. Having a travel-sized insect repellent will keep those pesky mosquitos away so that you can spend more time focusing on your vacation and less time on scratching those bites.
---

Crossbody bags are ideal for traveling. My wife loves having one when we're on trips. You can carry all of your important belongings without feeling like you are lugging a bulky purse around. They also allow you to keep an eye on your valuables to protect you from pickpocketers.
Other Resort packing list items not to forget
---
What to Wear at a Resort
---
When packing for resorts, the most important thing is that you pack a wide variety of options. For the days, you'll want casual wear. This includes shorts, jeans, t-shirts. For the evenings, you might want to consider bringing more formal attire for drinks out on the town or a date night. These items include blouses, button-ups, heels, and loafers. If your hotel also has a pool or you're looking to spend some time at the beach, don't forget the swimwear!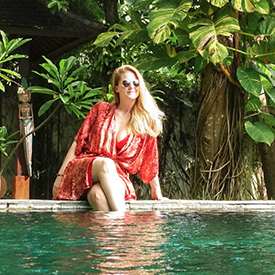 What WOMEN Should Wear at Resort – (Click to expand)
Below is a sample women's clothing list. (All items link to Amazon.com for your convenience).
You'll want to consider your destination and the season in which you are visiting. If you're traveling somewhere tropical you'll probably want to avoid bringing too many long-sleeved tops and jeans. If you're visiting somewhere that's chilly, make one of your biggest focuses a heavy winter coat.
What MEN Should Wear at Resort – (Click to expand)
Below is a sample men's clothing list.
(All items link to Amazon.com for your convenience).
If you're traveling during the summer months, skip out on the waterproof boots and bring sandals and a nice pair of loafers for dinners and drinks. If you're vacationing during the winter, bring long-sleeved shirts that you know are warm that you can wear under your winter coat.

SPRING

(March-May)

When packing for any season, you'll want to think about your destination. Often spring requires layering as it can be cold in the mornings and evenings but beautiful and sunny during the afternoons. This is the ideal time to pack things like lightweight jackets, t-shirts that can be layered, shorts, and jeans.

Many places have a lot of rainfall during the spring months as well so you might want to consider bringing a rain jacket with you along with some waterproof shoes (boots or sneakers would work best).
SUMMER

(June – August)

No matter where you're planning on visiting during the summer months, you're going to be met with sunshine. Resorts are the perfect place to spend your summer days lounging by the pool. This means you can trade out the jeans and layering jackets for swimsuits, shorts, tank tops, dresses, and flip-flops. Whatever you decide to do during your trip, don't forget sunglasses, sunscreen, aloe, and plenty of water.
FALL

(September – November)

Fall is a lot like spring in that the weather can vary drastically depending on where you're going. On the west coast, fall can be quite warm, especially in places like California and Arizona. If this is the case, you'll want to keep those layering items packed. If you're going somewhere where the leaves change color and the temperatures drop, you'll want to break out that lightweight jacket along with some boots
WINTER

(December – February)

Winter means staying warm and bundling up. Bring your heavy winter coat, sweaters, thermals, beanies, and boots. The key to keeping your suitcase light is packing items that can be layered and worn more than once.

Dressing Appropriately for Activities at Resort – (Click to expand)

Pool:

If you're going to be spending most of your time working on your tan by the resort's pool, you're going to want to be sure to protect yourself. Aside from a swimsuit, bring a sunhat that covers your face, sunglasses, and a high SPF that will prevent you from burning. If you have extra sensitive skin, a swimsuit cover-up or a rash guard can offer additional protection. If you do burn easily, having aloe vera on hand will help save you from some serious pain.

Nightlife: Seeing another city's nightlife scene is one of the most exciting parts of a vacation. Going out on the town means getting to dress up a bit. For women, a dress is always a great option though you can always stick to a good pair of jeans, a loose blouse, and a pair of wedges. Men should wear a nice darker pair of denim, a classic button-up shirt, and loafers.

Sightseeing: I love spending my days exploring a new city. When sightseeing, especially in big cities like Paris, Rome, or San Francisco, you're going to spend most of your time on your feet which means the most important thing to pack is comfortable shoes. I typically prefer sneakers that I've already broken in that I know will keep me going for miles and miles. You'll also want to be equipped with layers, plenty of sunscreen, and a neck wallet or purse that pickpocketers can't get into

Snow Sports: When going skiing or snowboarding, you don't want to have to worry about the weather which means wearing the appropriate layers is important. Start with a base layer and add on either a snow bib or ski pants, a thick winter coat, gloves, a helmet, and goggles. And while it may seem trivial, SPF is extremely important when on the slopes.

What NOT to Pack for a Resort Vacation
---
1)

DON'T PACK Unnecessary Valuables:
While it may be tempting to bring all of your expensive valuables, specifically expensive technology, on vacation, it's best to leave them at home and only bring what you need. While your items are typically very safe when staying in a resort, there have been instances where items are stolen or get lost in hotels and the last thing you want to be doing is worrying while you're away.
3)

DON'T PACK Full-sized Toiletries: Another thing you can avoid bringing is full-sized toiletries. I typically bring my travel-sized shampoo, conditioner, and soap but most resorts typically provide them in case you forget or if you're looking to save a little more room in your toiletries bag. This is a great option if you're only gone for 1-2 days.
5)

DON'T PACK Uncomfortable Shoes: One of the best ways to see a new city is to explore on foot. I could spend hours walking around and finding small corners that many people don't know about. Whether you plan on spending all of your time in the city or on the outskirts exploring nature, bringing shoes that are going to leave you covered in blisters isn't a smart choice. If you buy new shoes for your vacation, do so in advance so you have time to break them in.

2)

DON'T PACK Hairdryer:
Hairdryers are extremely bulky and take up a lot of space in a suitcase. Save yourself some weight and leave the hairdryer behind. Resorts typically have one on hand so you won't have to worry about sacrificing dry hair.
4)

DON'T PACK Too Many Clothes: I'm a big fan of packing as little as possible for my trips. Because I travel so often, I've learned over time to pack the basics that you'll be able to mix and match. Especially if you're traveling during the winter months when the clothing tends to be a bit thicker and takes up more room.
6)

DON'T PACK Towels: Much like hairdryers, resorts always supply bath towels as well as pool towels. Even if you choose to go to the beach or to wander around waterfalls, you should be able to borrow one from the resort meaning you can leave your towels at home.

FAQS about Staying at a Resort
---
How do I pick a resort?
When planning a vacation, there are a few things to consider when picking a resort. Consider your destination, the location of the hotel, amenities you are interested in, and price. I typically use hotels.com or Expedia to book mine once I have an idea of what I'm looking for.
What amenities are typically included in a resort?
Amenities will vary depending on each resort but some basics that you will find include free Wi-Fi, a fitness center, concierge service, housekeeping, restaurants, televisions, and parking.
What's the difference between all-inclusive and a regular resort?
If you choose to stay in an all-inclusive resort, you will have access to unlimited food and drink, and activities and entertainment. All for one simple cost that you will pay for when booking the resort. Regular resorts may have on-site food and entertainment, it just will not be included in your booking cost.
How can I save money while booking a resort?
Resorts can be pricey. Some of the best ways to save money while booking a resort include booking early, using apps such as Hopper to track prices, using a travel rewards credit card, being flexible with travel dates, and avoiding weekends.
Do I need to bring toiletries if I'm staying a resort?
As I mentioned earlier, most resorts offer small toiletries such as shampoo, conditioner, body wash, and lotion. If you ever find yourself running out, simply ask housekeeping for more and it will be restocked
What are resort fees?
Resort fees, also known as facility fees, typically cover things such as the pool, the gym, continental breakfast, and even use of the coffee maker in your room.
What are the best sites to use to find resorts?
There are many sites where you can find great resort options, many offering great deals. Some of my favorites include Hotels, Expedia, Booking, and Trivago.
Other packing lists you may like…
2-Week Trip | 3-Day Trip | Baby Packing List | Baby Travel Gear | Bachelorette | Backpacking | Beach | Birthright | Bonnaroo | Burning Man | Business Trip | Cabin | Camping | Canoe Trip | Car Camping | Carry-On | Castle Trip | Cheerleading Camp | College Dorm | Convention | Cruise | Day Hike | Deer Hunting | Desert Trip | Destination Wedding | Diaper Bag | Digital Nomad | Disney | Disney Cruise | Elk Hunt | Fall | Float Trip | Flight | Girl Scout Camp | Girls | Glamping | Golf Trip | Honeymoon | Hostel | International | Island Vacation | Kids | Lake House | Long-term | Men's Packing List | Minimalist | Motorcycle | Moving Abroad | Music Festival | Overnight | Peace Corps | Road Trip | Round The World | Ski Trip | Snowboarding | Spring Break | Study Abroad | Summer Camp | Summer Vacation | Teen | Theme Park Trip | Toiletries | Toddler | Tropical Vacation | Ultralight | Wedding | Winter Vacation | Weekend | Zoo Trip
Please note: We have over 200 packing lists covering practically every popular travel destination in the world. Access them all on our packing list overview page ➜