Updated on by Lyric Fergusson
A
ny seasoned traveler knows it's best to pack as light as possible, especially for international travel. Take a minimalist approach when setting off on your next adventure and ensure that only the essential items make the final cut.
To help you with this process we have put together a minimalist packing list and a section on what to wear for minimalist travel. You'll also see a section on what NOT to bring, as well as FAQs about this popular approach to travel.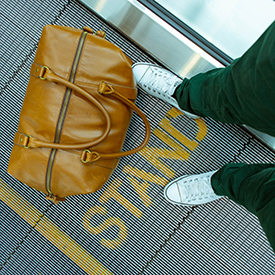 What to Pack for Minimalist Travel – 17 Essentials
---

Once you use packing cubes to organize your suitcase, you'll never go anywhere without them! These help keep your items compact and allow more space in your suitcase or duffel bag. Plus, you'll know exactly where your different clothing items are. This set also includes 2 large laundry bags, so you can easily keep all your dirty laundry separate from your clean clothes.
---

Travel enthusiasts know the importance of having a portable charger with you on the go. Having your phone die on you is one of the worst feelings, but there is an easy way to prevent it! This portable charger is ultra-compact, taking up the same amount of space as a lipstick! It will charge your device quickly and leave tons of extra space in your bag for other necessities.
---

Whether it be camping, hiking, yoga, backpacking, you name it – a travel towel is a great item to have! We recommend getting a lightweight towel made with soft and compact microfiber, which helps absorb water and makes the towel easier to pack and travel with. This ScorchedEarth towel also dries a lot faster than other models.
---

The worst way to start a trip is with exhaustion as soon as you step off the plane. Avoid the jet lag slump and take one tablet as your plane takes off. You'll start your vacation feeling energized and refreshed, and get to skip the immediate hotel nap!
---

A good VPN is a must-have to ward off credit card theft. It provides an extra level of security to help you keep all sensitive data, like passwords and credit cards, from being hacked. Going on someone else's WiFi always poses a risk to your data. Invest in a VPN and you'll breathe a little easier knowing your data is safe and secure – it is well worth the cost!
---

Electrical outlets can differ greatly depending on where you're traveling to. Purchasing a universal power adapter is an excellent investment for minimalist travelers. It will work for 100+ countries, and save you the headache (and cost) of buying a new adapter for each individual country you go to!
---

A lightweight and foldable backpack is the key to carrying all the essentials on your next minimalist trip. The double-layer bottom piece makes this particular backpack extra strong, and allows you to carry even more on your travels. Plus, the breathable mesh shoulder straps help relieve shoulder stress, and the multiple compartments help keep everything organized and easily accessible.
---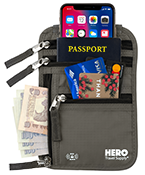 You can never be too safe with your valuable items when on a vacation. A neck wallet is a foolproof way to hide your belongings from pickpockets or thieves. This wallet is hands-free, RFID safe, and incredibly easy to conceal! Use it to store your credit cards, passport, and anything else with personal information.
---

Depending on where your minimalist trip brings you, bug spray may or may not be an essential item. Either way, it's better safe than sorry! We recommend bringing this plant-based insect repellent. The refreshing lemon eucalyptus scent is much more pleasant than that of most bug sprays, and won't leave your skin feeling sticky or greasy after application.
---

Everything on your minimalist trip should be compact and easily packable – an umbrella is no exception! We particularly love that this mini umbrella comes with a waterproof case as well. It only weighs half a pound, and fits easily into any purse, tote or backpack.
---

World Nomads is our top choice when it comes to travel insurance. Not only will they cover costs if your luggage gets lost or stolen, or if cancellations to your flights occur, they will also front a medical bill if by chance you end up needing to see a doctor on your vacation. Don't take any chances by not investing in travel insurance – we don't travel without it!
---

We are big fans of ensuring that travel products are completely organized. A hanging toiletry bag does just that, keeping all of your products upright to ensure no spillage. This particular bag has 16 leakproof pockets, two large zipped pockets and a mesh section to maximize storage space. Easily hang it anywhere in your hotel, hostel or other accommodations!
---
13. Waterproof Sneakers: Women's & Men's

The best way to pack minimally is to utilize dual-purpose clothing, accessories and shoes. Waterproof sneakers are a must-bring, since you can wear them for a quick jog, a hike, a stroll around town, and even in unexpected cases of bad weather. Sneakers are the perfect travel shoe, as they are comfortable and allow you to be on-the go with minimal soreness.
---

Shampoo bars are not only an excellent travel hack, they are environmentally friendly as well. 80 Billion plastic bottles disposed of around the world each year are from shampoo and conditioner, and companies like Ethique are fighting against this! This bar is the equivalent of 3 bottles of shampoo, and fits much more easily into your suitcase.
---

Travel-sized bottles for your toiletries are a smart way to ensure that all of your products are in TSA approved amounts. These leak proof bottles are lightweight and easy to clean, and come equipped with labels so that you know what is what. There are 4 3oz bottles, 2 cream boxes, 2 toothbrush covers, and a washing face brush.
---

Hydrating is the key to staying healthy on any trip. It is also much better for the environment to buy a reusable water bottle rather than waste plastic cups. Plus, this LifeStraw water bottle filters water so you know it's clean and safe! This is certainly an investment worth making, especially since you won't need to pay for a separate water filter and reusable bottle.
---

It goes without saying you are going to need some sort of suitcase or bag to hold your belongings. To keep things as minimal as possible, a large duffel bag offers up a roomy interior and can stretch more than a hard shell suitcase. This AmazonBasics duffel has top loop handles that make it easy to lift and carry. Also, the bag is collapsible and can be conveniently stored.
Other Minimalist packing list items not to forget
---
What to Wear for Minimalist Travel
---
The key to dressing for minimalist travel is to include versatile pieces. For example, joggers or athleisure pants are great items to pack. You can wear them on a run, or out and about for a day of walking and exploring. Packing waterproof shoes like boots or sneakers is also a smart idea, since you can wear them daily and not worry about ruining them in the rain.
You'll want to bring closet staples that you wear frequently. If you bought a dress on a whim that you never find an occasion for, it's probably best to leave that at home. That way, you avoid weighing down your suitcases with nonfunctional pieces that will end up unworn.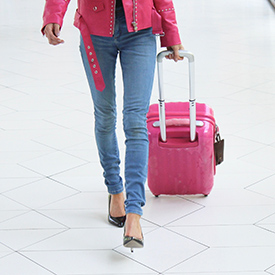 What Women Should Wear for Minimalist Travel? – (Click to expand)
It can be difficult to pare down your wardrobe for traveling. You might have an abundance of cute blouses and dresses at home, but when it comes to packing for a trip, you have to kill some darlings to be efficient! Try bringing items that have dual purposes – for example, waterproof sneakers can be worn all day while exploring the city, and you don't even have to worry about rain ruining the fabric. Fashionable joggers are great for sleeping and going for a leisurely walk. Of course, there are some staple clothing and accessory items that you shouldn't be without, like a classic T-shirt and a pair of sunglasses.

SPRING:

Lightweight Jacket, Long Pants, T-shirt, Cardigan, Sunglasses

Spring can be one of the trickier seasons to pack for. Right off the bat, you'll want a lightweight jacket and/or a cardigan to bring with you as you're out exploring for the day since a chill can sneak up on you at any moment. Usually, you'll want longer pants like jeans as opposed to shorts, and a short-sleeve T-shirt as your go-to casual outfit.
SUMMER:

Tank top, T-Shirt, Shorts, Sandals, Sneakers, Sunglasses

Most likely, you are going to be rather warm on any summer vacation you're taking! Pack your favorite tank top and shorts as your staple outfit, and play it safe by bringing both sneakers and sandals. Even if you're indulging in a beach vacation, you might want to throw on comfier shoes for going out into town or going for a longer walk. Also be sure to grab a short-sleeve shirt as well, if you ever want your shoulders covered and extra protected from the sun.
FALL:

Light Sweaters, Jacket, Jeans, Sneakers, Boots

Boots are a definite must-bring for a fall trip. Try to grab a sturdy, durable pair that can endure any kind of weather, and will also look dressed up for spending the day out and about. Jeans are my go-to pants for the fall seasons, as denim screams "fall" to me. Bring a couple of your favorite light sweaters and a jacket. If there's room leftover, a short sleeve shirt is a good idea as well in case of any slightly warmer days.
WINTER:

Warm Layers, Heavier Sweaters, Jeans, Snow/Waterproof Boots, Fleece Lined Leggings or Athletic Pants

Winter is certainly the hardest season to pack minimally for! Break out your heavier sweaters for those extra chilly days, and fleece-lined pants to keep you cozy in low temperatures. Make sure that whatever boots you bring are waterproof, as you might be dealing with snow and slush and wouldn't want them to get ruined on your trip. Warm layers are key, and don't forget your warmest, coziest winter jacket!
What NOT to bring on a minimalist trip
---
1)

Don't BRING snacks:
These can easily be purchased once you reach your destination. Aside from a snack or two to nibble on while on a plane, train or in the car, you won't want to bring any snacks from home as they will weigh down your suitcase and are quite annoying to lug around.
2)

Don't PACK heavy books: Like snacks, a book or two is totally fine to bring on a trip. However, don't try to bring your whole library along with you, no matter how long the trip is! Books can get heavy, and the odds are that you will spend so much time out enjoying the new city or town you're in that you won't crack open the pages of that Hemingway novel on your vacation.
3)

Don't TAKE multiples: Avoid bringing multiples of any toiletries, clothing, accessories, etc. unless you have a really good reason to suspect you'll need them. Worse comes to worst, you can always run to the nearest pharmacy to grab some Advil, sunscreen, feminine products, you name it. Your shoulders will thank you when your duffel bag isn't weighed down by 3 bottles of bug spray or 2 tubes of toothpaste!

4)

Don't BRING unnecessary valuables:
Needless to say, traveling always poses a risk to your valuables. Especially if you plan to stay in a hostel or Airbnb with other guests, you never know who might have access to your bags and less than honorable intentions. While some valuables are necessary to travel, like your ID and passport, leave any unnecessary items at home (credit cards you won't use, excessive amounts of cash, sentimental jewelry, etc.)
5)

Don't PACK full-size toiletries: This might be a no-brainer, but particularly if your vacation is less than two weeks long, there is no need to lug around full-size bottles of shampoo or conditioner. Grab those miniature versions – or better yet, pour what you have at home into travel-size toiletry containers!

What NOT to wear for minimalist travel – (Click to expand)
As mentioned earlier, if you have clothing that sits at the bottom of your drawer for most of the year, don't bring it on your minimalist vacation. Stick to only functional items that you love and know you'll want to wear. You should also avoid wearing lots of jewelry. If you take any rings or bracelets off throughout the day, you run the risk of losing them as you take public transportation and travel around. Omit any pieces that are uncomfortable or beginning to show wear and tear – you don't want to bring anything that won't survive the trip.

FAQs about minimalist travel
---
1. What is minimalism?
The definitions of minimalism may vary, but at its core minimalism refers to living with (or in this case, traveling with) only the things you really need. Cutting out clutter and non-necessities is vital for adhering to a minimalist lifestyle. Each item you bring on a minimalist trip should be intentional and purposeful. If you want to learn more about the minimalist concept, check out this article that sums it up.
2. How do you know what to bring on a trip?
There are a few different ways to figure out what you should and shouldn't bring on a trip. Start with researching your destination and what other travelers have found useful when visiting. Take a good hard look at your wardrobe and your products and think about which have the most purpose. There will almost always be a time you forget something or bring things that you end up not even touching, but the more you travel the more you will get the hang of minimalist traveling!
3. What if you forgot to pack something you need?
This is a concern that many travelers have, and often what bars people from embracing the minimalist travel style. While packing, try to think logically about what you would do without any item. If you forget an over-the-counter medication, you can grab that at a nearby pharmacy. If you forget a makeup product or favorite top, it might not be the end of the world! Nine times out of ten, you can either grab what you need from a local store or will be just fine without it. Always check that necessities like your ID, passport, credit card, and phone are packed before leaving the house.
4. What are the benefits of minimalist travel?
The first benefit that might come to mind about minimalist travel is, of course, saving money. By checking fewer bags at the airport, spending less on products and clothing, and learning to get by with just a few essentials, your wallet will certainly be thanking you. It also makes a trip much less stressful if you only have one bag with you, versus lugging around multiple suitcases, purses, etc. and feeling weighed down by all of your belongings.
5. Isn't it better to play it safe and pack more items?
Sometimes, yes. But if you really want to attempt minimalist travel, keep your suitcase or duffel bag on the lighter side. As mentioned previously, most items can be easily purchased if you forget anything.
6. How much should you bring for a week-long trip?
For vacations of a week, try to think about whether or not it makes sense to bring a full 7 outfits or mix and match (and re-wear!) pieces on your trip. If there is going to be laundry at your accommodations, even better! You can likely get by with just a few staple clothing items, and the necessary medications and toiletries. The amount you bring will also depend on if you're staying at a hotel with toiletries, visiting friends who will have essential items, etc. Consider the logistics of your trip and eliminate items that don't serve a purpose!
7.) How can you pack light for long-term travel?
This is one of the most challenging ways to travel minimally. For long-term travel, you will clearly need more items than for a trip that is only a few days in duration. Think about the kinds of weather you are likely to encounter, where you will be going on your trip and other technical considerations. You will probably have to bring multiple bags with you but focus on products that are multi-purpose and on leaving behind any clothing items that remain unworn in your closet at home. It's certainly tough, but doable!
Other packing lists you may like…
2-Week Trip | 3-Day Trip | Baby Packing List | Baby Travel Gear | Bachelorette | Backpacking | Beach | Birthright | Bonnaroo | Burning Man | Business Trip | Cabin | Camping | Canoe Trip | Car Camping | Carry-On | Castle Trip | Cheerleading Camp | College Dorm | Convention | Cruise | Day Hike | Deer Hunting | Desert Trip | Destination Wedding | Diaper Bag | Digital Nomad | Disney | Disney Cruise | Elk Hunt | Fall | Float Trip | Flight | Girl Scout Camp | Girls | Glamping | Golf Trip | Honeymoon | Hostel | International | Island Vacation | Kids | Lake House | Long-term | Men's Packing List | Motorcycle | Moving Abroad | Music Festival | Overnight | Peace Corps | Resort | Road Trip | Round The World | Ski Trip | Snowboarding | Spring Break | Study Abroad | Summer Camp | Summer Vacation | Teen | Theme Park Trip | Toiletries | Toddler | Tropical Vacation | Ultralight | Wedding | Winter Vacation | Weekend | Zoo Trip
Please note: We have over 200 packing lists covering practically every popular travel destination in the world. Access them all on our packing list overview page ➜