Updated on by Lyric Fergusson
T
here are so many types of weddings and so many things to consider when packing for one. Is it a rustic outdoor wedding on a ranch? A traditional ceremony at a church? A casual party on the beach? For each one, whether you're a member of the wedding party or a distant cousin's +1, you'll need to make sure you bring all the wedding essentials and that you choose the right wedding clothes.
To help out those who are wondering, "What do I need to bring to a wedding?" we have put together a wedding packing list with all the essentials. Additionally, you'll find sections on what to wear at a wedding, what NOT to bring, and answers to FAQs.
What to Pack for a Wedding – 17 Essentials
---

A simple yet flattering cocktail dress is always a good option. It's versatile and easy to dress up or down for occasions before and after the main event. Solid colors look stunning without clashing or grabbing too much attention. And best of all, dresses are super packable! This off-shoulder skater dress is affordable and great for multiple seasons.
---

You'll likely be spending a full day (and night) standing, walking and dancing – and if it's an outdoor wedding, much of this will take place on uneven surfaces. Opt for a wedge or block heel for a formal look that keeps you comfortable. This low-heeled sandal strikes the perfect balance between comfort and style.
---

There's a reason why so many wedding guests end up barefooted on the dance floor at the end of the night – don't be one of them! Save yourself the pain by stashing a pair of flats and swapping your heels out when it's time to cut some rug. These cute little numbers have just the right amount of glitz, and their low profile makes them easy to store in your bag.
---

That mini dress may prove a little chilly when evening temperatures start to hit. Pack a light sweater or jacket to keep the chill off after the sun goes down. Cropped cuts like this ruffled cardigan are a great option as they won't detract from the cut of your dress. Choose a style that fits the dress code and season.
---

Always a good choice for weddings, clutches are a great way to keep things looking formal. They go with any outfit – you won't have to worry about them ruining your lines or fitting over the shoulder of your dress. This champagne color is super versatile and adds a glittery pop to an understated ensemble.
---

You'll likely purchase wedding gifts in the form of an online registry or contribution to the couple's honeymoon fund. But a thoughtful, handwritten greeting card is a nice gesture to let the couple know how much you appreciate them. Make sure your card has a special touch and a heartfelt message.
---

Not only do these look incredibly elegant and formal, they're surprisingly practical. I personally travel with a folding fan and am always surprised at how often it comes in handy. If the ceremony you're attending takes place outside in the sun, pack one of these babies – you'll be so glad you did.
---

Is it just me, or does unpredictable weather seem to be a universal theme at weddings? No one wants their hard-earned outfit soaked in a dash through a storm – come prepared with a compact umbrella, which also doubles as sun protection at hot summer events. This durable, lightweight umbrella has you covered with superior rain and wind protection.
---

If you're a wedding crier (and I know I am), keep your tear-blotting eco-friendly by forgoing travel tissues packaged in plastic and packing a good old-fashioned hanky instead. Handkerchiefs are classy, can be matched to your outfit and won't leave you holding onto your trash throughout the ceremony.
---

Often, weddings entail more than just ceremonies and receptions: there are reception dinners, meet-and-greets and next-day brunches to think about, too. For these, bring a few staples you can mix and match to save on space and adapt to the occasion. This blazer can be paired with jeans and flats, and easily dressed up with accessories, for a casual pre-wedding get-together.
---

While pretty little purses and clutches are great for dressier ensembles, you'll want a more practical bag that can hold all your necessary items for daytime use. This nylon tote looks uber chic, has plenty of room for your wares and – best of all – packs down to a 9.25" by 7.9" square.
---

Any frequent traveler will tell you: packing cubes are a godsend. They help keep your clothes, undergarments and toiletries sorted so you never have to go rummaging through all of your luggage to look for that one item. Knowing right where everything is saves time and hassle. These packing cubes by HERO feature ripstop nylon and durable zippers to keep your items secure.
---

Towels are breeding grounds for bacteria, including disease-carrying microbes (gross, I know), which is why it's a great idea to bring your own when you're staying in a hotel. Full-size towels can also be harsh on hair. Fast-frying, microfiber travel towels like this one offer the perfect solution to both.
---

If you're heading to a destination wedding, don't forget to bring a power adapter (and check the country's voltage ahead of time to make sure your appliances will work). If you need to purchase one, opt for a universal one that works for all conversions – it'll be your new best friend.
---

A little unexpected for a wedding list, sure, but if you're using any public Wi-Fi – especially in places with tons of other users like hotels, a VPN is a great idea. VPNs use encryption to keep your data safe from hackers, and make sure your connection stays fast and your streaming uninterrupted.
---

It's easy to spend so much time thinking about what to pack that you forget where to put those clothes when they get dirty! Laundry bags, in my opinion, are such an underrated part of a packer's repertoire – they keep used items separated from clean ones, without taking up extra space in your bag. They also make unpacking a breeze.
---

Another underrated way to seriously improve your life while away from home, essential oils can help lift your spirits, chill you out or freshen you up after a night of drinking. My essential oils were a huge hit with the entire bridal party at a friend's wedding, who used lavender to calm their nerves before the ceremony.
Other wedding packing list items not to forget
---
What to wear to a wedding
---
Weddings, and the events leading up to and after them, are all about the outfit. This is your chance to dress up and show out in ways you normally don't get to throughout the rest of the year! It also means it's a good idea to be extra-strategic about what you pack. This is especially true if you're going to a destination wedding, bringing minimal luggage or dealing with different weather scenarios.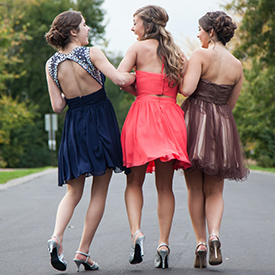 Rather than think about everything you might need over a wedding weekend, think about what you'll be doing each day and the exact outfits you'll want for each. In general, multipurpose pieces that allow you to mix and match are a great idea as they'll pull double duty and allow you to save space. Choosing packable, wrinkle-free fabrics will save you the trouble of trying to locate a garment steamer (or lugging one with you).
What should women wear to weddings? – (Click to expand)
Below is a sample women's clothing list.
(All items link to Amazon.com for your convenience).
Take each event you'll be attending into account, and pack accordingly. If the wedding weekend you're attending includes a casual meet-and-greet at a bar, you may want to bring a nice pair of jeans and a blazer that can be dressed up at another event. Or, if you're invited to a more formal reception dinner, you may want to pack an entirely separate look from your wedding outfit, like an elegant evening dress or formal wide-leg pant.

What men should wear to weddings? – (Click to expand)
Below is a sample men's clothing list.
(All items link to Amazon.com for your convenience).
Men should also take the similar style and function factors into consideration when planning their wedding packing list. You might opt for a simpler look for a more casual wedding, or go for a full three-piece suit for more formal or colder-season event. Accessories are a great way to add a pop of personality to a suit without taking the look too far overboard, whether it's an unexpected shirt color or a pocket square that coordinates with your date's attire.
While you're packing, think about what kind of weather you're most likely to encounter. Will you be sitting in the hot sun for an hours-long outdoor ceremony, dancing all night at an indoor venue, or shuttling between venues during a potential drizzle? Choose the materials that will keep you the most comfortable, e.g. breathable linens for warmer months and thicker knits for the cold.

SPRING

– March, April, May:

The best wedding clothes for spring are those made of natural fabrics and knits, and floral patterns are always a good choice for springtime. Make sure your outfit is something that works with a light jacket or blazer over the top. And since spring is the rainiest time of year in many places, make sure to bring an umbrella as well.
SUMMER

– June, July, August:

Summer weddings usually mean warm weather and lots of sunshine, and in some locations, high humidity as well. Clothing made from breathable, flowing fabrics will be most comfortable for weddings in the summer, and women can't go wrong with a maxi dress. If you're going to be spending a lot of time outside, a sun umbrella or garden hat and an accordion fan are also must-haves.
FALL

– September, October, November:

Fall weddings are the perfect time for clothing made of textured fabrics, as well as rich colors and gemstones. In the fall months, though, you never know what the weather might be like on the big day. Make sure you can add or remove layers from your outfit if needed.
WINTER

– December, January, February:

Not too many people choose to have their wedding in the winter (at least in cold climates), but those who do get a truly unique experience. If you're attending a winter wedding, pack warm clothing you can layer, and choose deep, earthy colors. Tights, boots, and a scarf will keep you warm even in a dress, and don't forget a wool coat and gloves.

Dressing Appropriately for the Activity – (Click to expand)

Churches, temples, and religious spaces –

If you're attending a wedding in a church, temple, or other religious space, it's important to dress respectfully. That usually means avoiding miniskirts and keeping your midriff and cleavage covered. Depending on the religion and location, women may need to cover their knees and shoulders as well, which means no sleeveless tops or dresses. Church weddings also tend to be on the formal side, so dresses or skirts for women and nice slacks or a suit for men are best. But if there's a reception or party somewhere else after the ceremony, wear an outfit that can transition easily.

Beach weddings – Beach weddings are nearly the opposite of church weddings in terms of what to wear (and many other aspects!). Most beach weddings are very casual, so don't overdress. Since it'll probably be warm, choose lightweight, breathable fabrics, and avoid anything synthetic. A sundress or maxi dress is probably the best choice for women. You'll be on the sand, so plan your wedding footwear accordingly; flat sandals will be the most convenient. And don't forget sunscreen and a hat or sun umbrella.

Bars – If you're traveling for a wedding, chances are you'll be hitting the bars at least once. Regardless of what you wear for the ceremony, make sure to bring some clothes for going out. A cross-body bag is also a good idea at bars, so you can easily keep it on you at all times. You'll probably want to stock it with your make-up and cotton swabs for touch-ups after a long day.

What NOT to Bring to a wedding
---
1)

DON'T BRING large gifts:
The couple will have to pack up and transport every gift that's brought to the wedding, and for that reason, large gifts shouldn't come to the ceremony. If the item you selected for the couple is bulky, arrange for it to be delivered directly to their house instead.
2)

DON'T TAKE uninvited +1s: Some weddings let anybody bring a +1, some only allow guests to bring their spouse, and others are somewhere in between. Regardless, the couple needs to know how many people will be in attendance, and it'll throw a real wrench in their planning (and probably their finances!) if you bring someone they're not expecting.
3)

DON'T BRING uninvited kids: The couple will probably be clear about who's invited and whether or not their wedding is adults-only. If kids aren't invited, there's probably a reason for it, so please leave them with a sitter.
4)

DON'T TAKE pets: Trust us, no couple will be happy to see an unexpected animal at their wedding venue. Unless you have a service animal (and preferably give the couple a heads-up about it), arrange for someone to care for Fido at home.

5)

DON'T PACK a camera:
You'll probably want to take pictures of your friends' special day, but a camera is a bulky thing to haul around at a wedding. Leave the DSLR behind, and just use your phone for photos instead.
6)

DON'T PACK tablets, gaming devices, or other noticeable electronics: Even if your kids are coming to the wedding, avoid bringing large devices for them to play on. It'll distract from the ceremony and take the attention off the bride and groom, so stick to something less conspicuous.
7)

DON'T BRING a gift that's not on the registry: Wedding registries exist to tell you exactly what the couple needs, that they don't already have and that matches their tastes. Don't be the guest who buys a gift they don't want or can't use; just stick to something from the registry.
8)

DON'T TAKE your luggage: Bringing all your bags along to the ceremony will be disruptive, and there probably won't be a place to put them. Make sure you have time to stop at your hotel between your flight and the wedding.

What NOT to Wear – (Click to expand)
The best clothes for a wedding will vary a LOT, depending on the location, season, type of ceremony, and dress code (if there is one). But some things are unacceptable at most any ceremony. You don't want to draw attention away from the couple, so don't wear clothes that are too flashy; and unless the theme of the wedding really calls for it, avoid anything gimmicky. Clothes for a wedding generally shouldn't be too revealing either, so things like miniskirts and low-cut tops can be left at home. And while some weddings are quite informal, clothing like shorts, T-shirts, and flip-flops are too casual in most cases. If it's a religious ceremony or the wedding is being held in a conservative culture, dressing appropriately is especially important. Of course, when in doubt, refer to the dress code.
FAQs about weddings
---
1. How do I know the dress code?

Not all weddings have a dress code. But if the one you're attending does, it's important to dress accordingly. The dress code can usually be found on the invitation, although some provide more detail than others. If the couple has a website or other online presence for their wedding, the dress code may also appear there, so read all the information carefully.

2. How formal do I need to be?

How formally to dress for a wedding depends completely on the wedding, and appropriate attire really runs the gamut from jeans to tuxes. It's important to check the invitation to see if there's a dress code, which will tell you how formally to dress. As a rule of thumb, outdoor weddings are typically more casual, while church weddings are usually dressier and more conservative.

3. What color should I wear?

When it comes to the best color to wear to a wedding, there are a lot of choices – but there are also a few exceptions. The most obvious one is white, as well as tones like ivory and cream. Wearing white or off-white – especially in a dress – is seen as trying to compete with the bride and considered in bad taste. Red is often considered unacceptable as well since such a bold color can also be seen as trying to take attention away from the bride. Black is traditionally another controversial color for weddings since it's associated with funerals. This tradition is fading in some circles, however, and black is becoming more acceptable and even trendy. In general, guests should strive to blend in and avoid calling attention to themselves, so pastels and earth tones are ideal.

4. Is it OK to wear a white dress?

In almost all cases, no. It's not okay to wear a white dress to a wedding. This also includes dresses that are off-white and other very pale shades, as well as those that are mostly white, even if they do have some other color. The biggest no-no? A floor-length white dress, as it will definitely seem like you're trying to make yourself the bride.

5. Is it OK to wear a black suit?

Unless you're attending a more casual wedding where you'd be overdressed, you can normally wear a black suit to a wedding. The only thing to be aware of is avoiding a dark monochrome look – black suit, black shirt, black tie, etc. At weddings, a dark suit with a white shirt is usually a better bet.

6. Should I bring a gift?

While bringing gifts to weddings was once the norm, that norm has changed. For decades, newlyweds were burdened with having to pack up all their gifts after the wedding, and transport or even ship them back home. Plus, this ran the risk of things getting knocked over at the wedding or lost or damaged somewhere in transit. Now, it's standard to have your gift shipped to the couples' home before the wedding. Almost everyone has an online registry these days, so you can order from the registry and it'll be shipped directly to them. One exception is if you're giving the couple a card with something like cash, a check, or a gift card inside; those can be brought to the wedding.

7. What if I have severe dietary restrictions?

Dietary restrictions at weddings are tricky because you don't want to put another burden on the couple, and it's not always possible to accommodate everyone. But at the same time, most couples want to ensure that everybody has something to eat! It's becoming increasingly common to provide vegetarian and gluten-free options by default, and wedding RSVPs often include a way to note dietary restrictions or select a meal. But if that's not an option and you have a severe restriction, you can always contact your hosts to discuss it; they may even put you directly in touch with the caterer. In any case, it's smart to bring along some snacks you can eat discreetly, just in case there's a mix-up.

8. How much non-wedding attire should I bring?

How much non-wedding attire to bring depends on how long your trip will be in total. If you're driving or flying in the day before the wedding (or even the morning of) and leaving the day after, you'll just need an outfit to travel in, something comfortable to wear before the wedding starts, and some pajamas if you're staying overnight. If you're making it a longer vacation or you have specific activities planned, you'll need to pack accordingly. However, most people tend to pack too many clothes, no matter how long their trip is. Try to pare down your wedding packing list as much as possible so you don't end up lugging tons of extra clothes around.
Other packing lists you may like…
2-Week Trip | 3-Day Trip | Baby Packing List | Baby Travel Gear | Bachelorette | Backpacking | Beach | Birthright | Bonnaroo | Burning Man | Business Trip | Cabin | Camping | Canoe Trip | Car Camping | Carry-On | Castle Trip | Cheerleading Camp | College Dorm | Convention | Cruise | Day Hike | Deer Hunting | Desert Trip | Destination Wedding | Diaper Bag | Digital Nomad | Disney | Disney Cruise | Elk Hunt | Fall | Float Trip | Flight | Girl Scout Camp | Girls | Glamping | Golf Trip | Honeymoon | Hostel | International | Island Vacation | Kids | Lake House | Long-term | Men's Packing List | Minimalist | Motorcycle | Moving Abroad | Music Festival | Overnight | Peace Corps | Resort | Road Trip | Round The World | Ski Trip | Snowboarding | Spring Break | Study Abroad | Summer Camp | Summer Vacation | Teen | Theme Park Trip | Toiletries | Toddler | Tropical Vacation | Ultralight | Winter Vacation | Weekend | Zoo Trip
Please note: We have over 200 packing lists covering practically every popular travel destination in the world. Access them all on our packing list overview page ➜