Updated on by Asher Fergusson
H
eading out on the open water on a canoe is exhilarating, and a great getaway from everyday life. It's a unique and interesting way to explore your surroundings and get in touch with nature.
Whether you're going alone, or are partnering up and going with a friend, check out this canoe trip packing list before you go.
We cover the essentials, what to wear while canoeing, what NOT to bring and go over important frequently asked questions.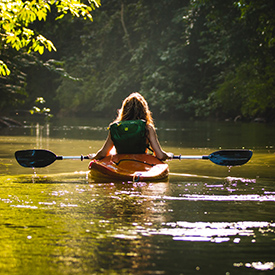 What to Pack for Canoe Trip – 18 Essentials
---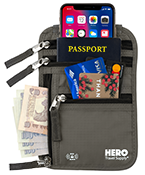 When you're out on the river, the last thing you need is a wet map. Keep your maps and other navigation tools safe from any amount of rain, snow, dirt, dust, sand, or water. Use it to keep your valuables secure and focus on paddling instead of worrying about a lost wallet, map, or keys.
---

Don't head out on your canoe trip without a good waterproof phone case like this one! Protect your smartphone from splashing and the elements by keeping it in this handy case. This one's awesome because you can even use it in the water if you decide to take a dip!
---

If you get stuck in the rain during your canoe trip, you'll be glad you brought along a windproof travel umbrella like this one. Great for keeping you and your stuff dry in the canoe, at your campsite, and even for offering sun protection, this umbrella is perfect for the unpredictable weather you may encounter on your trip.
---

Even if you don't flip, your paddles are likely to splash a bit of water into the canoe. Put all of your stuff in a dry bag, and you won't have to worry about dropping anything in water or water getting into the bag. This one has a watertight overlap roll top and the best-in-class waterproof performance. Use it to hold your camera, cell phone, or use it as a fishing tackle bag or travel bag for so much more than canoe trips.
---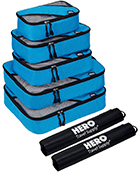 On your canoe trip, you'll want to pack as light as possible to lessen your load. Use packing cubes to keep yourself organized and avoid overpacking. This set comes in a bunch of fun colors and includes cases for your dirty laundry and shoes, which will come in handy on your canoe trip.
Available on HeroTravelSupply.com with an exclusive 15% discount using the coupon code "HERO".
---

Staying hydrated is always very important while doing anything athletic or in the outdoors. Use a reusable water bottle you can refill anywhere, while saving the environment and saving yourself some money. This LifeStraw water bottle comes with a built-in filter which will ensure your water's safe to drink.
---

This is another necessary item. Even though canoeing is a water sport, it's easy to overheat either with the activity itself or extended exposure to sunny conditions. The cooling towel gives instant relief. I just wet the towel, wring it out, place it around my neck and feel immediately refreshed. The effect lasts for 30-60 minutes and can be prolonged by repeating the process. The carrying case allows me to place it within arms reach in my canoe.
---

After a long day of canoeing under the hot sun, you'll need to make sure you're not dehydrated. Bring along these electrolytes to mix with your drinking water to help your body absorb and maintain the vitamins it needs during your trip.
---

Keep your snacks and drinks cool while you're on the river by bringing along a cooler. This one's awesome because it reflects heat so it will keep your lunch cold all morning long! You won't regret bringing a cooler when you start to get hangry!
---

With any water activity you are bound to need a towel at some point. For canoeing, it could be to simply dry off or refresh yourself at the end of the day. This lightweight, compact travel towel is an essential item. It comes with a bonus face cloth and carry bag making it easy to store in the canoe. It is so quick drying that I can rinse it out in the evening and it's ready in the morning for the next adventure.
---

You should never embark on any kind of trip (day hike, canoe trip, mountain biking trip, etc) without a first aid kit. While canoeing you may encounter bugs that'll bite you, trees that could scratch you, and loads of other hazardous annoyances. Keep bandaids as well as the big guns with you – emergency splints, instant cold packs, and gauze, because you just never know.
---

If your partner or another paddler gets thrown into the water during a strong current, an emergency throw line can save his or her life. A good throw line comes in a bag that floats, unwinds upon throwing, and can easily be attached to the person in the water. This one has great reviews and is a good item to keep in your canoe for any kind of trip.
---

Needless to say, outlets are nonexistent in the great outdoors, especially on rivers and lakes. Disconnecting is great, but there will be times that you absolutely need to charge your camera or phone. Bring a solar charger so that you never have to worry about running out of juice. This one is foldable and very efficient.
---

If your canoe trip is taking you more than 100 miles from home, you'll need to make sure you have solid travel insurance in case of emergency. World Nomads offers plans that cover a wide range of activities and will take care of the costs for flight cancellations, lost or stolen items, and medical emergencies.
View their plans at WorldNomads.com ➜
---

Whether you're canoeing solo or with a big group, playing music will set the mood for a good time. This one will let you play music from sunrise to sunset after one three-hour charge! It's perfect for a day out on the lake.
---

A long day of paddling can do a number on your hands. Unless you want blisters, invest in some paddling gloves. These ones provide protection against the sun and have a contoured double layer in high wear areas of the hand. The soft material will help you keep contact with your paddle, and maintain flexibility in the wrist!
---
17. Mesh Slip-On Water Shoes: Women's and Men's

Water shoes will be a lifesaver on your canoe trip. Whether you're stepping into the river or lake for a dip or you're walking up onto the riverbank to stop for lunch, water shoes like these will protect your feet from unseen rocks and branches both in and out of the water.
---

When you pull onto the riverbank for lunch, are setting up your campsite, or are wading through the river during your canoe trip, it's essential to have a good pair of sturdy sandals to protect your feet. These ones are perfect because they're comfortable and dry quickly.
---
Other packing list items for canoeing
---
What to wear on a canoe trip
---
For your canoe trip, make sure you wear comfortable, breathable fabrics. It's a good idea to wear a swimsuit underneath, so you can jump in the water occasionally, if the weather permits. This can be especially fun when the weather is hot.
Skip the flip-flops in favor of old sneakers or water shoes that will stay on your feet if you need to pull the canoe through the shallows or if your canoe flips during your trip. Moisture-wicking fabrics that won't stay wet when you sweat are key!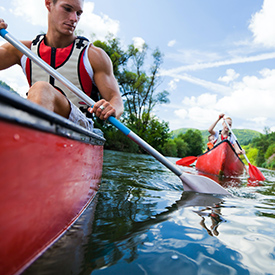 What NOT to take on a canoe trip
---
1)

Jeans
– Denim is your worst enemy when you're out on the water – it's bulky, heavy and does not lend well to exercise. Leave the jeans at home, and wear stretchy comfortable pants or shorts.
2)

Electronics – No need to weigh yourself or your canoe down with extra electronics.

3)

Valuables
– There's no reason to bring anything highly valuable into your canoe that may flip.
4)

Nice clothing or shoes – No need to dress to impress on a canoe trip, so leave the nice clothes at home.

FAQs about canoe trips
---
1) Do I need prior paddling experience?
If you have no experience, but would like to go on a canoe trip, sign up for an organized trip. Your local REI most likely has a canoe trip scheduled for the near future, so go and learn with a group of other adventurous folks.
2) How many people fit in a canoe?
It depends on the canoe. The norm is two to a canoe, although they do make canoes with three seats. Definitely check the weight allowance before adding any extra people to your canoe.
3) How do you deal with inclement weather on a canoe trip?
Be prepared! Bring rain gear (jacket, umbrella, etc.) and make sure your stuff is in a waterproof bag.
4) Is it better to use a double canoe rather than a single one?
There are pros and cons to both types of canoes. If you are canoeing solo, you have the freedom to choose where to go and how fast, but you have to paddle by yourself. In a double, you share the weight and paddle together, but must agree on where to go and how fast or slow to take it.
5) What if I am driving and the ending of the trip is in a different location?
Have a friend pick you up at the pullout point. Or, if you're going with a buddy, leave one car at the end point and one at the beginning.
6) How do you ensure safety while out on the water?
Make sure to bring a first aid kit and emergency throw bag with you at all times, and observe canoe safety protocols. If you're not confident in your swimming abilities, make sure to wear a life jacket!
---
Other packing lists you may like…
2-Week Trip | 3-Day Trip | Baby Packing List | Baby Travel Gear | Bachelorette | Backpacking | Beach | Birthright | Bonnaroo | Burning Man | Business Trip | Cabin | Camping | Car Camping | Carry-On | Castle Trip | Cheerleading Camp | College Dorm | Convention | Cruise | Day Hike | Deer Hunting | Desert Trip | Destination Wedding | Diaper Bag | Digital Nomad | Disney | Disney Cruise | Elk Hunt | Fall | Float Trip | Flight | Girl Scout Camp | Girls | Glamping | Golf Trip | Honeymoon | Hostel | International | Island Vacation | Kids | Lake House | Long-term | Men's Packing List | Minimalist | Motorcycle | Moving Abroad | Music Festival | Overnight | Peace Corps | Resort | Road Trip | Round The World | Ski Trip | Snowboarding | Spring Break | Study Abroad | Summer Camp | Summer Vacation | Teen | Theme Park Trip | Toiletries | Toddler | Tropical Vacation | Ultralight | Wedding | Winter Vacation | Weekend | Zoo Trip
Please note: We have over 200 packing lists covering practically every popular travel destination in the world. Access them all on our packing list overview page ➜