Updated on March 1, 2021 by Asher Fergusson
F
all is one of the most beautiful times of the year and, consequently, ones that are excellent for travel. These traditionally cooler months present plenty of opportunities to bask in a beautiful array of colors as leaves change, and the air permeates a crispness unrivaled by any other season. Fall can also be a great time to hit up touristy destinations, as it's often the off-season for more popular places.
When it comes to travel, your options are seemingly endless, so it's more than a little daunting to know where to start. We hope our fall packing list helps steer you in the ideal direction for your fall travel plans. Below, we've also covered what to wear in the Fall, what NOT to bring on a Fall trip and answers to FAQs.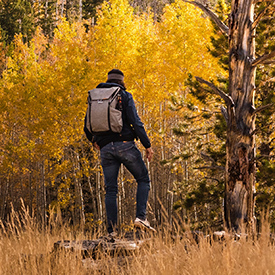 What to pack for Fall travel – 17 Essentials
---

When the time comes to actually put your suitcase together, things can quickly turn into a disorganized mess. You can dodge that headache entirely with these packing cubes, which we use for all of our travels! This 5-piece set of packing cubes are stackable, come in multiple colors, and also include two laundry bags—so no more worrying about what to do with your dirty clothes!
---

Traveling with a water bottle is a great way to cut down on plastic use and ensure that you stay hydrated. This is our go-to model; made of BPA-free material, it has a powerful built-in carbon filter means you can drink water from a variety of sources without a second thought. The bottle is leak-proof, portable, and also includes a built-in straw for simple drinking.
---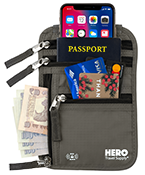 We've learned firsthand that one of the most critical steps for seamless travel is the ability to organize all your important documents in one place. With this neck wallet, you don't have to think twice about where to put your passport, identification, and credit cards. The multi-zippered wallet is also adjustable, keeping necessary items close to your body and within reach!
---

Lip balm may not seem like a glaring necessity, but when traveling during the fall, it's important to consider the weather—and whether it'll be cold enough for chapping! We always opt for a beeswax-based balm to avoid this annoyance. Coming in a variety of flavors, this four-pack is bound to have something to please your whole brood!
---

Umbrellas might be easy to forget, but they can easily make or break a day of travel. Whether it's drizzling or pouring (or even if we're seeking reprieve from the glaring sun) this travel umbrella is our go-to option. It is wind resistant, provides more coverage than standard models, and opens with the click of a button. It also folds up small for seamless storage in your carry-on, purse, or car!
---

During one of our travels, a corrupted connection left us with our important information stolen. Since then, we never travel without a VPN. NordVPN is our trusted provider, and with thousands of servers across 59 countries, they have a wide-reaching net to keep your network secure. You'll never have to cancel credit cards or change your passwords when you're supposed to be enjoying vacation!
---

If you're planning for international travel, this universal power adapter is a must. It accommodates outlets in over 100 countries, making this a one-stop shop for all your plug-in needs. Plus, it protects against power surges and comes with a lifetime warranty. It packs unobtrusively for easy storage, so you'll likely find yourself wanting more than one!
---

Whether you're planning to travel with a phone, computer, headphones, e-Reader, or any other devices, you're going to be left with a number of chargers to pack. This electronics travel case is a seamless way to organize all of your tech accessories, keeping them from the inevitable bottom-of-the-bag tangle.
---

Depending on your destination, you may find it useful to have a bag for toting around all the extras you'll need over the course of a day—whether that means snacks, chargers, makeup, or a water-bottle. That's where this daypack comes in; it folds up for easy storage, comes in a range colors to suit all manner of preference, and features multiple zippered pockets and chest straps to make for mindless organization and transportation!
---

As seasoned travelers, we've learned that it's a mistake to try to anticipate what may come up along the way. The further you venture from home, the more strongly we recommend travel insurance. World Nomads provides an incredible array of services suited to their clients' specific needs; you'll be able to pinpoint a plan so you can embark on all your travels worry-free!
View their plans at WorldNomads.com ➜
---

Fall conjures images of sipping warm drinks, and this thermos is a must-have if you want to make that vision a reality! Whether you opt for coffee, cider, or hot chocolate, you'll find use for this leak-resistant thermos anywhere from a campsite to the streets of a city. This particular model keeps drinks hot or cold for up to 24 hours, and it's the most sustainable method for holding your favorite beverages!
---

Although fall weather varies widely by destination, the season presents a perfect opportunity to build your wardrobe by adding a coat to your packing list. For a classic style that's appropriate across a range of temperatures and settings, opt for a peacoat; it'll keep you warm and looking stylish! Below, we've pulled versatile options that work for both men and women.
---

We consider these noise-cancelling wireless headphones one of the most reliable models for a number of reasons: they fold for easy storage, offer wired capabilities, fit comfortably over ears, and offer a built-in mic. These are a no-brainer for reducing the din while providing a versatile way to use whatever devices you need!
---

When it comes to traveling, a portable charger is a must-have. This lipstick-sized model is one of our favorites for its unobtrusive size. It's easy to tack onto a keychain, offers an entire iPhone recharge, and helps avoid the debacle of losing access to GPS if your phone dies.
---

If you're a sensitive sleeper, this luxurious mask will assuage any worries you have about getting some shuteye. Lined with silk on both the interior and exterior, you'll be able to wear this in comfort. It also comes with an adjustable strap, allowing you to fit it to the shape you need. Chances are, you won't even know you're wearing it!
---

Much like a peacoat, a scarf is another indelibly fall wardrobe staple that serves a dual purpose: it keeps you warm and adds some spunk to your outfits. Scarves are easy to pack without taking up much room, and they're great for layering so you can lighten up your suitcase. Both the scarves we've selected below pair well with a variety of pieces!
---

It never hurts to travel with a pillow and blanket! This easy-pack option transitions well from your mode of transportation to your destination; with ultra-soft, plush material, you can rest assured that you'll have comfortable sleep whoever you go! It also comes in a variety of colors, inviting a number of style preferences.
Other Fall Packing List items not to forget
---
What to wear for Fall travel?
---
Traveling in the fall presents a great opportunity to wear classic cuts and warm colors. Weather can vary internationally and across the U.S. during the fall, so it's important to do your research beforehand so you can put together an appropriate travel wardrobe. Warm colors—russet, gold, burgundy, brown, and navy—pair well with lighter, off-white pieces.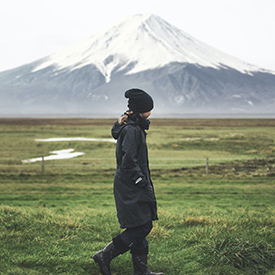 What Women Should Wear for fall - (Click to expand)
Below is a sample women's clothing list.(All items link to Amazon.com for your convenience).

For fall travel, women should stick to classic pieces that can be layered. Fall is the ideal time to return to elegant clothing with nostalgic color palettes. Destinations vary widely, which will impact wardrobe, but you can ground your suitcase with staples that transition well between activities, such as turtlenecks, boots, cardigans, and knit tops.
What Men Should Wear for fall - (Click to expand)
Below is a sample men's clothing list. (All items link to Amazon.com for your convenience).
While traveling in the fall, men should opt for traditional styles with a seasonally-appropriate color scheme. Fall is the perfect time to introduce new stylish pieces into your wardrobe, while also capitalizing on the range of options cooler weather allows. This is a great time for people to explore their personal style. Make sure to prioritize pieces that can be layered to allow for more versatility!
What NOT to bring on a Fall trip
---
1)

Swimsuit:
Unless your destination explicitly involves swimming, it's unnecessary to pack a swimsuit while traveling in the fall. Make sure you plan accordingly so that you know whether to tuck this into your suitcase!
2)

Books: In the age of the e-Reader, it's unnecessary to bring bulky books along on your travels. Lighten your packing load by downloading whatever reads you want before you hit the road!
3)

Multiples of items: It's important to stick to necessity-only items while packing for fall travel. Between coats and cardigans, you'll likely be toting around clothing pieces that already have a heft to them. Your suitcase will fill up faster, so steer clear of duplicate items—when one pair of jeans will do the trick, you don't need to bring a second.

4)

Warm-weather clothing:
For some fall travel destinations, shorts, tank tops, and sandals might be seasonally appropriate. If you're sticking to the east coast, however, there's no need to burden your suitcases with items you'll be too chilly to wear. Opt instead for pieces that fall somewhere in-between—like short-sleeve shirts—to which you can add or shed layers to accommodate the weather.
5)

Winter coat: Unless you're traveling to a notoriously cold destination, you should be able to get comfortably by with layers and lighter jackets and coats.
What NOT to wear for fall – (Click to expand)
Fall is the perfect time of year to go back to traditional colors and classic cuts. Avoid loud patterns or glaringly bright colors, focusing instead on the structure of your clothing items. You can safely ax flip-flops or strappy sandals from your list in favor of footwear that's going to be a little more accommodating. Similarly, steer clear of shorts, tank-tops, and other clothing that belongs in warm-weather climates. Finally, to make life a little easier, avoid special-care fabrics; it'll be much simpler to clean clothing between wears.
FAQs about Fall travel
---
1. What are the pros and cons of traveling in the fall?

The Fall months—ranging from September through November in the United States—are a great time to travel. For many destinations, these months are included in the traveling off-season, meaning that even if you're heading to a more touristy destination, it'll probably be less crowded than usual. The weather is generally more temperate across the U.S. too, so you'll have to deal with fewer days of the sweltering sun.

On the other hand, if you're a person that enjoys sharing experiences with lots of fellow travelers, you might find fall journeys a bit of a letdown. Although many crowd-drawing events run throughout the year, summer is primetime for festival fun and get-togethers. At your destination, you might find that there are simply fewer events to attend, but this can also be an upside; even popular recreational activities will feel more personalized.

Ultimately, the pros and cons of fall traveling depend on your destination. If you're heading to an Oktoberfest, for example, you can expect to join a significant group. But if you find yourself at a cabin bordering a touristy town, you're likely to notice that crowds are thinner.

2. What are good U.S. fall travel destinations?

Fall in the United States presents the perfect time to glimpse some breathtaking colors. Take a road trip to Maine for vibrant foliage (not to mention sublime coastal views), or Pennsylvania and Virginia to delve into U.S. history while enjoying the colors. You can head to D.C. or NYC to bask in the glory of the city, wandering through outdoor parks while sipping a seasonally-appropriate drink. It's also a great time to go get a glimpse of the Grand Canyon, or enjoy California's breathtaking national parks: Yellowstone or Yosemite will make the perfect destination for lovers of the outdoors!

3. What countries are great for international fall traveling?

It can be argued that most anywhere is a great international destination for fall traveling, but there are some standouts: for those who are looking to stay a little closer to the United States, Montreal or Quebec City in Canada have the feeling of a world away while still being within a few days' driving distance! Europe has many countries that also lend well to fall travel, including—but hardly limited to—Italy, Poland, France, and Germany.

4. What are good fall activities?

When you think fall, some quintessential activities spring immediately to mind: apple-picking, cider-drinking, horror film festivals, and crisp-air hikes. Fall traveling presents an opportunity to get creative with recreation, though; don't limit yourself to only the traditional options. Fall can be a great time to go camping (given the appropriate gear), spend some time at a lake-house (sans swimming), traverse a big city, and cover the museum circuit (minus sweat-inducing summer heat), or even hit the beach. Fall doesn't have to be a time of year that eliminates the activities at your disposal; in fact, it can even introduce new ways to approach some classic favorites!

5. What activities should I avoid during fall travel?

While traveling during the fall, you should avoid activities that rely on explicitly sunny weather, such as water-based pastimes. You should also do your research beforehand to make sure that your destination doesn't primarily cater to summer tourists; it would be a letdown to take a trip only to find that the majority of local shops and restaurants are closed for the season.

6. Should I drive or fly to my destination?

Whether you drive or fly depends on a combination of factors, including your preferences, time, and the convenience of each transportation mode. If you're traveling with family and your destination requires only a day of driving, you might find a vehicle a lot less harried (and expensive) than air travel. On the other hand, if your trip is taking you across the country—or over the border into Canada or Mexico—you might opt for flying to maximize the number of days at your destination.

7. What type of accommodation is best for fall travel?

Fall weather is the perfect catchall season for accommodations; it's usually cool enough to not have to worry about securing an air-conditioned spot, but warm enough that you still have outdoor-centered spaces (like camping sites or cabins without central heating) at your disposal. In fact, fall travel presents some of the most diverse accommodation options year-round. You can opt for an apartment rental in a big city, head to a secluded spot in the woods, enjoy ocean views from a beach house rental, snag a spot on Main Street in a quaint village, or opt for an off-season rental at a popular amusement park. As long as you're able to identify what amenities are most important to you, just about any accommodation will work!
Other packing lists you may like…
2-Week Trip | 3-Day Trip | Baby Packing List | Baby Travel Gear | Bachelorette | Backpacking | Beach | Birthright | Bonnaroo | Burning Man | Business Trip | Cabin | Camping | Canoe Trip | Car Camping | Carry-On | Castle Trip | Cheerleading Camp | College Dorm | Convention | Cruise | Day Hike | Deer Hunting | Desert Trip | Destination Wedding | Diaper Bag | Digital Nomad | Disney | Disney Cruise | Elk Hunt | Float Trip | Flight | Girl Scout Camp | Girls | Glamping | Golf Trip | Honeymoon | Hostel | International | Island Vacation | Kids | Lake House | Long-term | Men's Packing List | Minimalist | Motorcycle | Moving Abroad | Music Festival | Overnight | Peace Corps | Resort | Road Trip | Round The World | Ski Trip | Snowboarding | Spring Break | Study Abroad | Summer Camp | Summer Vacation | Teen | Theme Park Trip | Toiletries | Toddler | Tropical Vacation | Ultralight | Wedding | Winter Vacation | Weekend | Zoo Trip
Please note: We have over 200 packing lists covering practically every popular travel destination in the world. Access them all on our packing list overview page ➜