Updated on by Asher Fergusson
A
river float trip has to be one of my favorite summer activities! What could be more relaxing than kicking back on your tube as you float past the gorgeous shoreline, soaking up the sunshine with not a care in the world?
Floating the river is all that and more, but knowing what to bring and how to prepare makes all the difference in having a fabulous time. So to help you have the best experience possible I've compiled a float trip packing list, as well as what to wear on a float trip, what NOT to bring and answers to the most-asked questions. Happy floating!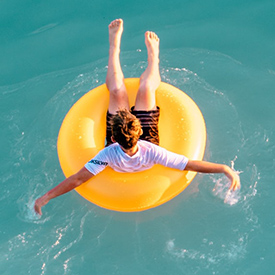 What to pack for a Float Trip – 17 Essentials
---

Tubes are ideal if you are going on a hot day and want to be partially in the water as you float. If it's a cooler day or you're taking children or lots of picnic supplies, a raft may be more comfortable. But you really can't go wrong with either of these great float options!
---

Half the fun of a successful river float trip is the cold drinks and snacks! A tube like this with a built-in spot for a cooler makes it a breeze to throw all of your food and drink supplies in one spot. You can then simply strap the cooler tube to your tube and float with all the comforts of home!
---

A sunburn is one surefire way to ruin even the best day on the river! So make sure you have some sort of swimsuit cover up. This one is super cute and stylish, but its short length and pullover style means that it won't be in your way during the float.
---

You want to have a towel stashed in your car for when the float is over. This towel is so compact that it can easily fit anywhere, and it has great absorbency, so even if you decide to take a turn on that rope swing you know you can dry off later!
---

When you're on the river it's nice to have a stow option that you can trust to keep your supplies dry. This bag is perfect for that! You can choose the size that best fits your needs, and rest assured that whatever you put in it will still be dry even if your buddy decides to instigate a water fight.
---

If you want your phone along for safety or to document the fun day, make sure to get this case! Not only is it waterproof, but it also floats, which will be a lifesaver if your phone goes overboard! It comes in a pack of four and will universally fit most smart phones.
---

This strap is a brilliant solution to protect your camera or keys! Simply attach the strap and you can rest easy knowing that your item will float. The neon color means you can easily spot it too in case it lands in the water. You might want to buy a few of these!
---

You want a lightweight, simple cooler that can hold all the necessities for your group. This one fits in the cooler tube and is big enough for all the picnic supplies and drinks you could want! The price can't be beat, and it will last you for many river floats to come!
---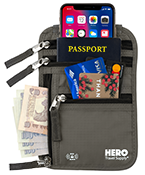 Making sure you have a safe place to keep your valuables is important, especially when you're on the river! This neck wallet is so good for travel, and since it hangs securely around your neck it is the perfect solution for your float trip. The rugged nylon fabric is another bonus when you're on the water.
---

Don't be the person that loses a flip flop halfway through the float trip! These water shoes will fit securely on your feet so there's no possibility of losing them, but they are breathable, quick-drying, and are comfortable enough for some light hiking. Not to mention they are stylish, affordable, and come in any color you could want.
---

This towel is a genius way to stay cool, even on the most blistering of days! Simply soak it, wring it out, and put it around your neck to enjoy the cooling effects. The microfiber material means it's reusable, which will definitely come in handy on all your summer trips.
---

You never know when you might need hand sanitizer, so make sure to throw a bottle in with your supplies. This travel size is perfect to stash wherever you need it, and then you'll be prepared to clean up before your picnic lunch on the river!
---

This underwater camera is highly rated, but is much more affordable than other brands. It comes with a waterproof case that makes it waterproof for up to 98 feet underwater, and with its 4k video resolution, you are bound to record some great memories to enjoy for years to come!
---

Insect repellant wristbands are ideal for a river float, when you'll likely be in and out of the water. Simply wear these on your wrists and ankles and you won't have to constantly reapply repellent spray! This deet-free option will give you up to 5 days of protection.
---

Make sure to bring some sort of paddle for when you get to slow sections of the river or need to navigate around a rock or tree. These oars are fabulous if you are riding in a raft. If you're in a tube, the pack of Frisbees fits the bill perfectly. They are small and compact, but can help you paddle and direct your tube a bit when you find yourself on a lazy river.
---

Of course no one plans to get a flat tube, but you want to be prepared in case you scrape a rock or find out your tube didn't survive the year in your attic as well as you thought. Bring this compact repair kit along just in case and you'll be ready for anything.
---
17. Long-Sleeved Swim Rash Guard: Women's & Men's

These rash guard wet suit tops are amazing for a day in the sun! You can protect your skin from a burn, while also making sure you don't get any uncomfortable chafing against the tube. If you hit a shady spot in the river, you'll be grateful for the extra layer of warmth too.
Other Float Trip packing list items not to forget
---
What to wear on a Float Trip
---
Of course it's a no-brainer to wear your swimsuit on a float trip! But make sure you also look at the weather and bring layers as needed either to stay warm or to protect from the sun. A swimsuit cover up or rash guard with sun protection can double for either of those purposes.
And accessories are almost as important as your clothing! A sun hat is a must to shade your face on the river, while water shoes will help protect your feet and stay on much better than flip flops. If you have to walk across a rocky riverbed, you'll be grateful for something on your feet! Below you'll find a full clothing list for both men and women to make sure you stay comfortable on your float trip.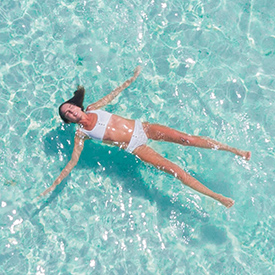 SPRING on a float trip

– March, April, May

If you're going on a spring float trip, you may need a wetsuit, depending on where you live. If you're in a warmer climate where you don't need a wetsuit, still make sure to bring plenty of layers!
SUMMER on float trip

– June, July, August

Summer is the ideal time to float the river in most places! Refer to the detailed what to wear list above, but make sure you bring your swimsuit, sun-protective layers, and a dry change of clothes.
FALL on float trip

– September, October, and November

Depending on where you live, you may be able to get in a trip down the river in the fall! You'll want quick-dry shorts, and definitely some warm layering clothes.
WINTER on float trip

– December, January, February

Lucky you if you're in a place where you can still float the river in the winter! But even in the warmer climates it can still get chilly on the river, so you may want to look into bringing a
wetsuit to stay warm.

What NOT to bring on a Float Trip
---
1)

Books:
No matter how helpful that guidebook is, it's better off at home! If you absolutely need the information, take a picture of the page or bring a copy.
2)

Electronic: Water and electronics just don't mix well! If you need a phone in case of emergency, consider designating one person in your group as the phone person, and make sure to get the floatable waterproof case. For photos, bring along a good underwater camera, and you won't have to worry about it getting wet! Beyond that, leave the electronics at home.
3)

Expensive sunglasses: I've seen too many expensive sunglasses disappear in the river, and it certainly puts a damper on the fun of the trip! Make sure you have a good floatable strap, but even so, leave your designer glasses at home!

4)

Heavy clothing:
You want to think light and quick-dry clothing! Don't wear heavy shoes or thick cotton sweatshirts. They will just get wet and weigh you down.
5)

Valuables: Whether it has monetary or sentimental value, if you would be upset if it hit the bottom of the river, you shouldn't bring it. That includes rings, jewelry, and cash.
6)

Unnecessary items: You'll find that you probably need less than you think on your float trip! So pack light, make sure you really can't go a few hours without something before you bring it on the tube, and coordinate with your floating buddies so you don't all bring cans of sunscreen but no insect repellent.
What NOT to Wear on a Float Trip – (Click to expand)
While you definitely want foot protection, make sure you choose the right kind! You don't want to wear tennis shoes, because they will get heavy and water-logged, and flip flops are another one to avoid because they are way too easy to lose. Also on the what not to wear list: a swimsuit that is uncomfortable in any way! If you're going to be worried about constantly adjusting your swimsuit or if it chafes or rubs at all, go with a different one. Finally, it may sound obvious, but don't wear anything that can't get wet! That goes for both jewelry and clothing.

FAQs about Float Trip travel
---
1. Should I choose a guided float trip or go on my own?

A guided trip will be a great fit for you if you aren't familiar with the river and don't have any tubes or gear. You won't have to worry about pick-up and drop-off, and you can have a stress-free time! But if you or a friend have a little familiarity with the river, and you already have what you need to float (or you know you'll want to go again next year), going on your own would be a great option for you and worth the initial investment. You'll be able to take the float at your own pace, be more independent with your adventure, and go again next year with minimal expense!

2. Where should I float?

Find a river near you that has an appropriate water level and flow rate to make sure you don't end up on white water rapids when you were only prepared for a slow river float. Here is a great list to get you started of some popular rivers across the US.

3. What time of year is best?

Typically summer is the best time for a floating adventure! Spring can mean high waters, and fall and winter can get cold. Make sure to choose a warm day and you are set.

4. Do I need to be able to swim?

You don't need to be Michael Phelps, but you should have basic swimming skills and plan to wear a life jacket no matter what.

5. How do I know how long the float trip will take?

It depends on the speed of the river you're on! 5-7 miles will take most of your day, while a 3-mile float will average 3 hours or so.

6. What is the best way to bring a cooler?

You can buy this nifty cooler tube or you can go with a makeshift version: choose a lightweight cooler to strap onto its own tube. You'll be grateful for that cold drink a few hours into the float!

7. What are good snacks to take on a float trip?

Energy bars, chips, beef jerky, cookies, fruit…anything that is light and easy to pack will be your best bet! Throw them in the cooler on top of your drinks, and they'll be easily accessible whenever you get hungry.
Other packing lists you may like…
2-Week Trip | 3-Day Trip | Baby Packing List | Baby Travel Gear | Bachelorette | Backpacking | Beach | Birthright | Bonnaroo | Burning Man | Business Trip | Cabin | Camping | Canoe Trip | Car Camping | Carry-On | Castle Trip | Cheerleading Camp | College Dorm | Convention | Cruise | Day Hike | Deer Hunting | Desert Trip | Destination Wedding | Diaper Bag | Digital Nomad | Disney | Disney Cruise | Elk Hunt | Fall | Flight | Girl Scout Camp | Girls | Glamping | Golf Trip | Honeymoon | Hostel | International | Island Vacation | Kids | Lake House | Long-term | Men's Packing List | Minimalist | Motorcycle | Moving Abroad | Music Festival | Overnight | Peace Corps | Resort | Road Trip | Round The World | Ski Trip | Snowboarding | Spring Break | Study Abroad | Summer Camp | Summer Vacation | Teen | Theme Park Trip | Toiletries | Toddler | Tropical Vacation | Ultralight | Wedding | Winter Vacation | Weekend | Zoo Trip
Please note: We have over 200 packing lists covering practically every popular travel destination in the world. Access them all on our packing list overview page ➜