Updated on by Lyric Fergusson
T
raveling with children is exciting and rewarding; you get to experience new places through their eyes and create memories that you'll refer back to for years. Although traveling almost always has its ups and downs, we've been all over the world with our children—and how to pack for them is no longer one of our hiccups.
If there's a universal truth about travel, it's this: being ill-prepared is stressful. The chaos of trying to get organized is only compounded when you have little ones along for the adventure. We hope to help you avoid these pitfalls with our top Kids Packing List items! Below, you'll also find sections on what to wear, what NOT to bring, and FAQs about traveling with young ones.

What to Pack for Kids – 17 Essentials
---

This carry-on set fun—which will hopefully entice your kiddo to lend a helping hand—as well as functional. The handle comes with three adjustment levels, the interior includes zippered pockets, mesh, and straps to secure your items, and a matching backpack makes for the perfect personal bag. With 360-rotating wheels, your independent child should have no problem toting this on their own, leaving you one less bag to carry. Unicorn lovers, Car lovers, Dinosaur lovers
---

Whether you're heading to your destination by car or plane, there's going to be some time to pass; a washable marker set is a mess-free solution for draw-happy kids to pass the time. These markers come in their own case with a slot for paper, making for easy organization, which also unfolds into a drawing surface.
---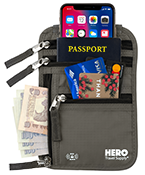 If you have some important documentation or information to keep on hand, like your child's passport, this neck wallet is an easily-accessible solution. The wallet offers secure RFID protection, features multiple zippered pockets to optimize organization, and the adjustable strap is kid-friendly. Our four-year-old loves to wear this around to play grown-up!
---


If drawing loses its novelty, you can easily swap your child's markers for this magnetic set. The illustrated pieces feature the familiar characters of Eric Carle, so your child will have fun acting out favorite scenes and dreaming up their own. The playset is convenient to pack and makes for easy cleanup, with all the pieces fitting seamlessly inside its accompanying case.
---

This cross-body travel tote is more for parents than children, especially when those parents have a long list of items they need to keep within reach. The nylon bag includes multiple mesh and zippered pockets for effortless organization and slides over the handle of your carry-on. You won't have to worry about lugging this around, leaving your arms free for your child—or a coffee to keep up your energy.
---

Dental hygiene just became a lot more enticing with this Crayola-themed travel toothbrush. As a bonus, it comes with a built-in case, twisting into the base for easy packing. You'll simplify the accessories you have to bring while also making brushing fun for your kids—a win-win, in our books!
---

For anyone who likes to keep packing easy, these are a no-brainer! The set includes five assorted packing cubes and two laundry bags, eliminating the headache of separating dirty clothes. The cubes fit and stack seamlessly into any suitcase, adult- and child-size alike. Your kids will have fun organizing their things, and you'll have fun doing whatever you want with all the time you'll save.
---

Towels pose a bit of a packing conundrum: they take up a lot of room, but you can't always ensure that you'll have them at your destination—much less know if you'll need one along the way. This quick-dry towel is the perfect solution; optimized for travel, it fits easily in your luggage, ensuring you'll always have a clean, reliable way to dry off.
---

If you're planning international travel, this universal adapter is a necessity that will cover most of your bases. Compatible with outlets in 100 countries, the adapter also includes USB plugins and can accommodate input devices from the US, UK, AU, and EU. In our experience, you'll probably want more than one.
---

In any travel scenario, "I'm hungry," is almost as common a refrain as, "Are we there yet?" These BPA-free, single-serving containers allow you to pass snacks directly to your child without having to dole them out. With snap-on lids, the colorful bowls also minimize leaks!
---

This Wikki Stix travel play set is a perfect alternative to waxy crayons—which we all know break too easily, after picking fragments out of carpet and the crevices of cars. Wikki Stix are non-toxic and offer a tactile alternative to drawing; this set comes with 144 brightly-colored pieces that can be molded into whatever shape your child dreams up. All the pieces fit right back in the case for effortless cleanup.
---

An umbrella is a must-have on any trip, and this one is optimized for travel. It compresses, comes with its own case for easy packing, and is lightweight and portable. When rain strikes, it opens easily with the press of a button, and the wind-resistant top provides extra coverage. We always rely on this umbrella and imagine it'll become a staple for you, too—both while traveling and at home.
---

Whether traveling by plane or car, you're guaranteed to come across a number of scenarios where you'll want to give your child's hands a quick sanitize. This organic sprayable hand sanitizer is naturally fragranced with essential oils and comes in a 2 o.z. travel bottle, which is well under the TSA limit for carry-on liquids.
---

A power bank is a must-have for tech-happy kids (or parents). The slim design of this model makes it easy to pack, but that's just the tip of the iceberg: it features two USB ports, a micro USB port, and LED lights that indicate the charging power left.
---

You can practice sustainable travel for yourself and your children when you add this filtered water bottle to your luggage. This bottle is one of our favorites; the carbon filter removes most bacteria, parasites, and microplastics while reducing the presence of chlorine, herbicides, and pesticides, lessening any concerns you have about the quality of your drinking water!
---

If your kids get cranky without their sleep (or just like to snuggle), this pillow-blanket combination makes traveling in comfort a breeze. The stuffed animal pillow is attached to the blanket, which folds up inside for easy packing. Even better, it comes in 7 fun animal types so your child can pick a design they're excited about.
---

Adhering to the TSA liquid guidelines can be a little overwhelming, but this solid shampoo has quickly become our go-to brand for simple travel. The soap is vegan, plant-based, sustainable, and this particular type has been specially formulated for kids and babies. They also offer conditioner and body-wash, as well as plenty of adult options!
Other Kids packing list items not to forget
---
What to Wear for Kids
---
Packing the right clothing for your kids is tricky, especially if you plan lots of different activities. We've kept this list simple and versatile, with plenty of mix-and-match pieces that can be layered to accommodate all kinds of weather.
Choosing comfortable clothing that your child can play in is a must, as are options with utility—slip-on sneakers with a formal design, for example, can double up for a day of sightseeing and a family dinner at a nice local restaurant.
Regardless of the destination, it's important to choose clothes your kids find fun and can dress themselves in with ease. Below, we've offered some of our favorite items to simplify packing and dressing for almost any destination.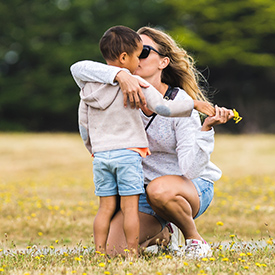 What NOT to Pack for Kids
---
1)

Books:
Books add unnecessary weight to your carry-on, and they're easy to misplace or leave behind. Instead, opt for a Kindle and load your child's favorite stories on the device; you'll save a ton of room, and it provides space for as many books as your reader wants.
2)

Heavy or bulky toys
When packing your child's toys, make sure you stick to compressible, lightweight options. Not only will it take up less space in your luggage, but you'll also find it far easier to lug around. If you're able to stick to items that pack easily, like the activity kits linked in this list, you'll also have an easy cleanup.
3)

Bulky clothing
Much like toys, bulky clothing isn't ideal. Instead, opt for lighter items that can be layered to accommodate the weather. If you're flying where you'll need a coat, you can have your child wear it onto the plane and store it in the overhead bins, rather than stuff it into your suitcase—you'll need it when you land, anyway!
4)

Too many snacks or disposable items
Although it's important to have enough snacks to keep your child satisfied, it's not necessary to bring the whole grocery store with you—pick a few favorites that are easy to take on the road. You also don't need to stock up on lots of disposable items, like certain toiletries, paper products, or non-essential medicines; many of these can be picked up once you've arrived at your destination.
5)

Multiples
Overpacking might be worse than underpacking! It's rarely useful to double or triple-up on the items you're taking along. Avoid loading up on blankets (you only need one), jackets, or shoes; instead, simplify and pinpoint one or two items that offer multi-functionality. The one-piece pillow blanket we linked above is a great example!


What NOT to Wear for Kids:– (Click to expand)
For both traveling to your destination and getting around after you're there, it's important to dress your children in clothing that's comfortable. For traveling, make sure their outfits aren't going to cause discomfort by being restrictive or overly warm. Once you reach your destination, keep in mind that you'll want to avoid clothing that has complicated washing instructions, or any irreplaceable clothing. Messes happen, so you'll need hassle-free outfits that will withstand spills.

FAQs about traveling with kids
---
1. Does my child need a passport?
A) From infant to adult, every U.S. citizen is required to have a passport for international travel. Children under 16 must apply for a passport with two guardians, as well as proof of guardianship. Moreover, child passports cannot be renewed and will expire every 5 years. For the specific requirements and more information, you can visit travel.state.gov.
2. How do I navigate the airport with a child?
A) Before your flight, make sure you talk your child through all the steps in the airport: checking luggage, security check, and waiting to board. On the day of your flight, arrive early to leave your family plenty of time to make it to your gate. Depending on their age, you may allow your child to be responsible for their own luggage. Have your items prepped for security, including electronics accessible so you can remove them with ease, and liquids in see-through, TSA-approved bags. Finally, be aware that many airlines offer early boarding for families, saving you time in line; do your research, and see if it makes sense to book with an airline that offers this benefit.
3. What is standard airline policy for children?
A) Unfortunately, there is no universal policy for flying with children, and all airlines differ. If your tickets haven't yet been purchased, you can compare airlines to see which offers the most appealing policies. If you've already purchased your tickets, you'll need to look into your airline's policy so you know what to expect.
4. What should my child wear while traveling?
A) Dress your child in comfortable clothing and layers that are easy to remove. This will make bathroom breaks a lot easier—especially in airplanes—and ensure your child can easily adjust their outfit if they grow hot or cold.
5. What if my child needs a booster seat when I arrive?
A) If you're flying somewhere and anticipate your child will need a booster seat upon arrival, you have a couple of options. First, most major airlines will check a booster seat free of charge, so you can bring your own. Alternately, you can purchase an inflatable, easy-pack booster seat, which we linked in our essentials list above; this saves you the hassle of checking an item.
6. How do I keep my child entertained?
A) Keeping children engaged while traveling can be quite a feat. Have a set of diverse activities ready to rotate that have replayability. A game that can only be played once or twice, for example, isn't going to offer much fun or engage a lot of time. Choose games and toys that are portable, encourage creativity, can be played in a variety of ways, and are appropriate for use in multiple settings.
7. What does my child need to know before traveling?
A) Regardless of your destination, it's great to offer age-appropriate information about where you're traveling. If you're vacationing internationally, take some time to learn a little bit about the place you're visiting, including its history, culture, and common phrases, if the native language is different from yours. Watch a fun documentary or read a book; get your child excited to explore!
B) When it comes to methods of travel, it's helpful to debrief so your child knows exactly what to expect. Establishing your own set of airplane, train, bus, or car rules will help things run smoothly.
8. What are some child-friendly activities to do once we reach our destination?
A) If you're heading somewhere and aren't sure what to plan for your child, there are limitless resources online to do some digging—including our own site! When in doubt, museums, parks, beaches, and specialty shops are always a good bet. Do your research beforehand, and check out if any area festivals or events are going on while you're visiting.