Updated on March 2, 2021 by Asher Fergusson
S
ometimes, in the heat of the summer, all I can think about is the feeling of snow on my face. I daydream about making snow angels and blowing the steam from my hot cocoa.
If this sounds anything like you, then maybe it's time to consider a winter vacation! Most folks indeed opt to travel in the summer, but there's something truly special about driving or flying to a winter wonderland.
This winter vacation packing list will cover everything you need to know including what to wear on a winter vacation, what NOT to bring and other helpful FAQs.
What to Pack for a Winter Vacation – 17 Essentials
---

Packing your heaviest coats and thickest pants for a week away is already hard enough, nevermind trying to fit them all into as few suitcases as possible. That's why these packing cubes are absolutely essential for winter traveling! The varying sizes of the cubes let you stuff each one full by clothing category, and label them (note cards included!). Just place the cubes in your suitcase and your clothes will stay folded, organized and ready to go!
---

Even if I'm going to be staying at a hotel, I find some comfort in bringing my own towel. Most towels are super bulky and not worth the hassle, but this microfiber one puts all others to shame! You can order it in a variety of sizes and bring it along as you participate in your snow sports — it's especially useful for hair that gets wet from falling snow! The towel comes with a small mesh bag that makes it easy to pack and keep track of no matter where you are.
---

If your destination is overseas, don't even think about going without packing this universal travel adaptor. It works for all the varying outlet shapes in Europe, the UK, Ireland, Thailand, Australia and so many more. It weighs less than four pounds and comes with a cotton travel bag perfect for storage in your carry-on.
---

Cute mittens are great but if your gloves aren't waterproof, your cold fingers will look red and swollen — not comfortable at all! These waterproof gloves are resilient to moisture, insulated and touchscreen compatible. They also come with a detachable wrist strap to keep the gloves from falling off or being separated.
---

You might think it's over the top to have a Virtual Private Network in place for a short trip, but we've found that this is something we simply CANNOT travel without. VPNs ensure that our information is kept secure and unhackable, no matter where we are. Better safe than sorry, right?
NordVPN is a great choice as a VPN provider while traveling. Their site is easy to use and will ensure that all of your information is kept private every time you sign-on!
---

Another must-have item that newbie travelers might mistakenly forego is travel insurance. Almost every trip I've been on, there's been something that doesn't quite go to plan — but that's half the fun with traveling! Fortunately, World Nomads will not only cover the costs of stolen or damaged luggage, but they'll also help cover medical emergencies or other unprecedented events that change the course of your trip. Signing up with travel insurance before hopping on the plane is like packing a security blanket you know will have your back, no matter what!
---

It's always a good idea to bring a backpack, wherever you're going. If flying, I like to use it as my carry-on because it's super lightweight and can fit a ton of stuff that doesn't need to get tucked into my checked bags. The good news is this one is also water-resistant, so you don't have to worry about the snow or rain ruining your goodies inside!
Remember — if you use it as a carry-on, your toiletries need to be kept in a Ziploc bag by themselves and need to be 3.4 ounces or less. If it's more than that, keep it in your checked bag (and still in a Ziploc or other protective bag, just in case of spills!).
---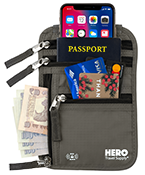 When traveling anywhere, it's always going to be safer to have a wallet wrapped around your neck instead of in a purse or backpack. In snowy climates, especially, you'll likely be bundled up and have a harder time reaching into a backpack or fishing through a purse to find your cash and ID. These neck wallets make it so easy and are super lightweight and accessible, no matter how many layers you have on!
---

Anytime the temperature drops below about forty degrees, I'm ready to put on my comfy thermals. Fortunately, Thermajane makes soft, fleece-lined thermal underwear that's cozy enough to wear around the house but fitted enough to wear underneath a pair of jeans and shirt if going out into the snow. Their unique size guide ensures you pick the size perfect for you and their poly-spandex material keeps the outfit from bunching or riding up throughout the day.
---

As you're packing for the cold, it's important to remember that most of the heat in your body actually escapes through your head and your feet, which is why thick wool socks are absolutely necessary for any snowy destinations. These cozy socks are made with a premium blend of merino wool to keep your feet dry, odor-free and comfortable no matter the climate.
---

Anytime I know I'll be even near the snow, I always make sure to pack my insulated snow boots. Even if it's just a heavy rainstorm or icy conditions in the morning, these boots will keep your feet dry and warm all day long. Columbia makes a line of insulated boots for men and women that include arch support, non-slip soles and waterproof seam-sealed construction. They might seem a bit pricy, but I've had a pair last for almost a decade so far, so the investment is definitely worth it!
---

Even if you're covered from head to toe while out playing in the snow, your fingers are almost always going to get at least somewhat cold. That's why these Hot Hands are worth packing away in your bag for those moments when breathing hot air on them just isn't quite doing the job. Hot Hands are portable, air-activated heating products. They're perfect to tuck into your pocket or your gloves and use on the slopes or in between snowman-making contests.
---

Whether your destination is snowy, icy or just windier than you're used to, it never hurts to bring along a compact umbrella. This specific umbrella weighs less than a pound and easily fits in a car glove box, backpack, or purse. No matter how much we plan for the trip, we can't predict the weather so we don't go anywhere without it!
---

Whether you're planning a ski trip, a mountain hike or a snow-mobile excursion, comfortable and warm hiking pants are a must. Able to be worn on top of your thermal underwear, these quick-dry pants are lined with fleece and have several pockets so you can lighten the load in your backpack and not worry about moisture seeping through. There's an adjustable waist feature and extra cushion and protection on the knees, which is perfect for any outdoor adventure that might lead to a tumble or dirty knees!
---

Merino Wool is actually the warmest fabric you can wear to protect yourself from the sharp coldness of winter climates. You don't need a thick, puffy jacket to keep you warm because, as you may already know, dressing in layers is far smarter and warmer in the long run! These Merino Wool long sleeve shirts are a perfect base layer for any winter excursions and can be paired easily with a flannel, sweater or cardigan for a more complete look.
---

A lightweight rain jacket is never a bad idea, especially in colder climates where rain is more likely. I've begun to travel wearing my rain jacket, just in case of changing weather conditions in my final destination. It also works great to wear with a thicker shirt or undershirt so you look less like the Michelin Man and more like someone who came prepared for the weather!
---

If you're not craving hot chocolate already, you definitely will be by the time you are seeing the snow! Pack a leakproof thermos to bring with you to the slopes for a snack in the snow that'll save you a couple of bucks and surely make your friends jealous (unless you're nice enough to share!). This thermos is stainless steal, guaranteed to keep your food or beverages hot for up to fifteen hours and has a lifetime warranty. If that's not good enough, it's also dishwasher safe and a super cool color!
Other Winter Vacation Packing List Items NOT to Forget:
---
What to Wear on a Winter Vacation?
---
Of course, your vacation should not be centered around your outfits. But it's important to know the huge difference it'll make if you are comfortable and warm versus looking cute but cold!
No matter what, make sure to bring at least one heavy coat, plenty of pairs of socks and underwear, lots of long-sleeve or layered shirts, good shoes, and warm accessories. Here's a breakdown of what men and women should wear while in colder regions of the world: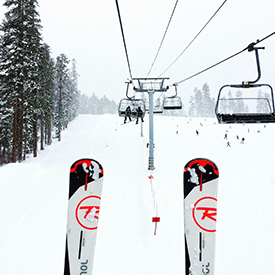 What should WOMEN Wear on a Winter Vacation? – (Click to expand)
Below is a sample women's clothing list.
(All items link to Amazon.com for your convenience).
My rule of thumb (no matter where I'm going) is to make sure I have at least one super comfy outfit and one "nice night out on the town" outfit. In this case, you can have that and still stay warm if you make sure to choose your fabrics carefully. The goal is to stay warm while still being compact — layers are key!

What should MEN Wear on a Winter Vacation? – (Click to expand)
Below is a sample men's clothing list.
(All items link to Amazon.com for your convenience).
A good, warm pair of pants and a reliable sweater will go a long way, rain or shine, snow or sleet. You can layer the sweater with a short- or long-sleeved shirt and even add a jacket on top if necessary.

Dressing appropriately for the activity – (Click to expand)
Nightlife: Fur-lined leggings with a skirt, long-sleeve blouse , Sweater and ankle boots (women); Dark-wash denim jeans, t-shirt or long-sleeve shirt, flannel jacket and loafers (men)
Snowsports: Thermal underwear, snow pants, long-sleeve shirt, sweater, puff jacket, beanie/earmuffs, gloves, goggles
Hiking: Flexible pants, long sleeve shirt or t-shirt, puff jacket, hiking boots, beanie
What NOT to bring on a winter getaway
---
1)

Don't BRING bath towel:
Your hotel or other living quarters should supply these! But, if you're worried that a towel won't be there or won't suffice, you can always buy a relatively cheap towel at a local store. You can also use a travel towel (mentioned above!) as a bath towel if you'd like — it does the same job but takes up about a fifth of the amount of space!
2)

Don't PACK sandals: Even if you're the type that likes to wear flip flops around the house no matter the weather, it's best to forego them for this trip! Your socks or house shoes can keep your feet warm, or you can always go barefoot if you need to air them out!
3)

Don't TAKE jewelry: As fun as it is to get all dressed up with your favorite jewelry, I'd recommend leaving most of your pieces at home. Earrings and bracelets can still be seen, but necklaces will likely get lost in the layers, and (worst case scenario) would be extremely difficult to find if lost.

4)

Don't BRING unnecessary valuables:
This is a rule of thumb for ANY trip — you will rarely need your most expensive items with you when you're away, but if you DO end up taking something, be sure to invest in travel insurance for your items (scroll up to see what we recommend!).
5)

Don't PACK too many pairs of shoes: This was my weak point for so many years, but I've finally come to the other side and can see now how unnecessary multiple pairs of shoes are while traveling. Wear your heaviest/bulkiest shoes on the flight to save space while packing and bring two more pairs max! Shoes take up the most space in luggage — they can be the difference between taking one suitcase and two!
6)

Don't TAKE high heels: As good as we know they'll look with all of your outfits, any shoe that requires bare feet just isn't worth packing for a cold destination. You might think you'll be able to stand it, but it's just not worth the discomfort. Opt for heeled ankle booties instead of your strappy stilettos and you'll be good to go!

FAQs about winter vacations
---
1. What should I wear during my winter travels?
If you're traveling by plane, I suggest wearing comfortable clothes with your bulkiest shoes for the trip. It might seem odd, but the shoes will be the most difficult thing to pack. It might not be cold where you're coming from, but it'll be cold where you're going — remember to dress for the destination (you'll be glad you did when you get there!).
2. What should be packed in my carry-on?
I usually use a backpack for my carry-on, but small suitcases work just as well. My go-to list looks like this: toiletries (3.4 ounces and less), laptop + charger, phone + charger, headphones, earplugs, neck pillow, gum, peanut butter crackers, extra pair of underwear (you never know!), water bottle (empty when going through security but easily refillable once you're near the gate), journal and pen.
3. What are the best winter vacation spots?
If you're staying in the states and want to experience nature, look for a cabin that fits your taste in the mountains of Montana or Colorado. Both places offer plenty of options for snow sports and there are several beautiful national parks in both locations. If you want to be close to a city, New York City offers the quintessential experience but Boston, Massachusets, and Bar Harbor, Maine both offer a winter city experience, as well.
If you're looking to leave the country, the French Alps are as beautiful in person as they look in the greeting cards. The cities Vienna and Salzburg in Austria are heralded as two of the most festive cities in Europe, but Budapest, Hungary is high on the list as well.
4. What are the best national parks to visit in the winter?
Yosemite National Park in California is top of the list for places to be closer to nature in the winter months. There are snow sports available within the park and countless trails to get lost on while admiring the snow-covered trees. Rocky Mountain National Park in Colorado is known as a Winter Wonderland — and for good reason, too. It's the type of beautiful winter backdrop you have to see to believe. Glacier National Park in Montana offers similar views but with the added bonus of unbelievable stargazing every night, especially in colder months.
5. What's the warmest jacket I should bring?
As I mentioned above, Merino Wool is one of the warmest fabrics you can find. It's great for base layer clothes, but you can also find jackets with a Merino Wool lining as well. If you want something less furry, reliable puff jackets are a good choice as well. You want something that has a waterproof texture and is insulated within.
6. How many pairs of socks should I bring?
When out in the cold, you can either go for thicker wool socks or you can double up. Either way, I always overpack socks and suggest bringing 1.5 more socks than the number of days you plan to be there, at least. So if you're going for a week, pack 11 pairs of socks. If you don't use them all, just keep them folded up and toss right back into your sock drawer when unpacking.
Other packing lists you may like…
2-Week Trip | 3-Day Trip | Baby Packing List | Baby Travel Gear | Bachelorette | Backpacking | Beach | Birthright | Bonnaroo | Burning Man | Business Trip | Cabin | Camping | Canoe Trip | Car Camping | Carry-On | Castle Trip | Cheerleading Camp | College Dorm | Convention | Cruise | Day Hike | Deer Hunting | Desert Trip | Destination Wedding | Diaper Bag | Digital Nomad | Disney | Disney Cruise | Elk Hunt | Fall | Float Trip | Flight | Girl Scout Camp | Girls | Glamping | Golf Trip | Honeymoon | Hostel | International | Island Vacation | Kids | Lake House | Long-term | Men's Packing List | Minimalist | Motorcycle | Moving Abroad | Music Festival | Overnight | Peace Corps | Resort | Road Trip | Round The World | Ski Trip | Snowboarding | Spring Break | Study Abroad | Summer Camp | Summer Vacation | Teen | Theme Park Trip | Toiletries | Toddler | Tropical Vacation | Ultralight | Wedding | Weekend | Zoo Trip
Please note: We have over 200 packing lists covering practically every popular travel destination in the world. Access them all on our packing list overview page ➜