Updated on by Asher Fergusson
What to Pack as a Digital Nomad – 17 Essentials
---

This universal power adapter will come in handy nearly anywhere you decide to go as a digital nomad. This will be an essential tool whenever you plug in your phone, laptop, or any of your electronics when you're working and living abroad. This adapter is awesome because it works in over 100 countries and comes with a lifetime warranty guarantee!
---

As a digital nomad, you may decide to change locations on a whim. If you're headed overseas and are planning to cross several time zones, you'll be glad you brought this homeopathic jet lag relief! Use it both as a prevention and as a cure to clear your symptoms of jet lag and keep you working at your full potential.
---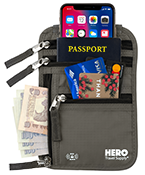 A neck wallet will prove to be infinitely helpful as a digital nomad, as it provides a safe and secure place to keep your credit cards, cash, phone, passport, and any other valuables. Wear it under your clothes and around your neck to ensure your belongings stay protected from pickpockets.
---

You'll definitely want to have a good notebook as a digital nomad. Whether you need to jot down notes on the go or if you'd like to keep a journal during your adventures abroad, you'll be glad you brought along a handy notebook. This one gets awesome reviews and is compact enough to toss in your purse or daypack.
---

A lipstick-sized portable charger is perfect for digital nomads, as you'll likely often have the need to recharge your electronics on the go. This one can easily be kept in your daypack or backpack so you never need to worry about your phone or camera running out of battery when you're out and about.
---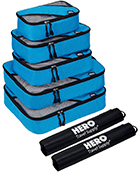 Packing cubes will be a total lifesaver for digital nomads traveling often. Whether you're headed out for the weekend or if you're picking up your life and moving somewhere new, you'll be glad you have packing cubes to keep you organized and help you to avoid overpacking. This set is awesome because it comes in a wide variety of different colors and sizes.
View on Amazon.com ➜
---

A VPN will be a digital nomad's best friend! Use it to access websites from home that may be blocked or censored in the country you're traveling to, and protect yourself from potential hackers any time you connect to WiFi in public places like in cafes, airports, or airbnbs. A VPN can also be a useful way to get around paywalls on popular news sites.
---

A windproof travel umbrella will be infinitely useful as a digital nomad. Protect yourself and your equipment from the wind and rain or keep yourself safe from the sun in hot and intensely sunny destinations. This is a great item to have with you wherever you're traveling to, and is compact enough to toss into your daypack.
---

Activated charcoal pills can be a lifesaver when you're working remotely from anywhere. If you're out of the country and you eat or drink something that doesn't sit well with you, you'll be glad you brought these activated charcoal pills to quickly expel the toxins in your body and keep you on your feet.
---

A reusable water bottle is an absolutely essential part of the digital nomad lifestyle. No matter where you are, it's extremely important to stay hydrated. Avoid spending money and doing harm to the environment by buying single-use plastic water bottles, and instead opt for a LifeStraw water bottle with a built in water filter.
---

This one seems like a no-brainer, but it's likely that nearly every digital nomad will be in need of a reliable laptop! This one is relatively inexpensive and can be purchased right on Amazon! Using a laptop allows you the freedom to work from wherever, whenever, and you're sure to be glad you've got one that you can count on.
---

Travel insurance is incredibly important for digital nomads to have, as you'll likely be moving around a lot and working in foreign and exotic places. TravelInsurance.com is a favorite of travelers throughout the world. They will help you compare the best plans available to find one that is ideal for your trip! We love their comprehensive and relatively inexpensive plans that give us peace of mind as we travel the globe.
Compare policies at TravelInsurance.com ➜
---

A daypack is a great item to have as a digital nomad, as it allows you to pack up and move as you want and need to throughout the day. If you're in a foreign city and want to check out a variety of the area's different coffee shops as you work, you'll need a daypack to carry your things from place to place.
---

A laptop stand is an awesome thing to have for anyone working from home or remotely. This allows you to comfortably sit at your computer without having to strain your neck looking down at your laptop or trying to work with your computer perched in a weird position.
---

Electrolytes are key whether you're traveling or not! Especially if you're headed somewhere hot or plan to do a lot of physical activity, you'll need to make sure your body is properly hydrated at all times. Adding some of these electrolytes to your drinking water will help kill a hangover, too!
---

When you're out and about as a digital nomad, you may at times get sweaty and gross without the option for a shower! If you find yourself in need of a quick freshening up during your travels, simply use one of these handy deodorant wipes to keep you feeling and smelling much cleaner!
---

During your adventures as a digital nomad, you will inevitably make new friends and find yourself wanting to spend a night out on the town and enjoy the nightlife scene in your new destination. Be sure to bring at least one gorgeous outfit that will help you to look and feel great during your nights out!
Other Digital Nomad Packing List Items Not to Forget
---
What to Wear as a Digital Nomad
---
What NOT to bring as a Digital Nomad
---
Digital Nomad FAQs
---
1. What is a digital nomad?

A digital nomad is someone who makes a living working remotely using telecommunications technologies and lives as a nomad, constantly moving from destination to destination, not often staying in one place for too long.

2. How often should I travel as a digital nomad?

As a digital nomad, you have the ability to travel as much or as little as you want. Many digital nomads will choose a destination and stay there for several weeks or even several months before choosing to move on to their next destination.

3. Where should I go as a digital nomad?

When you choose the digital nomad lifestyle, the world is your oyster! You are free to go nearly anywhere in the world, as long as you make sure to have the proper travel and visa requirements before you decide to make your move. It's important to look up what those requirements are and make sure you leave enough time to fulfill them before you go.

4. Is it possible to make a living as a digital nomad?

Absolutely! There are so many ways you can make a living as a digital nomad, from teaching to sales to blogging and beyond. There are plenty of jobs that can be completed remotely, and with the rise of technology, more and more companies are offering working remotely as an option.

5. Do I need a visa to be a digital nomad?

It depends. Whether or not you need a visa will depend on where you decide to go and how long you plan to stay. Many countries will allow you to enter and stay for a certain amount of time on a tourist visa before you will need to apply for something more significant.
You may also like these other packing lists…
---
---
---
---
---
---