Updated on by Asher Fergusson
W
hen you're flying, a well-packed carry-on bag can mean the difference between preparedness and scrambling. It's difficult to keep track of everything you'll need, much less how to fit it in such a limited space—and on top of that, you have to keep all the airline rules and regulations straight.
We've been through this carry-on juggle dozens of times, and are happy to share our carry-on packing list for much happier travel! Additionally, you'll find sections on what to pack in a carry-on, what NOT to bring, and FAQs!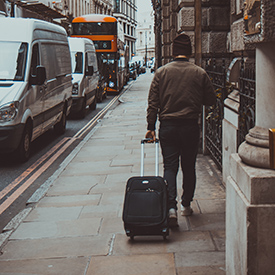 What to Pack for Carry-on – 17 Essentials
---

The first step to packing your carry-on? Good luggage! If you're in need of an upgrade, this option is straightforward and reliable: it has a protective outer shell, a lined interior with plenty of space, zippered pockets and securing straps, and spinner wheels for effortless rolling. You'll have a solid foundation when you start with this suitcase!
---

Another carry-on must-have are packing cubes, which maximize space and organization and minimize disorder. This set of 5 offers various sizes and also includes two laundry bags. Not only will they make the packing process easier, you'll be able to grab what you need from your bag in a flash.
---

We've all experienced the discomfort of trying to doze in a plane. If you're in for a long trip, this neck pillow, eye mask, and earplug set will greatly increase your chances of catching some sleep. The memory foam neck pillow comes with an adjustable strap so you can find a secure position that's comfortable. By the time you arrive at your destination, you'll feel refreshed!
---

Jet lag can knock you off your feet and negatively impact your first days in a new locale. Rather than walk around in a daze, these tablets help you alleviate some of that funk! As frequent travelers, they're favorites of oursand they're free of side-effects and don't impact existing medication.
---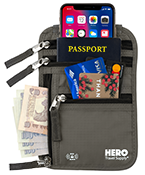 One of the most important parts of traveling is organization, particularly when it comes to important objects like your passport, documents, credit cards, tickets, and cash. This RFID-secured neck wallet keeps your most critical items close at hand. With multiple zippered pockets for organization, you'll never have to panic-dig through a bag or wallet.
---

These noise-cancelling headphones are a must, whether you're trying to get some sleep, passing the hour with a TV show, or tuning out an especially loud airport. Although they come with wiring capability, the headphones offer bluetooth if you want to eliminate the cord getting caught or tangled. Better yet: a full charge provides up to twenty hours of wireless use.
---

Although we would love to know every trip will go smoothly, things happen, and opting for travel insurance provides necessary security. World Nomads will help you find a plan that works for you, and you have the added perk of 24/7 emergency assistance. They also cover just about every activity imaginable, meaning you can tackle all your travel plans with peace of mind.
---

An upset stomach will throw a wrench in your day, whether you're in-flight or getting around your destination. These natural, herb-based motion sickness patches help you avoid all that unpleasantness. Even if you don't usually get motion sick, these are great to throw in your luggage in case of emergencies
---

With a secure VPN, you can avoid the lesson we learned the hard way: on unsecured or untrusted networks, it's easy to have your confidential information stolen. This VPN secures your network connection, allowing for worry-free internet access. It offers thousands of servers across more than fifty countries, guaranteed a reliable connection in many places around the world.
---

A universal adapter is an absolute must when traveling internationally. The question of whether you'll be able to plug in your devices might slip off your radar, but with this adapter, you can solve that problem before it becomes one. This model accommodates over 100 countries—in our experience, you'll probably want to pack more than one!
---

Even if you're heading to a sunny destination, this travel umbrella is so effective and portable that including it in your carry-on is a no-brainer! This is one of our favorites for travel and everyday use, and for good reason—the umbrella is wind resistant, opens with the press of a button, and fits easily in a small case.
---

We're always a little hesitate to throw loose shoes in with our luggage (even if they're not dirty), so we opt to pack them in shoe bags. You'll be able to keep your shoes together and separate from the other items. They make packing a breeze, and keeps all your clothing nice!
---

This nylon, water-resistant bag is perfectly sized for your personal item bag. A zippered side pocket slides securely over the handle of your luggage, maximizing ease and functionality. If you don't need an extra bag en route to your destination but plan to pick up some souvenirs along the way, this bag also folds up for easy storage; you can pack it on the way there, and use it coming back!
---

When you're traveling, frequent hand sanitation is a must. This organic sprayable hand sanitizer is the perfect for people who don't like gel sanitizer—and it might even convince a few others to change their minds! Naturally fragranced with essential oils, this sanitizer smells great and is also easy to pack, coming in a TSA-compliant 2 oz size.
---

If you plan on any hiking—or even extensive walking—this daypack is a must! Optimized for travel, the bag is waterproof, zips into itself for easy packing in your carry-on, and includes multiple zippered pockets. It's one of our must-haves for lugging what you need around almost any destination!
---

Whether you're powering a phone, e-Reader, smart watch, or headphones, you'll probably need some backup juice for your trip. You can keep your devices charged and running smoothly with this slim, easy-pack, portable power bank. It's hassle-free, universally compatible with devices, and has enough power to fully charge your device as many as 8 times.
---

If you dreads popping ears when you fly, these earplugs are a great solution! They naturally reduce pressure and noise, so you can lessen the discomfort of attitude changes while also drowning out the ambient noise around you—a win-win, if you ask us!
Other Carry-on packing items not to forget
---
What clothing to pack in a carry-on
---
What you pack in your carry-on depends on your destination and planned activities, but there are basics you can bring along to prepare for most occasions. Your trip will go a lot simpler when you make sure you have versatile, multi-activity clothing options that you can mix and match. If you have a solid base wardrobe, you'll also leave plenty of room for specialty items, clothing, or other gear you might need!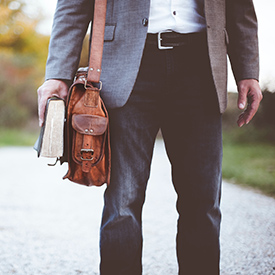 What Women Should Pack in a Carry-on – (Click to expand)
Below is a sample women's clothing list. (All items link to Amazon.com for your convenience).
In their carry-on, women should prioritize pieces that can be paired and layered. Five or six staples can easily create twice as many outfits when you pack items with complimentary colors. Stay away from boldly patterned fabric, unless you want to select a couple of statement pieces that can be worn with a variety of neutral items. Selecting cute or chic shoes that are also comfortable will allow you to look stylish while whetting your explorative appetite!
What Men Should Pack in a Carry-on – (Click to expand)
Below is a sample men's clothing list. (All items link to Amazon.com for your convenience).
In their carry-on, men should pack clothing that's appropriate for several activities. For example, choose a pair of pants that can be dressed up or down with the right combination of shirt and shoes. Pack items that can accommodate any outfit, like a reversible belt, to free up room in your luggage, and simplify outfit selection. Sticking to a complementary color palette will also make it a lot easier to put together a cohesive outfit!

Your specific destination and plans will impact the clothing you pack in your carry-on, but there are standard to-dos in almost every place that tourists will check off. If you pack for these activities, you'll cover a few of your bases!

How to dress for activities in Carry-on – (Click to expand)
Sightseeing:
If you're heading out to hit some landmarks—whether that means shopping, visiting museums, exploring a market, or attending a festival—you'll want to prioritize stylish comfort. Wearing solid shoes is an absolute must, and you'll want to pair pants or shorts with a nice top that can transition between spaces.
Night Out: For a night out, it can be fun to dress up! Rather than packing a whole outfit you'll only wear once, pack high-quality staple items and elevate them with accessories. Do your research before going to your event to make sure there's not any kind of dress code, whether your venue of choice is a club, theater, or something else!
Hiking: If you're heading out on a more strenuous hike, less aesthetically pleasing and more enduring gear is the way to go! Make sure you wear weather-appropriate, breathable clothing you can sweat in, as well as shoes with excellent tread. It's wise to bring a fanny pack or a light daypack, so you can carry a water bottle and other necessities like your keys, phone, and snacks.

What NOT to bring in your carry-on
---
1)

Liquids over 3.4 oz:
Carry-on liquids are limited to one quart-size, clear container of bottles. Each bottle cannot exceed 3.4 oz. Packing travel-size liquids or solid alternatives (like the solid shampoo we linked earlier) will ensure you meet all the requirements!
2)

Anything powered by lithium batteries: Lithium batteries are not allowed in carry-on luggage; make sure none of your devices require them.
3)

Bulky clothing items or jackets: Don't waste space by packing bulky clothing items or jackets! If you need a heavy jacket but are departing a warm locale, wear it onto the plane and stash it in the overhead bin. Otherwise, prioritize layers that consume less baggage space.

4)

Multiples:
There's no need for three or four of the same item. Stick to one or two of each that can be freshened up with new outfit pairings. Choose shoes and accessories that can be worn with multiple outfits.
5)

Books or magazines: It's the age of the e-Reader, and thank goodness—you don't have to bog yourself down with excess material! Before your flight, load up on all the books and magazines you'll need to keep yourself entertained.
6)

Hard containers: Rather than organize your carry-on items in hard-shell containers, opt for soft bags or packing cubes that compress easily.

What NOT to wear while flying – (Click to expand)
On your flight, make sure you opt for comfortable, flexible clothing. Don't wear items that are hard to remove, like a pull-on sweatshirt that'll cause you to jostle your seatmate when you take it off. Steer clear of sandals, as many security checks will require you to remove your shoes and if you're even the slightest germaphobe, you'll want to keep your feet off the high-traffic airport floors. If you're able to wear pieces that you can repurpose at your destination, you'll maximize your travel wardrobe!
FAQs about packing a carry-on
---
1. How does a carry-on bag differ from other types of luggage?

Standard terminology for baggage includes the personal, carry-on, and checked bag. Each airline has its own baggage policies and regulations, but the gist remains: a personal bag is a small bag that you carry onto the plane and store under the seat in front of you; a carry-on bag is luggage that meets specific size guidelines and is brought on the plane with you to store in overhead bins; and checked luggage is larger than a carry-on, stored elsewhere on the plane, and has more freedoms regarding what you're able to pack.

2. What is the standard carry-on policy?

All carry-on policies differ by airline, although there may be some overlap. For exact specifications, you'll need to check with your airline. Typically, carry-on sizes range from 22-24 inches long, 13-16 inches wide, and 9-10 inches deep. It's also important to know that some airlines may charge for your carry-on, while others are included with the purchase of your ticket.

3. What should I pack in a carry-on?

If you're traveling with a carry-on and checked bag, prioritize the most important items and keep those in your carry-on to avoid the risk of losing baggage. If you're only packing a carry-on, pack strategically—maximize the number of outfits you'll be able to get out of your clothing, choose only the necessary toiletries and medications to bring, and utilize the space wisely in your personal bag to free up more carry-on room.

4. What should I look for in a good carry-on bag?

A good carry-on bag will be durable, include plenty of zippered pockets, have well-utilized interior space that maximizes storage, have a solid extendable handle, and include attached handles on multiple sides for easy grabbing. The type of wheels are also important to consider; roller bags have fixed wheels that only roll backward and forwards, while spinner wheels can rotate 360 degrees and generally allow for more flexibility. While roller wheels are not as convenient as spinner wheels, they may be less prone to breaking.

5. When is it necessary to check my bag?

You'll find that you need to check your bag when it exceeds the carry-on dimensions, if it's necessary to pack any sharp objects, or if you have to bring along liquids greater than 3.4 ounces. Unless you're a super-efficient traveler, extended trips—like a study abroad—will likely require checked luggage. Be aware that airlines also have unique policies, allowances, and weight limits for checked bags.

6. What items need to be removed from a carry-on?

For security screening, you'll need to remove all liquids, powders, and electronics from your carry-on. Things like lithium batteries, sharp objects, and full-size liquid containers are not allowed in your carry-on.

7. How should I pack my carry-on?

If you're traveling with just a carry-on, it's important to optimize space! As we stated above, use items like soft bags rather than hard-shell containers to keep your carry-on organized. You can also add space with packing cubes! If you can, pack items that you'll need to remove for security check-in your personal bag; if you must place them in your carry-on, make sure they're packed for easy access.