Updated on by Lyric Fergusson
T
raveling with a toddler can sound daunting, but it really comes down to making sure you have everything you need at your fingertips. We've traveled all over the world with our two toddlers Kingsley and Aurora and it's mostly been a blissful experience.
To make your next trip successful, based on extensive experience, I've put together this helpful toddler packing list along with a what toddlers should wear section.
Towards the end of the article we also go over what NOT to bring and helpful answers to FAQs.
What to Pack for Toddlers – 17 Essentials
---

Make navigating the airport and your destination much easier by bringing along the right stroller. Larger strollers are not only bulky and heavy, but some airlines make you check them at the ticket counter, instead of the gate. Go with a lightweight collapsible stroller that is easy to open and close when you're in a rush. The Kolcraft Cloud Plus is our best pick for those reasons, as well as having sunshade and a bottom basket to hold other essentials.
---

The Graco Pack 'N Play Portable Play Yard is a favorite because it is a simple version that doesn't come with all the extras that can get in the way when you're traveling. The wheels make it super convenient for moving around, and lock for safety. The padding at the bottom is comfortable and easy to clean. As a safety precaution, make sure to get a travel play pen that supports the weight range of your toddler.
---

It's not impossible to imagine your toddler wandering off for a second, and having an ID bracelet on your little one is a must-have in public places. A good option is the Child Safe ID Wristband, because they are waterproof, lightweight, and flexible. They are designed to fit a small child's hand, and are adjustable so that they won't fall off easily. These can really give you peace of mind when you're out and about.
---

Struggling to find items quickly can be quite the challenge when you're living out of suitcases. Now imagine the urgency that comes with needing those items for a toddler, and you'll understand why packing cubes are an essential. I normally put my son's t-shirts and shorts in one cube, his long-sleeved sweaters and pants in another, and accessories in another. It helps us stay much more organized.
Note: My hubby and I personally designed these packing cubes after having subpar experiences with the low-quality ones available on Amazon. Our packing cubes come with premium YKK zippers, puncture-resistant ripstop Nylon, and quality workmanship backed by our lifetime replacement guarantee. As a fun bonus, they come in a variety of colors so that you can choose your favorite.
---

Small hands seem to touch everything when we are out and about, so having Raise Them Well hand sanitizer is something we never leave home without. This is especially true when we are traveling and we want to avoid germs at all costs. This brand is best because it's toxic-free and designed for young children. There isn't a noticeable odor with this product, and it won't dry out your toddler's sensitive skin. These travel bottles are the perfect size and come in a pack of 3, so you can have one in the diaper bag, one in the stroller, and one in your purse. Fight germs on the go!
---

Unless you're headed to Alaska in the winter, chances are, you're going to need sunscreen, and lots of it. Since many trips tend to include pool, beach, or splash pad time, my favorite travel sunscreen for the little one is Neutrogena's Wet Skin Kids version. You can apply it to wet OR dry skin, which is really convenient for re-application. Since it has SPF 70 and battles both UVA and UVB rays, it really protects my son's soft skin. I've been known to put a little on me, as well!
---

Bug bites are annoying for adults, so you can just imagine how annoying they are for toddlers! The scratching is probably the worst part. To avoid this, having the right repellent is important, and one thing that saves space is having one that fits the needs of the WHOLE family, such as OFF's Family Care. This one is fabulous because it is a non-greasy formula you can spray onto skin and clothes alike, and repels a wide range of pesky invaders.
---

If we're headed overseas, or even a domestic adventure, travel insurance is something we never ignore. World Nomads is our top choice, and some of the benefits include covering the costs incurred by cancelled flights or lost/stolen luggage. What if you get sick or injured on your trip? They will front the bill, which makes the experience a lot less stressful, especially when we have our son with us. We never go overseas without it!
View the plans at WorldNomads.com ➜
---

You need both hands when you're dealing with toddlers—or more! So wearing your diaper bag rather than carrying it is perfect for both day trips and traveling. TETHYS waterproof diaper bag is not only stylish, but extremely practical because it has wider than usual openings so it's easy to get items in and out. The best thing though? The insulated pocket that can hold two bottles or sippy cups. Since it comes with a full lifetime warranty, it's easy to choose the TETHYS diaper bag and fall in love with it like us.
---

Coming home from a trip and finding a rogue wet item in your suitcase… I think every parent knows how that feels. Ever since that happened to me, I've made sure to bring a set of Wet Dry Bags to store items such as wet swimsuits when we're coming back from the water, dirty laundry, even snacks that could potentially leak. They are great for dry items too; to ensure they STAY dry around water. This UBBCARE set of wet dry bags is useful because of the double zipper for two compartments and a strap for attaching it to a stroller handle. Keep the dry and wet things separated on your next trip, and have peace of mind when you get home that you won't find that infamous wet bathing suit bottom!
---

Whether potty training is in the beginning stages or beyond, you ultimately can avoid an oops! moment on your trip by having a sheet protector with you, such as the Priva waterproof sheet protector. These are easy to fold and pack, and can be washed over and over again. One of the best things is the size of the protector; if you have a wiggle worm toddler, you'll be happy with the range of protection this padding provides. Don't risk paying hotel fees for a potty accident! Bring one of these instead.
---

Children need to eat on-the-go much more so than adults. Be ready for any location by bringing some disposable placemats along with you. These ones by Babebay are lightweight and come in fun patterns to entertain your toddler. What I enjoy the most is how they stay in place with the adhesive backing. No matter whether it's a park bench, restaurant table, or stroller ride, these placemats will save me some clean up later and provide a sanitary eating space for my little one.
---

If you choose to travel with the cute shoes grandma gave your toddler for his/her birthday, most likely you're going to spend countless minutes retying them during your trip. Not to mention undoing the knots! Avoid all of this by brining along a pair of Velcro shoes, such as these by Nerteo. They are easy to slip off and on and are made of a breathable knit material. There's a variety of color options to choose from. I've saved time and sanity by switching to these shoes for our outings.
---

You may be past the potty training phase, but wipes come in handy for so much more than just tooshies. I like these Kandoo wipes because they come in a smaller than usual packaging that is perfect for travel, are hypoallergenic, and are unscented. Lucky for me, my son enjoys the cute packaging, so he doesn't put up a fight when I'm trying to wipe his hands or face. Before heading to the airport, put one in your backpack and one in your checked bag to make sure you're fully prepared.
---

When we are traveling, we like to be extra careful to have sippy cups with us that are spill proof, to avoid unnecessary clothing changes or clean ups. If you have an active toddler (is there another kind??), you'll want one of these Tommee Tippee sippy cups that are insulated and easy to clean. They're also easy for little hands to grip. No more spills with this two piece valve, which ultimately translates to less laundry. Smiles for everyone!
---

It's amazing how much sun you get on a vacation, so don't forget to bring a sun hat for your toddler, such as this one by Connectyle. It has a wide brim to block the rays, a light weight fabric with mesh for breathability, and an toggle chin strap to make sure it doesn't fly off with the wind. My favorite feature is the extra fabric to protect the back of my son's neck. It's super easy to wash at night and will be dry by morning, ready for your next sunny daytime adventure.
---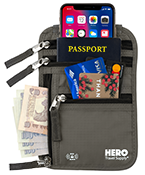 Getting through the airport successfully is challenging for an adult, so it's extra challenging with a toddler in tow. Eliminate some of the stress by having one of these Hero Neck Wallets with you to hold important documents. My husband always carries what we need in this to make security and boarding a breeze. It has several pockets to hold different items, such as passports, ID cards, printed tickets, credit cards, cash, and more. It also has RFID lining for peace of mind and can be concealed under clothing. Don't lose time digging for what you need; use the Hero Neck Wallet to keep everything organized.
Other toddler packing list items not to forget
---
What you and your toddler should wear while traveling
---
When you're planning what to wear, think comfortability when traveling with young ones. Below are some ideas of what not only you should wear when following in the footsteps of your active toddler, but what they should bring along as well. You want to avoid packing too many unnecessary items.
Remember, depending on the length of your trip, some items can be washed and worn again.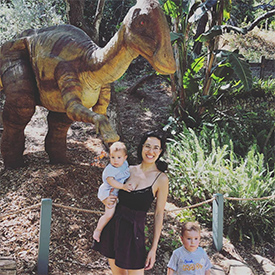 Dressing Appropriately for the Activity – (Click to expand)
Outdoor activities: – When you're outside, consider your environment. Is there sand? If so, bring extra socks and shoes, a towel, a sunhat, etc. Is there going to be a lot of shade? Perhaps it will become cooler, and you'll want to have a hoodie available. Layers for you and your toddler are important when outdoors. Because weather can vary, carrying an umbrella may also be helpful to avoid getting your clothing wet, or having a toddler-sized poncho (super small and easy to put into a backpack) available
Indoor Activities – If you have control over the air conditioner, then you can be more relaxed about what everyone is wearing. But if not, plan for a cooler environment and pack a small blanket in the backpack in case it becomes a necessity. Leggings are a good option for girls, and cotton pants for boys. Avoid bringing a hat that may get misplaced while you're out.

What NOT to Bring for your Toddler
---
1)

DON'T BRING heavy toys/books
A kindle with a waterproof cover will so much more useful than bringing heavy books. Also, since so much of the Dells is focused on water, you won't ruin your good reads.
2)

DON'T TAKE toys that make excessive noise
You're on vacation, but the Wisconsin Dells is known for waterparks, hiking, lake activities, and other outdoor adventures. Avoid losing items or becoming a target—leave the valuables at home or in the hotel safe.
3)

DON'T PACK toys that can lose pieces
Some accommodations have a laundry service if it comes to it, so pack light. An outfit her day will suffice, especially if you plan to be in the pool for a good portion of the time. Try packing items like jeans and pullovers that can be worn multiple times. You'll save valuable suitcase space this way.
4)

DON'T BRING stickers
Plan to go hiking? Or spend the day on the lake? You'll be tempted to bring way too many tools/gadgets/non essentials, which will weigh you down. Consider how long the hike will be, as well as how well known the trail is. Shorter hike during the day time? Avoid bringing a flashlight, for example. You can always use your phone's flashlight if necessary.
5)

DON'T TAKE messy snacks
Most accommodations will provide these, and often will provide pool towels, as well. A travel towel that is quick-dry will be useful for a day on the lake, but no need for a bigger bath towel that will take up too much space in your day pack.
6)

DON'T PACK snacks with common allergens
You're not out in the boonies; almost everywhere in the Wisconsin Dells will accept credit cards. Flashing a bunch of cash when you're paying a bill will just make you a target for theft. A little cash (especially for tipping) and a credit card (or two) for should be all you need.
FAQs About Traveling With a Toddler
---
1. Does my toddler need a passport?

Yes. Regardless of age, every child needs a passport for international trips, including to Canada and Mexico. To get them a passport in the U.S., you will need a copy of the birth certificate and two 2″x2″ photos of the baby (from the shoulders up), and both parents need to be present in the passport facility. Walgreens is one place you can get passport photos ahead of time. Single mothers or fathers must present a custody agreement paperwork, and if one parent is not able to come (such as if they're stationed elsewhere), a signed and notarized form will also have to be presented. Make sure you apply at least a couple of months before the trip is supposed to happen.

2. Where should we stay when traveling with a toddler?

Try to find a place that is centrally located to what you are planning to do for activities while you are there. Avoiding noisy nearby streets or train tracks is another helpful idea. You can use the satellite feature on maps to see a little more clearly what the neighborhood around the hotel or Airbnb looks like. You may want to choose a place that offers rollaway cribs or toddler beds. If your toddler is like mine, he or she prefers a bathtub over a shower, so make sure ahead of time that the hotel has a bathtub, or get the accessible room if necessary to have that accommodation. It's additionally nice if you get an abode that has a small kitchen inside so that you can heat up foods/drinks and keep items cold. Lastly, a bonus is a laundry facility on the property—a nice plus for some of those messier days!

3. What do I do to toddler-proof the space?

Bringing a few things with you can really give you peace of mind, such as outlet plugs to stop little hands from inserting objects and foam that you can use masking tape to put around the corner of sharp tables/drawers. The tape can also be used to hold down the toilet seat lid temporarily. Enquire with the hotel if they have anything; sometimes you'd be surprised to learn that hotels may have door knob child locks or drawer locking devices. Also, be careful about electrical cords—tuck them behind furniture or unplug things altogether. If there is a balcony, pay close attention to how the door lock works and ask the front desk for assistance making sure it can be toddler-proof.

Helpful Hint: you can put the Styrofoam in your shoes or empty an insulated water bottle to save space in your luggage.

4. Which airports are toddler friendly?

More and more airports these days are offering playgrounds to entertain small children while you wait for your flight. If your plane is delayed, this can be an amazing way to pass time. Of course, it's only certain airports that do have playgrounds, and only in certain terminals. So go to your airport's website to see ahead of time where it is located, so you can plan accordingly. Here are some of the top airports that have playlands designed for small children: BWI, ORD, DFW, IAD, LAX, LAS, MSP, BNA, PDX, SFO, SEA, BOS, CVG, DEN, FLL, JFK, PHL, SLC, STL

Helpful Hint: If you're still nursing, many airports have nursing areas for mothers; check at the information desk in the airport to find one in your terminal.

5. What kinds of foods can I bring on the plane?

Most foods can go through security, as long as they are not liquids or gels over 3.4oz. However, they can sometimes be subject to additional screening, which may slow you down in line, so keep that in mind. As for when you get on the plane, it's courteous to avoid common allergens, such as items with nuts, as well as strong smelling foods. Messy items that get crumbs all over are another thing to steer clear of. Good items may include: bite sized cracker, fruit gummies, cut up fruit, and squeezable applesauce.

6. What are the best places to travel with my toddler?

Children and adults alike enjoy exploring. Most places you go can have appeal for all ages; you just have to do some pre-planning before you go to minimize downtime (aka toddler boredom!). You can use TripAdvisor or Yelp to get ideas on what to do with young children in the area that you're going to. You can even post a specific question and get a response from people who have been there before. Some things to look for in the city: Children's museums, playgrounds, indoor playlands, animal habitats.

7. What are the TSA requirements when traveling with a toddler?

Children cannot be in a stroller during the security check. The stroller will be put through the scanner or visually inspected by itself. If your toddler can walk through the metal detector without assistance, he/she may be asked to do that, but you will not be separated visually from your child. Children under 13 do not have to remove their shoes, which saves time and hassle. Find TSA requirements here.

Helpful Hint: Although not required, the FAA strongly recommends the use of a CRS (Child Restraint System), and info can be found here.