Updated on by Asher Fergusson
T
here's no better way to make the most of winter than hitting the slopes! Whether you'll be taking it easy on the bunny hills or flying down the more advanced runs, being prepared is key.
Check out this list of my 17 snowboard trip must-haves and make sure you don't forget a thing!
One thing to keep in mind is that you'll be likely going to a significantly higher elevation than you're used to so be sure to drink a ton of water and take it easy if you're feeling any kind of altitude sickness when you first arrive. Also start taking this Chloroxogen altitude medicine at least a week before you go.
What to Pack for Snowboarding – 17 Essentials
---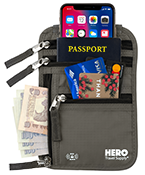 You'll be happy you brought your handy neck wallet when you hit the lodge after a long day out on the slopes. Large enough to hold your phone, wallet, passport, and any other necessity, wear this neck wallet under your clothes to keep your valuables organized and secure until you need them. The last thing you want is your smartphone or wallet falling out of your pocket when you're riding up the chairlift!
---

This one is a no-brainer. Obviously you need a snowboard to go snowboarding. I bet you didn't know you could find a high quality one on Amazon, though. This one has awesome reviews and isn't too expensive, and comes with the bindings and boots too! Also consider bringing a snowboard lock to keep your board secure when you break for drinks and snacks in the lodge.
---

Of course, you're going to need a bag to transport all of your gear. The awkward shape of much of your stuff definitely calls for a specialized snowboard bag like this one, that can fit all your gear and is extremely durable.
---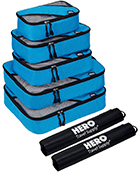 Packing cubes are a travel must-have, no matter where you're going or for how long. These will help you to stay organized and not overpack, which will be a godsend when you're lugging all your snowboarding gear. This set of packing cubes is awesome because it comes with an extra bag for your shoes and another for dirty laundry.
---

Finally, a lipstick-sized portable charger is an invaluable item to bring with you on your snowboarding trip. Whether you're using your phone for photos, videos, music, or navigation, you won't want to get stuck if your phone dies out on the slopes. Stick this small portable charger in your pocket and recharge your smartphone as necessary throughout the day without having to stop for a break in the lodge.
---


A VPN is an underratedly important thing to have whenever you're traveling and connecting to public WiFi. In remote ski resorts or mountain lodges where cellular data is spotty, you'll likely need to connect to the WiFi which means you'll be vulnerable to potential hackers. Using a VPN will keep your private information secure, so you won't have to worry about your passwords and credit card numbers getting compromised. A VPN will also grant you access to sites that may be blocked or censored in the country you're visiting.
---

The last thing you'll want to worry about on your snowboarding holiday is wet pants! You can't help exposing your clothing to the snow and ice, so having waterproof pants is key. These snow pants are highly rated and extremely insulated, yet breathable. I find it helpful to buy pants in colors that won't show dirt or marks (gray, brown or dark blue), since you'll likely be getting pretty roughed up while snowboarding.
---

You may not realize it before you head out there, but snowboarding at high altitudes can really have a significant effect on your body. Be prepared to fight altitude sickness with this medication that uses all natural ingredients. We never hit the slopes without it!
---

Did you know that a lot of your body heat is lost through your head? Keep that heat in and regulate your overall body temperature by wearing a warm hat. This beanie is perfect for slipping on under your ski mask, and is a good alternative to earmuffs. You'll have loads more fun when you're comfortable and at a good body temp.
---

This is an important base layer of your snowboarding outfit. Make sure that the long underwear you buy fits properly, not too loose or too tight. These ones are sweat-wicking, insulating and ultra comfortable.
---

You won't regret having travel insurance when you leave for your snowboarding trip, even if it's just for peace of mind. Especially if you're traveling overseas, you'll want to make sure you're covered. We love using TravelInsurance.com any time we travel because they allow you to compare great plans that cover the costs for lost or stolen luggage, flight cancellations, and medical expenses in the case of an accident on the slopes.
Compare policies at TravelInsurance.com ➜
---

A buff is another name for a neck warmer and muffler combo. It can also be used as a headband or sweatband. Buffs are super multipurpose and very handy while snowboarding. Use it to keep warm and protected from the wind while you're cruising down the slopes.
---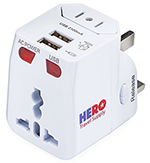 Don't get stuck without a way to plug in and charge up your electronics when you get to the mountain. Particularly if you're headed on a snowboarding trip abroad, you can't go wrong with packing a universal power adapter. This one works almost everywhere in the world and includes USB ports so you can plug in multiple devices at once.
---

For those occasions during your snowboarding trip in which you are not on the hills, it's handy to have some trendy, warm snow boots with you. Slip these white ones on with any outfit and feel like a bona fide snow bunny!
---

Good socks are vital to any enjoyable snow experience. Snowboarding in socks that absorb water will leave you cold and blistered at the end of the day. Stick with waterproof socks. You can wash them after a day of snowboarding, hang them to dry in your hotel room, and they'll be ready to go the next day. These ones are breathable, waterproof and perfect for a day in the snow.
---

Even if you're just a beginner, a snowboarding trip almost guarantees awesome views! Bring an affordable waterproof camera to capture all the incredible moments set in your snowy wonderland. There are special attachments you can get to link the camera to your helmet for first-person action footage. When you get home you'll love being able to go back in time and relive your favorite moments!
---

Gloves are one of the most important things you'll be bringing on your trip to the slopes. Make sure you get winter sport-specific gloves so that your hands don't overheat, but still stay protected from the wind and snow. These ones work great for snowboarding.
Other packing list items for a snowboarding trip:
---
What to wear snowboarding:
---
Layering is key when dressing for a day of snowboarding. Start with your base layers of thermal underwear and a synthetic long sleeve shirt. Your mid-layer is your insulating layer. It should be a soft-shell (or fleece) jacket or pullover. Your next layer is your protective layer including your snow pants. They should be waterproof, and wind resistant. Make sure you wear your waterproof socks, and maybe tuck an extra pair into your snowboard bag in case water or snow gets inside your socks. Gloves are very important as well. Don't forget your goggles, buff and any other accessories you want to wear.

What NOT to brings snowboarding:
---
1)

Scarf
– A buff is a much more logical item of snow-wear. An ordinary scarf runs the risk of flying off of your neck. A buff can be a scarf, a face guard, a headband, or a sweatband.
2)

Cotton clothing or socks – Cotton absorbs water and sweat easily, and then takes forever to dry. In freezing temperatures this is highly dangerous, and even puts you at risk for hypothermia. Opt for synthetic fabrics that are marketed as quick-dry or sweat-wicking.
3)

Dressy clothes – Ski towns are very laid back. After skiing or snowboarding most people go out for dinner or a beer in their ski clothes! If you're in a nicer place like Aspen, CO, though, and are planning on having a fancier night out, go ahead and bring some nicer clothes.

4)

Jewelry
– Like I said before, most ski towns are relatively laid back. Leave the jewelry at home unless you have a special occasion planned!
5)

Lots of electronics – Definitely bring your camera, GoPro and iPhone, but possibly consider taking this trip as on opportunity to disconnect. Leave the computer and tablet behind!

FAQs about packing for a snowboarding trip
---
1) Should I bring my own gear or rent?
If you have your own gear, by all means bring it (especially if you're driving and have the space)! If not, or if it's more economical to just rent your gear there, opt for that instead. Research prices for your specific destination online before deciding one way or another.