Updated on by Asher Fergusson
I
f you're preparing for an upcoming cross country motorcycle ride, I've put together a complete packing checklist to help make sure that you have everything you need for a successful trip.
Once you've finished the article, you'll also know what to wear on a motorcycle trip, what NOT to bring, and answers to the most common FAQs about motorcycle trips.
Preparing for a cross country motorcycle trip takes a lot of time and effort to prepare. However, It's an experience that you'll be so glad that you experienced, especially if it's on your bucket list.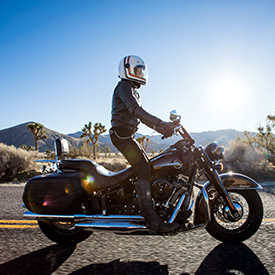 What to Pack for Motorcycle – 17 Essentials
---

Safety should be your top priority, so a reliable helmet should be the first thing you pack when planning a motorcycle trip. With high review ratings, this helmet will protect your head and is also lightweight and compact, making it easy to take along with you. It comes with ventilation panels that make it easy to breathe and keeps it cool inside, so your face doesn't overheat. It's fully removable and washable microfiber inner material will absorb sweat without compromising comfort.
---

Every biker needs a reliable and compact tool kit when planning a long road trip. This one comes with 22 pockets to organize your favorite tools, is compact and easy to carry. It's designed for travel and comes with buckles and a handle so you can attach it on your bike. It also comes with an internal elastic strap to keep all the tools in place, so you don't have any fall out during your travels.
---

If you're headed out on a long road trip, you'll need to bring along a tire repair kit in case of an emergency. It's always better to come prepared. This affordable kit includes everything you need to fix a flat tire until you're able to get to an auto shop. The universal tubeless tire repair works with any make and model of motorcycle so you can share it with your travel companions.
---

A trusted GPS will make your cross country motorcycle trip even more enjoyable. You'll be able to avoid getting lost and have more time to explore. The GPS is compact and easily attaches to your bike, so it's easy to navigate during your trip. It's also glove-friendly and easy to read in the sunlight. As an added bonus, you can pair it with a compatible smartphone for hands-free calling while you're on the road. You'll also be notified of upcoming curvy or hilly roads and avoid major highways when possible.
---

It's a right of passage to have a leather jacket if you're a biker. However, that doesn't mean that it can't be affordable. We're giving you the best of both worlds. Get one made from 100% genuine leather, thermal lining, and micro-mesh lining so you can bike in any weather for a price you can't beat! There is also removable padding on the back, elbows, and shoulders if you'd like to add extra safety precautions during your trip.
---

If you're planning a long motorcycle trip, your safety should be top of mind. These sturdy knee and elbow pads will make sure that you're protected in case of an accident. They'll also be lightweight and breathable, so you won't even notice that you're wearing them. The adjustable strap makes it easy to tighten or loosen the pads.
---

These outdoor gloves are ideal for motorcycle rides. They come with fingertip touch-screen technology on both the index finger and thumb that work with all touch screen devices, so it's hassle-free if you need to update your GPS or access your phone. These gloves come with full protection, including knuckle protection and palm pads. They are super comfortable and provide breathable air vents to help with better airflow. en the pads.
---

This reliable plastic cleaner makes it easy to clean your motorcycle shield when you stop for a break. If you're on a long road trip, chances are you're going to hit a few bugs along the way, so you'll want to make sure that you clean off the shield when possible, so you have good visibility.
---

It's essential to have something that you can use to cover your face or keep your hair out of the way during a long ride. This classic set of bandanas makes it easy. They are lightweight, so you can throw a couple in your duffle bag so you're prepared anytime that you may need one. They're also a great gift that you can share with your fellow travelers.
---

The weather can be unpredictable, especially when you're on a long motorcycle ride. A base layer makes it easier to control your temperature, so you're comfortable during your trip. You can easily add a jacket or vest to go over your shirt if you're cold, especially in the fall and winter months. This classic waffle knit design traps heat so you'll be able to stay warm even when it's a bit chilly. It always fights odor and reduces sweat, so you stay comfortable during long hours of riding.
---

Boots are a motorcycle trip staple. These comfortable classics are the perfect addition to your motorcycle pacing list. They're made with genuine leather, and a rubber sole that will easily grip the footholds of your motorcycle so you'll be comfortable on your long trip.
---

It's essential to come prepared on your trip, and what better way to do that than with motorcycle travel insurance. It's cost-efficient and will give your family peace of mind while you're out on the road enjoying your trip. Even if you don't end up needing it, you'll have it on the off chance that something does happen while you're away.
View their plans at WorldNomads.com ➜
---

This heavy-duty bag is perfect for your upcoming motorcycle trip. It's water-resistant, so your clothes and personal items will be protected during your long ride even if you end up getting stuck in bad weather. It's super simple to hook the bag to your motorcycle, and with plenty of pockets, you can easily access some of the compartments if you need anything during a rest stop. It comes with plenty of room for everything that you may need during your upcoming road trip.
---

No matter what accommodations that you have planned for your trip its best to come prepared with your own towel. Use this compact-sized one for multiple uses while you're away. It's great to use during a stop at the beach, use after a much-needed break, or clean up a mess that you need to clean up during your ride. It's really light-weight and will easily fit in your duffel bag without taking up too much room.
---

Make it easy and get all of your toiletries at once to save time. The set comes in a mini travel bag so you can just throw it in your duffel, and you're ready to go. You'll have everything you need to keep up with good hygiene while you're on the go. The best part is everything is mini-sized so you'll be able to save plenty of room.
---

If you're headed on a long cross country road trip, chances are that you may come across rain at some point. To avoid getting drenched to the bone the moment it starts to rain and spending hours uncomfortable, get this lightweight and effective rain jacket. It comes with an attached hood and adjustable cuffs so you can keep the water out at all costs. It's the perfect addition to your packing list that you'll be glad that you brought along.
---

If you'll be riding in the dark, this is an essential item for your trip, especially if you have an emergency or problems with your bike at night. It's ultra-bright and long-lasting, so you won't have to worry about it running out of battery when you need it most. It's compact, so you can easily toss it in your bag and access it whenever you need to. The best part is its water-resistance so if you need it during a rainstorm, rest assured it'll work when you need it most.
Other Motorcycle trip packing list items not to forget
---
What to Wear on a Motorcycle Trip
---
It's possible to go on a motorcycle road-trip any time of the year. However, the most popular times are in the springtime and fall when the weather is best. Many motorcyclists prefer to avoid riding when it's too hot or cold, so they best enjoy their trip.
No matter the season you head out on your trip, you'll need a reliable pair of closed-toed shoes with a good grip and are comfortable, especially when you'll be spending long hours on the road.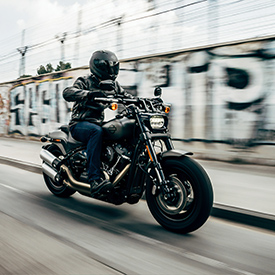 A base layer is essential, especially when you're traveling no matter the time of year. It'll allow you to avoid getting too hot but also give you the option to add layers if it starts to get chilly.
It's also not a motorcycle trip without a genuine leather jacket. Not only will you look the part, but it'll add an additional layer of protection while you're out on the road. You'll also never want to go without proper gloves so you can keep your hands comfortable during the duration of your trip.
what WOMEN should wear on a Motorcycle trip – (Click to expand)
Below is a sample women's clothing list.
(All items link to Amazon.com for your convenience).
duffel bag
should allow for plenty of room for all your gear. The most important piece of gear that you'll need is a comfortable pair of
boots
, and you'll be wearing them most of the time. It's also a good idea to pack along a
bandana
to keep your hair out of your face, especially on windy days. Also, bring along a
comfy t-shirt
that you can use a base layer.
Motorcycle Trip in the SPRING

– March, April, May

The springtime is popular for motorcycle riders. The weather is starting to warm up, and its the perfect chance to get your bike back out on the road. You'll need to bring along a reliable rain jacket since rain showers are likely. You'll also want to make sure that you bring along mesh gloves that allow easy airflow and vented motorcycle boots to stay comfortable during your long stretches of being on the road.
Motorcycle Trip in the SUMMER

– June, July, August

Although it can get very hot, it's still a great time to head out on a cross country ride. Be sure to pack along a moisture-wicking t-shirt to avoid getting too hot and a Light-weight vest on the occasion that you may need to add an extra layer.
Motorcycle Trip in the FALL

– September, October, and November

September, October, November: This is a very popular time to venture out on a cross country trip. It will be a little chilly, so be sure to pack along a long sleeve shirt and a jacket that you can throw on as an added layer. You'll also want to bring along some jeans and a comfortable pair of riding gloves.
Motorcycle Trip in the WINTER

– December, January, February

December, January, February: It's not ideal to ride in the winter, but it's definitely doable. Make sure to bring along a turtleneck to protect yourself from the windchill. A warm jacket is also a must in order to make sure that you stay warm enough. You won't regret wearing insulated jeans or wool socks, so the bottom half of your body is nice and warm, especially on days when the weather is extra brutal.

Dressing Appropriately for the Activity – (Click to expand)

During Your Ride:

When you're on the road, make sure to wear a comfortable

base layer

so that you'll be able to stay warm, especially if there is any wind. A sturdy leather jacket will also provide added protection. You'll also want to wear closed-toed shoes.

Off the Road: If you decide to take some time off the road, make sure to pack a comfortable pair of jeans that you wear when you're out exploring. You'll also want to pack along comfortable shoes that are good for walking and a clean t-shirt. that you haven't been wearing while you're riding.
What NOT to Bring on a Motorcycle trip
---
1)

DON'T PACK Headphones:
For the most part, it's best to avoid having music or other audio recordings going when you're on a bike ride. You'll make sure that you're fully aware and alert of your surroundings and listen for any danger so you can be safe on the road
2)

DON'T TAKE Suitcase: The key to a successful motorcycle trip is to pack light. A duffel bag or backpack should do the trick. You'll be riding most of the time, so you won't have any need for a large suitcase because you won't need much. You'll also want to pack light if you're planning to stop along the way and need to bring your belongings with you on any detours.

3)

DON'T BRING Flip Flops:
Always wear closed-toed shoes on your motorcycle trip. This is a safety precaution to make sure that if you're in an accident, your body is covered as much as possible to avoid injury.
What NOT to wear on a Motorcycle Trip – (Click to expand)
Formal attire –
You'll have no need for fancy shoes or clothes. You'll be roughing it, for the most part, so you'll want to make sure that you're dressing comfortably while you're on the road.
Head-to-toe dark clothing – Because you'll be on the road with cars, you'll want to make it as easy as possible for them to see you, especially in the early morning and in the evening. Dark clothing will make it difficult for drivers to identify, so it's best to have too many dark colors in the same outfit.
Half Helmets – Your health and safety should come first, so always bring along a helmet that covers your entire head for full protection.
Loose Clothing – To avoid getting your clothing caught on parts of your motorcycle, it's best to avoid wearing flowy or extra loose clothing that would get stuck.
Tank Tops – As mentioned before it's essential to keep your body covered when you're out on the road. So, it's best to avoid tank tops and even short sleeve shorts when possible.

FAQs about motorcycle trips
---
1. Do I need a special license to ride a motorcycle?

Yes, a valid driver's license with a motorcycle endorsement is required to legally ride a motorcycle. Check your state's specific requirements before planning your motorcycle trip.

2. Are motorcycles good for long-distance road trips?

Yes, cross-country road trips are a popular pastime for motorcycle enthusiasts. The key is to take a bike that you're used to and feel comfortable on and make sure that you are well prepared beforehand.

3. How far can you drive on a motorcycle?

Most riders plan to go anywhere from 250-500 miles a day. It's important to take breaks along the way. You'll also need to plan on driving fewer miles if you plan to stop at places along the way.

4. Where do you stay on a motorcycle road trip?

A motorcycle ride is similar to any other vacation. It depends on where your ride takes you, but the most common types of accommodations include camping or staying in hotels. It's important to plan ahead, so you'll know where you're going to stop each night and what you need to pack along with you.

5. How many hours should I ride every day?

The key is to make sure that you're taking rest breaks in between. It will vary for each person, so be sure to listen to your body. If you're feeling tired, it's time to stop and take a rest. This means making sure that you schedule in plenty of time for breaks if needed.

6. Is it safe to go on a motorcycle road trip alone?

Yes, if you plan it accurately, you should be safe. Make sure to let other people know the route you're taking and come prepared if you have any bike problems or have an emergency.

7. Can I plan a motorcycle trip around the US?

Yes, it's actually much easier than you might think. It's a very popular pastime with other riders so there are plenty of routes that you can easily find online if you're looking for inspiration and will also save you time in the process.
Other packing lists you may like…
2-Week Trip | 3-Day Trip | Baby Packing List | Baby Travel Gear | Bachelorette | Backpacking | Beach | Birthright | Bonnaroo | Burning Man | Business Trip | Cabin | Camping | Canoe Trip | Car Camping | Carry-On | Castle Trip | Cheerleading Camp | College Dorm | Convention | Cruise | Day Hike | Deer Hunting | Desert Trip | Destination Wedding | Diaper Bag | Digital Nomad | Disney | Disney Cruise | Elk Hunt | Fall | Float Trip | Flight | Girl Scout Camp | Girls | Glamping | Golf Trip | Honeymoon | Hostel | International | Island Vacation | Kids | Lake House | Long-term | Men's Packing List | Minimalist | Moving Abroad | Music Festival | Overnight | Peace Corps | Resort | Road Trip | Round The World | Ski Trip | Snowboarding | Spring Break | Study Abroad | Summer Camp | Summer Vacation | Teen | Theme Park Trip | Toiletries | Toddler | Tropical Vacation | Ultralight | Wedding | Winter Vacation | Weekend | Zoo Trip
Please note: We have over 200 packing lists covering practically every popular travel destination in the world. Access them all on our packing list overview page ➜