Updated on by Asher Fergusson
E
lk Hunting takes a lot of time and effort to prepare for. However, it's an experience of a lifetime, especially when your hunting trip ends with bringing home your prized elk. To help you make the most of your experience, we have compiled an essential elk hunt packing list, along with recommendations for what to wear on an elk hunt, what NOT to bring and answers to FAQs.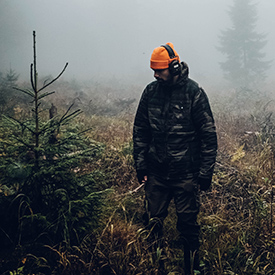 What to Pack for an Elk Hunt – 17 Essentials
---

When you're tracking an Elk, you won't be able to get very close without spooking them off. Reliable binoculars allow you to easily see them from afar without missing any action. These binoculars provide exceptional clarity and come with a handy neck strap so you can easily take them with you no matter how rough the terrain is during your hunt. They're also waterproof, fog proof, and durable, so you're prepared no matter the weather.
---

Natural calls even when you're spending hours scouting the perfect hunting spot. So, naturally, you need the best toilet paper well you're spending your days out in the wilderness. These super convenient compressed toilet paper tablet coin tissues make it easy to carry in your pocket without taking up much room, so no matter how far out in the woods you are, you'll be prepared when you need it most. They come in an easy to carry waterproof cases so they'll be safe and dry even if the weather doesn't corporate.
---

It can be challenging to spend a week away from all technology in the middle of nowhere, so it's important to have access to charging your phone in case of an emergency. It's also helpful, so you're ready to get some photos to document your hunting trip. This handy solar phone charger makes it easy to charge your phone and other devices when you'll be off the grid for a few days.
---

For the best chance to track an Elk, you'll need to take time to scout out the perfect hunting ground. Use this bright orange tape to track your path, so it's easy for you to come back and find the same location when you're ready to come back and hunt. This is especially handy if you're planning to come back in the dark to avoid getting lost.
---

One of the best hunting tools is a reliable headlamp that will allow you to navigate the campground or see your way as you navigate your way through the woods. This heavy-duty headlamp has power tap technology that you can instantly switch from full to dimmed power to avoid spooking away any game in the area. It's also waterproof with sealed housing, so it'll be useful no matter what type of weather you may face during your hunt.
---

For the most part, Elk hunting is not considered a luxury travel experience, and you'll be roughing it outdoors for a few days. Bring along a durable and soft towel you can use to stay clean and comfortable as much as possible during your trip. This microfiber towel is both lightweight and super absorbent, so it's the perfect option to bring along and can serve multiple purposes if another need arises.
---

When you're out scouting out the area and waiting for the opportunity to get an Elk chances are you'll see other wildlife while you wait. This mini trail camera will make sure that you don't miss the opportunity to document your trip of a lifetime and capture moments in real-time. The handy scouting camera detects movements of wildlife once they're 20m away so you'll be able to get the perfect photo and be made aware when game is approaching so you can prepare in advance.
---

When you are in unfamiliar territory, it's essential to have a compass handy during your hunting trip when you don't have access to any other technology and need help guiding your way through rough terrain. This professional-grade compass will accurately guide you during your hunt and make it easy for you to navigate even in the most difficult of situations.
---

When you're out searching for the perfect hunting spot a GPS watch is a confident way to guide you in the right direction and keep track of your physical activity at the time same time. It's easy to read with a large screen and is a reliable tool no matter the weather conditions that you face.
Use this reliable GPS watch no matter the weather conditions that you face. It's11 hr battery life will be helpful when you're out scouting for long periods at a time.
---

Once you're Elk is down, you'll need a good knife to make neat and precise cuts the hide of the animal. This nifty knife will also come in handy if you need to cut any rope or other material during your scouting and hunt. This stainless steel knife is sleek and sharp, so it's up for any challenge that you may face. It comes with a black nylon fiber sheath so you can keep it on your person at all times.
---

A reliable caller is an essential tool to help draw in your Elk. These top-of-the-line callers have helped me to successfully call in my own Elk. They are comfortable and easy to use, even for first-time Elk hunters. Before you head on out on your hunt, take some time to practice and get familiar with your Elk caller, so you feel comfortable using it when you go on your hunt. It's also very helpful to have multiple as they each will have a different sound and feel, and it's good to have a backup.
---

The number one thing that you need during an Elk hunt is some good camouflage gear. The goal is to stay hidden and undetected by wildlife, so you'll need to be able to blend in well with the terrain. You'll be scouting and waiting around for long periods of time, so you need to have comfortable gear that you can use.
---

The last thing you want after you've put in the time and effort to find an ideal hunting spot is to scare away the Elk with your scent. Use this handy scent killer that is 99% effective at stopping replicated human odor so you won't spook the game. It works well after drying and will last all day so you can feel confident that you won't be given away by your scent.
---

When you're out hunting all day you may not have a chance to go back to camp to get water. The LifeStraw Waterbottle makes it easy to remove bacteria and protozoa from lake or stream water so you can stay refreshed all day even when you don't have access to filtered water. This durable and lightweight bottle makes it easy to pack along with you throughout the day so you can stay hydrated wherever you are.
---

You'll need a durable day pack to help you carry all of your gear when you're out tracking or scouting for a spot to hunt. This camouflage backpack while help keeps you hidden while providing plenty of space and pockets for all of the essential gear that you'll need while you're out. It comes with a padded waist belt and shoulder straps to provide maximum comfort while you're carrying it for hours on end.
---

You never know what you may face when you're out in the wilderness for days on end. This compact first aid kit has everything that you might need should you face an emergency situation. It comes with handy tools, first aid equipment, and other gear that you may need. It all comes in a handy waterproof bag, so your gear will stay dry and ready to use when you need it most.
---

When you're out in the wilderness you're going to see lots of bugs and will need a way to repel them. This long-lasting insect repellent is odorless so it won't scare off the wildlife and will keep you hidden while you're hunting while keeping the bugs off of you in the process.
Other Elk Hunt Packing List Items Not To Forget
---
What to Wear on an Elk Hunt
---
The Elk hunting season starts the last week of September and lasts through the end of October.
In most common hunting areas, it will be chilly so, you'll need to dress appropriately for fall weather, especially if you'll be out in the elements when it starts to get cool in the evenings.
You'll want to make sure to pack plenty of camouflage gear so you can blend in with the scenery and stay hidden during your hunt.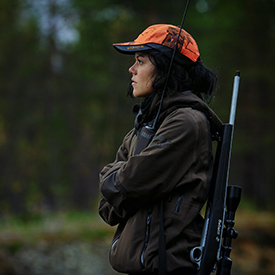 It's always recommended to dress in layers so you can make sure you're warm enough but have the option to take layers if it's warmer than expected. It's also helpful to bring along warm gloves and a beanie.
For the best hunting experience, make sure to bring along comfortable, broken-in boots and shoes. You'll be on your feet during most of the trip, so you want to avoid wearing new shoes or old ones that have lost their tread.
what WOMEN should wear Elk Hunting – (Click to expand)
Below is a sample women's clothing list.
(All items link to Amazon.com for your convenience).
dress in layers
, so you don't get cold when you're up early in the morning or up late at night. It's essential to have a high-quality pair of
wool socks
to keep your feet comfortable while trudging through forest and wilderness areas. And don't forget your
camouflage gear
so you can blend in with your surroundings and avoid scaring off the Elk. Finish your hunting look with a
beanie
to keep your head and ears warm.
what MEN should wear Elk Hunting – (Click to expand)
Below is a sample men's clothing list.
(All items link to Amazon.com for your convenience).
Camouflage gear
is the main clothing staple for men when hunting. You'll need to blend in and stay hidden during the hunt, so it's important to have the right gear. Make sure to bring a couple of
long sleeve base layers
so you'll be able to stay warm no matter the weather. You'll want to have gear that you can easily navigate rough terrain, and that doesn't make noise to avoid scaring off the game. Always come prepared with
rain gear
since the weather in the mountains can be unpredictable, and it's best to come well prepared.
During the Elk Hunt
When you're actively hunting, make sure to bring along sunscreen, so you don't get burned if you're sitting out in the sun all day. It's also essential to bring along a comfy pillow cushion you can sit on if you'll be in the same spot for hours at a time. Also, bring along quality hiking boots are going to make the entire trip easier, especially if they're already broken in.
At Your Camp Site
When you're not actively hunting or taking a break at camp, you'll want to make sure that you're comfortable. Bring along a relaxed fit pair of jeans or warm sweat pants that you can relax in. It's also important to have a hoodie that you can wear in the evenings when it starts to cool down. To finsh off our campground, look bring along a comfy pair of sneakers that are lightweight that you can easily walk around in.

What NOT to Bring to an Elk Hunt
---
1)

DON'T PACK Extra Gear:
You'll be on the go during the duration of your trip and will have to carry a lot of your gear with you while your scouting and actively hunting. So, it's important to keep your packing list to a minimum, so it's easier for you to get around and avoid hauling items you won't need. If you're going on a guided hunt or traveling in a group, make sure to plan ahead to avoid everything bridging duplicate gear that can easily be shared.
2)

DON'T BRING Valuables and Cash: You're going to be out in the wilderness and will be getting very dirty, so it's best to only bring clothes that you don't mind getting roughed up. Also, leave any other valuables at home that might get ruined while you're out scouting and hunting. There is also no need to have cash unless you've been instructed otherwise by a guide.

3)

DON'T TAKE Computer or other Electronic:
You won't have service during the duration of your trip, and even if you do, you'll have minimal time to access your computer. Electronics could also be a distraction and make it easy to spook the game if you're not careful, so it's best to leave them at home or in your vehicle at your base camp.
4)

DON'T TAKE unnecessary valuables: The risk is small, but there's always a chance of things getting lost or even stolen from your car or hotel room. Avoid a major loss by leaving your extra valuables at home.

What NOT to Wear Elk Hunting – (Click to expand)
Avoid Dark Solid Colors –
The last thing you want to do is give away your hiding spot. Blue and black are easy for Elk to spot, and they'll be spooked if they see a dark dot moving along the mountainside.
Materials that make noise when rubbed together – You need to keep as quiet as possible when you're Elk hunting, so your presence is not noticed by the wildlife. So, avoid wearing any slick materials that make noise when they rub together.
Waterproof clothes during the entire hunt(unless it's raining) – It can be uncomfortable to wear waterproof gear during your entire trip. It's not necessary unless it's raining. However, you should have a rain jacket and poncho readily available so you can put them on at a short moment's notice.
Heavy or bulky clothing for your base layer – You're going to be hiking through rough terrain and it can quickly get uncomfortable if you're wearing heavy clothes that you can't easily move around in while you're actively hunting. Instead, wear a light and comfortable base layer.

FAQ about Elk Hunting
---
1. Where are the best places to hunt for elk in the United States?

There are plenty of places to go elk hunting. Some of the most popular states include Colorado, Idaho, Montana, Wyoming, and Oregon. Make sure to do your research before you plan your trip so you can make sure you're able to get an out of state tag if needed beforehand.

2. When is the best time to go elk hunting?

The elk hunting season starts the last week of September and goes through the end of October. You're only allowed to hunt during the day but may find it best to track at night and hunt early in the morning because Elk are nocturnal, and are on the move when it's dark and quiet.

3. Do I need to scout the area before I go hunting?

Yes, it's essential to scout an area before hunting. You'll need to make sure that you're a safe distance from other hunters and are in a place where game commonly go so you have a better your chances of bringing home an Elk.

4. How do I get a non-resident elk tag?

It can be difficult to draw a tag for an out of state hunt. However, there are a few states where you can get an over-the-counter elk tag as a non-resident, including Colorado, Idaho, Oregon, Utah, and Washington. You'll need to check their websites in advance to make sure that you can still get a tag before planning your trip. There are also plenty of private property elk hunts that you can find if you'd prefer to hire a guide or avoid having to draw out. These hunts will be significantly more expensive.

5. Do I need a guide to go elk hunting?

If you get a tag, you can go hunting without a guide. However, if you want to hire a guide, it's common to hunt on private land and be required to have someone go with you. For this type of elk hunt, you'll need a landowner tag. If you've never been elk hunting before, it's also recommended to go with someone else who has or hire a guide.

6. Can I go elk hunting alone?

Yes, you can go hunting alone. You'll be responsible for bringing all the gear, scouting and tracking all on your own. You'll also need to haul the game off the mountain by yourself once you're finished, so it is helpful if you go with someone who can help.

7. How long does it take to hunt an elk?

It depends on where you're hunting, the territory, and how many other hunters are nearby. It can take a few days to scout and hunt an Elk, so you should prepare to be out for at least a week. You're not guaranteed to bring home an Elk, so it will ultimately depend on how long you're willing to scout and track.

8. Do I need a base camp when I go hunting?

It's important to have a place that you can regroup during your time scouting and hunting. It can be an exhausting trip, especially if you're spending some of your nights out in the woods. If you prefer not to have a basecamp at least have additional supplies readily available at your vehicle so you can get them if needed.

9. Do I need to be in shape to elk hunt?

You will need to be able to trek through the woods and climb steep hills or mountains, depending on the state you are hunting in.
Other packing lists you may like…
2-Week Trip | 3-Day Trip | Baby Packing List | Baby Travel Gear | Bachelorette | Backpacking | Beach | Birthright | Bonnaroo | Burning Man | Business Trip | Cabin | Camping | Canoe Trip | Car Camping | Carry-On | Castle Trip | Cheerleading Camp | College Dorm | Convention | Cruise | Day Hike | Deer Hunting | Desert Trip | Destination Wedding | Diaper Bag | Digital Nomad | Disney | Disney Cruise | Fall | Float Trip | Flight | Girl Scout Camp | Girls | Glamping | Golf Trip | Honeymoon | Hostel | International | Island Vacation | Kids | Lake House | Long-term | Men's Packing List | Minimalist | Motorcycle | Moving Abroad | Music Festival | Overnight | Peace Corps | Resort | Road Trip | Round The World | Ski Trip | Snowboarding | Spring Break | Study Abroad | Summer Camp | Summer Vacation | Teen | Theme Park Trip | Toiletries | Toddler | Tropical Vacation | Ultralight | Wedding | Winter Vacation | Weekend | Zoo Trip
Please note: We have over 200 packing lists covering practically every popular travel destination in the world. Access them all on our packing list overview page ➜