Updated on by Asher Fergusson
G
lamping has taken the world by storm in a matter of years. Out are the days of roughing it in tents with no running water or electricity and in are the days of eco-lodges, treehouses, and luxury yurts. Glamping aka "glam camping" is a way to enjoy the great outdoors while still being able to enjoy the finer things in life such as Wi-Fi, electricity, and full-sized restrooms.
Even though you will likely have pretty good amenities, packing the right items can help maximize your enjoyment. We also have a section on what to wear while glamping in addition to answers to your glamping FAQs.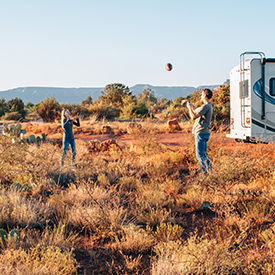 What to Pack for Glamping – 17 Essentials
---

While your glamping destination may have electricity, during your adventures in the wilderness, you're not going to find any outlets. A solar phone charger with a USB port, much like this one, can charge your phone, Kindle, camera, and other devices all with the power of the sun. This one also happens to be waterproof and can clip onto your daypack so it can absorb the sun while you're out and about. It can charge an iPhone XS 7.4 times and an iPad Pro 1.6 times!
---

A paracord emergency bracelet is a nifty little invention that can help save your life when out in nature. The bracelet features a fire starter, compass, emergency whistle, emergency knife, and a 12-foot military-grade paracord. It's adjustable and inexpensive, making it the perfect accessory for glamping.
---

There's a chance that you'll have running water at your glamping site but if you decide to go hiking or fishing and you run out of drinking water, you run the risk of getting dehydrated. With the LifeStraw water bottle, you can turn any water into drinking water in a matter of seconds. The BPA-free bottle filters out bacteria, protozoa, parasites, and chlorine. I never travel outdoors without mine.
---

If you're looking to stay organized and find what you need in your car, suitcase, or tent, you'll want these packing cubes. Instead of digging through your bag and making a mess of your tent to find your last clean pair of socks, just pull out the cube with all of your undergarments! Talk about a glamping game changer.
---

I can't even tell you how many trips I've been on where I've gotten stuck in the rain and didn't have the proper rain equipment. Bringing a quality windproof travel umbrella, like the one pictured, will help ensure that you'll be prepared no matter what conditions you are met with. At under 1 pound and only 12 inches when collapsed, this umbrella will take up very little space in your bag.
---

I'm a huge advocate of getting travel insurance for every trip that you take. While it may sound unnecessary on a glamping trip, it can help save you from a headache should you get into an accident during your stay. Medical bills can add up extremely quickly, even with standard health insurance.
View their plans at WorldNomads.com ➜
---

Daypacks are essential for any trip that involves hiking, mountain biking, or other outdoor activities. Resistant to water and wear-and-tear, this daypack is ideal for holding all of your essentials. Bring along your water bottle, your wallet, your camera, and more without having to worry about misplacing it or ruining it. And the best part? It's foldable!
---

I don't know if I can think of anything more relaxing than lying in a hammock in the middle of the forest. Bringing a lightweight portable hammock allows you to set up amongst the trees in a matter of minutes.
---

Let's face it, it can get quite sticky when exploring the great outdoors and sweating is inevitable, even if you've already put on deodorant. And there's nothing worse than being self-conscious about your smell while out with friends or family. Instead of stressing about it too much, throw these deodorant wipes into your daypack and clean up anytime you begin to feel uncomfortable. The best part is that they're plant-based and aluminum-free.
---

No matter when you decide to travel, evenings can get a bit chilly. This is of course especially true during the winter months. These hand warmers easily fit in your pockets or gloves to bring a quick and natural heat.
---

The trickiest part about both camping and glamping is figuring out how to decide what to eat and what non-perishable foods to bring. While there are some sites that might have a refrigerator, there's also a chance that you may be without. Bring things such as burgers, hot dogs, eggs, and yogurt for meals and keep it in a quality cooler much like this Coleman.
---

I don't know about you but bugs seem to gravitate towards me the minute I step outside. Since you'll be spending the majority of your time outside, you'll want to protect yourself. Being covered in bug bites is not only uncomfortable but it can also be dangerous. Having a travel-sized insect repellent will keep those pesky mosquitos away so that you can spend more time focusing on your vacation and less time on scratching those bites.
---

Depending on where you're vacationing, hiking can get a bit muddy. Especially if it recently rained. If the terrain isn't too steep, I highly recommend getting a good pair of water shoes to wear. This will help protect your nice shoes from damage and help protect your feet should you find yourself in a body of water with a rocky seafloor. These give you excellent traction all while being quick to dry and easy to clean.
---

Hiking is one of my favorite activities and having sturdy hiking attire is key. Finding a good pair of weather-resistant quick-dry hiking pants will have you feeling much more comfortable during your trek. They'll also help you avoid bug bites so you won't have to douse yourself in too much insect repellent.
---

A good pair of hiking boots is arguably the most important part of hiking. Comfortable shoe wear can make or break your experience. There's nothing more painful than getting halfway through and discovering that you have to finish with blisters covering your feet. Opt for a pair like these that are waterproof and extra durable.
---

Even if your yurt has electricity, if you want to spend your nights outside, you're going to need some light. This is especially important when fire bans are in place (which tends to happen often). A solar lantern charges during the day with the help of the sun so that you can wander the glamping site with ease.
---

Deodorant is great and all but sometimes you just need a little more help. This chilly pad cooling towel will be a lifesaver in the summer sun. All you have to do is wet the towel, squeeze out the excess water, and enjoy significantly cooler temps around your neck, face, and shoulders. Once you try it, you will never go outside in hot weather without one. After a couple hours when it dries, simply wet it again and it will continue to keep you cool.
Other Glamping Essentials
---
What to Wear While Glamping
---
Before glamping, you will want to do your research. Look at your destination, what the weather is going to look like, and what activities you're looking to participate in while you're there. With that in mind, you'll want to bring clothes that can be worn multiple times as there's probably not going to be a washer or dryer.
I would opt for casual clothing that is moisture-wicking (rather than cotton which can take quite a long time to dry and can keep moisture against your skin for too long which is never a good thing). Bringing hiking attire such as pants and boots is always a smart choice as is bringing activewear (leggings, tank tops, etc). For chilly evenings, bring layering pieces like cardigans and long pants.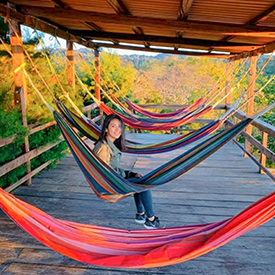 What Should Women Wear While Glamping? – (Click to expand)
Below is a sample women's clothing list.
(All items link to Amazon.com for your convenience).
When packing for a glamping vacation, clothing items for men and women are very similar. If possible, pack versatile pieces that can be worn multiple times in different ways. This will help keep your suitcase light and you won't have to worry too much about needing to do laundry. Essentials should include layering pieces such as tank tops, jeans, t-shirts, and shorts, depending on the season.
If visiting during the colder months, swap out those t-shirts for thermals, sweaters, and of course, a warm winter coat that can withstand winter conditions. Beanies, gloves, and scarves are also great accessories to bring to help stay warm.

What Should Men Wear While Glamping? – (Click to expand)
Below is a sample of women's clothing list.
(All items link to Amazon.com for your convenience).
For men, packing all of the basics is key. You won't need anything fancy meaning you can ditch the nice button-ups and loafers. Instead, opt for simple things like t-shirts, khaki shorts, hiking gear (such as pants and boots), a light jacket, sneakers, and flip-flops. Again, if you want to fit in like a local, I like throwing on a flannel over a t-shirt in case there is a light breeze because they keep you covered with weighing you down.
If visiting during the winter, focus on packing jeans, long-sleeved shirts, thermals, waterproof boots, and a winter coat. If you know you're going to be outside a lot, bring gloves, a beanie, and a scarf for an extra layer of protection. If you choose to participate in snow sports while glamping, you'll want to be sure that you have plenty of layers.

SPRING

– (March, April, May)

Dressing for the spring months while glamping can vary depending on the location that you choose. If you're in the southwest, temps might be a bit warmer meaning that you'll want plenty of shorts, tank tops, and t-shirts. However, if you go to the Pacific Northwest or opt for the east coast, temperatures can get a bit chilly. Especially in the evenings. If this is the case, don't make room for sweaters, layering cardigans, and lightweight jackets.
SUMMER

– (June, July, August)

Summer is warm no matter where you choose to visit. This makes packing a piece of cake. The best part is that the clothes don't take up a lot of space either. You'll want plenty of shorts, t-shirts, tank tops, and even a summer dress or two if you're looking to get dressed up occasionally. And of course, don't forget a hat, sunglasses, and plenty of sunscreen. The last thing you want is a nasty sunburn.
FALL

– (September, October, November)

Much like the spring, the weather can drastically vary depending on location. Many places are met with lots of rain and gloomy weather while others are bone dry and still plenty warm. For this reason, I highly recommend researching your destination before leaving. However, some good basics to include are layers, lightweight sweaters, jeans, and possibly a rain jacket.
WINTER
Winter is a fairly easy season to dress for. The only downside is that the clothes tend to be a little bulky so you will most likely need a bigger suitcase. Good winter clothing to pack includes thermals, a fleece jacket, long-sleeved t-shirts, jeans, a winter coat, boots, and accessories such as beanies and gloves.
Dressing Appropriately for Glamping Activities: – (Click to expand)
Hiking – If you plan on doing a to of hiking, you'll want a good pair of sturdy hiking boots, quick-dry hiking pants, a moisture-wicking shirt (I prefer tank tops as they allow for you to feel a breeze more) and insect repellent. If you choose to take a rainy hike, I would bring a lightweight rain jacket so you don't end up soaked and cold by the end of it.
Snow Sports – Glamping doesn't always have to happen during the warm spring and summer months. Glamping can allow you to stay close to the slopes so you can partake in some snow sports. When going skiing or snowboarding, you don't want to have to worry about the weather which means wearing the appropriate layers is important. Start with a base layer and add on either a snow bib or ski pants, a thick winter coat, gloves, a helmet, and goggles. And while it may seem silly, SPF is extremely important.
Boating – If you know you're going to spend time out on the lake or sea, dressing appropriately for boating is important. You will be in the sun for hours at a time after all. Even if you don't end up swimming, wearing a bathing suit is great because you can shed some layers if you get too warm. On top of the suit, I suggest a button-down shirt and comfortable linen shorts. Don't forget the rubber-soled shoes (though some boats may have you take your shoes off while onboard) and a straw hat.

What NOT to Pack For Glamping
---
1)

Don't BRING expensive electronics:
While there's a slim chance of anything happening to your electronics, it's best to leave them at home for a glamping trip. They are heavy, take up a lot of space, and you don't want to have to worry about them when you're hiking, kayaking, or swimming.
2)

Don't PACK heavy books: Much like electronics, books are awfully heavy. And while it is great to have something to read during slow mornings, using things like a Kindle or an iPad saves you space and weight. Plus depending on the length of the stay, you'll have access to more than one book.
3)

Don't TAKE white clothing: Bringing white clothes is just asking to get filthy. Although you'll be in a luxurious cabin or yurt, you'll probably be spending most of your time outside. Wearing white means running the risk of rubbing against a muddy tree or spilling condiments on yourself. Dark clothes do absorb the sun more though so keep that in mind if you are going to be in the sun for long periods of time.

4)

Don't BRING anything with a strong perfume/odor:
Nothing will ruin your trip like a visit from the neighborhood bear. Do your part to keep bears and other wildlife away from humans and don't bring any strong perfumes or sprays that might attract unwanted creatures.
5)

Don't PACK uncomfortable shoes: Glamping is the best of both worlds. You get glamorous accommodations while being out in the middle of nature. When out in the middle of nature, you're likely going to want to go hiking or at least walking and having shoes that will be comfortable is extremely important. No one wants the pain of blistered covered feet that will end up bothering you your entire trip.
6)

Don't TAKE formal attire: This one probably sounds like a given but there is no reason to bring formal attire. Unless you stay somewhere that's near a town, you won't be needing any fancy shirts, dresses, or heels. Leave it at home and stick to comfortable clothing.

FAQs about Glamping
---
1. How is glamping different than camping?

The main differences between camping and glamping include the accommodations and the amenities that are included. Camping involves pitching a tent or sleeping in your car whereas glamping typically involves a yurt, airstream, treehouse, or other luxurious housing. It also typically includes running water, full-sized furniture, and electricity.

2. How do I deal with inclement weather?

Unlike camping, glamping makes dealing with inclement weather a bit easier. You won't have to worry about a tent blowing away, hail ruining your tent, etc. If the weather turns crummy during your stay, take advantage of all the beautiful amenities.

3. Can I expect a shower while glamping?

Though it's hard to say definitively, there's a very good chance that there will be a shower during your trip. If you're unsure, you'll typically be able to find that information on the glamping destinations website.

4. How do I find glamping sites near me?

There are glamping sites all over the world. All it takes to find a spot is a quick "glamping sites" Google search. Some great sites that I like to use are Glamping, Hipcamp, and Glamping Hub. Airbnb also tends to have great options as well.

5. When is the best time go year to go glamping?

There really is no "right" or "wrong" time of year to go glamping. Imagine waking up and wrapping yourself in a fleece blanket while looking out on a fresh blanket of snow. Or escaping out of your treehouse to take a dip in the nearby lake. No matter when you choose to go, you'll have a great trip.

6. What type of cooking facilities are typically at glamping sites?

Most glamping experiences come provided with meals or at least kitchen areas. This means you'll either have meals prepared for you every day or you'll be able to bring your ingredients and whip up your favorite foods.

7. Are campfires permitted at glamping sites?

The ability to put together a campfire truly depends on location. In the southwest where the weather is a bit warmer and dryer, they are usually banned as they can create wildfires. If you're unsure, check the website for either the glamping destination or the area in which you will be glamping.
Other packing lists you may like…
2-Week Trip | 3-Day Trip | Baby Packing List | Baby Travel Gear | Bachelorette | Backpacking | Beach | Birthright | Bonnaroo | Burning Man | Business Trip | Cabin | Camping | Canoe Trip | Car Camping | Carry-On | Castle Trip | Cheerleading Camp | College Dorm | Convention | Cruise | Day Hike | Deer Hunting | Desert Trip | Destination Wedding | Diaper Bag | Digital Nomad | Disney | Disney Cruise | Elk Hunt | Fall | Float Trip | Flight | Girl Scout Camp | Girls | Golf Trip | Honeymoon | Hostel | International | Island Vacation | Kids | Lake House | Long-term | Men's Packing List | Minimalist | Motorcycle | Moving Abroad | Music Festival | Overnight | Peace Corps | Resort | Road Trip | Round The World | Ski Trip | Snowboarding | Spring Break | Study Abroad | Summer Camp | Summer Vacation | Teen | Theme Park Trip | Toiletries | Toddler | Tropical Vacation | Ultralight | Wedding | Winter Vacation | Weekend | Zoo Trip
Please note: We have over 200 packing lists covering practically every popular travel destination in the world. Access them all on our packing list overview page ➜