Updated on by Asher Fergusson
M
oving abroad is an amazing adventure. It's exciting to open yourself up to a whole new way of life. Packing and preparing, though, can be overwhelming. It's not easy to predict what you'll need in a new place long-term.
That's why I've drawn from my own experiences to put together this moving abroad packing list that can help you manage your move. Also included: what to wear when moving abroad, what NOT to bring and answers to FAQs. If you move equipped and organized with everything you need and no more, you can focus on enjoying your new experiences without getting bogged down by unnecessary extra nerves and stress.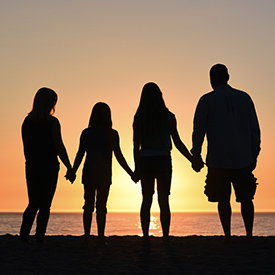 What to pack when moving abroad – 17 essentials
---

With so much to pack, keeping your luggage organized is essential. These packing cubes are an excellent tool for that. They come as a set and are perfect for separating clothing, toiletries and other items, which will make life much easier as you move. A calm suitcase is a calm mind.
---

Because comfort isn't guaranteed during your travels or at your landing place, I highly recommend carrying a travel pillow. This thermarest pillow rolls up small so that it is easy to transport, but when unrolled it is so cozy and comfortable that it can help you fall asleep anywhere. There is no need to lose sleep to discomfort as you move! As an added bonus, it comes in stylish designs that can help you immediately glam up your new or temporary home.
---

Pack an outfit that you can travel, explore, go out to dinner, party, and even sleep in. For the first few days of your move, you may well live in it. This gorgeous romper is lightweight, comfortable, and versatile, which is a golden combination for your move.
---

Jet lag can be an added obstacle to adapting and settling into your new home. Staying up all night and conking out in the afternoon is no fun, and it can take weeks to adjust to a new timezone. These jet lag relief pills are homeopathic, made with daisy, wild chamomile, and other natural ingredients, and will help you to hit the ground running when you land.
---

A universal power adapter is necessary if you're bringing any electronics, like a phone or laptop, from home. As outlets and electronics may be unpredictable in your new country, it's best to be prepared with an adapter that is universal rather than place-specific. This one is lightweight and compact, and also has a built-in fuse to protect your devices from a power surge.
---

Compression sacks are a lifesaver if you need to save room in your luggage. They remove air so that clothing and other items pack down smaller. With tightening airline restrictions, you'll likely need to fit a lot into just one or two suitcases when moving. These compression sacks will very much help you to achieve that, making life easier.
---

Keep your move smooth and dry with this awesome travel umbrella. Whereas normal umbrellas are often bulky and difficult to travel with, this one is lightweight, packs small, and comes with a storage case to stay dry in your suitcase. This travel umbrella is windproof and reliable for whatever weather you may encounter while you're moving.
---

In an airplane, train, noisy hostel or new apartment building, good noise cancelling headphones can help you to center yourself and feel at home. These earbuds have a smart feature that allows you to toggle between 'monitoring mode,' so that you can listen out for airport and public transportation announcements, and entirely cancelling out environmental sound.
---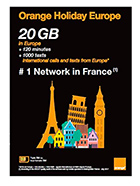 Moving abroad means switching phone services. Arm yourself with a prepaid simcard so that you can make calls, send text messages, and use data as soon as you land. Finding the right plan for you may otherwise take a while, and you'll probably need data for apps like Google Maps as soon as you arrive.
---

The new foods abroad may not sit well with you at first. Activated charcoal is handy as your stomach adjusts to new cuisines. When something doesn't digest well, activated charcoal absorbs toxins so that you can recover quickly. You'll be happy to have it available so that you can feel free and comfortable to try new, local foods and drinks.
---

As soon as you arrive, you're likely to have errands and sightseeing that will take you out and about. A good daypack is important for that first-week whirlwind. I love daypacks like this because they're lightweight and fold up small, so they're easy to pack away, store and transport. This one is also durable and waterproof, so it is great for outdoor adventures, and it has different pockets to help you organize your things.
---

For wherever you live, you'll need insurance. World Nomads is excellent, protecting you around the world in unpredictable events from illness and injury to theft. However, if you're moving for more than six months, you may want to look into country-specific options that work for you.
---

I recommend moving in comfy flats. You can live in these flats for your first few days, dressing them up and down as needed. They work for anything, and can help you to blend in. They're easy to slip on and off, so they're perfect for plane rides too.
---

Pack a water bottle so that you don't have to waste plastic and money on bottled water as you travel and move. A lifestraw water bottle is fantastic because it filters and purifies water on the go, which means that you can drink from anywhere. Depending on where you are moving, your tap water may not be as drinkable as back home, so a built-in filter is crucial.
---

Most importantly, the suitcase. Choosing the right suitcase makes all the difference for your move. It is essential to move with a suitcase that is, first of all, large. This one has eight pockets so that you can maximize, as well as organize, your packing, allowing you to hopefully save money on excessive baggage fees. It also rolls well so that you can easily move it, no matter how heavy, and stands up on its own without falling.
---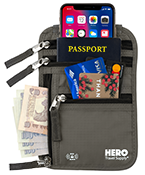 A neck wallet helps you to keep your important valuables safe and close as you move. This one allows you to carry your passport, debit cards, cash and important documents inconspicuously under your shirt, where they're protected from pickpocketing or falling out of a bag or pocket. This neck wallet even comes with RFID blocking to prevent e-thieves from stealing your credit card details.
---

A VPN protects your safety on the internet. It protects your sensitive data, like passwords and credit card numbers, from being hacked whenever you use WiFi that doesn't belong to you, for example in airports, cafes, and hotels. As an added bonus, it allows you to use the internet uncensored, which means that you will still be able to view content, like Netflix movies and YouTube videos, that may be blocked in your new country.
Other moving abroad packing list items not to forget
---
What to wear when moving abroad
---
While moving abroad, wear clothing that is comfortable and versatile. Keep in mind that airports, moving, and travels in general are much more enjoyable when you are wearing comfortable clothes, but that you also want to make a positive first impression, and blend in somewhat, when you arrive. It's a great idea to travel with a few lightweight outfits that you can wear repeatedly for a variety of activities, from grocery and furniture shopping, to exploring your new neighborhood, to going out for drinks or dancing with new friends.
Pack a few items that are sentimental and meaningful to you, but also be prepared to start fresh with clothing that will suit your new lifestyle, keeping in mind that local styles are likely to be different from what you're used to back home. I like to move with clothing that reflects my values and personality, while also preparing to adapt to the styles of my new locale. Plain, inconspicuous clothing also works.
Keep in mind cultural norms as you pack, dressing to respect the culture where you'll be living. If you're moving somewhere conservative, leave any clothing behind that will set you too far apart from your neighbors. Leave clothing that is potentially too offensive or revealing behind.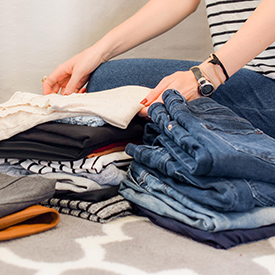 What WOMEN should wear while Moving Abroad? – (Click to expand)
Below is a sample women's clothing list. (All items link to Amazon.com for your convenience).
Women should be sure to pack outfits that are comfortable, versatile, and that they don't mind wearing repeatedly. Avoid packing too much, and pack smart instead. A comfortable dress, a romper, jeans, a skirt, and a nice blouse go a long way, as these items can be dressed up or down for different activities. Athletic sneakers will be important, whether for exercise, outdoor adventures, or just running around a city buying groceries and furniture. Comfortable flats are suitable both for casual and professional activities, and sunglasses, as well as a nice crossbody purse, may be particularly helpful in your first few months as you find your footing.

Seasons and weather will vary depending on where you are moving to, of course, so be sure to research seasonal weather and temperatures before moving. I've put together some rough guidelines of essentials.
SPRING:
Spring can be wet, with temperatures varying throughout the day from cool to warm. Be sure to pack a good rain jacket as well as shoes that can keep your feet warm when wet. It's good to wear and carry layers, including a compact packable jacket, which is small and light to carry around and slip on if you find yourself chilly.
Summer:
For warm summer weather, pack shorts, t-shirts, flip flops or sandals , as well as sunglasses and a fantastic hat There's also nothing like a simple summer dress.
Winter:
Make sure that you have very warm clothing and good layers for your winter wardrobe. A good winter coat is essential. If it will be really cold and snowy, I recommend a ski jacket because it's wicked warm and also weatherproof and good for the outdoors. A merino base layer is good to wear underneath your clothing on particularly cold days, and a warm fleece sweater helps too. A scarf as well as a nice beanie are essential, plus weatherproof, insulated boots.
Fall:
For cooling autumn weather, you'll be comfortable in jeans, a flannel , and a nice knit sweater . While it may not get cool enough to need a proper winter coat, pack a cute jacket that will keep you warm. For fall, I like denim jackets lined with fleece.
Dressing appropriately for the activity – (Click to expand)
Sightseeing:
When sightseeing and exploring on your first days, dress casually and comfortably. Wear shoes that are comfortable for walking, bring layers for chilly buildings or weather, and pack a daypack with your water bottle and portable umbrella. Depending on where you are, it may be best to not call too much attention to yourself as a newcomer as you're out and about, so dress to not stand out. If you're somewhere conservative or visiting religious sites like temples or cathedrals, bring layers to cover your legs and shoulders if necessary.
Shopping and errands: Attune yourself to local dress codes and try to blend in, at least somewhat, as you go for your first moving-in errands. Women can expect to wear comfortable flats, or athletic shoes if errands include lots of walking, with jeans, pants, or a skirt, while men can wear boots or athletic shoes with shorts, jeans or pants, and a t-shirt with a sweater or cardigan.
Nightlife: Observe local dress codes for nightlife, as some cultures and venues have very upscale dress codes whereas other places are far more casual. In some cities, for example, women and men who dress too casually, in athletic shoes, shorts, or even flats sometimes, may not be allowed into nightclubs. In other places, high heels or a tie are too much. Generally, a button-down and slim-fitting jeans should be good for men, while women can wear a dress with nice shoes.
Outdoor adventures: When you move, be prepared for new weather and terrain for outdoor adventures. Stay safe and comfortable in sweat-wicking clothing, athletic shoes, or hiking boots or sandals with weatherproofing and good grip. For the beach, you'll want a nice bathing suit as well as flip flops, quick-drying shorts, and a beach coverup.

What NOT to bring when moving abroad
---
1)

Food: Some countries have very strict entry requirements for food items, so be careful and do your research before moving. In general, except for perhaps a couple irreplaceable items that keep well and are lawful to bring in, be prepared to adapt your diet to local grocery stores and markets when you move. Trying to bring in food is an added hassle, and besides, the new cuisine is part of the fun.
2)

Your entire wardrobe Unfortunately, it's impractical to try to move with your entire wardrobe. Your new living space may not even be able to fit it all. Instead, be smart about what you bring, packing essentials for different weather, seasons, and activities. Refer to this list as a resource, and try to restrict yourself to basic essentials as well as a few sentimental and personality items that you feel express yourself. As you adapt to your new home, you're likely to discover new local fashions that you love, and you can grow your wardrobe accordingly as you settle in.
3)

Your entire bookshelf As a big reader myself, I know how hard it is to leave all your books behind. As you pack, it may be easy to fall into the trap of but what if I'll want to read this? Or this? Well, if the chance is slim – which it likely is – leave those books behind. They are too heavy in your suitcase, and create unnecessary hassle, particularly if you're only moving short-term. Restrict yourself to just a couple of books, and buy a Kindle to read whatever else you might want or couldn't find in local bookstores.
4)

Delicate items Moving is dangerous business for delicate items. If possible, leave delicate, precious items behind in a safe place, unless you're prepared to spend a lot of time, money, effort, and heartache on keeping your delicate items protected and safe. The moving process is much more relaxed if you don't have to worry about your favorite belongings breaking.
5)

Unnecessary electronics At home, you may have accumulated a lot of electronic devices and appliances that you feel you can't live without. In your new country, you probably actually can. While a camera, laptop, portable speakers, and anything you might need professionally are essential, try not to move with too many electronics. Moving abroad is a great opportunity for a digital cleanse.
6)

Home decor It's okay to bring a few sentimental, as well as durable and practical, items that will help you settle in and feel at home, particularly if they travel well and are lightweight. However, be prepared to furnish and decorate your new living space with items that you buy locally. This is often actually cheaper than packing or shipping heavy and unnecessary items. Decorating your new space with cool new items from your new home can be a lot of fun, and help you to start fresh as you settle in.
What NOT to wear while moving abroad – (Click to expand)
It is often best, when you are a newcomer, to not stand out too much. Observe and research what kinds of clothing locals tend to wear, and do your best to adapt those dress codes to your style, rather than wearing clothing that screams "I'm new here." Most of all, make sure to respect the local culture of your new home. If where you are moving is conservative, you'll more easily get along with your neighbors if you dress sensitively and accordingly. Avoid moving with clothing that is uncomfortable or impractical, or ill-suited to the climate. Also, avoid moving with clothing that is high maintenance. Finding a reputable dry cleaner, or even a good washing machine, may or may not be so easy, depending on where you are moving.

FAQs about moving abroad
---
1. How can I save money while moving abroad?
To save money when you move, make sure to bring all of your bare necessities along with you, including the items from this list so that you won't have to scramble with shopping when you arrive. If you're buying a car or looking to rent a living space, check Facebook or any websites locals use to buy and sell second hand. There are different "craigslist" equivalents in different countries. Research, also, the cheapest grocery stores, best phone plans, and banking services for your needs. Use Transferwise www.transferwise.com to transfer your money cheaply and efficiently into the local currency in a local bank account. You should do this, as currency exchange fees accumulate fast and are an easy way to lose money without noticing.
2. How do I find a place to live when moving abroad?
Take advantage of the internet when looking to rent a space. Facebook marketplace, Craigslist, and local websites for buying and selling goods, such as www.trademe.nz in New Zealand, will often advertise living spaces that can allow you to avoid agency fees. It's often most practical to land in a hostel, an Airbnb, or an AirBnB though, rather than searching for a room, house or apartment before you move. This way you can meet people in person and avoid scams. In some places, it's viable and cost-effective to live long term, for a few weeks, months, or more, in a hostel or Airbnb.
3. How can I meet new friends while moving abroad?
Take yourself out and about to spaces where like-minded people might be, like cafes, bookstores, festivals, concerts, and events. If you're religious, churches, synagogues, and other religious institutions are also great ways to make friends and contacts that can help you to settle in. Check Facebook, as often there are "ex-pat" pages for your new home, as well as other special interest groups. Many people use Meetup www.meetup.com when they're new to a country to find events, groups and people that they might enjoy.
4. Are there any tricks or cures for homesickness?
Unfortunately, no matter how exciting it is to be abroad, homesickness is difficult to avoid at certain points during your move, and there is no easy cure. Accepting that it will come and go does help. Setting up regular weekly or monthly calls with friends and family is a great way to stay connected back home, but also try not to over-rely on these networks. It's important to put energy into integrating yourself to your new local culture with new friends, lifestyles, and events, and allow your new country to become a home away from home.
5. How can I make the most out of my experience of moving abroad?
Be open to new experiences, and to how living in a new country and culture might change you. Be respectful and try to connect with local people and learn about their way of life. Share your own home culture without clinging onto it. Seek out special adventures, places, and events that wouldn't be possible where you come from. Be ready to expand your perception of the world.
Other packing lists you may like…
2-Week Trip | 3-Day Trip | Baby Packing List | Baby Travel Gear | Bachelorette | Backpacking | Beach | Birthright | Bonnaroo | Burning Man | Business Trip | Cabin | Camping | Canoe Trip | Car Camping | Carry-On | Castle Trip | Cheerleading Camp | College Dorm | Convention | Cruise | Day Hike | Deer Hunting | Desert Trip | Destination Wedding | Diaper Bag | Digital Nomad | Disney | Disney Cruise | Elk Hunt | Fall | Float Trip | Flight | Girl Scout Camp | Girls | Glamping | Golf Trip | Honeymoon | Hostel | International | Island Vacation | Kids | Lake House | Long-term | Men's Packing List | Minimalist | Motorcycle | Music Festival | Overnight | Peace Corps | Resort | Road Trip | Round The World | Ski Trip | Snowboarding | Spring Break | Study Abroad | Summer Camp | Summer Vacation | Teen | Theme Park Trip | Toiletries | Toddler | Tropical Vacation | Ultralight | Wedding | Winter Vacation | Weekend | Zoo Trip
Please note: We have over 200 packing lists covering practically every popular travel destination in the world. Access them all on our packing list overview page ➜