Updated on by Asher Fergusson
S
ometimes, packing can be overwhelming. A random weekend getaway, whether to the beach or a music festival, is something to be excited about. Don't let packing get you down!
Men should have a solid trajectory when packing for their next trip. This minimizes stress and makes packing a breeze. With our men's packing list and what to wear section, you will be packing like an expert in no time. We've also added information on what NOT to pack and answers to FAQs.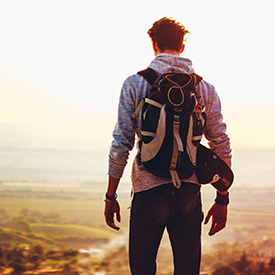 What Men Should Pack – 17 Essentials
---

A compact carry-on suitcase is essential for seamless travel. It guarantees that your bag is small enough to take on board. This means less hassle at security. Also, spinner wheels make traveling through the airport effortless. These wheels glide on all sorts of floors. No one wants to tirelessly drag along a suitcase.
---

This is a great tool to have no matter where you travel. A cordless shaver keeps up your shaving routine anywhere. It comes with a USB charger. This means you can charge it on-the-go with your computer or portable charger. It is also small in size, making it easy to pack in your personal bag or carry-on. No need to lug any extra cords or blades around.
---

We know that traveling can be stressful. An awesome tool is noise-canceling headphones. These headphones cut-out abrupt noises in all methods of transportation. They can help you focus on any last-minute work, or simply get some quick rest. Everyone deserves to travel comfortably. Paired with a good neck pillow, you will feel relaxed in no time.
---

Whether its 2 or 8 hours, time differences can throw us off. Kick the exhaustion and irritability to the side with these handy pills. They will help you prepare for the exciting adventure awaiting you off the plane. The pills come in TSA compliant blister packs, which are easy to add to any travel bag.
---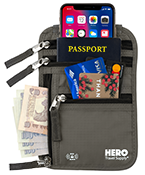 This is a nifty addition to all travel plans. A neck wallet holds all your valuables secured in one place. This makes adventures light and simple. Its RFID lining protects your cards from any sneaky scans – yes e-theft is sadly a real thing! But, you do not have to worry when this wallet around your neck. It also comes in a variety of colors, matching any outfit.
---

Bugs often strike when we are having the most fun. Stay protected with some handy bug spray. It is light to pack, with the travel size fitting efficiently in your pocket. Also, making sure your bug spray is DEET free ensures that it is safe for both you and the environment. A bug spray with a clean scent limits irritation as well.
---

Sometimes you will need to carry more than your money and identification. A lightweight day bag makes travel easy. It prevents your back from aches while holding all your necessities. Also, its strong and water-resistant material protects your items in various weather conditions. So, you don't need to worry if you get caught in the rain!
---

The terrain on the PCT will vary widely, and these hiking poles will come in handy when you encounter rugged or steep parts of the trail, or if you're just on mile 10 and need some extra support! These are lightweight and easy to stow, so they won't get in your way when you aren't using them.
---

It is helpful to know exactly where your things are. Packing cubes lessen travel stress by keeping items in separate and labeled packs. No longer do you need to dig through your bag, searching for that one missing sock. Packing cubes store those smaller items in place. Also, having a couple of laundry bags on hand separates your clean and dirty clothes. This is super useful in avoiding odors from creeping into clean clothes.
---

We discovered that this is very beneficial during transportation. Sometimes bathrooms are occupied or not accessible. This should not stop you from washing your hands! With this spray, you can quickly sanitize your hands anytime. This is very useful before eating, especially on the plane, when attempting another bathroom trip may not be the most convenient option.
---

Our necks need TLC. Keeping it comfy during travel allows you more relaxation and rest. A neck pillow lets you relax in any mode of travel. It also helps you avoid any unnecessary neck and shoulder stiffness. This neck pillow fits into its own mini drawstring bag, which is easy to externally attach to your backpack or luggage.
---

No matter the adventure you chose, a travel towel is awesome to have packed. It is handy for several occasions, whether it's a quick swim or to clean your face after an intense hike. This towel is lightweight with soft and smooth material that dries fast. It also comes in a variety of sizes. This helps you chose the towel that best fits in your day bag or luggage.
---

Hydration is necessary no matter your destination. A BPA-free water bottle is a reasonable addition to your carry-on. This unique bottle comes with its own carbon filter that removes waterborne bacteria. This ensures you have safe drinking water no matter where you are. No one wants to get sick on a thrilling adventure!
---

It can get frustrating having to carry and/or check your phone constantly. A smartwatch is a very practical accessory to have. It lets you seamlessly check the time and stay updated with calls and text messages. It is a perfect accessory for more active trips, involving hiking or biking. It comes with a convenient health tracker, allowing you to track your activity each day!
---

A universal power adapter is a necessary item to have on hand. There are specific adapters needed depending on where you travel. Having an adapter that covers all countries enables you to have constant access to power. It is light and easy to slip into your backpack pocket for constant access. This keeps your phone and camera fully charged at all times. With a power adapter, you will not miss capturing each and every exciting travel moment.
---

Traveling is full of surprises, and not always fun ones. There is a simple way to comprehensively protect yourself and your belongings before a fun trip. Travel insurance offers complete coverage. Don't let theft or a strange hotel policy wreak havoc on your trip. Ensure a seamless vacation before you make it to the airport with the right travel insurance coverage for you.
View their plans at WorldNomads.com ➜
---

Everyone likes to stay connected while traveling. Securing your information with a VPN is absolutely necessary. We are often at risk when using random open WiFi networks. Sometimes, it is all we have access to! With a VPN, you can secure your browsing while using these networks. This ensures private information like credit card numbers and passwords stay safe.
Other Men's Packing List Items Not to Forget:
---
What Men Should Wear:
---
What men should wear while traveling is very flexible! However, there are a few solid packing essentials to keep in mind.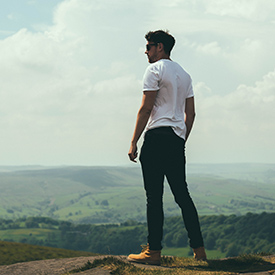 What Outfits Men Should Wear? – (Click to expand)
Below is a sample women's clothing list.
(All items link to Amazon.com for your convenience).
There are tons of killer outfit choices for all types of vacations. Each outfit varies by where you go and what weather to expect. Different seasons mean various temperatures. Some seasons have wide temperature ranges, meaning you should pack layers. This includes t-shirts, sweaters, and maybe even a light jacket.
Packing also depends on what activities you'll do! Are you going to be more active, engaging in several hikes or swimming excursions? Or, will you be traveling for business? These all require a varied set of staple clothing items. Below are a few core outfit choices to fit a variety of adventures.
For destinations with warmer temperatures, you want to prioritize more loose clothing. This will keep you cool and refreshed all day long. Cotton sleeveless shirts, boardshorts, and sunglasses are great, especially when by the beach. Oxford T-shirts and khaki shorts are incredibly versatile. They work for both day and night activities. If you experience some random cool temperatures, a jean jacket is always handy. Don't forget to pack your most comfortable sneakers. Make sure they have ample breathability, in case you are dealing with really hot temperatures.
When venturing to places with more mild climates, light layers are practical. The great news is that you can easily layer in style! A cotton t-shirt and casual blazer work excellently together with a pair of blue jeans. This is a manageable everyday outfit that also works well for quick business trips. Sometimes there is a random temperature spike. A blazer is simple to take off and carry. A pair of clipper sneakers offer comfort and style for activities at any time of day.
For colder destinations, you need to be a little more strategic in packing. Instead of lugging tons of heavy jackets and sweaters, get smart with your layers! You cannot forget to bring thermal layers to wear underneath your clothes. This will make certain you feel warm and light during the coldest of temperatures. A comfortable knit sweater and work pants easily cover thermals. Keeping your neck and head warm is also a main priority. A wool scarf and cotton beanie help to maintain nice and consistent body temperature.

Dressing for the season is very important when traveling. It is also important to check the seasons and corresponding temperatures of every place you visit. You may confront temperature ranges that require a proper set of layers.
WINTER

– (for North America: January to March)

Winter can bring some ice-cold temperatures. It is best to strategically prepare with layers. A pair of thermals is key to maintain constant body warmth. Knit sweaters, jeans, and scarfs are necessary to layer over your thermals. Winter can also bring snow, hail, and ice. Throwing on a lightweight parka with a set of gloves and a beanie will have you feeling snug during random snowfall. A solid pair of weatherproof boots with water-resistant socks protects your feet seamlessly. All these layers can support you through average daytime temperatures of 0 to 45 degrees Fahrenheit.
SPRING

– (for North America: March to June)

Spring temperatures are known to vary. It is essential to pack a versatile set of clothes to remain comfortable no matter the forecast. A variety of cotton t-shirts are practical. Combing these with denim jeans and a zip-up hoodie makes for a casual everyday outfit. Sneakers or boots work best in Spring weather. What you choose depends on the temperature. On average, Spring daytime temperatures can range from 45 to 70 degrees Fahrenheit.
SUMMER

– (for North America: June to September)

Summer is for loose-fitting clothing. The high temperatures will make you sweat. Therefore, breathability is key in your clothing items. Things like short-sleeve t-shirts and oxford t-shirts fit comfortably with a reliable pair of boardshorts or khaki shorts. A fitted pair of sandals or flip flops allow your feet to breathe. Avoid any thick socks or polyester clothing. These will make you sweat way too much. Summer daytime temperature can vary between 75 and 106 degrees Fahrenheit.
FALL

– (for North America: September to December)

Fall offers some temperatures ranges. Some days are ideal 't-shirt weather,' with the evenings bringing brisk winterlike conditions. It is best to be prepared with the right kind of layers. Wearing a cotton t-shirt underneath a long-sleeve button-down is a go-to. Matched with jeans and casual boots, you have a reliable outfit. Don't forget a dapper racer jacket and scarf to keep you warm when temperatures fall later in the day. Fall daytime weather can range anywhere from 44 to 72 degrees Fahrenheit.

Dressing for Activities: – (Click to expand)

Beach – Enjoying the beach should be easy. Wearing a sleeveless cotton t-shirt and boardshorts are a versatile go-to outfit. A durable set of flip flops are a must. These let you clean off your sandy feet efficiently after a fun-filled beach day. Don't overlook adding polarized sunglasses and an extra pair of swim trunks to your day bag too.

Boating – Enjoying the open waters is easier with a reliable outfit. Boardshorts and a short-sleeved cotton t-shirt are absolutely necessary. Try to avoid wearing sleeveless t-shirts, especially if you burn quickly. Sometimes boating adventures lead you to some awesome swimming opportunities. Therefore, a travel towel and sunscreen are great additions to your day bag.

Business Meetings – Work and travel can go hand in hand. It is best to feel comfortable when you work. Of course, you should assess the formality of your business meetings. Either way, button-down Oxford t-shirts with a sleek and casual blazer are staples for business travel. These go perfectly with work pants or nice denim jeans. And, adding your noise-canceling headphones around your neck is a must. This will let you get some extra work done when you are in transit.

Hiking – When exploring, it is best to wear light clothing. Convertible hiking pants and athletic t-shirts are ideal items to slip on for a hiking trip. Wear hiking sneakers or boots to keep your feet snug and blister-free. A water bottle is necessary to feel refreshed at all times. This can latch on to your lightweight day bag with ease.

Music Festival – To most enjoy the entertainment and attractions of any music festival, the right clothing is key. Sleeveless t-shirts and khaki shorts are great, especially if the festival is in the summer. Loose cotton pants also are great for legs to stay clean and dry. With roomy pockets, you can even hold on to a portable charger. Supportive sneakers make moving between stages and food carts simple. They also protect your toes from any unexpected stumbles!

Nightlife – Style and comfort should go hand in hand on a night on the town. Make sure to wear your most comfortable pair of jeans and sneakers. This will provide comfort no matter how much dancing or walking you do. Stay fashionable with a solid colored button-up and lightweight blazer. Adding a beanie to your blazer pocket is super useful for when temperatures get chilly at night.

What Men Should NOT Bring:
---
1)

Uncomfortable Shoes:
2)

Loose change:
3)

Heavy electronics:

4)

Extra Watches and Jewelry:
5)

Extra Watches and Jewelry:
What Men Should NOT Wear: – (Click to expand)
When traveling, there are quite a few things you can leave at home. First and foremost are nylon and polyester shirts. These will make you sweat like crazy. You don't want to wash clothing often on vacation! Also, big wool sweaters should be avoided. They are heavy and oftentimes itchy. If venturing into warm climates, it is best to not wear loose-fitting flip flops. They lack protection and grip, which may cause you to slip. Lastly, high socks are very much a nuisance. These can itch and cause some pretty annoying tan lines.

FAQs for Men to Know When Traveling:
---
1. Should I pack just a carry-on?

We suggest attempting to bring only a carry-on. It allows you to have all your belongings with you at all times. With just a carry on, you can avoid any potential baggage fees. You also evade waiting at the baggage claim, where you can expect delays and sometimes lost luggage. Always remember to follow TSA guidelines when packing your carry on.

2. What size liquids can I bring on the plane in my carry on?

According to TSA guidelines, you can bring liquids that are 100 ml (3.4 ounces) or less. These liquids need to be in travel-sized containers.

3. When should I leave for the airport?

This depends on whether you are traveling domestically or internationally. For domestic flights, you should arrive at the airport at least an hour before your flight. International is a bit longer. You should arrive at least two hours before your flight, to allow extra time for customs. For both domestic and international flights, it is important to consider the time and day of travel to predict how busy airport security might be.

4. How do I know if meals are provided on my flight?

This will be listed on your ticket information. Using your record locator/confirmation number, you can discover all your flight information. For certain flights, you can also opt for a special meal. This must be chosen at least 24-48 hours before your departure time.

5. Can I pack food and bring it on the plane?

Yes, you can! It is best to choose less perishable foods that are easily portable. Simply remember that liquids are strictly prohibited to 3.4 ounces or less. Things like soups and hummus should be left at home or purchased after airport security.

6. How do I make sure I do not miss my layover?

When dealing with tight layovers, flight attendants are your best friends. It is most useful to let a stewardess know you have a layover before taking off. Usually, they will make sure that, if there are any unforeseen delays, you can leave the aircraft first. If worst comes to worst and you miss your flight, flight attendants can assist you in finding the quickest way to rebook your flight.

7. What is the best method of transportation from the airport to my hotel?

This depends on the location and hotel. Sometimes, hotels offer free shuttle services. It is important to always inquire before you travel. With more remote destinations, it is best to research average taxi fares and bus routes before you depart. This will get you comfortable with the routes and directions. It will also help you avoid any scams. If you are in a foreign-speaking country, it is handy to learn some phrases and questions regarding transportation.

8. Do hotels typically offer free wi-fi?

Usually, it is free. But, it is best to check before reserving your lodging. If you need particularly high-speed internet, some hotels offer stronger internet at an additional cost.

9. How do I know which power adapter suits my travels?

There are 4 standard outlet and plug shapes: A, B, C, and D. Researching your destination will tell you exactly which shape/outlet is used. Also, when traveling to new foreign destinations, it is always helpful to ask your lodging provider what is the voltage used. This will let you assess the necessary voltages needed for your electronics.

10. What is the best thing to do if I get lost in my new destination?

There are a few ways to prepare yourself for potentially getting lost. First, making sure you have cell phone service in your destination will give you consistent access to a GPS map system. That way, you can bookmark your lodging and any other necessary locations. Second, it is always useful to learn a few phrases in the local language. This will allow you to interact confidently when trying to find your way home.
Other packing lists you may like…
2-Week Trip | 3-Day Trip | Baby Packing List | Baby Travel Gear | Bachelorette | Backpacking | Beach | Birthright | Bonnaroo | Burning Man | Business Trip | Cabin | Camping | Canoe Trip | Car Camping | Carry-On | Castle Trip | Cheerleading Camp | College Dorm | Convention | Cruise | Day Hike | Deer Hunting | Desert Trip | Destination Wedding | Diaper Bag | Digital Nomad | Disney | Disney Cruise | Elk Hunt | Fall | Float Trip | Flight | Girl Scout Camp | Girls | Glamping | Golf Trip | Honeymoon | Hostel | International | Island Vacation | Kids | Lake House | Long-term | Minimalist | Motorcycle | Moving Abroad | Music Festival | Overnight | Peace Corps | Resort | Road Trip | Round The World | Ski Trip | Snowboarding | Spring Break | Study Abroad | Summer Camp | Summer Vacation | Teen | Theme Park Trip | Toiletries | Toddler | Tropical Vacation | Ultralight | Wedding | Winter Vacation | Weekend | Zoo Trip
Please note: We have over 200 packing lists covering practically every popular travel destination in the world. Access them all on our packing list overview page ➜